There are many types of measuring tools that are used by us in our day to day activities starting from measuring tapes to Measuring Spoons.
Different tools have a different purpose and while most find use in specific industries, there are a few that you must have in your kitchen.
It is true that cooking is all about experimenting, but there are certain cooking procedures (like baking) where measuring tools are a necessity.
Here are the 6 measuring tools that you must keep in your kitchen.
01

 Liquid Measuring Cups
It is important to keep in mind that dry and liquid ingredients need different measuring tools. There are specific measuring cups that are used for measuring liquid ingredients and these come in varieties of sizes.
The smaller sized ones can be used for measuring items like milk, oil, molten butter when required is fewer quantities.
The bigger ones can also serve as mixing bowls and that is a great practical benefit of ownership of these. Glass measuring cups are a better choice than the plastic ones as these offer clear readings for many years.
02

 Measuring Cups for Dry Ingredients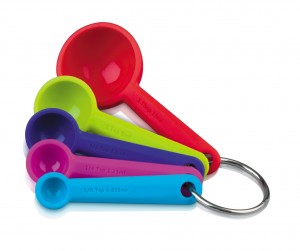 The basic set of these cups comes in the following cup measures viz. 1, ½, 1/3 and ¼ cup measures.
Go for the stainless steel ones as these are more durable when compared to the plastic ones and can also be washed in the dishwasher without any problem.
While there are cups that come with a spout that makes pouring easy, it is better to go for the ones that do not have a spout as these offer accurate measurements.
03

 Measuring Spoons
Measuring spoons are one measuring tool that you surely must have in your kitchen. This set comes in 1 tbsp, 1, ½, ¼ and 1/8 teaspoon measures. Stainless steel is the best option when it comes to measuring spoons as well.
You will also get colorful and bright ones in plastic and those are good as well.
It is useful to keep two Measuring Spoons handy while cooking or baking as the one you can use for dry ingredients (like dry spices) and the other can be used for the liquid ones (like pastes).
This would make cooking easier for you as you will be not required to keep washing them in between using dry and liquid ingredients.
And if you have many spice jars, then go for the narrow ones as they fit into the jar easily.
04

 Scale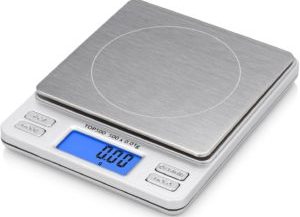 The scale is a must, if you are into baking. You need to measure items by weight and not by volume when baking and hence, you will need a scale to have the exact measurement.
You can measure everything starting from flour to chocolate bars and you will be sure of one fact, that you are using the right quantities.
The scale also eliminates the need of using different tools for measuring different ingredients as you can measure both dry ingredients and wet ingredients by pouring them in different bowls directly.
It is always better to go for the digital scales as these give readings in pounds and ounces or grams and kilograms. Make sure of buying one that can be reset to zero every time you finish measuring something.
There are a lot of scales that are available in the market and you can go for one depending on your budget and need. There are many online stores as well that sell these scales.
05

 Oven Thermometer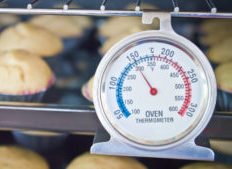 Sometimes, it is important the measure the accuracy of the oven and this measuring tool is the best option for it.
It is not unusual for the ovens to not run the exact temperature that you want and it can have its share of discrepancies and by using this, you will be able to compensate for it.
This is more required when you are following some recipe as it is important to create the same conditions that the cook created while cooking that particular recipe.
06

 Timer
Though this is not an absolute necessity, it might come useful sometimes. Usually there are ovens that have built-in ovens and these can serve the purpose of a timer. But there are particular timers that are useful when roasting turkey or any other meat and you can have one of these.