There are a lot of people who do not like to camp. This is because such people genuinely hate sunburns, mosquitoes and most importantly the wild animals found in the forests.
However, it is no more difficult for such people to enjoy camping in the woods because of the introduction of the Bear Sleeping Bag. You can now disguise in with different elements on a camping trip by snoozing in the recently introduced bear sleeping bag.
The bag is very cozy and comfortable designed meticulously to possess an appearance that is ultra-realistic. When you sleep inside this bag, you will appear like a hibernating bear in the forests. This sounds cool, right?
The Story Behind the Design of Bear Sleeping Bag
The Great Bear Sleeping Bag or the ultimate sleeping bag has been designed and created by Eiko Ishizawa, a Japanese-born artist. Eiko was inspired to create his bear sleeping bag by the story of a large bear that had escaped from the Italian part of the Alps into the Bavarian part in the year 2006.
The bag represents Bruno, the first brown bear found in Deutschland which was hunted and eventually killed down by the authorities. The bear was killed because the authorities were afraid it would cause chaos and destruction in the surrounding areas. Eiko Ishizawa created Bruno in the form of his bear sleeping bag because he wanted Bruno to widely spread out in ways he could never do in life- by having people from all around the world snoozing inside him.
The Design, Size, Material and Color of the Sleeping Bag
The bear sleeping bag has been made of faux fur in combination with foam and rubber. The eyes are made of glass and the nose made of plastic. It is a zipped sleeping bag that measures 190x73x78 cm. the bear serves as a recreation of an incident bearing the realistic appearance of a bear modified into sleeping bag functionality.
The work or the design of this sleeping bag depicts the conflicting relationship between love and admirations of mankind towards the wild nature. This sleeping bag also shuns off the boundaries that exist between mankind and animals and these boundaries are never broken.
If you happen to visit the woods and find somebody using the bear sleeping bag, it would come as a great surprise for you. This sleeping bag is 7 feet long and its weight is 12lbs which is 5.5 kilograms. The cost of this sleeping bag is £1400. The features of this amazing sleeping bag make it a very unique camping device made of imitation polyester and leather.
The bag is extremely warm and serves to be great if you are camping with the ladies. However, you need to be careful when using the bag outside.
The Lollipop Lane Cappucino Bear Sleeping Bag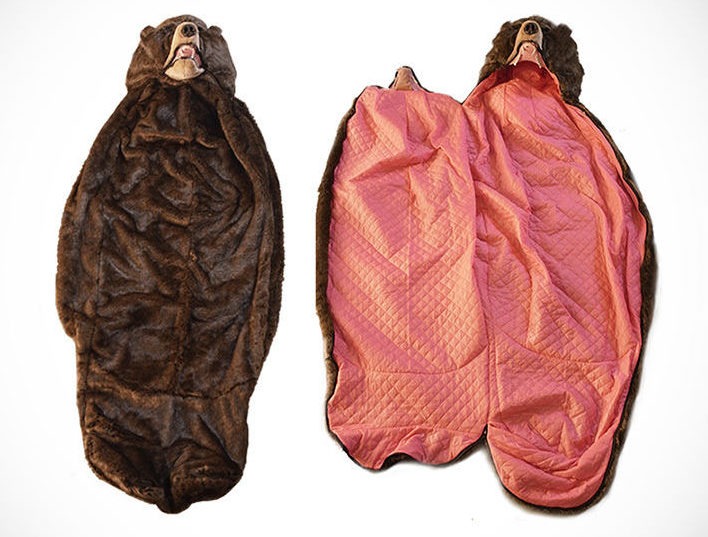 Another cool Bear Sleeping Bag which is quite popular in the market for sleeping bags is The Lollipop Lane Cappucino Bear Sleeping Bag which is not meant for camping. This bag is meant to be used for 0 to 6 months of babies. The bag is suitable for a room temperature between 16 and 20 degrees. It is made of polyester, cotton, and cotton jersey lining.
The filling of the bag is 100% polyester and it comes with a zipper located on the sides with poppers on the shoulders making for easy opening. The bag is quite comfortable and it makes your baby wake up warm and comfortable during the night. It is also quite practical and handy to be carried easily while traveling.
The best thing about this bag is that you will be able to change your baby several times during the night without disturbing his or her sleep. This bear sleeping bag is also very hygienic as you do not need to use blankets and sheets to put your child to sleep while at home or while traveling. Safety is guaranteed with the use of this bag.
All in all, it can be said that The Lollipop Lane Bear Sleeping Bag is a very comfortable and safe garment for the undisturbed sleep of your baby. It is elegant, simple and of course, chic.
Bear Sleeping Bag – The Different Varieties Available
Sleeping bags should not be boring. It is important for you to choose sleeping bags that are creative and fun. There are a lot of people who think sleeping bags to be ordinary items used for outdoor adventures and camping.
However, sleeping bags are not meant only for adventure and camping but there is another category of sleeping bags needed by the people. This category includes sleeping bags for babies.
When it comes to choosing sleeping bags for babies, most moms look for the bear sleeping bag. This is because a bear sleeping bag looks cute and at the same time it is quite comfortable. The sleeping bags that have been mentioned below are genuinely bear sleeping bags in different structures, designs, and styles. These bags are from different brands but they make for that special bear sleeping bag that most moms look out for.
The Eiko Ishizawa Designed Bear Sleeping Bag
This bear sleeping bag was designed by Eiko Ishizawa and it stands as a depiction of the inspirational story of Bruno, the only wild bear appearing in Germany after a period of 170 years. This is a cuddly teddy bear Sleeping Bag that will keep you very warm. This is one sleeping bag not meant to be used for babies but it works great for camping and outdoor adventures.
Disney's Adventures of The Gummi Bears Children's Sleeping Bag
This bear sleeping bag designed during the 1980s is still popular for the material it is made up of and also for the exclusive comfort that it provides. The cost of this sleeping bag is $30 which is quite worth the features and the benefits of this bag.
Vintage 1984 Care Bears Sleeping Bag Blanket
The Vintage 1984 Care Bears Sleeping Bag Blanket has been designed by American Greeting Corporation. The care bear-themed sleeping bag is meant to be used for children. The sleeping bag possesses a tender heart and nighttime bear on its front. The zipper of this sleeping bag is of good quality and the entire bag provides great comfort. It features red lining and measures around 62 inches in length and 30 inches in width. The best thing about this bag is that its width can easily be doubled when opened and it can even be zipped up very easily. It is just perfect to be carried while traveling and also makes for a very nice baby shower gift.
Groovy Girl Sleeping Bag with Purple Bear
The Groovy Girl Sleeping Bag with Purple Bear costs around $6 and it is recommended or children below 4 years of age. This sleeping bag is also very cute apart from being useful in putting the baby off to sleep within a very short span of time.
D738 Bear Sleeping Bag 34″ x 67″ Vintage Sewing Pattern
The D738 Bear Sleeping Bag 34″ x 67″ has been made of percale, muslin, gingham, and cotton. The sleeping bag is available in solid colors with different patterns sewed meticulously and in an attractive manner.