Are you thinking that you can add some extra fun to your trampoline play?
Have you thought about fixing a special basketball hoop to your trampoline?
Lots more fun, chances for informal competitions, and even get your kids' basketball skills honed!
Your trampoline will need to have a safety enclosure fitted otherwise there is nothing to fix your new basketball hoop onto.
Admittedly you can just place a free-standing hoop next to your trampoline, but that can be dangerous. Jumpers could easily fall off the trampoline or hurt themselves against the stand.
What do I Need to Know When Buying a Trampoline Basketball Hoop?
· Design
Try to choose a well-designed hoop set that will give the best opportunities for great play.
· Durability
The best basketball trampoline hoops are made from high-quality materials and are sturdy and will last through years of play.
· Outdoor suitability
As you will probably be setting your hoop up on an outdoor trampoline, make sure the product is good for use outdoors and is weatherproof.
· Installation
Ideally you will need to install your new hoop quickly and easily and without needing specialist tools.
· Fun
Basketball on a trampoline is a fun way to use your trampoline. The hoop you buy should be seen as a fun-generating accessory. Choose a hoop with this in mind and your family will love you!
Best Trampoline Basketball Hoop Sets
We are pleased to be able to offer our recommendations for the best trampoline basketball hoop sets on the market. This list is in no particular order of merit, but is intended as a guide.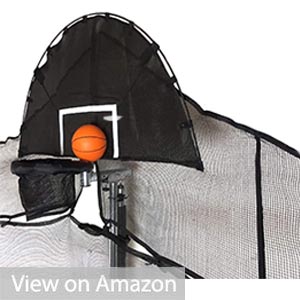 This is a versatile hoop that has been designed to fit onto safety net poles that are straight, curved or arch design. The poles do need to be no larger than 1.5 inches wide. It will fit most – but not all – models of trampoline.
The hoop has durability as it is made from powder-coated steel. The other materials have been treated to protect them from the strong UV rays from the sun in high summer. Slam dunking is possible due to the breakaway rim.
Fitting is easy, and the two mounting brackets ensure a firm installation. The ball that is included in the set is made of foam for greater safety. The cost averages at about $70.
The backboard for this hoop is solid and the rim will breakaway.
The clamps that are supplied will only fit onto vertical or horizontal poles but they are sturdy.
This hoop comes in a range of color options and with an inflatable ball.
The sturdy construction and ease of fitting ensures that the hoop will last for years.
The price is around the $65 mark.
The Jump'n'Jam hoop from Propel is designed to fit onto Propel Trampolines and Kinetic Trampolines, although they can be fitted to other models.
The backboard has wings so that the ball will rebound into the enclosure.
The backboard can be extended if necessary.
The metal parts of this set are made with a powdered steel coating for durability.
This set is well made and is both stable and pliable. The set includes an inflatable ball and a ball pump.
The price is reasonable at about $35.
For double the fun, consider choosing this versatile set from Skywalker.
Intended for a 15ft round trampoline.
The set is easy to attach to the rim of an enclosure and can be fitted to face inwards or outwards for play outside the trampoline.
The hoops are soft and will break away.
The set includes two foam basketballs and costs around $60.
If you do not already own a trampoline, and want one that will be fun as well as great exercise, then this complete unit from Skywalker is a good choice.
The hoop is already attached to the enclosure.
The entire kit is made to Skywalker's usual high standards.
The steel frame is rust-resistant the legs are W-shaped.
All the soft materials are UV protected. There is no risk of the frame twisting when in use as it is reinforced.
The hoop has a breakaway rim for safety.
The entire kit of trampoline, enclosure and hoop costs on average $350.
Why Should You Choose Trampolines With Basketball Hoop For Your Kids
Basketball is undoubtedly one of the favorite sports of Americans. Not only Americans, now all over the world people love to indulge in playing this game. The thrill and the adrenaline rush that you can get from this game are phenomena.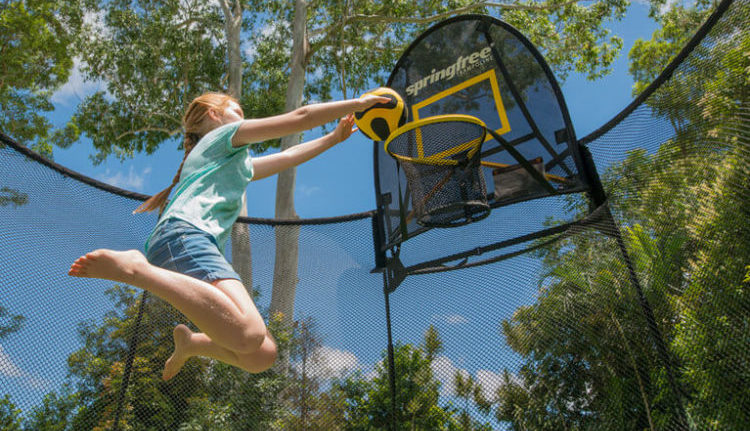 Moreover from this game, one can learn a lot of things. The teamsmanship, commitment, ability to take the challenge to achieve something are some of the best things that one can learn from this game.
So if you want to teach your child all these greatest virtues of the human then you can choose this game for your kid.
Benefits of the Trampoline with Basketball Hoop
It is not a very uncommon practice for people to fix a basketball hoop with a pole next to the trampoline so that it can help them jump and score. However, there is an element of risk and the possibility of falling. That's why a trampoline with a basketball hoop is a better option. It has a basketball hoop and also a safety fence that can limit players from falling off.
As a result, you can now enjoy your game with more confidence and ease.
Most importantly, you don't need to worry about getting hurt even while dunking; even if you lose your balance, you will fall on the trampoline instead of on the hard floor. Therefore, when you want your child to learn the game of basketball without getting hurt, this trampoline is the best product you can get.
The best part is that you can choose different kinds of trampolines for your child in this category. These products differ in terms of the height of the safety enclosure and the quality of the mat. So, keep all these factors in mind and buy a great trampoline with a basketball hoop for your family.
So, if you want your child to learn basketball without facing any physical injuries then you can go for a trampoline with a basketball hoop. This is probably the best idea which will help your child to learn the game easily and also help him in how to balance his weight while jumping. This type of trampoline is new but since the inclusion of this product, it has created a lot of noise in the market due to its awesome features and benefits.
How to Choose the Trampoline that Suits You
To buy the ideal elastic trampoline for you it is necessary to consider some characteristics:
#1- Resistant Edge
The jump canvas is surrounded by a ring that works as a support for the trampoline, it is important to ensure that this is of good quality, the recommended material for this piece is galvanized steel, since it is resistant to Corrosion and very durable.
#2- Weight Limit
Consider who will use the trampoline and make sure that it supports the weight of the person or groups of children who will play.
#3- Durability of the Pieces
The structure is composed of tubes and springs from which you must ensure their resistance to receive the strong pulls and movements to which they are going to submit. The pieces of bad quality can be synonymous with disarms and faults to the little time of use.
#4- Safety of the Trampoline
It guarantees that children while playing are not exposed to accidents.
The best elastic beds reduce this possibility when skirting the jump canvas with a mesh that prevents falls, also, the pillars that support the structure must be covered with padded material, to minimize the risk that people, large or small, receive blows while They are having fun.
How to Choose the Best Trampolines with Basketball Hoop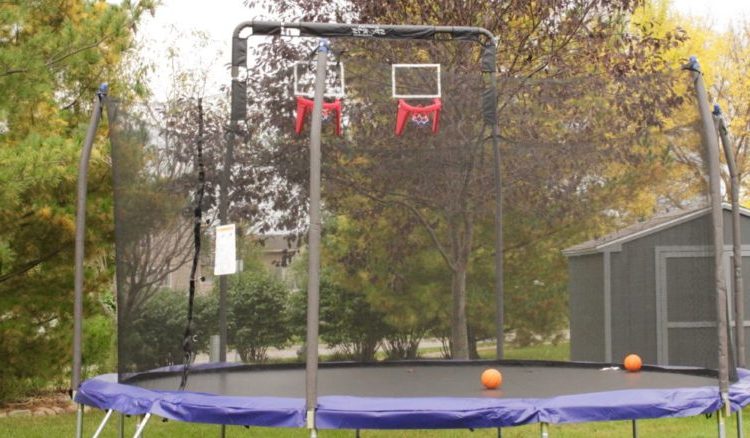 #1- Classics
They have a basic shape consisting of a rebound canvas, and steel legs as the base of the frame.
#2- Children
The design with striking colors for children, has a low weight limit and is so small that they can fit in the living room of your house.
#3- Rebounder
They are mostly used by adults to improve their physical condition, endurance and do soft exercises.
#4- Water trampolines
Covered by inflatable vinyl are apt to put them on the water, after they are anchored, they are fixed and ready to be used.
Other Types
Apart from the classic types of trampolines already mentioned, there are others that have been created based on the same principle, but transforming those already known, among these are:
#1- Inflatable
These are striking structures specially designed for children, such as castles, boats or popular characters, which are inflated and commonly used in children's celebrations.
#2- Olympic or Gymnastics
These trampolines are for professional use, implemented during Olympic games or athlete training. Due to the heights that are achieved, the use them must be supervised and strictly comply with the necessary precautions.
#3- Springfree Trampolines
These are the most innovative, this type of trampolines eliminates the inferior structure, which is responsible for the most common injuries in classic models; and it replaces it with flexible metal rods, which reduces the risk of suffering frequent blows against the hard structure.
The Accessories to Consider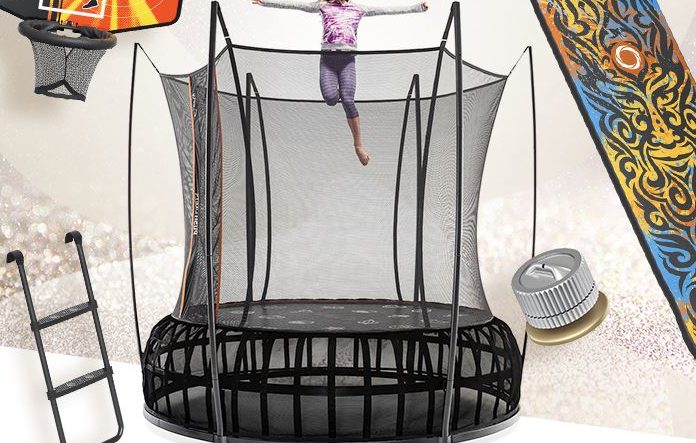 Although you may avoid adding accessories to your trampoline, accessories add to the safety level and the functionality.
Here is the list of accessories you can use with trampolines.
Canopies and tents: If you dread the thought of using a very high bouncing trampoline, the use of a tent or canopy can make the trampoline safer. With the help of a canopy, you can create a completely enclosed trampoline. The jumper will be prevented from jumping out of the trampoline.
Trampoline Pads: Since all the spring pads are not created equally, you need to buy extra pads to add to the level of safety and comfort. In case you have young children to use the trampoline, you need to consider the trampoline pads.
Safety enclosures: Enclosures are the best way of making the trampoline more secured and safer for different age groups of people. If you find that your model of trampoline lacks an enclosure, you must buy it.
Ladder: any trampoline is not complete without the safety ladder. Since jumping to the edges of the trampoline is dangerous, you must use a ladder to get on the trampoline and off the trampoline. In case, there is a safety enclosure in the trampoline, you need a ladder even more.
Covers: To add a touch of personality to your trampoline, you must consider the use of covers. The cover will protect your device during winters. In fact, covers are available in various shapes, designs and sizes.
Anchor Kit: If you are looking to keep the trampoline secured to the surface, you need an anchor kit. Those who want to use the trampoline outdoors can use it with the anchor kit.
Hoop Installation
Once you've decided on a hoop, you'll need to go about installing it. Most hoops will fit easily on the poles around the trampoline enclosure. Some hoops will have their own unique installation instructions.
While most basketball hoops for trampolines will simply hook onto the top of the enclosure pole, others will have a weighted base that attaches to the trampoline itself. Above all, it is important to ensure that you follow the instructions to install your hoop properly.
Make sure you read these carefully and follow them. If you install your hoop incorrectly it can fall and injure someone or break.
Conclusion
All in all, a trampoline with basketball hoop is a great addition to any family backyard setup. Kids can finally dunk baskets like their favorite basketball players, and parents can enjoy watching their kids stay entertained for hours. If you ensure that you've picked a high-quality hoop and installed it correctly, a basketball hoop for your trampoline is a purchase you won't regret making.
Having a basketball hoop on your trampoline will add to the fun your family can have. Be sure to buy one of the best on the market, and you will have years of pleasure ahead of you!