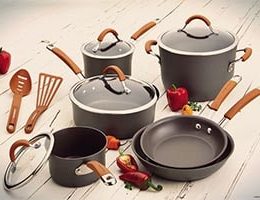 There's nothing more fascinating than walking into your kitchen only to be greeted by a stunning cookware set. A great set makes cooking seem more of a therapeutic task rather than a chore.
In this article, we will look at 9 of the best cookware sets on the market. We've put into consideration the fact that everyone is in a different stage when it comes to kitchen duty. From novice to professional cooks, this list has got you covered.
Let's get down to it, shall we?
Top 9 Best Cookware Sets 2021
1.

Cuisinart MCP-12N Cookware Set

– Best Cookware For Induction Tops
If you have an induction top, then you know just how hard it is to find a cookware set that is compatible with it. Most cookware sets boldly state that you cannot use them on induction top stoves. But, with this Cuisinart MCP-12N set, you will be able to cook all your meals without any worries.
The Cuisinart cookware set includes 1.5 and 3-quart saucepans, 8 and 10-inch open skillets, 3.5 quarts covered sauté pan, and 8-quart stockpot. This 12-piece set has a polished cooking surface that does not discolor or alter the flavor of your food. The set also features cool grip handles and tight-fitting lids.
The Triple-Ply construction of this set includes a heat conductivity of pure Aluminum core. This ensures your cookware set retains maximum heat. This heat is evenly distributed to make sure the food is properly cooked. The set is dishwasher safe and has rims that are tapered in order to ensure drip-free pouring. The only downside with this cookware set is the warping of the skillets. You, therefore, have to handle it with care.
Pros
Compatible with induction tops
Drip-free pouring
Dishwasher safe
Durable
Lightweight
Cons
The skillets tend to warp after some time
2.

Simply Calphalon Cookware Set

– The Most Durable Cookware
This cookware set has been constructed from Hard-anodized aluminum material. The material offers great conductivity and provides even distribution of heat. The interior surface is double-coated to make the pans and pots more sturdy and durable.
The Simply Calphalon cookware set includes 8-inch and 10-inch omelet pan, 1-quart and 2-quart covered saucepans, 3-quart covered sauté pans, 4 pieces glass lids and 6-quart stock pot.
The nonstick coating makes it easy to clean the pans. The set also comes with silicone handles that are comfortable to use. These handles stay cool when on the stovetops. You can safely use the set in the broiler and oven. The cookware set should be hand washed. So, don't try to put it in the dishwasher.
Pros
Durable
Nonstick coating
Oven safe
Distributes heat evenly
Comfortable silicone handles
Cons
Not dishwasher safe
Tend to discolor after some time
3.

Rachael Ray Cucina Cookware Set

– Best Oven Safe Cookware Set
This oven-safe cooking set can withstand up to 400 degrees Fahrenheit. The set has shatter-resistant glass lids and rubberized stainless steel handles. These make it suitable to be used on all stovetops apart from induction tops.
The Rachael Ray Cucina set is made from durable aluminum material. The exterior of the set is made from hard enamel porcelain. The set comes with 1-quart and 3-quart covered saucepans, 6-quart covered stockpot, 8-inch, and 10-inch skillets, and 3-quart sauté pan.
You can choose from the 5 different colors- agave blue, lavender, cranberry red, mushroom brown, sea salt gray and pumpkin orange. The only problem you may encounter when using this set is the fading of the colors.
Pros
Oven safe
Has ergonomic handles
Nonstick
Shatter-resistant glass lids
4.

T-fal E765SC  Cookware Set

– Best Cookware With The Largest Capacity
If you have a big family, then you should consider purchasing this cookware set. The set includes 8 inch and 10.25-inch frying pans, 5-quart Dutch oven, 3-quart, 2-quart and 1-quart saucepans. The set also comes with a slotted spatula and a nylon solid spoon.
The aluminum construction of the set enhances durability. It has a nonstick interior that is scratch-resistant. This makes it possible for you to use metal utensils. There is a Thermo-spot heat indicator that shows when the pan is ready. The set comes with comfortable silicone handles.
The TechnoResist Anti-Warp base offers excellent warp resistance and ensures even heat distribution.
You can use the set for all cooking methods apart from induction. When cooking, ensure you use low to moderate heat. Overheating the pans decreases the life of the non-stick coating. Another thing to note is the slick design at the bottom. This design may be pleasing to the eye, but it makes the pans to slide when you're cooking.
Pros
Pans have a large capacity
Nonstick interior
Comfortable silicone handles
Dishwasher safe
Warp resistant
Cons
They slide across the stove
5.

GreenLife 16-Pcs Cookware Set

– Bestseller On the Market
This bestselling cookware set includes 4-inch mini fry pan, 7-inch and 9.5-inch open fry pan, 1-quart and 2-quart saucepan, 2.5-quart sauté pan, 5-quart stockpot, 4 kitchen utensils, and 7-inch stainless steel steamer.
The set is oven safe and has soft grip handles that maximize comfort. These handles tend to get hot when you're cooking. So, you need to use them with great care. The Aluminum material makes the set to be durable and long lasting.
This material is an excellent heat conductor. This enables you to use less energy when you're cooking. The set is dishwasher safe and it comes in 4 different colors- black, lavender, burgundy and turquoise.
Pros
Soft handle drip
Oven safe
Dishwasher safe
Durable
Cons
Handle gets hot
Enamel chips off easily
6.

Paula Deen Riverbend Cookware Set

–  Best Heat Distribution
When you're cooking, heat distribution is very important. This will determine whether or not your meals are properly cooked. This Paula Deen cookware set is made from a durable aluminum material that ensures there is even distribution of heat every time you are preparing a meal.
The interior is made from a nonstick material that makes cleaning easy. Conversely, the exterior of the cookware is made from a stain-resistant material. The set comes with a shatter-resistant glass lid that locks in moisture and heat. It is dishwasher safe and you can use it on all stovetops apart from induction tops.
The Gulf Blue Speckle color promises to elevate the look of your kitchen. The set has two limitations. Firstly, they tend to scratch easily. So, you should avoid using metal spoons. Secondly, the pan may bend after a while.
Pros
Durable
Distributes heat evenly
Oven safe
Stain resistant
Cons
Scratch easily
Pans tend to bend
7.

Vremi 15 Piece Cookware Set

– The Most Versatile Cookware Set
This cookware set comes with 2 Dutch ovens, 2 saucepans, 5 nonstick cooking utensils, and 2 frying pans. The set comes in various multi-quart sizes. The saucepans have a capacity ranging from 1 to 4.2 quarts. Each pot comes with removable glass lids and stainless steel rims. The rims enable you to view your food without necessarily lifting the cover knob.
The cookware set is made from durable aluminum material but the exterior has been enameled. The set has ergonomic handles and is compatible with electric and gas stovetops.
You should not use it on induction cooktops. When it comes to cleaning your set, your only option is hand washing it since this is not dishwasher safe.
Just a disclaimer: This set produces a pungent smell when you're cooking. You can try to find creative ways to mask the smell. With time though, the smell will go away.
Pros
Versatile
Durable
Oven safe
Nonstick interior
Ergonomic handles
Cons
Not dishwasher safe
Gives off a pungent smell
8.

Cook N Home NC-00358 Cookware Set

– Best Cookware Set For Beginners
As a novice chef, you need a cookware set that contains just the essential pieces. And, what better set is there than this Cook N Home cookware set?
The set has only 10 pieces. This ensures you don't get overwhelmed in the kitchen. The pieces include 1 and 2-quart saucepans, 3-quart casseroles, 8 and 9.5-inch fry pans and a 5-quart Dutch oven. These pieces are made from a thick aluminum material to ensure heat is evenly distributed in your meal. The nonstick coating makes cleaning easy.
The set also comes with glass lids that allow you to view the food. They have anti-slip handles that stay cool when you're cooking. The cookware works on electric, gas, ceramic, glass and halogen. But it does not work on induction. Another thing about this cookware is they are not dishwasher and oven safe.
Pros
Ideal for beginners
Durable
Nonstick coating
Comfortable anti-slip handles
Cons
Not dishwasher safe
Not oven safe
9.

AmazonBasics 8-Piece Cookware Set

– Best Bang For The Buck
If you're not able to spend a lot of money on cookware sets, then you should go for this $39 AmazonBasics set. This 8-piece cookware comes with 8-inch and 10-inch frying pans, 3-quart casserole pan and 1.5 and 2-quart saucepans.
The AmazonBasics cooking set is made from a durable and long lasting aluminum material. The nonstick coating makes both cooking and cleaning easy. The cookware comes with comfortable handles that stay cool. There are also vented glass lids that allow steam to get out of the pans. The set is compatible with electric, glass and gas stovetops. They are, however, not compatible with induction.
The cookware is not dishwasher safe. The biggest limitation with this set is the few pieces that you'll get. Eight is not a gratifying number. But then again, it's good enough if you are on a tight budget.
Pros
Durable
Value for money
Comfortable handles
Nonstick coating
Cons
Not dishwasher safe
Comes with fewer pieces
Are you confused about the cookware you need for your kitchen? With a large number of options available out there, it's easy to get confused. You can follow this guide to choose the best cookware set. (P.S. if you want to buy pans, you can check this review: Best Ceramic Frying Pans)
Buying Guide For The Kitchen Cookware Set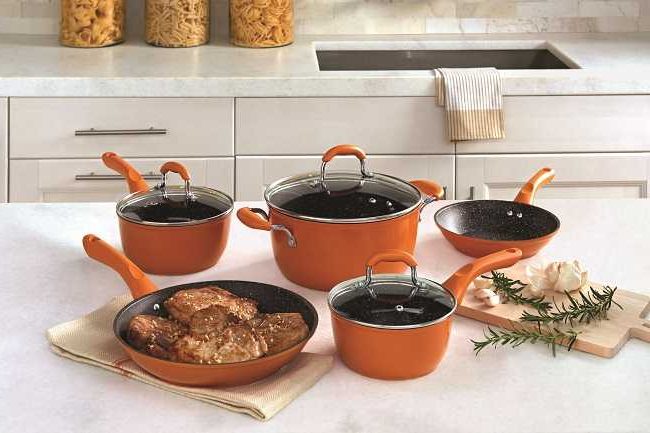 You should take the following factors into account while shopping for the kitchen cookware set.
– Budget
You don't need to spend a fortune on kitchen cookware. That's why it is important to set a budget before you go shopping.
If your budget is too high, you will probably end up buying stuff that you don't need. If your budget is too low, you will have to be flexible during the selection process and discard away some of the items you probably need.
– Materials
It is important for you to buy cookware made with material that does not add any toxic substances to your food. Let's look at some of the most popular materials used for manufacturing cookware.
Stainless steel is a popular choice as it is highly resistant to denting and scratches. Stainless steel is highly inert and is not an excellent conductor of heat. Stainless steel cookware can last for years.
Cast iron cookware also lasts for years and it is quite budget-friendly. You can use it during campfires and on all types of cooking surfaces. Cast iron is a little heavy but the cookware made with cast iron last very long.
Aluminum cookware is lighter weight, which is great when you're moving pots and pans all day or night. And aluminum heats and cools quickly, making it popular with short-order cooks who need to work super fast. However, it needs proper cleaning as it can get stained easily.
With Teflon cookware, you can cook food with very little or no oil. You need to take proper care of the Teflon cookware as it can lose its non-stick properties due to excessive scratching. You must ensure that you don't overheat the Teflon pan as it can release toxic fumes due to excessive heating.
Ceramic is a great choice for cookware as there is no risk of emission of toxic chemicals and the material is recyclable and eco-friendly. Ceramic cookware is not as durable as stainless steel or cast iron.
– What Do You Cook Most Often
You need cookware that matches your cooking needs. For soups, you need large stock pots and stainless steel is the apt choice for the material.
If braised meats and stews are the main kinds of meals you cook, you will need a Dutch oven. For cooking eggs and pancakes, you need non-stick pans. A cast iron skillet is the right choice for cooking steaks.
– Types Of Cookware
The most common types of pots and pans include saucepans, skillets, stock pans, and dutch pans. You should probably buy a saucepan or skillet first if you are on a limited budget.
– Quantity
The quantity of food is the main determining factor while deciding the size of your cookware. If you live with your family, you need large pots and pans. If you live alone, small pots, pans, and skillets are enough for you.
– Durability
You don't want to buy cookware too often and you want to make them last longer. Stainless steel and cast iron cookware last the longest and don't need too much care. However, if you need non-stick cookware, you should go for Teflon or ceramic cookware and need to take proper care of it.
Conclusion
Whether you have rented an apartment recently or want to upgrade your kitchen, cookware should come first to your mind. You need cookware that fulfills your cooking needs. Make sure that you don't buy anything that you don't need and that's why you need to understand your cooking needs.
You should keep the budget, material, cooking habits, durability and ease of use in mind while buying cookware. Make sure that you enlist the food that you like to cook so that you buy the right cookware for your needs.
Stainless steel is the right material if you want your cookware to last long and for non-stick cooking, you need ceramic or Teflon cookware. Make sure that you take proper care of your cooking equipment so that they don't lose their essential properties.
Finding the best cookware set among the numerous sets available on the market is not an easy task. That's why we went ahead and broke it down for you. Hopefully, this article has helped you to spot your next cookware set.