As there are many different types of dry bags available in the market manufactured by various brands, making the right choice isn't the easy thing as you think.
You must consider various aspects before buying a dry bag to ensure you get your money is worth and the equipment serves its purpose of protecting your stuff.
The following tips will help you pick the best ones that suit you, your lifestyle and your activity.
Tips on Choosing The Best Dry Bags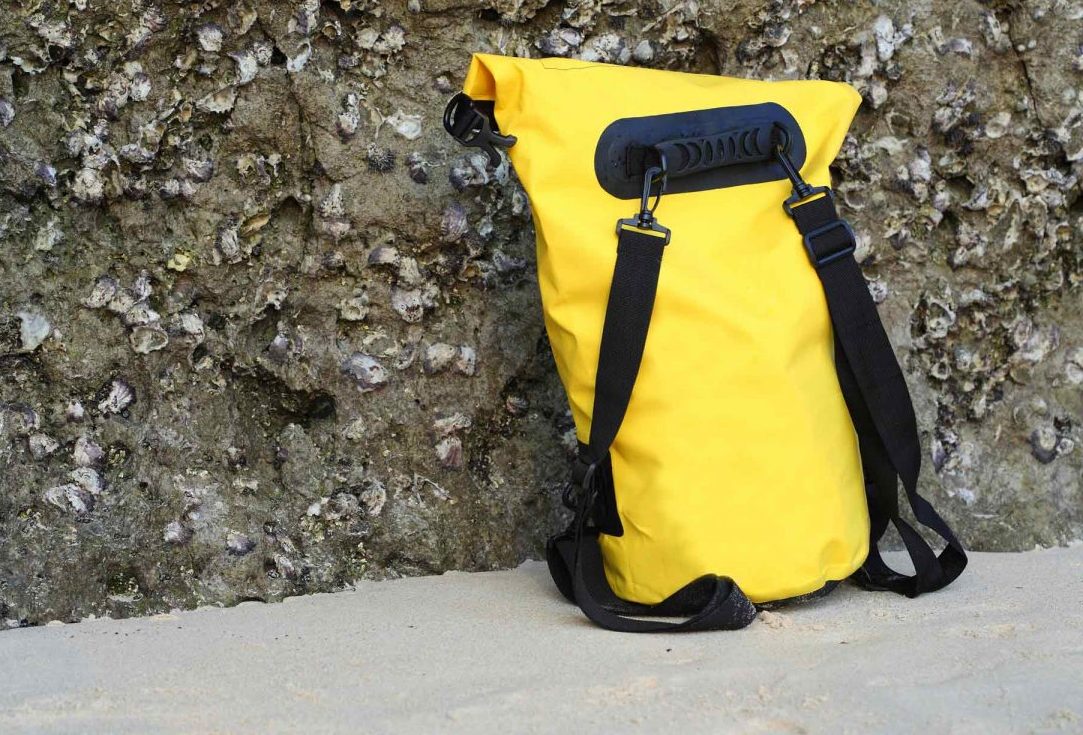 Material
Dry bags come in several materials, ranging from vinyl (the toughest and stiffest) to nylon and plastic. If you wish to reuse the container, it is best to buy the one that will last longer. This means choosing vinyl material.
It is usually more expensive than the other two but the material can withstand being folded, crumpled, rolled and flattened. It is specially formulated vinyl that can be exposed to saltwater and cold temperatures. Nylon will last longer than soft plastic but it will eventually crease and have leaks.
Closure Features
These waterproof bags come with different closure methods. There is a zipper seal that is similar to that of a freezer bag. The roll-top closure is one of the more popular and is commonly used for cylindrical shaped bags.
There are also the hard case bags that resemble a briefcase and come with really tough features like waterproof locks, crush-proof material and are dustproof. I recommend the roll-top closure for water activities and sealing against rain exposure.
Zipper seals sometimes lose their seals from the constant open and closing. The briefcases are really tough but they can be expensive and they hold their shape making them inflexible when stuffing them full.
Sizes
All of these bags come in a variety of sizes, usually measured by gallons or liters. The best way to choose the right one for you is to check what kind of space you have.
If you have a kayak, check how big your hatch is and which size fits into it. You might be better off buying two 20 liter bags for a square hatch than one 40 liter bag.
For camping, you can opt for dry bags that you can attach to your backpack or which fit inside your backpack. There are smaller waterproof containers for flashlights, phones and wallets.
Useful Features
While the best dry bags are often simple to use, there are some with added features that make it more convenient. One of the more useful features is a valve that allows you to release air after you have sealed it. These features make s the dry bag easier to fit in smaller spaces and more compact.
Another feature that some, not all, bags have is a small window that allows you to see what is inside. This makes it easier to check which bag contains what. Some bags also have a ring or handle feature on which you can attach a carabiner or a hook. This can help you anchor it to your backpack or to your kayak.
Colors are not just for aesthetics when it comes to these containers. You can color-code your bags so you don't have to keep on guessing what is inside your bags.
These very useful bags are great for use during outdoor activities and when you go on trips. Smaller dry bags can fit in your luggage for a more organized trip. Using these can also prevent your things from getting wet since not all luggage are waterproof.
Here we introduce you to the ten top-rated dry bags, so you can be confident in your choice.
1. Montem Waterproof Dry Bag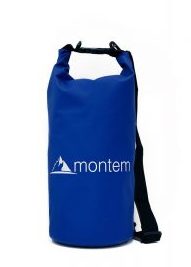 These dry bags are provided with superior quality materials for better water protection. These bags come with 500 denier polyester and it is vinyl coated. So it keeps all your things dry and these materials make sure the quick submersion.
It is available in 5 liters, 10 liter and 20-liter dry bags. So you can protect your gears from water in all your adventure trips such as kayaking, traveling, camping, hiking, rafting and so on.
You may also like: Best Inflatable Kayak Reviews
Its quality materials and construction made this product very durable and versatile. So this dry bag will ensure that all your valuables dry.
It is provided with one year warranty, so it will keep your gears dry during all your adventure trips for one year. Montem dry bag is as tough comes- it resists tears, punctures and can even last you a lifetime. Always, this bag will be your savior.
2. Earth Pak Dry Bag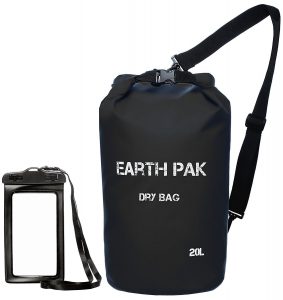 Earth Pak dry bags are one of the best waterproof bags in the market. These bags are available in more colors and sizes. So you can pick the size and color you want. For greater water resistance, it is provided with many features. These features make this product perfect for camping, hiking, rafting, boating and so on.
This bag is attached to the mobile phone case which is absolutely waterproof. So you can store the mobile phone safely and it is also suitable for small things like glasses and wallet.
The most important thing about buying earth Pak dry bags is they are affordable. Earth Pak dry bag is provided with high-quality materials. This dry bag also has marvelous stitching and design. So it not only looks stylish, but it also gives you greater protection against water while you outside.
You can easily carry this bag, since it is provided with shoulder straps. For greater water resistance, it is provided with buckle closure. Since it is provided with buckle, you can easily close the bag without putting any effort.
3. Seal Line Boundary Pack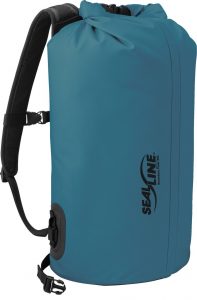 Seal line boundary pack is a waterproof backpack that makes an excellent addition to the sea kayaker's gear shed. This comes in three sizes: a 35-liter day pack, a larger 70-liter pack, and a 115-liter pack carry everything including the kitchen sink, megapack. It is available in four colors to include yellow, green, blue and black.
It is super tough, being constructed of a combination of 30 ounces and 19-ounce scrim-reinforced vinyl. This is suitable for those looking for a PVC- free version. The dry seal roll-top of this bag provides a watertight seal designed to withstand quick submersions and help the pack float if dropped in the water.
The backpack part of this boundary pack comes in the form of a lightweight and removable suspension system which includes ventilated shoulder straps and an adjustable waist belt.
The harness system of this bag is designed to be most comfortable for medium weight loads. The empty 70-liter pack weighs 1.16 kg which is very suitable for carrying. These bags make a great gift for any outdoor enthusiast or camper.
4. The Friendly Swede Dry Bag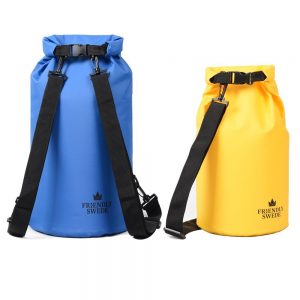 This friendly swede dry bags give you best quality and it also comes at affordable prices. Since it is provided with numerous wonderful features, it gives you better water-resistant at all times. These bags are available in more colors and sizes. So you can pick the size depending upon your need and you can select the color which one you want.
It is made up of high-quality nonrip materials and the stitching is well too. So these bags are suitable for all your adventurous trips. These dry bags don't give 100% protection against water. So, remember when you use this dry bag, don't fully submerge it into the water. Unfortunately, these bags should not be used as a flotation device too.
For extra safety, it is provided with extra care. It is double stitched for preventing water intrusion and it ensures the safety of the gears. For easy and efficient handling it is provided with buckle. So you can easily close the bag and it will give protection from water. But the only drawback of this dry bag is it is not made up of with poly vinyl chloride, so the weight carrying capacity of these dry bags is low.
5. Outdoor Products Dry Sack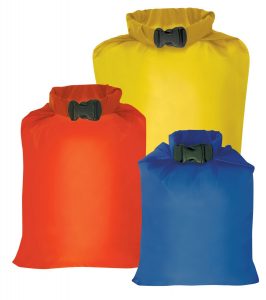 These dry sacks definitely will catch your eyes because they're pretty good. It is provided with numerous wonderful features for providing better protection against water, sand and dirt It also features a watertight roll-top closure and double-stitched seams that are covered with watertight tape.
It is designed to fit any item you might need on your adventures. These sacks are perfect for a family camping trip or a day out at the lake with your best buddies.
This sack comes with 3 packs to protect your gear. The roll-top allows maximum compression. It is reinforced with double stitches, the roll tops can be compressed and sealed tight to prevent water from seeping in. It indeed does work to protect important items from damage.
It is established with high-quality materials and the stitching is perfect, so it provides greater protection when you go camping, rafting, boating and so on.
6. Mountain Top Dry Bag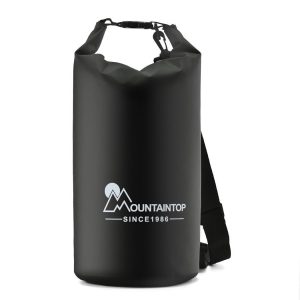 If you are looking for the dry bag to carry along in your trip, then take a look at the mountain dry bag. With its various wonderful features, you can get both durability and reliability. This waterproof dry bag guaranteed to keep all your gear protected no matter what the conditions are!
This comes with an adjustable shoulder strap to adjust the length of your need.  So there is no need to carry it by hand as you can just simply throw it over your shoulder and take it along on your big adventure. You can use it all your adventurous trips such as kayaking, swimming, fishing, skating and so on.
Everyone loves this product, since it comes with low prices. This ranks high on user-friendliness as the sealing mechanism doesn't require any complex functions.
It is the ideal storage solution to have for any kind of water sports or outdoor adventure. This bag is highly portable and occupies very little space in storage hatches and has been designed using high-quality material that provides long-lasting durability.
7. Adventure Lion Premium Dry Bag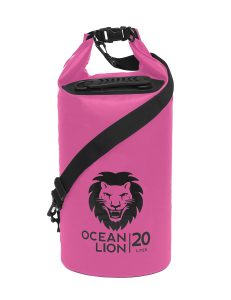 Adventure lion premium dry bag is famous for its quality. Everyone wants to buy this product because of its supreme quality. These dry bags are also available in different colors and different sizes depending upon the user's needs.
For easy handling, it is provided with two straps and handle. So with the help of handle, you can easily lift the bag along with loads and the shoulder straps are providing easy carrying. Straps are provided with or without pads for various loads. For heavy loads, these bags are provided with pads and lightweight these are provided without pads. So you can select depending upon your needs.
Since this dry bag is made up of high-quality material, it is suitable for all adventurous trips and it is very strong and durable. So you can use this bag whenever you go camping, hiking, skating, kayaking and so on. This dry bag keeps all your belongings completely safe and dry even if it is happened to be submerged underwater.
8. Unigear Dry Bag Sack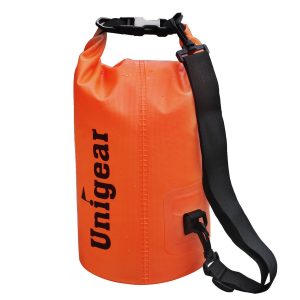 Unigear dry bag sacks are unique splash-proof bags. It is durable and lightweight and perfectly suitable for all water activities. These bags provide complete protection for your small important items such as phones, credit cards, wallets, documents, and so on. So hereafter you can carry your electronic gadgets everywhere you go.
These are the best selling dry bags because of this numerous excellent features. Unigear bags are completely affordable dry bags which are the top in quality too. Its shoulder strap provides you easy lifting and carrying. And it is also available in different sizes, ranging from the smallest 5L to the large 10L one to meet all your needs.
It is designed out of lightweight material. Because if you love to travel around, it becomes essential to carry extra layers of clothing, food, medicine kits, etc. So being super lightweight it is easy for you to carry around. These dry bags have a roll down top which is proven to be the most efficient at keeping moisture at bay. So you can use it well on your all travel adventures.
9. DRY PAK Multi-Purpose Nylon Case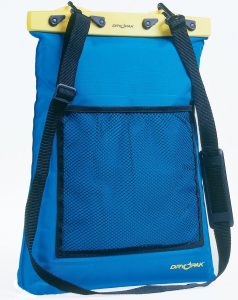 Kwik Tek dry bags are great for boating, paddle sports, camping and scent proof storage for hunting. So if you require dry bags for one of these needs then you can pick this up. It is manufactured from extra heavy duty vinyl or polyester laminate with electronically welded seams. The high and plastic hardware ensures the long life of the bag. It has a removable shoulder strap and is adjustable and padded. The molded bottom of the bag adds structure and protection for your stuff from inside.
It has welded seams to prevent leaking. You can shut out the water by rolling down the top few times and snapping the side release buckles together. Then unroll and open to enjoy the huge tapered access opening on top.
These duffels are water resistant at best and take waterproof to a whole new level. It is worth the price because this bag is high quality, inexpensive for what you get, waterproof and has plenty of space inside. So if you are a sportsman, a traveler, or a water sports lover, then this bag will be perfect for you.
10. Leader Accessories Dry Bag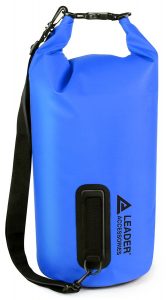 It is made up of marine-grade vinyl in high frequency welded construction. So these dry bags protect all your belongings from dirt, sand and water. Not only this, these bags are also suitable for all kinds of adventurous trips such as hiking, camping and so on.
The point of having the dry bag is simply to protect your travel gear and things from getting wet. If you have this dry bag, you won't have to be extra careful in maintaining your materials, because it comes with the necessary waterproofing capability to keep your belongings perfectly safe.
It is manufactured in a wide range of sizes that make it suitable for everyone. The sizes are available in 5L, 10L, 15L, 20L, 30L, 40L, AND 55L. It offers excellent portability when climbing mountains or crossing rivers.
This bag comes with an adjustable shoulder strap so it can be adjusted to any length depending on the user's needs. It is made up of high-quality materials so it even works great under waterfalls and during a downpour. It is truly waterproof and robust enough to withstand harsh conditions. So if you love being outdoors then it will definitely perfect for you.
The Bottom Line
I hope the above dry bags would help you to choose the right type of bag for your next adventurous trip. Having any ideas and thoughts on the topic are welcome.
If you have any queries feel free to ask your question using the comment section below. If you have any experience with these dry bags please do share with us.