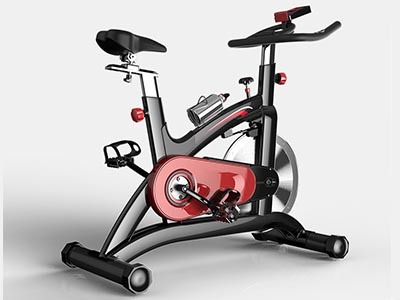 Everyone surely desires a cheap exercise bike when they are going to buy it, but not all of them know how to find exercise bikes so they can get the high quality one at a cheaper price than the regular price.
Investing money in this kind of workout machine is quite challenging as it's involved money.
So we want to help you to get the best exercise bike at a cheap price by providing these tips on how to find exercise bikes.
Many retailers and sports stores offer different prices for the products they sell, as a buyer, we need to compare their prices and offers and then decide which one gives the best offer.
It is certain that the cheaper price can be obtained from the retailer that offers the sale price.
In order to make sure you get the best experience from an exercise bike, we have gone ahead and compiled a list of 10 of the best exercise bike on the market.
Top 10 Exercise Bikes
In a hurry? Just check the quick editor's choices:
1. Marcy Recumbent Exercise Bike with Resistance ME-709
With other exercise bikes, you have to prop yourself up on an old style seat, which can be extremely uncomfortable and annoying for most people.
With the Marcy Recumbent Exercise Bike, you get to sit comfortably while you exercise, and that will make you want to use this cycle more often.
Not only are you getting a decent exercise bike, but you are also becoming healthy with less money than you would spend on one of those expensive cycles that has everything but a kitchen sink built into it.
The Marcy Recumbent Exercise Bike allows you to ease yourself into your exercise routine without straining and still maintain a high quality workout.
If you are looking for an exercise bike that will fit in almost any room and help you stay in shape, then this mag cycle will be what you are looking for.
There are many other cycles that are on the market that will promise you everything under the sun, but will end up costing you a lot of money.
The Marcy Mag Cycle gives you a great workout at a reasonable price, and you get to stay healthy in the comfort of your own home as well.
Pros
Easy to assemble in an hour or so
8 marked levels of resistance
2 sets of handlebars allow you to exercise in different positions
Can be adjusted to fit a range of heights
There are transport wheels to help with moving the bike
It is an affordable price bringing it in range of most budgets
It is sturdy and appears durable
Cons
Does not come with a heart rate monitor
There are no pre-programmed workouts
Adjustment for different sizes can be difficult
Seat doesn't include a headrest
2. Sunny Health & Fitness Pro Indoor Cycling Bike
For anyone looking to start spinning in the comfort of their own homes, the Sunny Health & Fitness Pro Indoor Cycling Bike is the perfect option.
For a beginner's bike, this is the perfect option. You won't have to worry about learning how to use all the fancy electronics on the digital display and the bike is very easy to set up.
In fact, you could be spinning in a matter of minutes, once you get the package in your home. There is nothing better than being able to burn calories while you're sitting in your home, and that is exactly what you are going to get with this exercise bike.
This bike comes with a 40-pound flywheel and a chain drive to guarantee a quiet and smooth workout. Other exercise bikes can come with belts instead of chains, and that can cause all kinds of headaches from them slipping off or squeaking when you tighten the adjustment.
The chain allows you to adjust your workout, and you won't have to worry about anything slipping off and causing you even more aggravation. Add to this the adjustable seat and handlebars, and you get a cycling bike that anyone can get on and use right out of the box.
There is no learning curve, and you are getting the best possible workout for the price. If that is something you might be interested in, then look no further than the Sunny Health & Fitness Pro Indoor Cycling Bike for your home workout routine.
Pros
Fully adjustable handlebars and seat
Highly sturdy build
Heavy duty crank and steel frame
40 pound flywheel – above average
Chain drive mechanism
Adjustable resistance
Wheels for transportation
Very easy assembly
Cons
Does not come with a built in the computer console
Might be a bit noisy for some
Might require an extra gel padding for the seat
3. Schwinn 170 Upright Bike
Schwinn is a company with many different exercise bikes to their name, all with promises of goal tracking, plenty of programs and a smooth ride.
But the Schwinn 170 Upright Bike definitely seems to have a lot of options on offer for riders with its 25 resistance levels, 29 programs, 4 profiles and 13 display feedbacks.
With four user profiles and a seat post that can be adjusted in different directions to accommodate users as short as 5ft and as tall as 6ft.
It is clear that this bike has a lot of potential for many different users and possibly even families with teenagers that also want to get fit.
Once each member of the family has got comfortable and the bike has adapted to the correct user settings, many users find that it offers quite an enjoyable ride because it is smooth and quiet.
Buyers also love the fact that they can link the bike up to their fitness pal profile for greater fitness management and calorie control but there is also high praise for the readouts on the dual-screen console. Add to this the music system and the average quality fans and users have the ability to enjoy their session pretty well.
One of the key problems with this product comes in the assembly; not only does it take more than one pair of hands to get it up and running with all the parts, but the instructions also leave a lot to be desired as they are mostly in the picture form.
There is the sense that while this machine does a lot to accommodate users, providing those much sought after adjustments and user profiles for a quick start and ease of use, it could do a lot more to be completely convenient and user-friendly.
These changes would not be hard to implement – a few clearer instructions in the manual and console, slightly higher resistance and a better hand grip for the heart rate reader – and they could make a big difference to buyers' experiences with this product.
As it stands, the Schwinn exercise bike is flawed but still highly appreciated for its current performance and it is still recommendable to families looking for fitness tracking because of its adaptability, smooth ride and data management.
Pros
Has 29 workout programs to keep you interested and challenged
It is low maintenance
Has a good range of accessories
Has transport wheels to help with moving it around
It works with any Polar uncoded heart rate strap
Cons
Not designed for standing on pedals
Doesn't have a guest profile
You can't set up your own custom workout
4. FitDesk Desk Exercise Bike and Office Workstation
There are a lot of people out there that would love to be able to get the exercise they need to stay healthy but find themselves way too busy to actually do anything about it. This is especially true for the numerous people that are working from home these days online.
Well, a little company called FitDesk has come up with an ingenious idea on how to keep your work productivity high and still maintain a healthy body by creating the FitDesk X Compact Pedal Desk.
What this little gem does is offer you an opportunity to continue to work with your laptop while you are riding your exercise bike at the same time. That means you can work and exercise without having to worry about going to the gym before or after work, and that gives you more free time for your family and friends.
What could possibly be better than that?
By allowing you to maintain your healthy lifestyle and still be able to work, you are getting the best of both worlds. You no longer have to pay for a gym membership or use your exercise bike at home while worrying about that big presentation at work.

Simply bring your work home with you and jump on the bike. You will soon find yourself enthralled with what you are doing on your laptop and completely forget about all those calories you are burning in the process.

You can even use this bike for watching movies or simply playing video games when you have all of your work done.

Pros
Very sturdy design
High-quality materials
The soft rubber on top of desk could keep my laptop very well
Super-quite engine
The massage bar is quite comfortable for your arm
Cons
The wire connecting to the meter can't be attached to the desk
The desk is a little small for big laptops as there is no space for a mouse
5. Body Rider Exercise Upright Fan Bike
There are many different exercise bikes on the market, and each one of those has different aspects that other bikes may not have.

This is just as true with the Body Rider Fan Bike as it is with any other exercise bike available. One of the best things you get with this exercise bike is the fan action that helps create a welcoming breeze while you are hard at work losing those extra pounds.

Of course, there are plenty of fan bikes out there that you can purchase for your home, but none of them will have the quality of the Body Rider Fan Bike, and don't forget about how great the price is, either.

When it comes to exercising in your own home, there are many different routes you can take. Some people prefer to have a large workout station with all the bells and whistles and some people prefer to go a simpler route.

Whichever way you want to work out, the Body Rider Bike is a perfect addition to any home gym and will give you the workout you deserve. Not only do you get the adjustable biking experience, but you also get the handlebars motioning to add to your physical experience in a way that stationary bikes can't manage.

The Body Rider Fan Bike is very easy to set up and will fit in just about any room you have available to put exercise equipment in. Not only will you enjoy getting a good workout in when you need it, but you will appreciate the fact that you won't have to break your wallet to purchase it.

Pros
This is a very affordably priced bike
Resistance is manually adjustable using the knob
Easy and quick to assemble
Seat can be adjusted for a range of heights
The bike comes with a basic console
Cons
No built in workout programs
No transport wheels to make moving the bike conveniently
Handlebars are always moving when pedals are moving
6. ProForm 290 SPX Indoor Cycle Trainer
If you are looking for professional quality without the professional price, then you should look no further than the ProForm 290 SPX Indoor Cycle Trainer.

One of the oldest and most well-known names in fitness equipment, revolutionizing the treadmill industry single handedly, offers you the highest quality in cycle trainers available today.

This is the trainer that professionals would use in their off time while maintaining their training routine during bad weather.

This is the cycle that you should purchase whether you are an avid cyclist looking for a way to train or a beginner that is looking for more cardio workout options for your home.

Most new cycles have built in computers that tell you all about what you are currently doing, but some people just want to ride and not worry about the calories they are burning. This is where the ProForm comes in handy because it leaves all that extra nonsense out and, instead, focuses on the quality of a good workout.

The addition of the rollers gives you the ability to easily move this cycle from one room to another without hurting yourself by trying to pick it up. Simply tilt the handlebars down and roll the bike from one place to another without the strain of picking it up.

There has never been anything easier than this, and the best part is that you don't have to go broke in order to purchase it. Reviews of this cycle show that people love it and there is no reason why you wouldn't love it, too.

Pros
Upright exercise bike w/ Chain Drive system
Comfortable padded seat that also adjusts
Toe-Cage pedals also flip for advanced users
Compact and portable exercise bike
Non-slip handlebars with grips also adjust
Accessory tray includes water bottle holder
Cons
No way to monitor heart rate
No display system, no pre-defined workout options
7. Schwinn 270 Recumbent Bike
Schwinn is a name that many of us have come to trust regarding bikes and there are high hopes about the performance that the attractive, professional-looking Schwinn 270 Recumbent Bike can bring to the home gym of the keen fitness fan.

This bike is all about three important things: resistance, high-quality parts and information.

There are 25 resistance levels with this Schwinn exercise bike, which may sound a little excessive to the average user, with the purpose of giving users a challenge and progression. Riders can work their way through the levels with comfort and speed and hardly make a noise.

These multiple resistance levels are coupled with a high-speed, high-inertia weighted flywheel for a smoother ride.

This is one of many areas where Schwinn seems to have gone to extremes to offer top quality parts for the ultimate performance as there are other little details that users have highlighted across the machine, from the quality of the speakers on the music system to the auto-shutoff mode and comfort of the seat.

Finally, there is the dual-track LCD window system with its two screens, multiple buttons and the ability to view 13 different streams of data at once.

It is clear that this is not a bike for the first-time, casual user because many of the parts and motivational features will not be used to their full potential.

Instead, this is a high-end bike that markets itself to the more driven, capable user that will really appreciate all those programs, resistance levels and little details. A comfortable recumbent bike with different settings is a good start but the personalization and depth involved do help to set this model apart from more standard machines.

For many, this intelligent, recumbent bike will be a great addition to the home gym because even though it has its minor flaws, its successes are impressive. The key to the success of the Schwinn exercise bike is this idea of progression – working on a routine, working through the levels, monitoring 13 streams of data and noticing the positive changes.

Pros
Integrated console with 29 programmed workouts
Four user profiles so that family members can save their data and automatically save workout results
Mobile device shelf and USB charging port
MP3 player port and sound system
Three-speed cooling fan
Water bottle holder
Cons
Control panel doesn't have adjustable height
Calorie burn estimate seems inaccurate to many riders
8. Nautilus U614 Upright Bike
With 22 programs and 20 resistance levels, the Nautilus U614 Upright Bike should certainly be capable of a strong workout that will let users test their abilities but the sales photos may make some prospective buyers think twice.

Because there are such similarities between many exercise bikes and brands on first impressions, it is often the little details and extras that make a product stand out and enhance the user experience.

Here examples include the adjustable fan, for a nice cooling blast of air in the places that need it most, and the simple button to put the machine into cool down mode once you are finished.

Nautilus U614 UprightSome had expected a little less from this machine because it is such a compact model and just for at-home use but these extras and other features like the programming, large pedals, media shelf and music system all add to the enjoyment of riding this bike.

The speakers may not look like much but they are acoustically chambered for greater sound quality.

These extras are most appealing to users in their performance and the way they add to the product but it is important to note that this bike does a lot of the basics pretty well too. The programming is pretty standard and easy to use and find, thanks to the console, and the usual data is relayed back to the user.

The Nautilus U614 has a dual track LCD system for displaying 13 aspects of user data and there seems to little complaint about the accuracy or anything important that is missing. Additionally, the bike is pretty easy to put together with a little patience over the instructions, although some parts are a little heavy.

This Nautilus exercise bike is a product that pretty much anyone can get to grips with and its programming, data displays, adjustability and creature comforts mean that it does indeed exceed initial impressions.

Pros
It is low maintenance
The bike operates very quietly
Easy to assemble within 1 to 2 hours
20 levels of magnetic resistance with level shown on the display
Has levelers to keep the bike steady on an uneven floor
Can set up 2 user profiles for better monitoring and set up
Cons
Seat can't be adjusted horizontally
It isn't possible to set up a guest profile
You set up your own custom programs
9. Lifecore Fitness Assault Air Bike Trainer
First impressions of the Lifecore Fitness Assault Air Bike Trainer are that this is a professional-looking machine that will offer a tough workout, mostly due to the massive wheel to generate the air resistance and the long reach of the handlebars.

One of the more interesting aspects of the programming of this exercise bike is the idea that this is not your basic computer console with standard training applications and data monitoring.

Instead, the product description highlights the idea of motivational programs and the idea that this bike encourages users to push on with their fitness regimes.

The computer display is primarily there to let users set targets and see their progression and there is a Tabata interval mode to give a sense of versatility and something a little different compared to other exercise bikes. Buyers agree that it gives them focus and enough information to progress.

Of course it is not just the computerized aspect of the bike that makes it such a beneficial piece of equipment for a tough workout as the build quality and capabilities of this bike play a big part too.

This is a tough bike that feels study and built to last and the idea that this is "a frame that can take the abuse and dish it out too" is supported by many buyers.

In addition to this, ball-bearings have been used throughout the machine for a smooth motion so it is still enjoyable to use when it is being pushed to its limits.

On the subject of limits, it is also important to remember that this Lifecore Assault Air Bike promises unlimited resistance so there is theoretically no upper limit for more capable users.

The problem with the seat is a bit of a disadvantage here but it is one that the manufacturers could easily fix in future models and the lack of any other issues mean it is easy to see why so many users are so impressed with this machine.

If you are a well-prepared, experienced user looking for a tough beast of an air bike with plenty of motivational tools, the capability to push you really far in your Cross Fit/cardio routine and reliable construction, you cannot go too wrong with the Lifecore exercise bike.

Pros
Made to commercial grade specifications to provide a robust and durable air bike
Assembly is easy and can be completed in less than an hour
A good sized console with 8 different programmable workouts
Can get an upper and lower body conditioning workouts or just one or the other
The bike is stable at all levels of intensity
Used at the CrossFit Games
Cons
Seat is uncomfortable for a number of people
Heart rate strap not included for use with console
Console not backlit which can make it hard to see in poor lighting
10. Exerpeutic 400XL Folding Recumbent Bike
The Exerpeutic 400XL Folding Recumbent Bike is a simple, tiny looking product from the photos but it has an impressive specification with the precision-balanced flywheel, 3 piece cranking system, LCD display and safety features.

Exerpeutic claims it is the best way to workout at home "without dedicating an entire room to your exercise equipment".

There is a definite sense that this is the ideal bike for apartment living. For a start, it can be used with ease while watching TV as there is no handlebar blocking the view and the operation is quiet enough to hear what is being said because of the use of the V-belt transmission system.

This is improved by the very small footprint and dimensions of 19x46x33 inches, which decreases even further when folded, and one buyer goes as far as saying it is the smallest exercise bike they have seen.

If this was not enough, it is also said to be a nice looking machine, which is a benefit if it has to be left in a corner and you don't have the storage space for it.

Other benefits that have been mentioned in user feedback are encouragingly broad in subject matter. Some like to talk about how sturdy it is despite its compact feel and foldable design, which is partly achieved with a decent user capacity of 300lbs.

In addition to this, it is not too difficult to put this Exerpeutic 400XL Recumbent Bike together, with some saying it took about half an hour.

Others mention the use of eight different resistance settings. The first four can be seen as quite gentle but the higher numbers are much tougher – the recumbent position and simple frame make it look like a simple machine but it can still offer a good workout and level 6 is said to be particularly good for a spinning session.

Finally, there are also comments about the comfort of the back rest and the smooth pedaling – when the pedals stay put that is.

Pros
Comes with a basic console for feedback during your exercise
The bike is well priced and gives good value
Assembly is quick and easy, all tools needed are supplied
Smooth resistance changes to get the toughness of workout you want
Resistance levels marked making easy to set and return to the amount you want
The bike is compact and doesn't take up much space when in use
Very quiet bike is unlikely to disturb others when being used
Cons
Doesn't engage the abdomen as much as an upright bike
Doesn't have levelers to balance up the bike
Console doesn't include pre-programmed workouts
Not suitable for serious athletes
Which Exercise Bike Should I Get?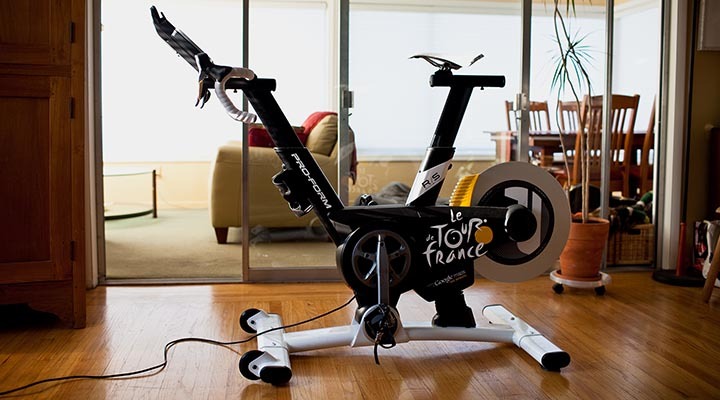 If you are looking for an easy way to lose weight, an exercise bicycle is a great option. If you have decided to buy one, this article will tell you everything you need to know in order to find the best one that suits your needs.

The first thing you should ask yourself is what type of bike you need.

There are two types available on the market: recumbent bikes and upright bikes.

Recumbent bikes are a new bike model that stands out for its seat that resembles a chair. This way, your body is positioned in a reclining posture and your legs will hang out in front of you so you can reach the bike pedals contrary to the upright type where your legs simply hang down.

Upright bikes are also known as stationary bikes, but this term is now being applied to both types of bicycles. Those are the most common bikes available for a long while on the market and look a lot like normal outdoor bicycles. An interesting stationary bike model is the one with dual action.

Reviews of these bikes stand out thanks to its movable bars included on the arm handles that help you work not only your lower body, but also upper body.

The other aspect you must take into consideration is the price range according to your budget.
Tips For Getting the Perfect Exercise Bike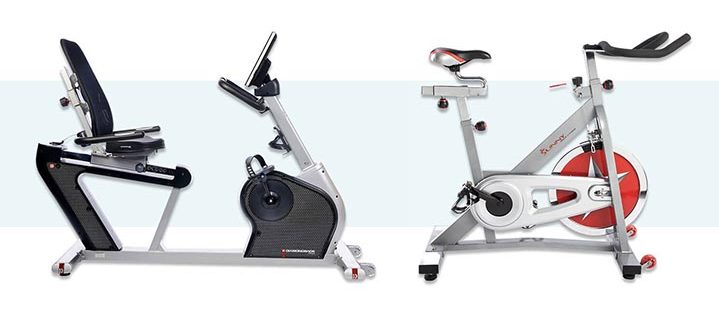 These are the basic and most relevant factors to consider when choosing a bike, the type and the price that you are willing to pay. There are also some other features that you may want to consider when selecting a stationary bicycle.
Resistance
An important factor to take into consideration is resistance and you can choose between three different kinds of resistance: direct tension, air resistance and magnetic resistance.  Magnetic resistance is usually considered to be the best and most elaborated kind and also offers a wider range of levels.

It is also less noisy and offers a better feel while pedaling. In these machines, the direct tension allows you to manually adjust resistance, while air resistance is provided when pedaling against an airflow that comes from the fan.
Display And Programming
With so many digital consoles fitted to them, the majority of bikes offer information about the speed, the distance you have traveled, and the time you have been working out.

As many recumbent bike reviews point out, if the bike is very sophisticated, you can also have features such as the calories you have burned, the resistance level and heart rate. Whether you go for a bike with a quality display that also includes many preset workout schedules or one that is more simple will depend after all on your personal preferences.
Usage
It is equally important that you know just how much are you going to use your stationary bicycle. If you have just begun exercising and are not very sure if you will use it a lot, you should probably save your money and consider a cheaper model.

However, if you know you will be using the bike very often since you already exercise regularly, you should probably invest more and buy a machine that will last.
Warranty
Exercise machines usually come with a wide range of warranties that can last from 3 months to a lifetime if we consider all the bicycle parts. Some parts can have a 180 days warranty, the electronic parts up to one year and the frame can last for an entire lifetime.

Generally you should take into consideration that the longer the warranty the bigger the chances of a very high quality bike.

Choosing the best exercise bicycle is crucial and it will always depend on your personal needs and preferences. However, you should know that higher priced bikes are usually the most resistant and will help you obtain all the benefits they can offer you.
How Exercise Biking to Maintain Good Health and Body?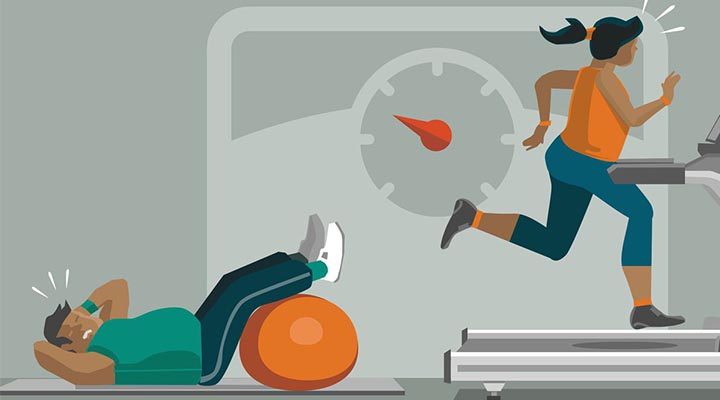 Exercise bikes are one of the most common fitness equipment in the gym and even at homes. It has great benefits, which is why not only cyclists want this equipment at home. If you want to buy an exercise bike, you have to know what type suits you best.

There are two main types of exercise bike – the upright and recumbent. Upright fitness bikes are those that look like a typical road bike. When using this type, the hamstrings and quadriceps benefit the most.

Hamstrings are the muscles at the back of the thighs, while quadriceps is the one in front. These muscles are workout well and receive mass enhancement. The gluteal muscles on your butt, as well as your lower abs are slightly enhanced.

On the other hand, a recumbent exercise bike can help in enhancing your lower abs because the pedal is located in front of the biker who is leaning in back support. It also exercises the hamstring and quadriceps, but some find this better because the focus is on the muscles and not on the weight of your feet to the pedal.

We will discuss more specific health benefits of riding an exercise bike. Hopefully, this will motivate you to continue your workout using stationary bikes.
Immune System
This system is responsible for fighting the diseases and infection that can harm your body. And simple, light activities like biking can actually improve your immune system. When your immune system is stronger, you can prevent a lot of illnesses and even the growth of tumor cells.
Skeletal System
Known as the supporting framework of the body, the skeletal system plays a big role in our body. Through exercises like biking, the skeletal system is strengthened and movement becomes easier.

Since the muscular system is mainly developed, it provides even greater protection and support to the skeletal system. Also, cycling decreases the occurrence of back pain and slipped discs because the small muscles of the vertebrae are stimulated. This form of exercise also improves the condition of the joints.
Mental Health
Cycling, as well as other exercises can improve your mental health becomes it stabilizes not only your physical condition but also your emotional functions. It can control hormonal balance too. While training in your exercise bike, you can unwind or focus on your workout.

You can relax while listening to music or watching videos. This kind of activities diverts your mind from daily problems, resulting to a better flow of thinking.
Weight Loss and Prevention of Heart Diseases
Cycling is proven to burn energy and fats. It also stimulates fat metabolism. Thus, you can maintain a good and nicely-shaped body with cycling activities. Along with it, cholesterol levels are also stabilized, resulting to overall wellness. This also prevents heart-related diseases.
Improvement of one's stamina
Compared with other endurance sports, the intensity and strain on one's body is lesser in a riding exercise bike. And based on studies, activities like this improve your stamina and reduce fatigue. You will not frequently feel tired, so you can do more things in a day.

Regular exercise is known to prevent or reduce the risk of cancers in the pancreas, colon, prostate, and breast.
Can you Lose Weight with Just Exercise and no Diet?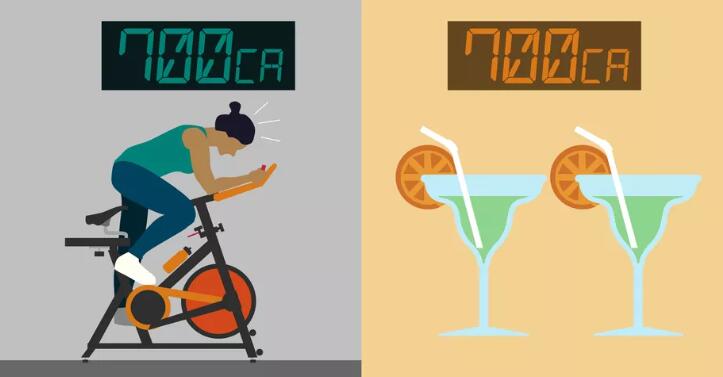 Is it really about calorie intake? People say they get to eat what they want as long as they just try to burn it after. If only the body needs calories alone then we can consume all sorts of calorie sources such as alcohol and sugar without it causing our body any harm but that's not really what it's all about.

Energy in is energy out and the rest stored as fat is a good principle but our body also needs sources of essential nutrients that the body needs and can't produce on its own. The body needs a source of amino acids, peptides, fatty acids, carbohydrates, vitamins and minerals, and other sources of antioxidants.

These are called essential nutrients not just because the body can't produce them on their own but also because they are needed by the body for helping it in building and strengthening as well as in getting rid of toxins. If you don't consume these essentials then eventually your body will show signs of that and that is not what you'd really want.

By eating unhealthy foods, a great source of calories but nothing else, chemically-treated foods and such then you are putting in more toxins into your body and that's where many diseases start to show its ugly face.

If you are said to be losing weight, it can be that in the first 2 or 3 weeks the body is actually losing weight due to water loss and that's not an actual weight loss. Sure there can be some fat loss as well but usually when weight drops it's mostly because of water loss.

Without good nutrition the body becomes exhausted because of too much exercise and poor nutrition. Too much exercise without giving the body rest can make it go into plateau as it does not get enough time to rejuvenate itself.

When nutrients are not found in food then the body is not getting what it needs to handle the exhaustion. Leisure eating is a non-restrictive diet and won't give you what your body needs.

You need restrictive diet so you are eating the right foods that can actually give you both the micro and the macronutrients required by your body. Don't be fooled and go on a weight loss journey the right way.
Exercise Bikes FAQs
Is 20 minutes a day on an exercise bike enough?

Proper exercise depends on your fitness goals. Although cycling 20 minutes a day is a good start, if you want to lose weight or improve your health, you may need to increase your time and intensity.

Which is better treadmill or exercise bike?

Depending on your needs, the treadmill burns a lot of calories and provides high-intensity exercise, but in many cases it puts you at a high risk of injury… Stationary bicycles do not burn as much heat, but provide greater reinforcement benefits and maintain a lower injury risk factor.

Is it OK to ride a stationary bike everyday?

No matter what the weather conditions, the stationary bike can do aerobic exercise. They can be safely used as part of their daily exercise, with less knee damage than treadmill exercise.

Is it OK to ride a stationary bike everyday?

No matter what the weather conditions, the stationary bike can do aerobic exercise. They can be safely used as part of their daily exercise, with less knee damage than treadmill exercise.