We live in an age where technology is advancing at an incredible speed and there are new gadgets available on the market every day for us to look at and consider buying.
Speakers haven't been left behind either and when it comes to music, we seem to be a generation that cannot live for two minutes without it. So having floating Bluetooth speakers are really handy.
They "float" due to the electromagnet they are in sync within the base and are able to link to devices with a Bluetooth connection.
There are no wires to connect, get tangled, or to fall over, and they have the added benefit of being able to be taken anywhere as a portable speaker, too.
So what would we recommend?
Here is a list of our top 10 favorite floating Bluetooth speaker options for you to take a look at before you make your purchase.  The outcome might surprise you!
Waterproof Floating Bluetooth Speakers
1.

COWIN Swimmer IPX7 Floating Waterproof Bluetooth Speaker
Attractive and enticing with a disco effect on the top of this Bluetooth speaker, the COWIN speaker is ideal for use in and around water as it is 100% waterproof.
It can even play music at full volume while fully submerged below the water of up to one meter so that you can party below the waterline.
Great around children, it is fully protected against dust and has a rubber exterior so that it is as resistant as possible.
It has a 10W subwoofer so you will hear your favorite tunes wherever you are as they will be blaring out of three sound radiators so that you don't get that horrible tinny sound.
Using the most advanced form of Bluetooth but consuming very little energy, you can also choose from five different color modes to really get the party started.
The COWIN Swimmer IPX7 Floating Waterproof Bluetooth Speaker is so good at enticing children into the pool when they're learning to swim because they can take it with them.
Why We Like It
Five different color modes;
Uses advanced Bluetooth 4.0;
10W subwoofer, three radiators;
100% waterproof, impact-resistant;
Plays music fully submerged.
2. ICE 7 Arc Star Floating Bluetooth Speaker
For 360 degrees of sound, the ICE Bluetooth speaker is a great solution.
It is suspended in the air over its base by what looks like magic and can be used as a portable speaker should you choose to do so.
It has a cool green light around the middle of the floating orb as well as in four different places on the base, which really increases its high-end aesthetic.
Though the lights are actually used to center the orb above the base, this is a really good looking Bluetooth speaker.
It has a wireless 10-meter range and can play music for eight hours straight when fully charged.
Cleverly, the base is also a smartphone charging dock, so you can rest your phone underneath the floating orb Bluetooth speaker, play music and not risk your phone running out of battery if, like many, you can't bear to think about being without your phone for 10 minutes.
The ICE 7 Arc Star Floating Bluetooth Speaker looks good, is somewhat magic and has an in-built charging dock within its base.
Why We Like It
360 degrees of sound;
Orb suspended over base;
Green light centers orb;
10m radius, 8h play;
In-built smartphone charging dock.
3. Hydro-Beat Waterproof Portable Speaker
This is a small, compact but very able Bluetooth speaker that is completely waterproof, making it ideal for use around the water, in the bathroom or during water sports.
You never need to be without your music because it connects to any Bluetooth device and even has an in-built radio.
The highest spec Bluetooth has been used so that you can be 24 feet away with your Bluetooth device and this Bluetooth speaker will cleverly still connect with perfect precision.
It-built microphone within it so you can receive calls without risking your phone getting wet and the speaker can be attached to any flat surface via its suction cup.
There are 10 different light settings to choose from depending on your mood and you have six hours to party away until it needs to be charged up.
The Hydro-Beat Waterproof Portable Bluetooth speaker is so much more than just a way to play music – listen to the radio, answer phone calls and even have mood lighting.
Why We Like It
Waterproof, intelligent and loud;
In-built radio and Bluetooth;
Receives calls, integrated microphone;
Mood lighting, suction cup;
6 hours of music.
4. JBL Charge 3 Waterproof Portable Bluetooth Speaker
Is it a drinks flask?  No, it's a speaker with an impressive IP rating and stylish aesthetic.
You can connect this Bluetooth speaker to three Bluetooth devices at any one time so that you are able to mix and match between these devices to get a mix of everyone's favorite tunes.
It automatically swaps between devices for this to happen should you choose the settings to do so.
You have an average of 20 hours of music playing time with this Bluetooth speaker until it requires a full charge and you are also able to receive phone calls too.
These phone calls are so clear due to the noise and echo canceling speakerphone that no one will believe you aren't actually on the phone. Get great sound and interaction with this stylish Bluetooth speaker from JBL.
The JBL Charge 3 Waterproof Portable Bluetooth Speaker has a long run time, has a mix and match devices feature and enables you to receive phone calls.
Why We Like It
Wirelessly connects three devices;
20 hours of playtime;
Waterproof, IPX7 rating, durable;
Receive incoming phone calls;
Easy to control/use.
5. AOMAIS GO Bluetooth Speaker
If long run time is what you are seeking then take a look at the AOMAIS Go Bluetooth speaker as it has a thirty-hour run time if you are able to play your music at 50% volume.
It is easy to carry around with you wherever you go as it has a useful handle on the top and it is highly durable. It can even be fully submerged in water for 30 minutes and still play your favorite tunes.
Useful in other ways, it is a power bank for other smart devices so that you need never worry about running out of charge as you play your favorite tracks.
With an in-built microphone, you need never miss any calls and you can even connect this Bluetooth speaker directly to your Smart voice system within your home, be it Alexa, Cortana, Google or Siri.
The AOMAIS GO Bluetooth Speaker has so much more to it than it being merely a Bluetooth speaker – it's a charger, phone call receiver, Smart assistant and personal DJ.
Why We Like It
30 hour run time, plays music fully submerged;
Portable, easy use handle;
Connects to Smart Voice;
In-built microphone for calls;
Charges other smart devices.
6. Anker AK-A3182011 Portable Bluetooth Speaker
As a leading provider in the technological world, Anker brings this Bluetooth portable speaker for your ease of use, transportation, and enjoyment.
It has a waterproof rating of X7 and is 100% resistant against water, sand, mud, and snow. No matter what life throws at this small and compact speaker, it will always provide you with a strong sound, good bass and no distortion occurs thanks to the anti-clipping technology.
Connect your Bluetooth compatible device up to 33 feet away and play 10 hours of music. You can even use this speaker as a way of receiving incoming calls should you choose to do so.
With a handy wrist strap, moving around while playing music freely has never been so easy.
The Anker AK-A3182011 Portable Bluetooth Speaker is so small, compact and easy to take around with you thanks to its handy wrist strap.
Why We Like It
Easy use and enjoyment;
X7 waterproof rating;
Small, compact, wrist strap;
Strong sound, good bass;
Play music for 10h.
7. Ultimate Ears WONDERBOOM Bluetooth Speaker
Stone grey with yellow detailing makes a striking combination for this Bluetooth speaker from Ultimate Ears which provides all users with a 360 degree sound.
Music played through this speaker is crisp, clean and full of bass – the quality is impressive for something so compact.
On just one battery charge, you can play 10 hours of your chosen tracks wirelessly as this Bluetooth speaker connects to any Smart device.
This is a completely waterproof speaker which is great for use around the pool, sea or bathroom.
It can continue to play music even when submerged up to one meter for 30 minutes and it can float around while you chill with your friends at the pool party.
The Ultimate Ears WONDERBOOM Bluetooth Speaker has an impressive ability to be able to deal with water in all capacities – bathrooms, poolside or rain.
Why We Like It
360 degree sound amplification;
One charge = 10h music;
X7, waterproof, showerproof, floats;
Connects to Smart devices;
Party hard with WONDERBOOMS.
8. ECOXGEAR Floating Portable Bluetooth Speaker
Be prepared for any situation and any device wherever you might end up with this Bluetooth portable speaker as it has so many different ways of connecting to various audio sources.
The options include Bluetooth, AM and FM radio, and AUX. Meeting the international standards of IP67, this Bluetooth speaker is 100% waterproof and is also protected against dust so you can take it to any location without having to worry about it and continue the party.
This is a highly powerful speaker with two 5 ¼ inch speaker and two 5 ¼ inch passive subwoofers so that you can get the maximum effect.
Connectable to two different devices simultaneously, it also connects to Siri or Google, and it gives you 10 hours playtime on full volume or 50 hours on low volume.
The ECOXGEAR Floating Portable Bluetooth Speaker is an excellent choice because there is nothing it cannot do, no situation it cannot handle and nothing it cannot connect to.
Why We Like It
Speaker for every occasion;
Bluetooth, AM/FM radio, AUX;
IP67, 100% waterproof, dustproof;
Multiple highly powerful speakers;
10 – 50 hours playtime.
9. Altec Lansing IMW577-AB Bluetooth Speaker
A larger and striking Bluetooth speaker, the Altec Lansing is a heavy-duty gadget that has washable skin should it get dirty and there is nothing it cannot withstand, including dirt, dust, water, and shocks.
It also has the added bonus that, despite its size, it also floats. Offering you a high-quality sound, this Bluetooth speaker will help you to make some serious noise at any party you decide to take it to.
Weighing only one pound, it does not require huge amounts of energy to take it places and it's relatively easy to carry, though you can mount it on its bracket should you choose to keep it always in one place.
Added features of this speaker include a speakerphone, spoken caller ID, display showing battery level, confirmed voice pairing, voice command sensitive, NFC compatible and it is also a charging port for other Smart devices.
The Altec Lansing IMW577-AB Bluetooth Speaker has so many additional features that it is so much more than just a speaker, but it is an indestructible one at that!
Why We Like It
16-hour battery life;
Heavy-duty Bluetooth speaker;
Nothing it cannot withstand;
Weighs one pound, transportable;
Lots of additional features.
10. WOW Sports Floating Bluetooth Speaker
At the top end of the price range, there is the WOW Bluetooth speaker and yes, that's precisely what it will leave you thinking as soon as you've laid eyes on it.
Striking in bright orange and shaped like a mushroom, this speaker is designed to float in the pool or the sea as you relax with your music.
Designed to last all day and night, the battery time will keep on going for an average of 50 hours which is excellent for pool parties or family days out.  It is entirely waterproof and meets the international ratings of IP67.
Fitted with 360 degree LED lighting, you can even use this impressive Hi-Fi system at night, and you can also keep your drinks to hand with the fabulous integrated floating cup holder.
The WOW Sports Floating Bluetooth Speaker stands out because it has 360 degree LED lights and even has an integrated cup holder. The battery time is amazing.
Why We Like It
Orange and mushroom-shaped;
Carry handle, LED lighting;
Waterproof, IP67, floating design;
Integrated cup holder;
Plays 50h of music.
Floating Bluetooth Speaker Buying Guide
Floating Bluetooth speakers are an amazing alternative to the usual and normal Bluetooth speakers. These devices are pretty unique and advanced in terms of technology.
Thankfully, these speakers have given you the liberty to take them anywhere and not feel bounded to use them indoors only.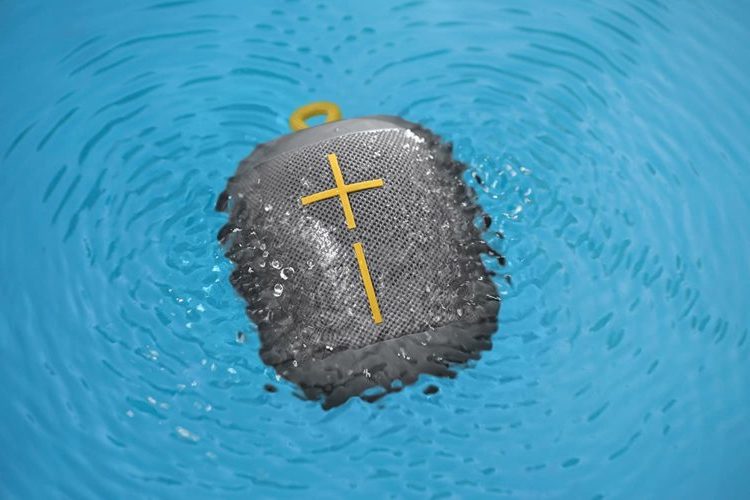 So whether you are going to throw a party or just want your alone time indulging in music, these amazing speakers will let you enjoy with so much ease.
It hasn't been long since these floating speakers have hit the market, but as they came they just took the whole Bluetooth speakers' market by storm and gained extreme popularity in just no time.
The online and original markets are flooded with these floating speakers so it can be a bit of a nuisance to choose one if you don't have much expertise over these units. The speakers come in wide ranges in terms of price, features, and performance.
However, there is so much useful information about these speakers which if you are watchful of beforehand, can help you a great deal in making the best decision possible. But, worry not; we have come up with the complete relative information required to know all about these speakers.
So, just scroll down, keep reading, and enlighten yourselves.
If you are looking for something a little more private, take a look at our top 9 best noise cancelling headphones for traveling with. Kids will prefer these child-friendly noise cancelling headphones.
01 Reasons for Buying Floating Bluetooth Speakers
For starters, you need to be aware of all the ways these speakers can be used. If you are passionate to get them already, then good for you but there can still be a number of its uses that you might not be conscious of already.
For first-time buyers, it is always a reason to worry when they are paying extra than usual for a newer sibling of something they have used before. You may have read and come across many reasons to get floating speakers but if you are still pondering about if they'll be worth your money or not, then go through the below-mentioned reasons for getting these brilliant sound systems.
These speakers carry a very elegant and state-of-the-art design that can easily grab everyone's attention in the room of every present body.
They are very handy and small in size and can be fitted anywhere without taking up much space.
They are a perfect item for gifting to your techno junkie or party lover friends.
These speakers offer a much superior quality of sound than usual portable and wireless speakers.
Most of these floating speakers come with the Zen effect feature which is great for doing any sort of meditation or yoga at home.
These speakers are remarkably easy to set up and operate.
They have a very rapid charging time and you don't have to keep them plugged in for hours.
You can also use the orb of your levitating/floating speaker as a normal outdoor Bluetooth speaker if you want.
02 Shape & Design
Floating speakers come in many shapes and designs but the most popular one is the levitating orb design. So before making any decision, be clear on what kind of color and design you want your speaker to be. If you are not much bothered by their physical appearance, then you can simply go for the classic planet design.
However, if you find that design too advanced for you, then you can check out the ones which are more Zen-like and not so futuristic looking.
03 Sound Quality
No matter how extraordinary the design is, but the main thing about a speaker is its sound system so that should be your top most priority. Try to get the speaker with a good and crisp audio quality; else you won't be able to enjoy much.  And if you want a superior and more impressive audio quality, select the one which has a subwoofer installed in it.
04 Battery Life
The best thing about Bluetooth speakers is their portability. How convenient it is for you that you don't have to keep your speaker plugged in the whole time for power supply.  Bluetooth speakers are best for outdoor places where you can't usually have access to the power supply, like a poolside or beach or something.  And as long as you stay there, you expect your speakers to keep running.
Therefore, battery life carries critical importance in these devices. You wouldn't want your speaker to run out of battery halfway into the picnic and become a spoiler. To avoid these situations from happening, make sure that the speaker you are getting has longer battery life. To find it out, check out the product reviews, product description, and its ratings, as only the descriptions can be misleading. Furthermore, it is favorable to get a speaker that offers quick USB charging mode.
05 User-Friendliness
The most commonly reported complaint people have about a floating or levitating speaker is that it can be a little fiddly to handle its orb and to set it to the right place, and so it doesn't end up floating. Usually, this is not much of an issue to be concerned about as it always takes some time in getting a hold to it.
However, if you are still confused about this issue and don't want to waste your time in positioning the orb before you can enjoy the music, simply go for other shapes and designs which are easier to handle and can hold their balance on their own e.g. egg shape speakers.
Also, make sure the speaker you are getting takes minimum time in getting paired up to your phone or tablet or whatever gadget you've got.
06 Compatibility
There are many speakers that are compatible with either an Android or an iOS system. But, it is always better to pick the one that is compatible with both of them, so that if you ever need to change your phone from iOS to Android or vice versa, you don't have to buy a whole new speaker as well.
And not to forget, the convenience you can have to use it with any device of your choice. The compatibility details can be checked in the product description.
07 Endurance and Durability
Floating Bluetooth speakers, as we discussed above as well, are pricey, so it may cost you a fortune buying one. Therefore, you need to make sure that the speaker you are selecting is durable and long-lasting and is worth your investment.  You can check for user reviews about their endurance abilities.
Sadly, many companies don't use the finest quality materials for their construction, so it's upon you to make sure your speaker is sturdy enough to endure a few falls without damage.
08 Overall Performance
Rest all features aside, being a potential buyer you should take a look at the product's overall performance before arriving at a decision. Do check for all the features that the speaker is offering including the option calling, playback of songs, ease of handling and management and so much more; the higher the options, the better the performance.
09 Pricing
Last but certainly not least is the product's pricing. In comparison to any other form of speakers including regular Bluetooth and wireless systems, floating Bluetooth speakers cost much more than any of these.  However, not all speakers are too pricey and out of reach for budget oriented people. There are a number of speakers who are made to target such an audience.
The cheapest ones start from $70-$80 and can go all the way up to $300+. The manufacturers keep giving good discounts all around the year, so you can also wait for that time to get one of your choices. But since, these are recently introduced products; their prices can't be expected to drop down significantly anytime in the near future.
10 Additional Factors to Keep in Mind
Make sure the range of the speakers is high enough to connect your device from other rooms. The speakers usually come with a range of up to 300 feet.
Sound range should also be high enough to be heard from a little bit of distance.
Make sure the battery life is at least 10 hours for a mediocre model and 20 hours if you are getting a high-end model
The speaker you are choosing must support USB charging for more convenience.
Always turn off all your phone notifications before pressing play so that your music doesn't get interrupted by the message tunes or sounds of notifications.
To get the best sound possible, keep the speaker and paired device at a place where no one can stand between them.
Get a remote for volume adjustments and changing songs because touching the audio control tabs on the orb can make it lose its balance. However, if you are not willing to get a remote then get the bluetooth device that supports music shuffling Apps, so you can do that easily from your phone.
You can use this speaker for making out loud phone calls in case your smartphone's speaker isn't loud enough. Using the outdoor Bluetooth speaker, you can get a clear and crisp sound without much trouble.
The battery life advertised by the manufacturers could be deceiving as they usually mention the maximum running time which may or may not be achieved using the least volume. So, make sure the bluetooth device runs at least 5 hours without any interruption at a good volume.
It's better to go for a speaker that offers compatibility with online music Apps such as Google Play. It will help you play a multitude of music if you don't have much available in your smartphone's storage.
How Do These Speakers Float and Work?
Floating Bluetooth speakers are pretty unique in terms of their shape. As their name suggests, they float in midair while playing your favorite music. It's such a mesmerizing thing to watch them play and it doesn't look any less than magic but it's all just science and technology really.
These remarkable speakers normally use magnets for floating over or levitating above their bases and are powered by making use of the induction field technology. They are operated by using batteries and use wireless charging for more convenience.
These speakers use the technology of Bluetooth 4.0 for connectivity with all the Bluetooth compatible devices like smartphone, tablet or a laptop.
Floating Bluetooth speakers provide better sound than any other kind of wireless speakers and they produce a distortion-free, smooth sound quality of 360 degrees which makes them ideal for parties.
They additionally come with built-in microphone abilities which let you answer your calls while keeping them connected to your phone.
Are They Really as Good as Much as They are Hyped About?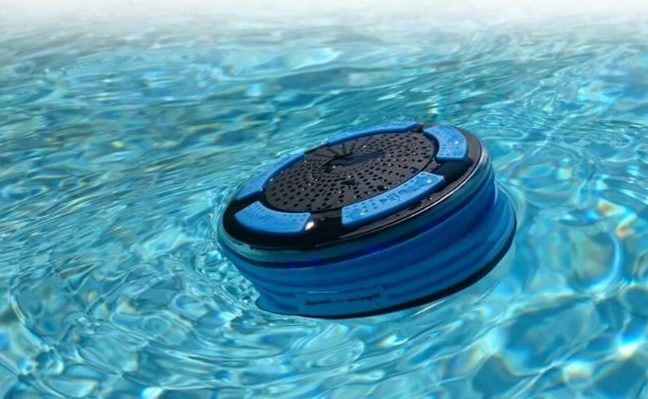 Floating speakers have been constantly gaining popularity ever since they have been introduced in the market and have undoubtedly overshadowed their previous relatives. So it isn't much of a surprise to think what this glory is all about.  There are various reasons that make them worthy of their popularity.
First off, they have an amazing and revolutionary appearance that makes them too pretty to look at. They are a never-seen-before invention of technology which is beyond people's imagination. The first one of their kind had a planet like a shape that was widely recognized and immediately adopted by all the manufacturers worldwide.
And after that, many more beautiful and similar designs have hit the market and gained a huge market share. The most eye-grabbing designs are the ones with colorful LED lights. And because of that, they gained fame as an interior decoration item as well.
But for those of you, who do not approve of the planet like shape, you can get saucer-shaped Zen designs which are ideal for meditating, another striking feature.
Another major reason for their hype is because of their sound quality which is way more impressive than the typical outdoor Bluetooth speakers. Since these speakers levitate in the air, they produce a loud and clear 360-degree sound effect. The higher-end speakers of this genre also come with sub-woofers which make a striking quality sound.
Are these Speakers Heavy in Weight?
Considering the old school bulky speakers that we have all seen all our lives, it's usually hard for people to imagine a good Bluetooth device to be light in weight. But since these speakers are floating speakers, you have to keep in mind that they are supposed to be lighter in weight.
They require a minimum of your physical strength to be carried and moved from one place to another easily which makes them pretty handy. The maximum weight that these speakers can have is around 1 Kilogram and not more than that.
Due to their minimum weight range, they are not too big either and hence do not take up much room and can be snuggly fit at any place of your choice.
Conclusion
Waterproof portable floating Bluetooth speakers are beautifully designed units that have revolutionized the way we all used to look at the speakers. They do not just offer great quality 3D sound but are also stunningly beautiful and pleasing to the eyes.
The spectacular orb design has all the qualities you look for in a good wireless speaker. Though there are plenty of options to choose from, once you have educated yourself enough about the product, you can easily choose the one on the basis of all the information.
So all you party freaks out there, don't wait any longer and get your hands on this amazing product to add more life to your parties. The above review will help you in understanding all the aspects related to floating waterproof Bluetooth speakers. And if you still require any sort of guidance, you can simply check this article on floating bluetooth speakers.
We wish you well in choosing the right one for you and we really hope that we were of some service to you.