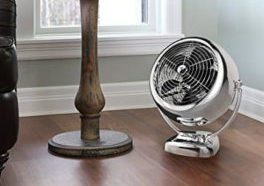 The Best Way To Stay Cool This Summer.
We all have different ways of keeping cool and there are various floor fans for this purpose.
The reasons are as varied and unique as the fans themselves. Sometimes your air conditioner isn't enough to stave off the heat of the summer.
Or you just need a breeze to keep the air from being stale after constant recycling through the A/C system. Maybe you just need the white noise of an oscillating fan to get to sleep.
These are situations where the floor fans shine.
They can provide a gentle breeze to simulate being outside, help cool your home, and perhaps, depending on your climate, be your form of air conditioning.
Since these versatile devices can find a place in any home, we have gone through the top 9 floor fans, bringing you the best of the best in the market.
1.

Lasko 2521 Oscillating Stand Fan
If you are looking for a floor fan to keep you cool at any level, this is the fan for you.
This pedestal style floor fan from Lasko adjusts its height up to 47 and has a full 90-degree oscillation.
This makes this the best fan for someone who needs a breeze while working at a desk, or for cooling down in a screened room.
This fan also has some great safety features.
It has a fuse built into the plug to prevent any chance of fire or overheating. It also has a very sturdy base to prevent it from tipping over onto you or your loved ones.
And it can be tilted and tipped, give you the best angle possible and perfect when you are in tighter spaces.
With three quiet speeds, this fan will not overwhelm the conversation or drive you mad with a sound that takes over everything else.
Since it is a quieter fan, however, this would not be a great match for someone who needs the white noise of a fan to get a good night's sleep.
Perhaps on the highest setting, but otherwise, this fan maybe just too quiet for you.
2.

Holmes 36 inch Oscillating Tower Fan
This tower fan is the best floor fan for those that need silence, efficiency, and coolness for a whole room.
Tower fans have a wide arc of oscillation, and when placed in the corner of a room can cool the entire room from that position.
Power spinning blades push the air, not chopping it, so that the added breeze is almost silent.
This particular model comes with a remote, giving you the ability to change the settings without having to go to the fan.
You can easily switch between the three speeds, turn on the timer, or control the oscillation with the press of a button.
If you are closer to the fan, you can also use the LED lit control panel that is placed on the top of the fan. This fan is perfect if you don't have the space for a large pedestal fan or box fan.
Another important feature is that this floor fan is made to be portable. Its built-in carry handle makes it great for moving all around your home as you need it.
These energy efficient models also make using it easier; with the ability to have it automatically shut off after a certain time duration.
3.

Lasko 4000 Air Stik Ultra-Slim Oscillating Fan
A different model by Lasko, this tower fan has a unique shape, making it the top floor fan for those with modern design in mind.
It will fit in perfectly with a modern home. It has 2 speeds, both of which are designed to be quiet and powerful so that your home is cooled quickly and just as you want.
It comes with very simple controls and LED backlit buttons so you know precisely what setting it is on.
This fan also has a great radius for oscillation, cooling a wide arc around it.
The silent breeze is perfect for those who need fewer distractions. This slim model also fits in tight spaces, so it is the best floor fan for smaller apartments or homes, where space is in short supply.
Like other tower fans, this fan is far too quiet to create white noise to help you sleep. It would be better to look into pedestal blade fans, as the noise that most people need from fans comes from the actual chopping of the air.
This is best provided by a fan that has blades that move in a circular fashion, rather than a centrifugal fashion.
4.

Stanley 655704 High-Velocity Blower Fan
This powerful floor fan is the highest floor fan for a shop or another outdoor space where you are relying on it for its cooling power.
And this powerful little fan can create strong breezes that can drop the temperature in a shed or garage dramatically.
The floor fan is designed for rugged and outdoor use. Durable hard plastic gives it strength and protects the inner fan that gives it its power.
This little powerhouse also has a fuse safety plug and a circuit breaker with a reset button. These are great safety features that protect you and your investment.
To add to the fact that this is a fan built for the shop, it has two grounded 120v outlets on the side.
This is perfect when you have a tool you need to use, and don't want to choose between being cool or getting work done.
It is not quiet, and if you use it on 1 or 2, this would be a perfect fan to sleep with. The ability to angle it means that you can set it up so that the air moves across the surface of your bed and it provides the perfect tone of white noise to block out the noises that keep you awake.
5.

Patton PUF1810C-BM 18-Inch High-Velocity Fan
This is another model that is powerful enough to be a shop fan. A strong motor and metal blade makes this fan able to move large amounts of air quickly, cooling down any workspace.
A word of caution with these fans if you have small children; the slots on the metal housing are wide enough for little fingers and while it is a stretch, there is a chance for injury.
This would not be the best fan to have someplace where your children may be tempted to make themselves sound like a robot with it.
Other than that warning, this is a powerful fan, with three settings and an adjustable head that allows you to move the air exactly where it is that you want.
By adjusting the tilt, you can change the airflow in a room for optimal cooling. It is also great for drying.
The constant high-speed air will lower the drying time for many chores. This is a loud high-velocity fan, and even in the lower settings, it is probably too loud to be able to sleep with it on. This is not the greatest floor fan for those looking for a breezy white noise generator.
6.

Lasko 2265QM 20-Inch Max Performance High Velocity Floor Fan
Another industrial grade floor fan for the list, this fan is the best floor fan for shop and garage usage.
It will also work well in homes; just ensure that all children are supervised around it to prevent accidents. It has several safety features that make it great.
A grounded fuse incorporated plug helps to prevent overheating and problems that can arise from that.
It has rubber pads on the bottom of its metal frame to protect flooring from scratches or scrapping.
Please note that unlike the other fans on this list, this fan does require some assembly when you receive it. It is not a plug and goes model.
It is, however, a get up and go fan. It has a built-in carrying handle making it easy to move from room to room or wherever you need it.
Its powerful blades create strong winds that can redirect the airflow of a room easily, giving you several options when using it.
It also gives you another unique option, it can be mounted on the wall as a more permanent solution to your cooling needs.
7.

NewAir AF-520B Oscillating Outdoor Misting Fan
This pedestal style fan has a lot of unique features that come with its flexible design.
They are some of the best floor fans for keeping cool in the summer heat and outdoor events and parties.
This floor fan is designed for outdoor use, with durable weatherproof housing for all its electrical components.
It has three speeds to provide a maximum breeze, but that is not the best part about this fan. No, the best part is the misting ability.
This fan has a function that sprays waters in front of the blades that then push the water out in a misty fashion, cooling all those around it.
This fan has the ability to mist 500 square feet around it.
It has three fine misting nozzles that keep the floor fan from soaking everything in sight, rather just giving everything a fine patina of water.
Its oscillation ensures that that mist can get a full arc over those who are trying to escape the summer heat.
You also have the ability to have it stationary, for targeted misting. It can tilt and has an adjustable height. This fan will be a hit with your friends and families for any outdoor event. Your patio space will be the space to be in.
8.

Lasko Max Performance Pivoting Utility Fan U15701
This floor fan is a rugged outdoorsy model. It is great for outdoor projects and building, as it can move a large amount of air quickly, cooling the area around it dramatically.
It has a pivoted blow, which gives you full control of where the air stream is.
This fan can also be used indoors to redirect airflow, as on its highest settings, it is incredibly powerful. And this is one of the best floor fans for those that need portable powerful air.
It has an integrated handle that makes it a breeze to move about, all puns intended. Not to mention this little powerhouse is only 6 lbs.
It is described as a utility fan because it offers so many features for those that need something that works as hard as they do.
It has a grounded fuse plug and offers two 120v grounded outlets on its side for convenience.
The Lasko Max Performance can also help you to get some of your jobs done faster.
With its pivoting head, you can use it to dry flooring, help cure paint and air out a room or home for any number of reasons.
This is a high-velocity fan, so you have all the power at the turn of a knob.
9.

Lasko #2520 Oscillating Stand Fan
Pedestal fans are great for getting wide spaces cooler, faster. This fan is no exception to that.
It is a simple model, but that does mean it is not powerful. It has three quiet speeds that can push air in a 90-degree arc with its oscillation.
These speeds can cool a room dramatically and create a more comfortable environment. This fan also has safety features to make it the best floor fan for in-home use.
It has a fuse integrated grounded plug, so you have no worry of overheating or electrocution. It also has a height adjustment, so you can bring the cool air up to your level with little effort.
The easy grip rotary knob makes adjustments easy and simple, with no complicated instructions.
In addition, you can tilt and pivot the head, so you have exact control over where the air is going.
This is especially great if you are using it to cool a specific space, such as a kitchen while cooking.
Floor Fan Buyers Guide
When you are looking for a fan, there are several things you want to consider.
#1 First would be the purpose of the fan
Is it for slight cooling, outdoor uses, or as sleeping noise? Many fans have different options that work for and apply to these situations. Once you know what you want to use it for it will be easier to select the model for you.
You'd then wants to consider the space you have to cool. Some floor fans take up more space than others and you want to be sure that you have the best floor fan for space you have in your home.
You also want to consider if you need it to pivot or oscillate to get the whole area cool. Once you have the dimensions you need, you can move on with your selection process.
#2 Next, the best consideration is for safety features
Take into account your home conditions, if you have children or pets and how each model will affect their safety.
You don't want to bring in a product to your home that will cause issues further down the road. All fans should either be grounded or have a fuse built into them to prevent a fire hazard.
#3 Finally, with All this information, you should look at what style you want
Fans come in different styles, from pedestal to tower, to utility and knowing which style works best for you to give you the best chances for choosing the best floor fan for you and your home.
What does High Velocity Mean for a Floor Fan?
In terms of a floor fan, High Velocity comes to mean the speed in which the air leaves the fan. Many high-velocity fans will have a number next to them and that is the peak air speed of the fan.
This does not mean that every setting will push out that amount of air; rather it means that this is the maximum output in the highest setting.
Why is it a Good Idea to use a Fan with an Air Conditioner?
This is a great idea because in the long run, it can save you a great deal on your utility bills. If you raise the thermostat and have fans that circulate the air, you can create a wind chill effect in your home. Since many fans are energy saving, they consume much less power than your heavy use air conditioning unit. This practice can save you hundreds of dollars a year in the long run. Not to mention, a breeze feeling always tends to feel better than just standing cold air.
Are They Hard to Clean and Maintain?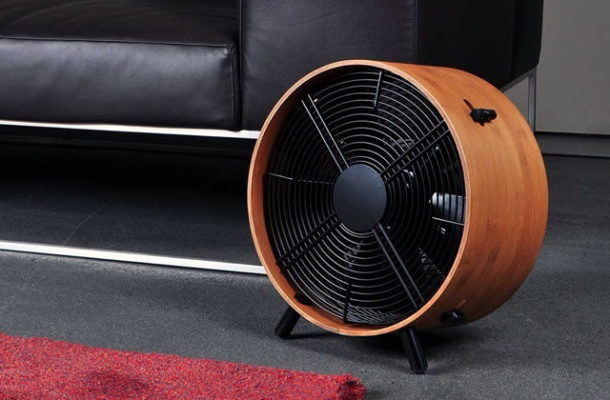 No. There are several easy ways to clean all models of fans.
Tower fans
Clean a tower fan by using the brush attachment on your vacuum cleaner. Vacuum the intake grills to remove lint and dirt from the fan.
To protect yourself from electrocution, do not open your tower fan.
Pedestal fans
Disassemble your front and rear grills and remove the blades in the reverse that they were assembled. These can then be put in water to be cleaned with a detergent.
Wipe all other parts with a soft damp cloth. To prevent electrocution or other issues, make sure to dry all parts completely before putting back together.
Box fans
Using a Phillips head screwdriver, remove the four screws on the outside perimeter of the front grill. Remove the front grill and remove the fan blade. Wipe the blade with a soft damp cloth.
Pivoting Floor fans
Wipe the fan with a soft, damp cloth. Use a mild detergent if necessary. For safety reasons, do not open these fans.