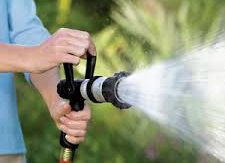 Ideally, garden hoses should last you up to a decade, five years minimum. But poor choices can lead to annual replacements, and if you compound these replacement costs, you'll discover you'd have been better off spending a few more minutes before buying.
Here are a few pointers to help you identify the best garden hoses.
Buying Guide: How to Choose the Garden Hose
There is also the consideration of the location of where you will be using the garden hose because elements like climate and environment could wear down or destroy garden hoses easily.
In this article, we will briefly discuss some important buying tips that can come in handy in choosing the best garden hose that's right for you.
Overall Material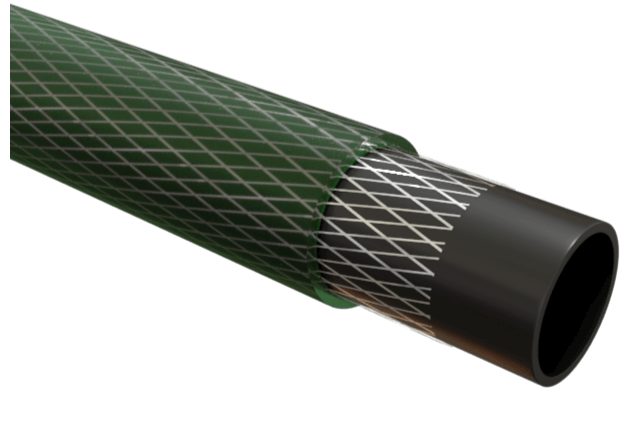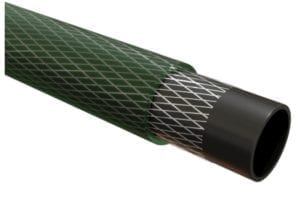 Choosing the right material for your hose is very important because it's this factor that will determine the shelf life of the garden hose that you will be buying.
Hoses made with vinyl, and reinforced with radial cord are typically very lightweight, so are the least costly. But are also susceptible to kinking and spitting.
They also can't handle high levels of water pressure. Garden hoses made of rubber are usually better.
Note that some of the materials used in making these hoses can make water unsafe for drinking, so if you give your pet's water with your garden hose, you might want to get those that are safe for drinking water.
#1. Vinyl Hoses – Hoses made of vinyl are the cheapest and are recommendable only for light gardening work.
#2. Rubber Hoses – Rubber hoses have great flexibility compared to vinyl. They are very durable especially the reinforced ones because they are almost impenetrable and can tolerate extreme temperatures.
#3. Polymer Hoses – Probably the most popular material used in making garden hoses because it's lightweight, very flexible, and can withstand high and low temperatures.
#4. Polyurethane Hoses – Although polyurethane hoses have traits that are almost similar to rubber hoses, it has an additional trait that surpasses rubber hoses when it comes to water pressure. Water pressure from polyurethane hoses has 160 PSI while rubber hoses only have 150 PSI.
Consider The Ecosystem

Another factor that is equally important in choosing the right garden hose for you is its effect on the environment.
If you have pets in your home, it is advisable not to buy rubber or vinyl hoses because they would leave trace amounts of lead or other deadly toxins out in the garden in which they would sooner or later come in contact.
Check the label of the hose and see if the water coming out of the hose is safe to drink.
Reinforcement
Reinforcement is what protects the hose from abrasions, kinks and splitting.
These are the metal mesh linings that cover the whole hose between the vinyl or rubber material that helps it became more strong and durable.
Ultraviolet Protection
Prolonged exposure to the sun may damage your garden hose because it will make it brittle and crack.
Check the label if the hose has a protection inscription for UV. It may be more expensive but could help you save money from buying a new one.
Color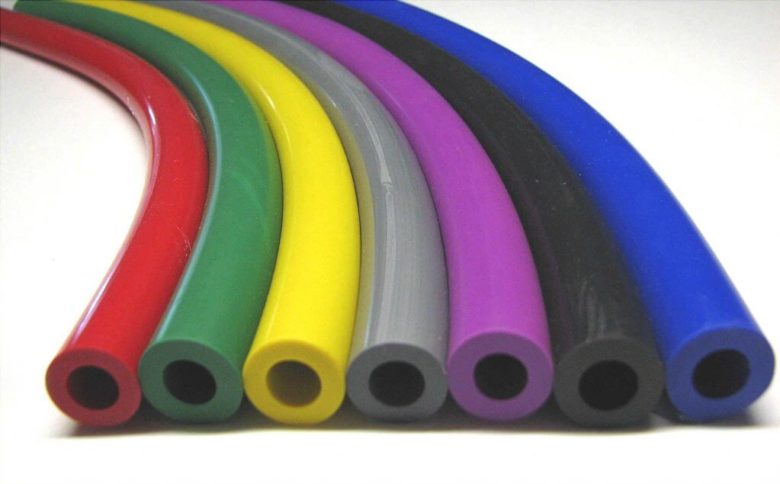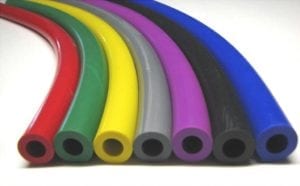 Color is just not for style. Some garden hoses may be left out in the backyard out in the open. If the color seems to blend with the environment. it could be an expensive mishap waiting to happen when a lawnmower or a mini-tractor came rolling along.
Buying brightly colored garden hoses is essential so they can be visibly seen from a few feet away.
Longer's Not Always Better
The longer the hose, the heavier it is and the harder it is to drain water out and stow away. Measure the farthest distance from your spigot and add a few extra feet, so you don't have to the thug, so you can get the measurement you need.
Couplings
Those end pieces you'd find attached to the nozzles and taps. Plastic couplings are prone to cracks, leaks and breakage, especially when left out in the sun. So try and avoid plastic couplings. Metal ones are more durable, but if you're concerned about lead leaching out into the water, you should get a hose with a rubber collar.
If you can't be bothered with looking for these individual features on a hose, here some hoses with great user reviews.
Our Top 10 Garden Hose List
These hoses on this list are the highest rated by users, so you should be able to find something that suits your gardening needs amongst them.
In a hurry? Just check the quick editor's choices:
The premium hose maintains its flexibility even in sub-zero degree temperatures so can easily maneuver tight spots without twisting unnecessarily.
It's made with bend resistors known to reduce wear and tear.
It uses a hybrid polymer material for the hose, so that it's both lightweight (for a heavy duty hose) and drinking water safe.
Flexzilla hose characteristics offer zero memory allowing it to lay flat exactly where you drop it and won't work against you during operation or coiling after use.
Pros
Connectors are made of metal, instead of cheap plastic
Has a 150 PSI water pressure, three times more than most hoses.
Cons
Complaints about black molds/mildew within the hose.
Proper care (bleaching. drying and storing) should prevent this.
It kinks, contrary to the zero kinks advertised.
It's made with NSF certified material for safe drinking water. So it's lead free, phthalate free BPA free.
What's more, water coming through it doesn't have that rubbery taste so common with some of the best garden hoses.
It has strained-relief ends and machined fittings for added durability. 
The hose is 20% thicker than standard drinking water hoses, making it more resistant to leaks and pinholes.
The durable hose is reinforced for maximum kink resistance. Hose ID is 5/8 inch for high flow.
Pros
The hose is 20% thicker than standard hoses. so more durable.
Features an innovative anti-kink design.
Cons
Low quality couplings, hence water leakage at the spigot
Some users experienced swelling in the outer plastic coat
Extremely lightweight for a 50ft garden hose, weighs just 3 lbs and has a substantial burst pressure rating of 400 PSI.
It's made in the US, so it conforms with both the FDA and NSF rules for drinking water safety. Has solid chrome brass fittings, you can opt for the stainless steel version during purchase instead if you want.
Flexible in all weather conditions from sub-freezing temperatures to running hot water up to 140 degrees Fahrenheit.
Each hose uses specially engineered strain reliefs on both ends to prevent hose kinks at the faucet or nozzle end of the hose.
Pros
Super slim design, lightweight but doesn't compromise on the quality of material(uses polyurethane)
Despite the small diameter, it has a 4-5 gallons of water per minute flow rate.
Cons
It "flaps around like a whip" according to one user, due to the super skinny design
Very soft, so can be difficult to manage.
Expands to three times its size, up to 50ft, underwater pressure and shrinks back to its initial 17″ when drained.
It has a larger fitting than most expandable hoses, 3/4″, which is corrosion-resistant brass. You can actually control the water flow with the on/off brass valve it comes with.
The hose is capable of expanding to 3 times its length with water and it can contract to its original shape when you turn the water off so you can store it away easily.
Pros
It comes with a woven cover. which 100% polyester, which protects the hose from wear and tear.
Has up to 130 PSI water pressure resistance.
Cons
Hose diameter remains narrow even after expanding
Cracks, so leaks, easily
New innovative expandable garden hose designed to be extremely practical and easy to use.
Aside from its own ability to expand, you can also attach several expandable hoses at each end, so that you'll get even more than 100ft of hose.
The modern collapsible design features a trip layer latex core, for extended protection against constant usage.
This flexible garden hose has a ¾" diameter made for tolerating a larger water stream. Providing more water volume each minute due to the larger pathway.
Pros
Weighs just 1 kg (2.2 lbs)
Comes with an 8-function spray nozzle and a brass shutoff vale
Cons
It's not drinking water safe
Can't attach to sprinklers
The Water Right PCH-050 is a cleverly designed garden hose with coiled tubing to ensure perfect durability and ergonomics in any situation.
The green olive coil can be stretched for up to 50 feet and comes with a ¾ inch diameter, allowing water pressures of up to 150 psi, more than enough to handle general garden duties.
It has been produced using FDA and NSF grade polyurethane, which is basically a polymer designed to withstand abrasion and weathering.
The hose fittings are quite sophisticated and should be compatible with all modern nozzles and attachments, plus they have strain reliefs to prevent them from kinking over time.
This is a surprisingly cheap hose for the specifications it offers and users should be fans of its simplicity. Another huge benefit of this style is that the coil doesn't take up much room for storage since it retracts when not in use.
Pros
Comes with a dish soap/detergent dispenser and a storage bag
The tangle-free design makes it very easy to maneuver
Cons
The hose is prone to leakage at the tap connection
As the first US hose manufacturer to make the kink-proof with a patented Nan-Torsion system, Teknor has a long history of producing garden hoses that are guaranteed to be kink free.
These never kinks couplings are made with lead free aluminum, so won't corrode.
Moreover, it's made in the USA so it abides by the FDA's standards for drinking water hoses.
This hose is best for tradesmen, landscape professionals, and contractor environments. Frequently used with spraying attachments such as nozzles, chemical sprayers, and sprinklers, but it is not for hot water use.
Pros
Has a micro shield antimicrobial protection against mold and mildew.
Remains flexible even at -45 degrees
Cons
Mast users noticed pin-sized leaks within one year.
Develops bulges, which if not managed carefully, can lead to sudden bursts.
Made with an extra flexible 3750D polyester material, this Haspaip hose model can withstand between 3-12 Bar water pressure.
It comes with a nozzle with 8 different spray patterns, which is constructed with zinc alloy. Select the right type of stream and water plants, clean garden or pool, shower pet or wash the car.
The outer coating is slip-resistant. Just drain the water out when you're done and store it in the free storage bag it comes with.
Besides that, the water hose in the bag can serve as a nice gift for all gardeners.
Pros
Folds up quite easily
Users commended the high quality of fittings and valve
Cons
Requires too much water pressure to actually expand
May leak after few uses
The inner layer is made with triple 100% latex and has been tested for up to 1200 uses. Comes with the standard 8-pattern nozzle made from non-slip rubber pad.
Retractable and expandable, ease of use and storage. Expanding quickly to 3 times, space efficient to support multiple purposes.
They offer 180 days no questions asked money back guarantee which allows you to buy risk free.
Pros
The woven outer material is great at preventing kinks
Very lightweight, despite being made with heavy gauge nylon
Cons
Even though this hose can be connected to another, the water pressure is reduced significantly.
Can't withstand extreme temperatures.
The Briggs and Stratton 8BS50 is an industrial hose produced with heavy duty rubber to withstand abrasion and weathering, even after extensive use.
It comes in a length of 50 feet and has brass plated male and female couplings so it will work well with modern attachments.
This is one of the cheapest hoses on the market currently but that isn't a reflection of its quality, since Briggs and Stratton have a reputation for producing impressive products.
This would be ideal for both gardens and industrial sites since the rubber has a high tolerance and the couplings are crush-proof.
This hose is capable of performing well in any type of weather and the rubber washers ensure everything is watertight. Since this is designed using quality rubber, it is highly durable and can be used in areas of all sizes with relative ease.
Pros
Very durable
Good fittings
Flexible in hot and cold
Why Buy the Best Garden Hose
When it comes to water, it's best not to take any chances and that is particularly true of a quality garden hose. Some might wonder why there is such a large difference in price with various garden hoses, but that's because they are made in different ways, with varying materials.
The more expensive options tend to have long-lasting materials that won't degrade with time; something that could prove costly in the future with cheaper hoses.
Trying to repair a degraded hose can often result in having to replace it completely, which then doubles the original cost of any cheap hose.
The old proverb: "You get what you pay for" is, and will always be, true. The nozzle on the hose could also be subpar and that too could lead to further expense in the future.
Quality hoses aren't that much more expensive than their cheaper counterparts, but they are designed to stand the test of time.
If you are looking for premium quality for your gardening or hose pipe needs the easiest way to ensure this is by reading our specialty tailored reviews now, thus providing quickly lots of knowledge and unbiased advice from experts over a greater number of options.
Then sit back, relax and enjoy knowing your watering needs are taken care of. Think about your gardening creation and watch as it blooms whether it be your vegetable patch your prized lawn or your new flowers.
Don't let the sunlight or summer catch your garden off guard for water! Fill your garden with the nutrient of water spray and now.
Garden Hose FAQs
Are expandable hoses any good?
Now, some expandable hose is a good choice for quality money. You can easily find 50 to 100 feet of hose in the $25 to $50 range without much difference from the older hose.
How long should a garden hose last?
A good garden hose should last 5 to 10 years of proper care, but you need to replace the hose all morning if you don't maintain it the right way.
What is standard garden hose size?
Hose diameters range from 3 / 8 inch, 1 / 2 inch to 3 / 4 inch. In the United States, the most standard garden hose is 5 / 8 inch in diameter. The larger the diameter, the more water is transported.
Conclusion
Buying a garden hose may seem easy for someone who has no knowledge about the product. They would just pick up something from across the 'gardening tools' aisle and then check it out on the counter.
In reality, however, there are a lot of things to consider before buying a garden hose such as the materials being used, the length of the hose, the weight, diameter, water pressure, reinforcement…and the list just goes on and on.
The best garden hoses may or may not be as expensive as you think. All you need are a few basic ideas of what's best for your garden so you can use it with efficiency and effectiveness.