When it comes to glass cutting, it is more than just a simple hobby. Rather, as most glass cutters will tell you, glass cutting is a real art form.
To be a skilled practitioner in glass work, you must have both high levels of precision as well as incredible attention to detail.
Similar to sculpting or painting but even more so due to its fragility, any slight mistake could result in an entirely ruined project.
As such, it's important that you only use the best cutter when working.
In this article, we will be going over the Top 7 Best Glass Cutters in 2020 and why they will give you the best piece of art when compared to other brands.
7. Glass Cutter Tool Set 2mm-20mm Pencil Style
A durable and impressive cutting tool, this glass cutter uses an ultra-strong diamond carbide blade tip. This tip is made with a solid hardness and sharpened edge in order to guarantee the smoothest cuts while working.
The blade is also threaded to ensure slip resistance and maximum effectiveness.
The metal head is made from polished, wear-resistant premium steel. This allows the cutters the ability to either strike the glass after cutting or to split it. This is due to the head being rounded rather than edged.
This glass cutter has an ergonomic, non-slip metal handle that allows you to hold the blade both incredibly comfortable as well as pain and labor free, allowing you an ultimately better cutting experience.
The glass cutters are both incredibly compact as well as lightweight and portable. They can be slipped into either your backpack or working gear with no obstruction or burden.
The Pencil Style Glass Cutter is incredibly versatile and useable in numerous situations. It is perfect when used in cutting stained glass as well as many different household uses and crafts.
It is a must-have for any DIY glass project, be it mirrors, windows, or glass shelving. The set comes with 2 blades and a screwdriver with varying levels of thickness, between 2mm and 20mm.
6. Red Devil 106370 DIY Glass Cutter
An excellent Glass Cutter all on its own, the Red Devil is ideal for general cutting rather than precise cuts or techniques.
It is made from a zinc die cast and has a steel wheel for your DIY crafting.
Rather than cutting through the glass, the Red Devil is perfect for scoring through the glass surface, allowing you to snap (or "break") it off.
Its steel cutting blade wheel allows it to cut in more general blows.
This allows it to move through faster before using a separate cutter for the slower but more precise cuts.
5. IMT Pistol Grip Oil Feed Glass
The IMT Pistol Grip is most well known for its incredible pistol-grip design. The handle is incredibly easy to use and greatly reduces wrist fatigue found in most other glass cutters.
This allows you to score glass with as little effort as possible while still giving you incredibly clean cuts.
The IMT Pistol Grip uses an industrial-grade frosted iron head with a cutting wheel made from tungsten carbide.
It has a cutting life of over 20,000 meters and can outlast other glass cutters by up to 30xs! Each set comes with 2 separate cutter heads, with one used for glass thickness of 2mm-6mm, while the other is used for a glass thickness of 6mm-12mm.
In order to keep the wheel lubricated while cutting, the IMT has an automatic oil dispensing system.
This, along with its head and wheel, allow it to score lines across several surfaces, such as glass, tile, mirrors, and even diamonds and minerals.
The IMT is one of the more tops of the line cutters and is CE as well as SGS certified.
4. The Toyo Oil Cutter
The Toyo Oil Cutter sits tall as one of the best glass cutters in the industry.
Known for its exceptionally long wheel life, the Toyo Oil Cutter is both incredibly long-lasting as well as amazingly capable, known for making some of the cleanest scores in glass cutting.
The glass cutter uses an automatic oil dispensing system in order to keep the wheel blade properly lubricated during each of your glass cutting sessions.
It has a brass handle that acts as a reservoir and is made for longevity and sustainability.
The Toyo Oil Cutter has a blade wheel angle of 134 degrees and can fit conveniently in your bag or pack whenever you are ready to cut.
3. IMT Pencil Style Oil Feed Glass Cutter
The IMT Pencil Style is another of the IMT branded glass cutters, also incredibly well known for its comfort, performance, and durability.
It has a cross-hatched handle, allowing for a strong grip as well as a frosted iron head that has a wheel made of tungsten carbide.
Similar to the others in its family, the IMT Pencil Style has a cutting life of over 20,000 meters and can be used on mosaics, stained glass, mirrors, and more.
Each set has 2 separate cutter heads as well as a pocket-sized pencil grip that is used for automatic oil dispensing, ultimately keeping the wheel lubricated for every cut.
The cutter heads range from cutting glass with a thickness of between 2mm-6mm and 6mm-12mm.
This cutter is ideal for both Glazers as well as all DIY enthusiasts alike and is what you need to take your glass cutting to the next level.
2. Home Pro Shop Glass Bottle Cutter
Unlike the others, the Home Pro Glass Bottle Cutter excels for those looking to create their own table bottle lamps or looking to turn their used wine bottles into a colorful vase.
It can help transform used bottles into drinking glasses, wind chimes, tea candle, or plant holders. This glass cutter truly allows you to express your most creative and imaginative endeavors in glass making.
The Home Pro Glass Cutter is made with cutting bottles in mind.
As such, it has 5 support blade wheels made specifically designed for stabilizing and cutting bottles, giving it a level of precision unmatched in the glass cutting world.
The blade length can be adjusted up to 19.5 inches and has an ultra-strong blade made from diamond carbide and can last for over 100,000 cuts.
1. YouYu: Acrylic Cutter 10 Pcs Blade Set
Finally, the YouYu Acrylic Cutter is an amazingly high-quality acrylic glass cutter.
This 10 piece blade set is perfect for those seeking to cut plexiglass sheets.
While not ideal for cutting through glass bottles and the like, the YouYu cannot be beaten in terms of moving through the difficult plexiglass.
Tips on Buying Glass Cutting Tools
If you're getting involved with a project where you need to cut glass, you need to use a glass cutter for the job.
When buying a glass cutter
, there are some things that you need to consider.
You need to look at the thickness of the glass that you are cutting, if you want a lubricated glass cutter, and the reviews of each one.
You will find that some cutting tools are not as effective as others so you need to take a careful look at the features.
1. Is it made to cut thin glass?
You need to take a look at the glass cutter and see what it is for. Most of these glass cutters are fairly cheap.
The thicker glass cutters are usually much more expensive. They also handle better because you need the extra strength when trying to cut thick glass with precision. Just buy the right cutting tools for the job.
2. If it has self drip lubrication?
You will need to realize that some glass cutter has self drip lubrication so that you can cut across more easily and cut cleaner. This may or may not be something you want.
Some people find it convenient while others find it messy. You need to make sure that the glass cutter you're buying doesn't leak as some people complain about leaking for specific models.
3. Operation of cutting machine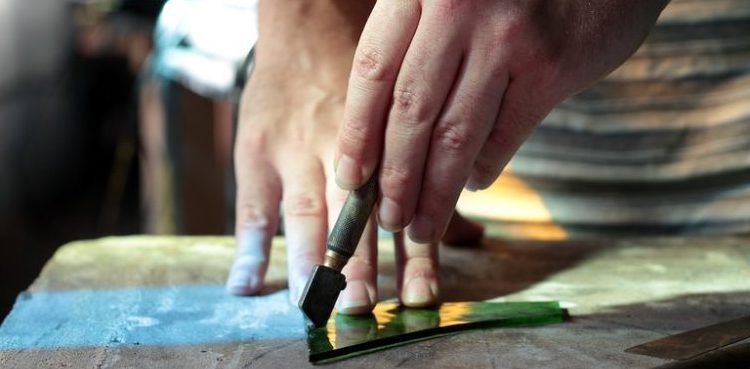 You also want to consider the handling of the glass cutter. Some are ergonomic to your fingers are designed so that your fingers hold firm around the cutter.
The others will need to be used with your pointer fingers leading the cut. Think about how you want to cut the glass and which grip you will be more comfortable with.
4. Axel bore of the cutting wheel
Another consideration is the axel bore of the cutting wheel. The more taps it has per revolution, the better it will cut. This means that the cutter will last much longer than the average cutter.
If you're planning to use a glass cutter over and over, you will want to spend a little more money and get one that has a longer life.
5. Customer reviews
When buying a glass cutter, you should read through the customer reviews to see which one handles and cuts well and which do not. You'll find that some of them aren't precise enough and some are not effective at cutting thicker glass.
Think about what you need for your project and compare it to the customer feedback to get a good idea of which one you should think about purchasing.
Glass Cutters FAQs
How thick of glass can you cut with a glass cutter?
2mm is typical glass for a frame, but the thickness can be difficult until you feel how much pressure is applied to the cutter. 5mm and thicker are harder to break and can take some courage when it becomes very thick.
Do glass cutters work?
Yes, a glass cutter is a tool used to make a shallow cut on one surface of a piece of glass that will be divided into two pieces. The notch causes the glass surface to crack, which causes the glass to break along the notch
How to use a glass cutter
Conclusion
You need to look at each glass cutter review to get a good idea of whether or not it is right for the job.
Although it seems like a simple tool, you need to consider several factors to make sure your purchase isn't in vain.
By taking some time to do research, you'll be able to buy one that handles and cuts well.