Tired of listing daily necessities every time?
These Best gym bags are a lifesaver!
Just place all your essentials once in it and you'll have all your life together.
It doesn't matter whether you are new to the workout or a Schwarzenegger fan, a gym bag is a must item indeed.
With so many options to look at, we all imagine a lightweight, yet large enough to hold all your essentials, stylish yet durable, and made with the strong material, kind of gym bag.
Then there are those with additional features that further help us in keeping our stuff safe and protected from externalities like rain, extreme heat, dust, etc.
It all depends on your priorities and the most relevant and important features for you.
We have selected the top 9 gym bags in the market today; go through the complete details and features of each and you will find just the right one for all your workout needs.
1.

5.11 NBT Mike Duffel
So, it doesn't matter whether you intend to take this one to the gym or to any other rough sports, this duffel is one of the best gym bags for men!
Featuring a detachable shaving kit compartment, this bag is made from strong nylon material, and meant to last you through the years.
For your comfort and ease of carrying it to longer distances, it also includes a padded shoulder strap, which can easily be detached, if not in use.
Very robust and strong, this bag is highly water-resistant and can also resist extreme environmental conditions.
2.

Adidas Scorch Team Duffel
If you need color options, the Adidas duffel, offers style, great color options and class, all in its scorch team duffel.
This bag includes zipped compartments, a wet/dry pocket, a strong bottom and a detachable adjustable strap.
Although it looks quite compact, it has an internal 60-liter capacity and includes compartments for ease of organizing all your stuff.
Additional padding around the handles makes it far more comfortable and easier to carry around wherever you like.
So, make it look compact, yet keep all your essentials in one place, with this duffel and carry it around with ease and class.
3.

Under Armour Storm Undeniable II SM Duffle
Are you looking for an all-rounder bag that you can take to your workout, as well as use for traveling?
Here's a great option for you. This Under Armour Storm Undeniable II SM Duffle gives you great space and yet, can be taken anywhere you like. Whether you go on foot, on a bicycle, on a bike or bus, this bag is just the best gym bag ever!
It includes water-resistant compartments, to keep all your important stuff in, without worrying about any water seeping in and damaging the items.
Made from polyester, this bag can also be carried over the shoulders with its strong, padded strap and can resist most of the harsh external conditions.
Available in a variety of colors, it also has a padded handle and three external pockets.
4.

Carhartt Legacy Gear Bag
Available in three colors, black, brown and camo, this bag is one of the most reliable bags in the category.
Manufactured by the Detroit Brand, it's been made from pure polyester material.
Covered by the rain defender water repellant, it offers the most protection against water, rain and any seepage.
Includes one large sized compartment and a zipped compartment on the inner side, and can hold over 34 liters.
Also has an adjustable shoulder strap for additional support while carrying and can also be carried through the soft and comfortable handles, by hand.
This bag is spacious enough to let you keep all your essential gear and gym stuff safe and accessible as and whenever the need may be.
5.

OGIO X-Train 2 Pack
If you are looking for more style and youthful features in your bag, the Ogio X-train 2 pack is one great option.
Not just the best gym bag with a shoe compartment, it has all the basic features of a good duffel bag.
It is also one of the best gym bags for work and it lets you take your laptop with you wherever you go, keeping it safe inside a padded compartment, designated especially for the laptop.
Available in two color options, you get the ideal number of compartments for keeping all your essentials safe and happy in their dedicated pockets.
6.

Nike Sport Backpack
Made from pure polyester, this is the ultimate backpack you may be looking for!
Very compact and light, you can enjoy up to 40 liters of space.
It includes a distinct compartment for keeping your shoes and socks, and various smaller pockets to organize your stuff in a better way.
With a great brand name, this one is not just durable, spacious and light but is also the best gym bag if you need to maintain your style with the sport.
Carry it with ease and style, to your office, or school and enjoy your workout without having to go home and change the bag; you can take this one anywhere!
7.

Adidas Squad III Duffel Bag
If you are looking for a cool gym bag for her, Adidas squad III is the best women's gym bag.
Made from strong polyester material, this gives you a lifetime warranty and does not wear out at any time!
There are various compartments for ease of organizing all your essentials, no matter how big or small, and a separate compartment for keeping the shoes and a small zipped external pocket for keeping all other essential stuff within the ease of reach.
You can also keep your water bottle in its designated compartment, separate from all the other stuff, and rest assured, it won't mess around with all the other essentials you keep in the other compartments.
A very girly bag, available in a wide variety of colors to cater to your unique tastes.
8.

Under Armour Ozsee Sackpack
Nice, strong, and durable, this type gives the convenience of carrying all your essentials to and from the workout place as and whenever you like.
Easily carried around the shoulders, there is a clip to keep it from sliding off the shoulders at any time.
Made from strong polyester material, you can stay happy and assured, it won't rip or tear away easily.
Available in many color options, you can pick the one most suited to your lifestyle.
Very light in weight and made from high-quality breathable material, it lets you carry all your stuff on your shoulder with ease.
So, go ahead and take this one to the gym right away!
9.

Everest Luggage Sporty Gear Bag
A decent, spacious and sporty bag, this one has it all.
Including two mesh pockets, zipped side pockets, large space, it can easily be taken while you are traveling, on a weekend getaway, or simply to the gym!
The various small pockets let you keep all your important stuff separated in smaller pockets and more organized and accessible.
Available in various colors, the Everest Luggage Sporty Gear bag, is a must have for style, luxury and comfort!
Buying Guide for Best Gym Bags
It really doesn't matter if you are a habitual gymnast or if you work out just when you get the chance to, a gym bag is a prime requirement to keep all the stuff you need there at that one place, safe and easy to access at any time you want.
As with any other piece of apparel, accessory, or any sort of bag, there's never a one type fits all kind of thing when it comes to gym bags. We all have different needs and expectations from our bags.
Some may prefer a nice looking bag with a more professional appearance, to keep it stylish and clean. Others may care less about the looks, but more about the practicality of the bag, still others may look for additional features such as waterproof material or durability.
Then there are many, other options for instance, the bags with separate compartments, to keep the odor from mixing with food items, for keeping your shoes, clothes, food, gym gear and other essentials, together yet separated in a more organized sort of arrangement.
However, no matter what your style, there's always the right bag for you just waiting to be picked up and being your best pal in your workout routine.
So, why say no to the convenience of just placing all your essentials in a bag, instead of carrying around multiple shoppers and dropping or forgetting a few every time?
Fortunately, now you can choose from thousands of options with different designs, colors, sizes, and materials, and find the best gym bags ever!
Categories of the Bags Available in the Markets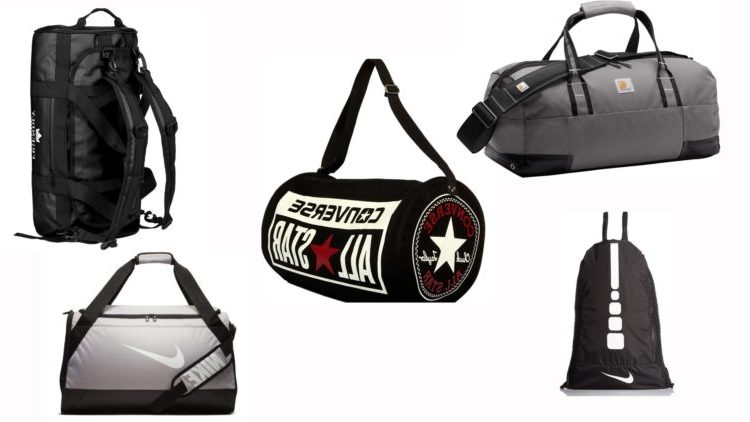 01

 Sackpack
These are very light in weight and have one large pocket, for dumping all your stuff.
02

 Duffel Bag
These allow proper air ventilation, have various compartments, and two straps for ease of carrying on the shoulders. They can be easily placed in your locker and come in various shapes, like the ever popular narrow shape, square, or with a cross-section.
These types are very spacious, allowing you to keep as much stuff as you like without any worries of running out of space. You can carry them on the shoulder or with the handles in the hand, as you prefer. The strap is more useful if you have placed heavier items.
03

 Tote
This one has various compartments or pockets. Made from different materials, you can carry it as you prefer on the shoulder.
A bit smaller than the large duffel types, these can help you carry the gym gear with more ease. These types are very practical and can be used for your daily workout routine and let you keep all your clothes, shoes, and other stuff, easily.
04

 Holdall
These are more suited for you if you only use the bag for occasions such as weekend trips or other such plans. They are more spacious and can also make great travel bags.
04

 Backpack
The backpack is the most convenient of all. It is great for ease of movement and offers great space for all the gear and clothing.
These bags are usually very light and have a soft, padding on the straps to relax the shoulder blade and let them carry the weight with ease. Although, these do not have too much space, but are the easiest to be used.
These types are small enough to be carried around on cycles, buses or as you walk to the gym, and do not tire the shoulders or back. The weight is evenly distributed across the whole body, making it more relaxing and comfortable.
05

 Rucksack
A sporty sort of bag, made from good quality, sturdy material. These are the most popular and also make the best gym bags for a workout.
Essential Components of a Good Gym Bag
Quality and making are the two top most elements that make a good gym bag.
There's no doubt in the fact that the bag you buy must be made from such material that not just serve the purpose but also lasts for a very long time.
Other than the quality, there are many other elements you must consider before buying your gym bag, a few of which include:
01

 Weight
It is very important if you have to carry the bag around for over a few blocks to greater distances, the weight of the bag ideally shouldn't be too much. The lighter weighted bags are the easiest to be carried around; it is here that the material the bag is made of, plays a key role.
Nylon material for example, has the ability to hold and bear a lot of weight. Another advantage of the same, is that even if the bag rips at a place or point, the gap doesn't widen with time. It just stays as it is and you can enjoy greater lengths of time with the bag.
02

 High Quality
The importance of the quality of the bag cannot be overstated. As emphasized earlier, you must get a good quality bag.
A bag low on quality may cost you less, but it will never give you anything a good quality bag is able to. You may need to constantly replace the low-quality bag as the old one keeps wearing out or getting damaged, resulting in much more loss than the amount you could have spent in purchasing a good quality one.
A good way of ensuring good quality manufacturing is checking the material. If it is soft and smoother, it means it is made with good quality and would not rip off any time soon.
03

 Brand
If you do not feel qualified enough to comment or judge the quality of the bag, try to look for one which has a good brand name and market repute. You will find various brands making more stylish, affordable and more practical bags. These are widely available all over the markets.
04

 Color of The Bag
The more colorful the bag, the more casual the look it holds. However, the color always depends on personal preference. If you are employed at a bank or a corporate company, you may think that a subtle colored bag is more suited to your profession and taste. Find a gray, blue or black bag, to suit your personality in such a case.
05

 Practical Use
The most organized bag is your best bet. You obviously never want your smelly, dirty socks to mingle with the food items, or your shoes to get in contact with your fresh clean clothes. So, a bag with at least two compartments is a great one, to keep your clean and dirty essentials separated yet together.
05

 Pockets
The more the compartments, the better the bag can be used. Pockets help you organize your stuff in a more thorough and easy to place manner. You can place your shoes, clean clothes, smelly socks, food, watch, cellular phone, water bottle, and etc. all in a separate compartment, to prevent any accidents or getting jumbled up.
Some bags even have a distinct zipped pocket, separate from all the rest for keeping your shoes or sweaty clothes separate from all the other items.
These bags are also great for holding the liquid items like shampoos, syrups, juices, water, etc. as they have separate compartments for each.
06

 Size
Since it will be ultimately you who will be carrying the bag, it is ideal that the bag is as light and portable as can be to be carried around with ease. However, at the same time, the bag has to be spacious enough to hold all your clothes, shoes, toiletries, and gear.
Another thing to consider here is, if you want to place it in your locker, your bag has to be small enough to fit perfectly in the compartment. In any case, the bag should never ever be too big. It will not just make you look clumsy carrying a huge bag to the workout, but also make it hard to go through the contents and find the one you actually need.
07

 Life of The Bag
It is always what the bag is made of, that defines its life. Usually the bags made from, nylon, canvas and cotton are the most durable of the lot. There are various bags made of leather too. These look sleeker and of a higher quality.
Often, the gym bag can be an investment on your part, but even if you do not spend that much, it is never convenient to keep shifting all the stuff from one bag to another. So, try to buy one which lasts you a few years at least.
Getting a good gym bag is also a great motivator for those who often defer the workout routine. A bag organizes your life, and even saves u considerable time and effort involved in getting ready, finding your stuff and giving you the will to get on a healthy lifestyle while maintaining your style all the way.
You can even find such bags in the markets that can be carried to work too and can hold your laptop, office, files and other documents. There are stylish options, bags with more practical usage, all of which look great and make you feel all the more stylish while carrying them around.
For ladies too, there are multiple options of sporty looking or more classy bags, each with unique looks and sizes and designs, for you to find the best one for your workout routine.
Best Gym Bags Material Used in Manufacturing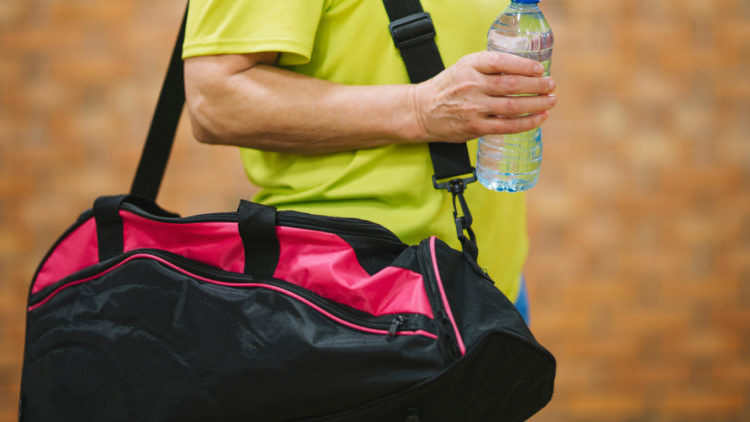 Leather: The bags the made the from leather look the most refined and classy of all. These are also the longest lasting of the lot, but maybe high on the price spectrum. Moreover, it is never advised to wash the leather, unless there are written instructions that allow the same.
Polyester or Nylon: Both of these are the synthetic materials, and offer a more affordable and long lasting material of the bag.
Rubber Bag: The bags made from rubber provide additional advantages like water-proof exterior, scratch-resistance, etc. They also look very stylish and are the best for carrying around the sweat soaked clothes without the material getting affected in any way.
Canvas: These bags are designed for the ones who prefer a more ethnic and antique look. These bags can be easily washed and are made from great soft material. These types, are waterproof and also let the water evaporate through, which is a great option for you if you have to travel great distances with this bag.
Should My Gym Bag Be Water Resistant?
A water resistant bag may be very important for you, if you are also into swimming, or if, for some reason, like the lockers being in the restrooms, for instance, the bag comes in direct contact with water more frequently.
Water-proof bags work great in keeping all the contents safe from water and damage. Often, many gym bags have legs or tiny feet at the bottom. This increases the distance between the bag and the floor, and reduces the chances of the bag from coming in contact with the water.
Many other types of bags, also have the water resistant bottom only, to keep safe from seepage or any water on the floor or place they are placed at. Many others, have an additional waterproof pocket, for letting you keep the important stuff like cards, mobile phones or wallet etc. safe from water. So, just look into these factors and decide the type more suited to your requirements.
Is a Shoulder Strap Really Important For My Bag?
This factor may not be very important, but is always essential for your comfort. If you have lesser stuff to carry to the nearby gym, then a shoulder strap may not really be necessary.
However, if you have a lot of stuff and the gym is far off, then you do need good shoulder straps for more support and ease of carrying the bag to the gym and back home.
A good shoulder strap supports the shoulders better and distributes the weight of the bag more evenly, ensuring that you have to carry around a lot less weight, making your walk to and from the gym, easier.
You can easily find a lot of options for the straps too in the market, such as those which are more adjustable, padded, detachable and strong. Look for the most comfortable one, if you need a bag to carry around with ease and comfort.
Should My Bag Include External Compartments?
Compartments, whether external or internal are included to give you the comfort and ease of organizing your stuff. With more pockets, you can easily dedicate a pocket to different items in the bag, this will enable you to remember where you've placed the stuff and reach it in lesser time, whenever required.
Having more pockets is a very handy feature, however, too many pockets are never a good idea. They do not just mar the overall look of the bag, but also make it hard to remember which pocket was for which item. The bag may also, look large and it may become more of a hurdle than a useful feature.
In order to decide just the right number of compartments you will need, just make a list of items you'll want to keep in the bag. That will give you a fair idea about how many compartments to look for.
Gym Bag FAQs
Can I use a backpack as a gym bag?
The backpack is comfortable and sturdy. If you like to carry everything with you, the backpack is the best gym bag for you.
How do I go to the gym for the first time?
Call ahead of time to ask if you are unsure or take it with you. Limit aerobic exercise time. If the gym is full, you can only stay on the aerobics machine for 25 minutes. If you want to do more, you can exercise and end aerobic exercise.
How do I wash my gym bag?
"If you have a multi fabric bag, mix the same amount of warm water with white vinegar and add a small amount of dawn dishwashing soap. Wipe the inside and outside of the bag with a soft sponge. " Whether you clean your bags, the key is to make sure that they are cleaned regularly. Better yet, prevent the bacteria from spreading before they start to spread.
Conclusion
Finding the right gym bag, maybe much harder than it seems. But once you just consider the essentials you will need, you can easily narrow down your options and select the one that suits you best.
Keep all your gym gear and essential items organized and carry them around in style, and dedicate all the effort and time to doing the best for your body.
Use our above guide for finding the best gym bags 2020 and make your daily workout a stress-free experience.
We hope you enjoyed our article on "Best Gym Bags for Workouts", if so, please share and rate it.