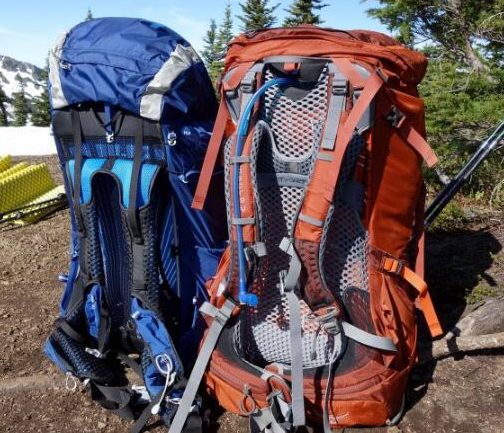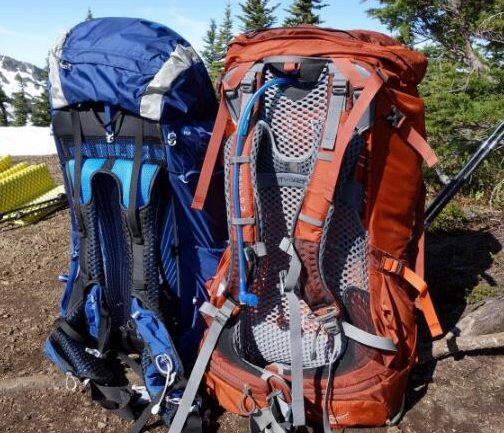 Do you keep on hiking? Do you obsessed with the comfort of the backpack?  And do you need a backpack that having enough capacity to fit you carry things?
Actually, a hiking backpack that fits if you are new to hiking, or have not been fitted in a few years, go first to read this article that introduces highly recommend backpacks.
A backpack is one of the very first pieces of gear you'll need to get started hiking. This review collects and analyzes some most popular and suitable hiking backpacks in 2021 among hiking enthusiasts.
Check out the review list to see which backpack types and features are best for you.
Our top ten picks have been selected based on:
Weight
Price
Inside frame
Materials
Volume
Design
Comfort
Top 10 Hiking Backpack 2021
Editor's Quick Guide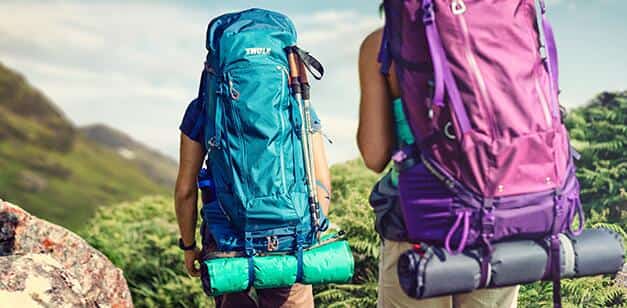 1.

Osprey Men's Atmos 65 AG Hiking Backpack
The Osprey's Anti-Gravity suspension system is the main core of the Osprey Atmos AG 65 that brings incomparable ventilation and comfort to the user.
This pack was awarded and renowned by those professional thru-hikers on the Pacific Crest Trail.
The Anti-Gravity suspension system delivers outstanding ventilation and carrying comfort.  And unrestraint movement was made up of a back panel that uses the lightweight mesh from the top to the hipbelt. The Fit-on-the-Fly hipbelt and adjustable torso length let the journey on the trail easier.
You can use a zippered front panel or through the top of the pack to get your gear. The multipurpose floating top-lid is detachable to reduce weight.
And the integrated FlapJacket was ready to protect your gear from the elements at any time and anywhere.
Pros
Five exterior zippered pockets and three slip pockets.
Outstanding ventilation
Easily adjustable torso length
2.

Gregory Mountain Products Men's Baltoro 75 Backpack
The Gregory Mountain Baltoro 75 makes functional improvement, pack volume increasement and suspension system updated. All these new features bring a better experience for the user than ever before.
The updated A3 suspension system fit your body and the terrain automatically. And it makes you feel relatively light when fully loaded. All these concerned features keep your travel relax on the trail.
The accurate torso length keeps the majority of the pack load transferred to the main structure of the body to the hips.
Pre-curved, ergonomically tapered shoulder harness straps are designed for multiple sizes to pack and allowed tuning.
Pros
5 Exterior Pockets
100% Ballistic weave Polyester
Integrated, color-matched rain cover
3. 

Deuter ACT Lite 60+10 SL Hiking Backpack
Deuter ACT Lite 60 + 10 SL is the best-selling product in this series. For a long hike, ACT Lite 60 + 10 SL reduces the weight off of packing.
Owing to the direct load transfer and Deuter's classic AirComfort Lite back system feature, you will feel more comfortable, meanwhile, it keeps dry and cool for the long journey.
Side compression straps enhance the functionality of weight transfer and add more stability. It's easy to be located load adjustment straps by the special buckles.
The basic SL carry system is a bit shorter than that of Deuter's standard packs with narrower shoulder straps, softer edges.
Its huge space allows you to take enough convenient accommodation of food, water, and souvenirs which you brought in your way.
Pros
Easily fastened even with heavy loads
Stretch front compartment
Cons
Designed for women by women
4.

Kelty Coyote 80 Hiking Backpack
The Kelty Coyote 80 workhorse Pack gives you enough capacity to carry more stuff on your way. It also offers significant comfort and serviceability to the company you in the adventures.
The Coyote is designed to support heavy loads by load hauler when they take the trips into the backcountry, and custom fit to let the adjusting easily as well.
This pack owns a lot of characteristics, such as Top Loading, Top Lid converts to Sling Pack, Zippered side pockets, Front Pocket, Stretch front pouch, and Hydration Compatible.
There is a nice top pocket where you can put the bottle instead of the dedicated came back pocket. It's also a place in the back designed to use to take a pan and a pair of flip-flops and a pocket in the waist strap to put small items. The basic frame system makes the user comfortable and supportive.
Pros
Top Loading, Top Lid converts to Sling Pack
Zippered side pockets, front pocket with organization
Stretch front pouch, Hydration Compatible
5.

Mountainsmith Apex 60 Hiking Backpack
When you take an extended journey and thru-hiking on long trails, this 60-liter internal frame backpack was the best choice for you. This Mountainsmith Apex 60 backpacking bag is a good option to take while hiking which is designed from the waist belt and concentrated on ergonomics.
This pack which emphasizing durability is made up of CORDURA fabric and a heavy-duty yet lightweight aluminum suspension.
The hydration sleeve and port, side-canted water bottle pocket, large U-shaped access zipper, mesh stash pocket, smartphone-sized waist belt pocket, generous lash points for tools, ridged EVA back panel padding, pocket pass-through compression straps, adjustable torso suspension, and an easy forward pull waist belt features give you a smart and convenient solution.
The multi-point ladder adjustment suspension is designed for s/m/l Torso range for the backpack. The right side pocket is prepared for you to put the water bottle. The smartphone pocket also is designed in the waist belt pocket.
Pros
Right side angled water bottle pocket
Smartphone compatible waistbelt pockets
6.

Maxpedition Flacon-ll Hiking Backpack
The core features of the Maxpedition Falcon II Backpack was durable, ergonomic, and intelligently designed.
This pack in medium size was made up of 150-Denier water & abrasion resistant nylon, designed in an ergonomic shape, padded shoulder straps as well.
It is a sturdy sternum and waist support which all make you totally easy to wear. More important features are found that some layered independent compartments are designed with a lot of pockets, pouches and PALS attachment points than most backpacks twice its size.
Meanwhile, you will find the Falcon II is extraordinarily spacious with a place to put your camping goods and two water reservoirs to use.
Pros
The best components and designs are used.
Teflon fabric protector for grime resistance and easy maintenance
Cons
Teflon fabric protector for grime resistance and easy maintenance
7.

Granite Gear Crown VC 60 Hiking Backpack
Granite Gear Crown VC 60, at the first view, you will see the ventilation channels molded into the cushy back pad. This ventilation channel permits air to circulate from the bottom to the top. And this ventilation takes advantage of convection to help in evaporative cooling.
This facilitates circulation without shifting the pack's center of gravity away from your back. Actually, Maxpedition Backpacks are designed for hauling gear and ergonomically to never drag you down.
Pros
Interchangeable Belts
Teflon fabric protector for grime resistance and easy maintenance
Cons
Women's belts are sculpted to fit the increased angle of women's hips
8.

ALPS OutdoorZ Commander Freighter Frame
You will get the Commander Freighter Frame PLUS a 5250 cubic inch Pack Bag when you buy Commander + Pack Bag. ALPS OutdoorZ Pack Bag is great for getting all your gear to your base camp.
There are 6 pockets in addition to the main compartment, including a front pocket, spotting scope pocket, rifle holder, and 2 side accessory hinged pockets.
The most important feature of this pack is that it can be easily detached to use as a Freighter Frame as well if you empty out the pack bag. The unique feature equipped with this commander is a lashing system which use to secure your meat.
If you carry as much weight as you can, the padded waist belt and shoulder straps are a must. It's enough pockets for you to put a flashlight and knife, as well as a holder for your shooting on the lashing straps.
Pros
Zippered front access
8 compression straps
Hydration system compatible
Cons
No detachable day/hiking pack
9.

Mountaintop 70L+10L Outdoor Sport Water-Resistant
There are four major features of this Mountaintop pack. The first is a separate bottom compartment with a divider, ideal for shoes, wet or dirty stuff. And there is 8 level adjuster makes it highly adjustable to accommodate various torso sizes.
Meanwhile, the Hydration access on a side of the pack, Hydration system contains 3L compatible.
A built-in rain cover protects your gear from foul weather and stows in its own pocket. You can trust this company's product for its more than 30 years' experience.
You are searching for a pack that has basic functionality and comfortable over $100, it worth to invest. They can make sure the quality for many years' experience and technology.
Pros
Separate bottom compartment with divider, ideal for shoes, wet or dirty stuff
Highly adjustable to accommodate various torso size by 8 level adjuster
Cons
No detachable day/hiking pack
10.

TETON Sports Scout 3400 Internal Frame Backpack
The TETON Sports Scout 3400 is a great backpack for all kinds of people, including men, women, and youth.
And its features you usually see in much higher-priced backpacks. You will like this durable pack which is made with a 600D diamond and 600D Oxford canvas shell. This pack stands up to years of rugged adventuring.
The other features of this pack are a large sleeping bag compartment multi-directional compression straps, and multiple compartments and pockets arranged for strategic packing rain fly also included.
I really recommend these padded shoulder straps, and these fully adjustable shoulder straps and torso length to fit all kinds of people.
What's more, the TETON Sports Scout 3400 is a durable hiking pack with sturdy zippers, mesh lumbar support, padded waist, shoulder straps, and bendable aluminum stay.
It's unbelievable how comfortable this pack is. The fact that TETON Sports Scout 3400 Internal Frame Backpack programs are good value for money.
Pros
Fully adjustable shoulder straps and torso length to fit a wide variety of people.
Front mesh storage pocket with hook and loop closure.
Cons
No detachable day/hiking pack
Purchasing Guide: How To Choose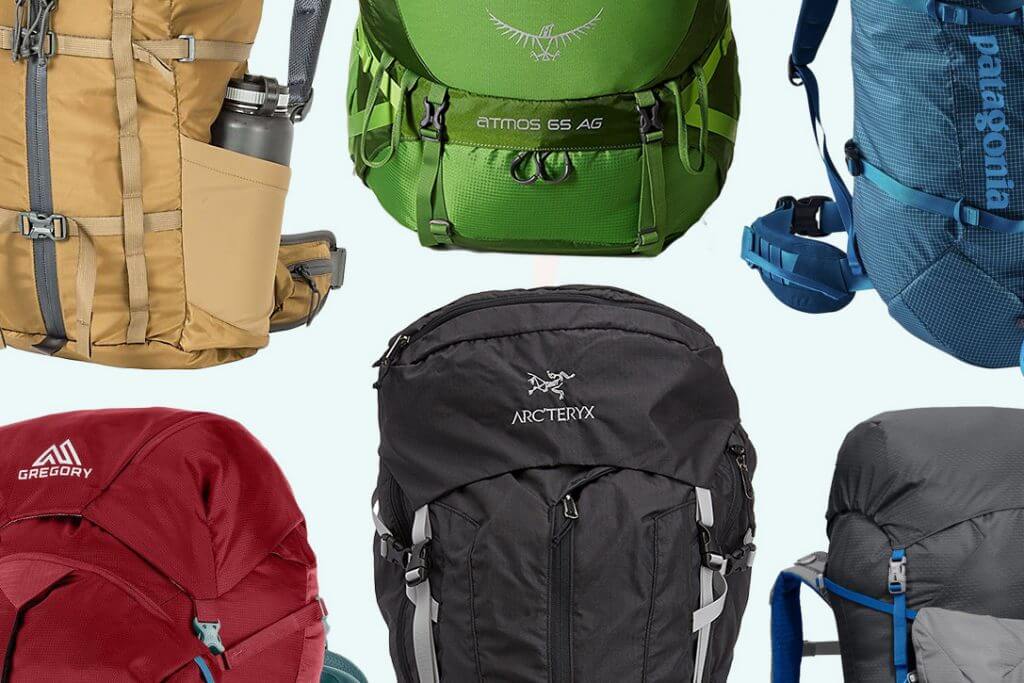 When selecting a hiking backpack, keep these key factors in mind: the capacity, exterior pockets, water protection, ventilation are really significant important features to the hiker.
A backpack that properly suits your needs is necessary for a comfortable hiking journey. A small backpack will not fit all your gear, while a large backpack adds extra weight. With a large backpack, you may likely overpack and end up carrying more weight than your body can handle, finding a good hiking backpack is not easy but also not impossible.
1. Backpack Capacity
First, you must consider the kind of hiking that you will be doing including the length of time spent hiking. This helps you know the backpack capacity that is required. It is advisable to choose the size between 30 and 80 liters contingent on the amount and size of your gear.
2. Backpack Features
The features of a backpack are the deciding point for purchase. Some features come in handy during certain hiking trips while others are unnecessary during hiking.
Backpacks fitted with integrated rain covers are meant for wet climates. Conversely, backpacks fitted with hydration compartments are meant for dry climates. 
3. Backpack Frame
There are three different backpack frames to look out for. Each of them has its advantages and disadvantages.
External Frame – Designed for hikers with very heavy gears such as inflatable boats. It provides good space and ventilation for your luggage.
Internal Frame – Hiking backpacks fitted with internal frames are very common. They have a shape that distributes the weight of the load effectively on your body.
Frameless – Designed to carry loads with very lightweight. Some of them have removable frames while others lack frames at all.
4. Ventilation
It is hard to avoid sweating when carrying a hiking backpack. However, some of them are designed with a competent ventilation system integrated into the back panel. The best backpack has a breathable mesh resting on your back. This mesh leaves space between the backpack and your back allowing the flow of air.
5. Padding
Enough padding on a backpack facilitates comfortable hiking. A good hiking backpack is one with a padded shoulder strap. Straps ensure that the weight of the backpack does not fully rest on your hips. This prevents sore shoulders after a long day of hiking.
6. Backpack Access
Avoid backpacks that have a large opening at the top as the only access to all items inside. Instead, choose a backpack that is fitted with side zippers. Some backpacks can fold open like a suitcase. They are the best choice, especially when having a lot of luggage.
7. Load Lifter Straps
The best hiking backpacks are fitted with load lifter straps. They enable you to lift a heavy backpack without soaring your shoulders, apart from protecting your shoulder and back, they ensure that the backpack is close to your back.
8. Integrated Rain Cover
Avoid purchasing a backpack that is not fitted with an integrated rain cover. They come in handy when hiking in rainy or wet areas. The integrated cover ensures that your bag does not get wet when it rains. Some covers are permanent while others are removable. Choose the one that best suits your needs.
Hiking Backpack FAQs
How heavy should a backpack be for hiking?
A backpack full of backpacks should not weigh more than 20% of your weight. (if you weigh 150 pounds, your backpack should not weigh more than 30 pounds.) A full day hiking bag should not weigh more than 10% of your weight.
How do I choose a backpack for a day hike?
A rough guide is to buy a capacity of 1800 cubic inches or less. For most summer hikes, backpacks with a capacity of 1200 cubic inches or less usually work well. Buy a bigger bag only when you know you need space. The lighter the weight, the better.
What is the best size backpack for a day hike?
21-35l: This is the best place for most hiking and holiday bags. There is enough space for food, clothes and other extra things, such as a camera and a book. 36-50 liters: these larger backpacks are ideal for trips that require additional clothing and equipment, such as mountaineering, hiking, or summer hiking.
For other hiking tools, we also have the latest reviews of hiking boots, water bottles and sleeping bags, camping chair and even sun hats.