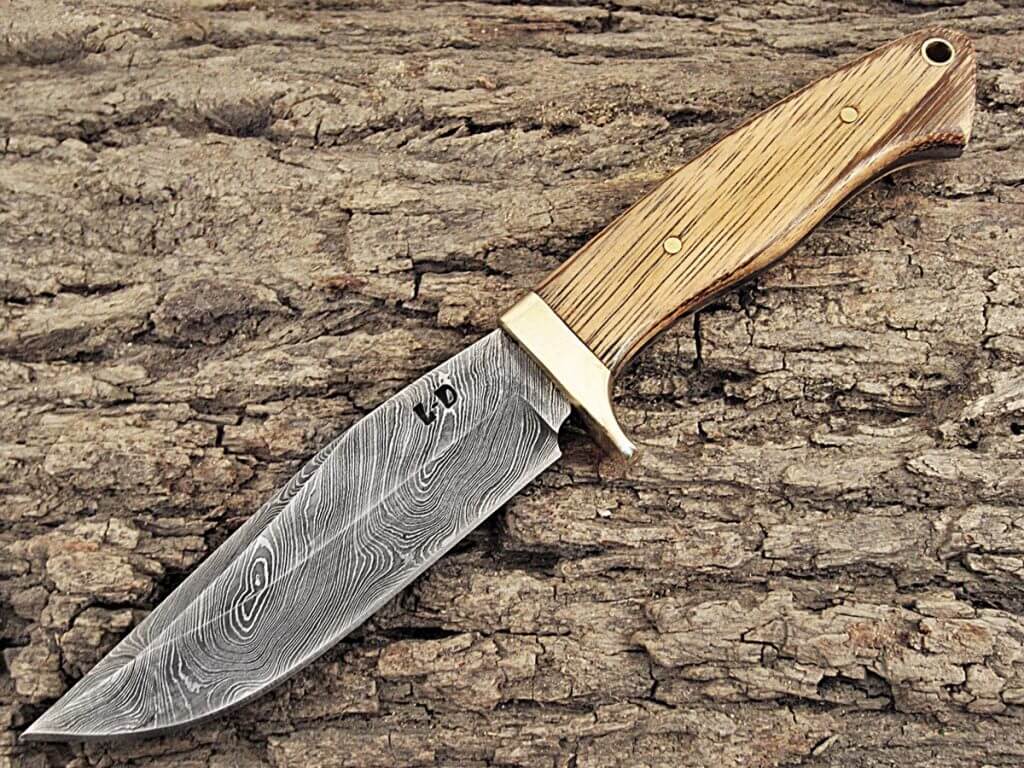 You have this exciting hunting expedition coming up, yes. But do you have the best hunting knife to make the experience worthwhile?
If yes, good for you but if no, you realize the task of selecting a suitable type remains daunting and confusing, worse if you are an upcoming gamer. What even complicates this task is the upsurge of various models of hunting knives in the market which have left buyers more confused and vulnerable to choosing inferior types of knives.
Amidst all these, you need to understand the nature of your hunting expedition which would enable the making of informed decisions pertaining to hunting knives.
A good hunter deserves a good hunting knife. By defining "good" we mean solid durable material, premium craftsmanship, catching design, considerate functionality and handy utility.
Choosing a good hunting knife is similar to choose a reliable and honorable hunting partner who never stops to amaze you.
Here we would like to share our editor's choice of the best hunting knives 2021, hold your breath and wait to be captured!
10 Best Hunting and Survival Knife 2021
In a hurry? Just check the quick editor's choices:
1. Spyderco ParaMilitary2 G-10 Knife: Hunting Knife With The Best Cutting Performance
This Spyderco knife is one of the sharpest hunting knives out there. The blade is made from a durable material to ensure it can withstand just about anything. The knife comes with a Compression Lock feature that enhances safety during use.
The CPM S30V Flat-ground blade and the handle are narrow to prevent uncomfortable angles whenever the knife is closed. The knife has a 4-way clip to make sure it is resting well in the pocket. In addition to this, the knife also comes with a large lanyard to give you more options when carrying it.
Pros
Durable
Ergonomic design
Great cutting performance
Easy to sharpen the blades
Smooth finish
Cons
Heavy
Closing and opening the knife is a bit difficult
2. Zero Tolerance 0350 Pocket Knife: The Most Versatile Hunting Knife
This knife has a Quad-mount Pocket Clip that makes it ideal for both left-handed and right-handed individuals. It offers a tip-down and a tip-up carry. The knife's blade is both corrosion-resistant and wear-resistant. These features make it be durable and long-lasting.
The Non-reflective Blade Coating and handle scales ensure a sleek and smooth finish as well as providing a secure grip. There is a SpeedSafe Assist Opening feature that enables the knife to open easily and abruptly.
Moreover, there is a Liner Locking system that prevents the blade from closing during use.
Pros
Corrosion resistant
Durable
Wear resistant
Easily foldable
Versatile
Ergonomic design
Cons
Pocket clips are too stiff
Thumb studs don't work efficiently for left-handed people
3. Buck Knives 110 Folding Hunter Knife: Best Bang For The Buck
This hunting knife is great for people who are on a tight budget. The knife goes for only $39. Just because it is relatively cheap, it does not mean that it is a low-quality knife. The knife is made from high-quality stainless steel material that is corrosion-resistant.
For safety purposes, the blade has a Lockback Mechanism that locks the blade during use. The knife also comes with brass bolsters, a woodgrain handle, and a leather sheath.
The sheath has a Snap Fastener to enable you to carry the knife with ease. The knife has a belt loop that offers maximum security whenever you carry it on your belt.
Pros
Sharp clip-point blade
Corrosion resistant
Easy to open
Classic design
It's easy to sharpen
Lifetime warranty
Cons
Closing the knife is a bit difficult
Brass bolster is slightly dented
4. Spyderco Manix 2 Pocket Knife: The Best Hunting Knife For Beginners
If you are a novice, then we strongly recommend this Spyderco pocket knife. Not only is this knife easy to use, but it is safe as well. You, therefore, don't have to worry about injuries during your hunts.
The knife has a non-reflective blade coating and a tip-up clip placement. The blade is locked safely using the Ball Bearing Lock feature. The ball rotates to allow the lock to adjust itself across a large surface.
This ensures a smooth and secure lock-up every time you open the knife. The skeletonized steel liners offer additional grip. This keeps the knife from slipping out of your hand.
Pros
Durable
Lightweight
Sharp blade
Easy to sharpen
Ideal for beginners
5. Benchmade 940-2 Knife: The Most Compact Hunting Knife
If you are going to be hunting for long hours, then you need a knife that will not slow you down. The Benchmade 940-2 knife is the best compact hunting knife on the market. It has a 1:1 handle to blade ratio.
The blade of the knife is made from CPM-S30V stainless steel. This material ensures the blade is well-balanced. It also has a durable handle that is comfortable to use and hold. The knife has a strong Axis Lock.
You can close and open the knife manually using one hand. Another great feature of this knife is it is ambidextrous. This makes it ideal for both left-handed and right-handed individuals.
Pros
Compact
Durable handle
Lightweight
Lifetime warranty
Ambidextrous
Rust-resistant
Ergonomic
Cons
Handle is a little slippery
Thumb studs are difficult to use
6. Benchmade Barrage 580 Knife: The Best Hunting Knife For Professional Hunters
If you are a professional hunter, then you can never go wrong with this pocket knife. The knife is versatile and has sharp blades that will come in handy. The blade is made from stainless steel material. This material is both durable and rust resistant.
The knife has a Valox handle that is sturdy and stable. The reversible pocket clip makes it be easily accessible. The locking device of the Benchmade Barrage 580 Knife enhances safety at all times, The downside with the lock is that it is a bit difficult to handle.
Pros
Durable blade
Rust resistant
Sturdy handle
Versatile
Lifetime warranty
Has external locking device
Cons
Has a plastic handle
Safety lock is hard to use
7. ESEE ESLSP-BRK Laser Strike Pocket Knife: Hunting Knife With The Best Sheath
Hunting is more enjoyable and fun when using this pocket knife. The knife is made from high-quality Kydex sheath that you can adjust according to your preference. This knife is lightweight, making it possible for you to carry around.
The carbon steel blade of the knife has a thumb ridge while the Canvas Micarta handle has a divot. The handles can be removed by using the flat head screws. Inside the handles, you will find tinder tabs and Ferro rod. Other great features of this knife include a secure choil, belt clip, and a lanyard hole.
Pros
Rust resistant
Versatile
 Lifetime warranty
Removable handles
Lightweight
High-quality sheath
Cons
Handle is very short
Belt clip is made from a low-quality material
8. Gerber Bear Grylls Ultimate Pro Knife: Bestseller On The Market
This is by far the best survival knife on the market. It is made from a durable 9CR19MoV stainless steel material and has a nylon sheath that is mildew-resistant. The carbide sharpener ensures the blade remains sharp.
The knife comes with a built-in fire starter rod and an emergency whistle. It has a drop-point blade that is both rust and corrosion resistant. The full-tang construction feature ensures the knife works optimally.
It has a rubberized handle that provides a firm grip. In addition to this, there is a bolster that prevents your hands from slipping during use.
One of the things that make this knife a bestseller is the numerous ways you can use it. For instance, you can use the pommel to serve as a hammer. You can also create a spear by lashing the knife to a stick in the 2 holes that are on the handle. The knife comes with a "Priorities of Survival" Pocket Guide.
Pros
Durable
Rust resistant
Corrosion resistant
Versatile
Ergonomic
Sharp
Cons
The sheath is not attached well
The belt loop is too small
9. Gerber LMF II Survival Knife: The Best Heavy-duty Hunting Knife
This is for those who use hunting knives on a daily basis. This Gerber knife is strong enough to withstand hard use. It has a strong serrated blade that adapts to practically any condition.
The knife has a break between the butt cap and the tang. This provides insulated protection against stray wires and ultimately absorbs shock from hammering. The buttcap is made from stainless steel and can pierce through a glass.
The handle is made from glass-filled nylon while the sheath is made from ballistic nylon. The sheath has a belt attachment and a carbide sharpener. The blade is made from the 420HC stainless material. You can convert the knife into a spear by using the lashing holes.
Pros
Sturdy
Versatile
Shock absorbent
Comfortable handle
Sharp
Ergonomic grip
Excellent sheath
10. KA1214-BRK Fighting Knife: Hunting Knife With The Most Durable Handle
If you are looking for a knife that has a sturdy handle, then we definitely recommend the KA1214-BRK Fighting Knife. This knife has a Kraton G handle that offers a comfortable and firm grip.
Fun fact: This knife is used by military and service members. The blade is made from 1095 Cro-Van Steel and the edge is partially serrated. Even though the serrations look stylish and sleek, it is very hard to sharpen them. You might want to keep this in mind before purchasing the knife.
Apart from the durable handle, this knife has one of the best sheaths you can find in a hunting knife. The leather sheath ties up the whole knife pretty well.
Pros
Provides excellent grip
Great sheath
It is well balanced
Durable handle
Easy to use
Important Buying Tips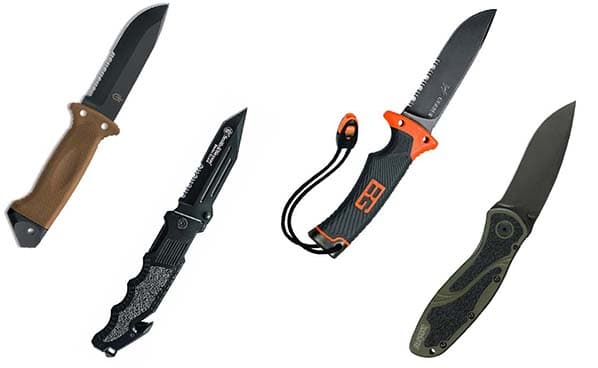 #1. The Full Tang Design
Ensure the blade and its handle exhibit a continuous piece of steel, which is the hallmark of a full tang design. You need to be wary of misleading designs such as partial designs that are prone to premature fatigue.
#2. Type of Steel for the Blade
Since there are only two types of steel; the carbon and the stainless types, your selection becomes easier. Ensure you go for the popular stainless steel type of blade which is overwhelmingly rust-resistant and strong. Even though the carbon type of steel remains a cheaper option, it is always prone to rust and that would require much of your attention as you hunt.
#3. The Nature of the Handle
Why is it important? Well, since it is the part that allows you to hold the knife, comfort is non-negotiable. The handle must guarantee you a firm and better grip despite the prevailing weather conditions.
As a gamer, ensure the handle material is sturdy; even under wet conditions and leaves and feeling of heftiness in your hands. Suffice to say, the material for the handle should be synthetic. Why? Because they are highly resistant to some common wear and tear, strong and lastly because they are durable compared to other materials such as wood and leather.
Hunting Knife FAQs
What kind of knife do I need for deer hunting?
If you mainly hunt large prey, consider a drop-point knife. This type is characterized by thick, curved blades and is usually more powerful than other types. It's great for skinning animals, because you can use the whole edge, not just points.
How long should a hunting knife be?
We recommend using a knife with blade lengths between 2 and 4 inches. Smaller blades give you more control and accuracy, which is one of the reasons why surgeons use scalpels instead of Bowie's.
What makes a good hunting knife?
Quality is the key! High quality hunting knives usually have carbon steel or stainless steel blades… Carbon steel blades tend to sharpen more easily and stay sharp longer than stainless steel blades.
Conclusion
An efficient and reliable knife is crucial when you're out hunting. Luckily for you, the hunting knives discussed in this article fit both criteria. So you can go ahead and invest in one of them (or two… who's really counting?)
Even as the need for a hunting knife to perform flawlessly remains non-negotiable, factors that drive you into buying the best hunting knife must be convincing. It means, the above buying tips should form the basis of your decisions when spending money on a hunting knife.
In fact, leaving out the cost of the knife in this guide is a tactical move to allow you to look beyond the financial implications. Still, your selection must acknowledge hunting as a no fancy affair but a real game: where you must kill and skin the animals. Then and only then can you break the bank for your ideal and the best hunting knife.