Ironing has never been my favorite chore. In fact, I have always dreaded it. One of the reasons that I have always disliked ironing is because of the many mishaps that I've had with ironing tables. Some have even hurt a little.
During some of those incidents I received a few steam burns, had one table completely fold up on me while ironing, and had another table's fabric melt a little while ironing my favorite jeans (no jeans were harmed in the making of this review).
So I decided to search out the best ironing table and after spending countless hours ironing my entire wardrobe, some items twice, I've been able to narrow down the best ones.
All in all, I came to a very important conclusion while trying all of these tables out: not all ironing tables are created equal. Some are sturdier than others, some have easier storing capabilities, and some are more appealing to the eye. While working on this review did not make me love ironing, it allowed me to experience better quality tables than I'm used to, so at least now I don't hate it.
Let's talk about ironing tables for a minute. Why is it important to have the highest quality of ironing table? An ironing table also referred to as an ironing board, is the table that you fold out to iron your clothes on.
The sole purpose of the ironing table is to make your ironing tasks easier by providing a smooth soft surface, strong rubber cover that doesn't melt or tear, and a sturdy foundation that doesn't close up easy enough to pinch fingers (ouch!).
The thing to really remember about ironing tables is that even though some of them may look similar, there are so many different varieties and features to keep an eye out for and they can really make your ironing tasks stress free if you choose the best one.
How to Choose an Ironing Table
Before you purchase an ironing table there are many things to consider. Running out and buying the cheapest ironing table you can find will make your ironing tasks incredibly stressful and make you dread the task even more. It is always best to consider wisely when choosing the best ironing table for your family. So think about these before making a decision:
#1 How many people will you be ironing for?
The amount of people that you are going to be ironing for will determine how heavy duty and large of an ironing table you need. It will also determine how long you plan to be standing beside the table using it. If you have a small family or are only ironing your own clothes, perhaps you don't need as large of an ironing table as somebody who has 10 people in their family.
#2 How often will you use it?
If you only get the ironing table out for ironing special occasion shirts and pants, and rely on your dryer the rest of the time to unwrinkled your clothes, you might only need a small ironing table that easily stores, rather than a large heavy duty one that has to be granted its own space in the closet or under the bed.

#3 Do you prefer a tall ironing table, a short one, or an adjustable one

?

Think about how you stand when you iron. Is your current ironing table too tall or short? Do you get aches and pains in your back, knees, or elbows from ironing? Would an adjustable ironing table be a better match for you?
#4 Do you prefer a hanging model, one those folds up, or a tabletop ironing table?
The hanging models can be mounted to the wall or on a door. They're smaller, so they're much easier to store. If you have one that you keep mounted it can easily be folded up flat against the surface that it's mounted to.
However, because they're smaller and require that you mount them to something, they may not be able to fit all of your ironing needs. Larger ones that fold up tend to be more heavy-duty and perfect for the family that has a lot of people, but they're also a bit bulkier and if you don't have the storage space may become a headache when trying to store them. Tabletop ironing tables are a lot smaller and are great for smaller ironing needs, but if you have a large family may not cover the amount of ironing that you need to be done.
#5 Will more than one person be using the ironing table?
If more than one person will be using the ironing table, searching for one that has an adjustable height feature would ensure that no matter who uses it the table can be adjusted to fit their height.
Other considerations: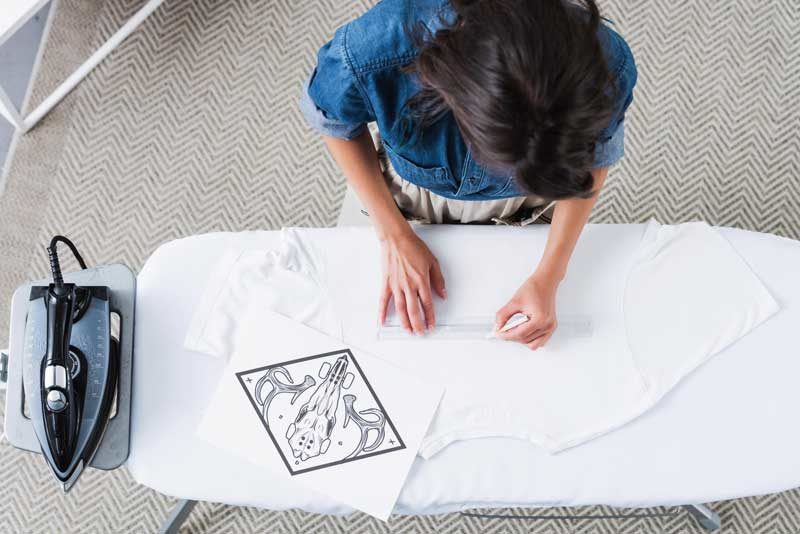 What size clothing will you be ironing? If you are ironing smaller shirts only you may not need a huge ironing board. The opposite is true if you are ironing larger clothing items.
Do you want an ironing table that comes with the padding and cover or would you prefer to purchase the padding and cover separately?
Will your ironing table is used just for clothes, or are you also a crafter or quilter that will need it for ironing out larger items such as quilts and backing?
Do you need a portable or built-in ironing table?
After giving your ironing table much consideration it is best to take the time to figure out the exact model that will make a perfect addition to your household. I've compiled a list of the best ironing tables to help you better make that decision.
Best Ironing Board Review
Instead, I will give you five brands of iron boards that gave me relief when it comes to keeping my clothes and fabrics in their perfect condition. These ironing boards left a good impression for me. And apparently, I am not the only one who was impressed by them.
In my research, I found thousands of positive user feedback for each of these ironing boards. So do not expect me to disagree with them because I experienced how smooth these ironing boards are! Here are my top choices for the best ironing boards!
The wall-mounted ironing board would make a great addition to your home. This ironing table is medium in size and easily stores away.
Swivels 90 degrees to the left or right
The fact that this table isn't a stagnant piece is wonderful. When you really need to get a good angle on your clothing or try to reach pesky wrinkles from a different angle, you have the option to swivel the board to either the left or the right. That can be essential when trying to figure out where to stand for comfort and efficiency.
Locks in place
The locking in place mechanism is excellent for when you find the perfect angle to stand at. This will prevent the ironing table from moving while you have the hot iron in your hand. It can prevent injury and annoyance.
Easy to mount to the wall
It's easy to mount this ironing board to the wall or door. However, it is recommended that you do so in an area that is roomy enough to fold the board out and to be able to move around it without tripping over furniture.
Efficient
This ironing board is an efficient piece as it's easily hidden away and then folded out when needed. It folds twice, actually, and rests flat up against the wall/door. Then, when it's needed it folds back out. It sure beats having to take the heavy ironing table out of the closet, set it up, do your ironing, and then wrestle the ironing table back to its storage place.
Pros
Easy to use
Easy to store
Less storage space required
Easy to adjust angle
Cons
The ironing board is heavy so it might require additional support.
This ironing board is exactly as described, a tabletop mini ironing board. Something like this is perfect for when storage space is tight and even the wall mounted ironing board isn't an option.
A slide-out iron rest
The slide-out iron rest is a place for you to put your iron when you need to adjust your clothing on the ironing board. It is very beneficial because it allows you to set the iron down without taking the chance of burning the table surface that you are working on.
Steel mesh ironing surface
The steel mesh ironing surface is perfect for steam ironing, as it allows the fabric to breathe.
Steel chromed tube stand base
The base of this ironing board is very sturdy, something that is a must when dealing with a hot iron. It folds out to use on the top of the table and will hold the weight of your clothes as you iron.
Comes with a tan cover and includes a thick fiber pad under the cover
This is handy so that you don't have to try to purchase your own ironing board cover. The thick pad adds extra comfort and efficiency to your ironing.
Pros
Small and easy to store
Sturdy iron rest for adjusting clothes
Perfect for small spaces
Ironing pad increases comfort and efficiency
Cons
Does not come with a silicone cover for those that prefer them.
3. StorageManiac 3 Lift-off Foldable Laundry Sorter with Ironing Board
This ironing board is the perfect solution for someone that wants an ironing board with added storage capabilities. It comes with a laundry sorter built right in!
3 bag laundry sorter with an easy to lift ironing board
The 3 bad laundry sorter allows you to sort your laundry into 3 different categories. The fact that it has an easy to lift ironing board attached is an excellent feature. This allows you to do your ironing in an efficient and completely organized manner.
Rolling legs
This piece has rolling legs on it to allow for you to easily maneuver it from the laundry room to a comfortable place to stand while you iron and sort your laundry. It makes it easy to store too as well as move it from the storage area to wherever you want to complete your chore.
Thick foam pad, heat resistant design, and a cotton cover
The thick foam pad ensures that your clothes will come out wrinkle-free. The heat resistant design and cotton cover are perfect for protecting your board and ensuring that it lasts a long time.
Pros
Easy to move
Helps keep laundry organized
Helps the process of doing laundry be efficient
Quick and easy assembly
Cons
It's a little big and bulky

This ironing board literally hangs over the door without any installation being required. It's a fairly nice looking board and comes with many features.
Folds up and down with a locking design for when in storage
This is a great feature as it prevents the board from falling down when the door is opened or shut. It can prevent injuries and headaches. It also keeps it tucked nicely away for when it's not in use so that you don't have to worry about moving it or tripping over it when not in use.
Hangers allow it to hang over the door without installation
The hangers that are attached to the board allow it to be hung over the door, similar to a coat hanger, without installation being needed
Comes with a white frame and a navy stripe cover
This feature makes it appealing to the eye, however, additional covers can be purchased if the design isn't quite to your liking
Comes with a cotton cover and thick pad
The cover allows the clothes to breathe while ironing and the thick pad prevents unnecessary creases.
Pros
Incredibly easy to set up
Easy to unlock, slide down, and use
Stays out of the way for easy storage
Cons
Door moves while ironing if you don't want it to shut
If all of the other ironing boards were children, this one would be their mama. This heavy-duty ironing board is excellent for hardcore ironer and has many great features.
Large ironing surface (18×49)
The large surface allows for larger more heavy-duty ironing, such as for quilts or sheets and heavy-duty jeans or jackets. It also enables you to use the surface all at once, without you having to constantly adjust the clothing to reach a different crease or wrinkle. Large and small items can be spread out on this surface for ease of use.
Iron rest holds the iron at an angle, comes with a hanger bar, and heat resistant pads
The iron rest is of excellent quality and allows you to hang clothes that are either ready to be pressed or that you have finished with.
Folding design
Though this ironing board is large, the folding design allows for it to be folded up and folded back down easily enough.
Built in sleeve board
The built in sleeve board makes ironing sleeves a breeze. Just slip the sleeve over the sleeve board, iron, and you're done. It makes ironing shirts a very efficient process.
Pros
Very heavy duty and can handle all of your ironing needs
The additional sleeve board helps when ironing shirts or jackets
Easy to set up and fold down for storing
The iron holder is very efficient and sturdy
Cons
Big and bulky, so storage might be an issue for smaller spaces.
This piece is very similar to the Ready Press Over the Door Ironing board, with a few differences. Again, it's a great fit for someone with small storage space and looking for something that is easy to put away, not trip over, and use for any job.
Uses a built in U hook iron holder at the top portion of the board
The U hook iron holder allows you to set your iron down to adjust clothing, without having to worry about bumping the board and knocking your iron down.
It's a very handy feature. I liked the fact that this feature prevented my iron from spilling all over me when I was adjusting the jeans that I was ironing.
Comes with hooks for both standard and commercial wide doors
These hooks allow for easy setup of the board and if your door is a little wider, it can cover that too. I've even seen mention that some people have used this product on foldable closet doors as well.
Design stabilizes board when it's open and protects the door
This prevents the board from moving around when it's open and being used. It also prevents dents and dings from appearing in the door that the board butts up against.
Pros
Easy storage solutions
Doesn't take up much space
Can be used on any size door
Sturdy design
U hook for holding onto iron while adjusting clothing
Cons
It moves slightly while ironing
I would never regret endorsing the Brabantia Ironing Board with Solid Steam Iron Rest to anyone. For me, this is one of the best ironing boards that I have tried so far.
This product has different features that make as stressful as ironing clothes an easy one. It has a big platform (49 inches x 18 inches) so that you can have plenty of space for larger clothing and fabrics. It can even handle bed linens with ease!
Moreover, you can assure the sturdiness of the Brabantia Ironing Board, thanks to its 0.98 compact Ivory Board.
Adjustable height
This ironing board has a functional ergonomics that lets you adjust its height from 30 inches to 38 inches. It is a feature that makes this ironing board an ideal use for people who have particular preferences when it comes to the height of the board. Some can iron well if they can stand entirely, and some want to slight curb down, so that exert more force. Regardless of your preference, this ironing board can handle it.
Sturdy frame
Even though that it has a 0.98 platform made from Ivory frame, the Brabantia Ironing Board is surprisingly light. It is also stable and doesn't move whatever motion you will do. Moreover, this ironing board has a user-friendly shape that is perfect for blouses and shirts. On the other hand, its pointed end is ideal for smoothing pants.
Highly resilient cover
The platform is also heat-resistant and has a protective strip on its solid steam iron rest. Because of this feature, you can guarantee that iron won't sustain any damage. This feature also prevents brown marking from appearing on the surface. The classy moving circles cover is made with more tension, therefore making your ironing smoother than ever. Under this surface are a viscose and resilient foam to prevent crease from forming in your clothes.
Safety guaranteed
Aside from these features, the Brabantia Ironing Board is stable whether what surface you will put it. The non-slip clasps on each of its feet keep the board from sliding or moving around. There is also a built-in child safety lock to prevent this board from accidentally collapsing.
And to give you an assurance, this ironing board has a ten-year warranty.
Pros
Ample working space
Thick cover that can sustain tension
Non-sliding feet regardless of what surface
Highly Stable
Have Child-safety lock
Cons
The quality of the cover could be better
The iron holder can get in the way sometimes
One of the best ironing boards that I have tried is the Rowenta IB9100 Pro Compact. This one gave me absolute pleasure when it comes to removing the wrinkles and creases from my clothes.
It is very convenient to use and doesn't stress you too much when it comes to stability. It has a particular leg design that prevents it from skidding or sliding. Moreover, it has other features that make it as an excellent addition to the tools of your house!
Highly stable
This ironing board has a pro-compact feature that enhances its stability and efficiency. It has an extra-large ironing surface so that large clothes and textile will fit in one go. Moreover, the cotton cover of Rowenta IB9100 Pro Compact is thicker than the conventional ironing boards. Therefore, this product is your perfect partner when producing desired ironing results. Expect that you won't see any prints or marking on the fabric, even if you set your iron in the highest temperature.
Storage efficiency
One of the problems of many people is storing the ironing board. I have experienced it too. Since we are looking for a larger working space, we tend to sacrifice the portability and the storage convenience of our ironing boards. Luckily, the Rowenta IB9100 solved this problem for us already. This ironing board has a functional ergonomic that makes it easy to store and transfer. It has a feature that makes it extra-small if you want to pack it already! It also comes with wheels for quicker transport!
Rust and corrosion resistant
This ironing board uses a metallic mesh platform so that corrosion and rust won't penetrate. Aside from that, the entire construction of this product is robust and stable, which guarantees every user peace of mind.
Functional ergonomics
Aside from these features, the IB9100 Pro Compact has several components such as hanger racks, steam iron rest, and a large steam station to make its use more convenient than most of the common brands.
Lastly, Rowenta IB9100 is one of the biggest surfaces that I have worked. Its dimension is 54 inches x 18 inches and its height can be adjusted from 27 inches to 37 inches. Such friendly-features indeed!
Pros
Extra-large working surface
Durable and highly stable iron board
Easy to store and transport
Have ergonomic features such as iron rest and hanger racks
Resistant from corrosion and rusting
Cons
Ironing surface is not high quality
Supplied ironing board cover is thin
At 20 pounds it's heavy to carry
One of the brands of ironing boards that I would recommend is the Ybm Home & Kitchen Deluxe. Although it has a simple construction, this ironing board can give you the utmost convenience when you are smoothing clothes. The wrinkles of your clothes can quickly be gone once you place them on this superb iron board.
Sturdy leg support
One of the peskiest things about an ordinary ironing board is that it moves and wobbles even in slight movements. Good thing, the Ybm Home & Kitchen Deluxe Heavy Duty Ironing Board has four stainless steel legs that have plastic floor caps on them. These clasps give efficient traction between the iron board and the ground. Therefore, you can expect that this product won't slide off.
Easy storage
When it comes to storage, you won't suffer from this ironing board. Aside from being sturdy, its legs can collapse so that you can fold it flat. All you need to do is to find a convenient storage area in where this ironing board can fit perfectly. When you need to take it out, opening the legs is not a hard thing to do, too!
Quality working space
Ybm Home & Kitchen Deluxe Heavy Duty Ironing Board has a 6mm fiber pad that is covered with the full elastic band so that it can sustain any heat without getting markings and damage. More than that, this feature helps in smoothing the clothes in a faster and more efficient rate. Also, its heavy duty cotton cover has a purple stripes design to makes it stylish in a way. On the rear end, there is a space in where you can rest your iron safely.
Adjustable height
You have the total control when it comes to the height adjustment of this ironing board. It can go up as high as 36 inches and can go low as 29 inches. Therefore, you can set your preferred height in where your body is comfortable.
Pros
Sturdy and stable leg support system
Folding mechanism for easy storage
Working space is large and stylish
Fully adjustable height
Cons
Not suitable for left-handed people
Unique shape makes it hard to buy another cover brand
Some people just want to sit down while they are ironing. It gives them the utmost comfort since their legs just don't suffer from stress. Flat ironing boards are most useful when you have a lot of clothes to smoothen.
As you all know, ironing even just one cloth can take your time. I have experienced it too, and I know the struggles. When it comes to these situations, the Polder Deluxe Tabletop Ironing Board is the right choice!
This ironing board has several features that make it comfortable and convenient to use. Aside from giving rest to your feet, this board enhances the quality of your ironing.
Tabletop Design
This ironing board has a tabletop design that makes it suitable for individuals who want to rest their legs while smoothing their clothes. It has a right elevation (6 inches) from the ground. Hence, you don't need to curb your back entirely. In the same manner, you can still maintain an erect and composed posture while using this ironing board.
Storage
When it comes to storage, its legs can be assembled so that you can store it even in the tightest space.
Quality Workplace for your Clothes
When it comes to ironing, you need to have a large platform so that you can smoothen even large clothes quickly. Aside from that, the platform should be made from quality materials that enhance the speed and quality of ironing. The Polder Deluxe Tabletop Ironing Board has a dimension of 32 inches x 16 inches. It is not as big as the ones that I have mentioned before. But this size is just ideal to its height. You don't want a large surface to work with if you are sitting close to it.
The board features foam paddings beneath its wood top. Covering them is 100% cotton that doesn't wither or stain even how hot your iron is.
Iron rest is retractable
Unlike the other products, the iron rest of this ironing board is retractable. Many people want a removable iron rest for safety and space-saving purposes. If you are one of those, then the Polder Deluxe Tabletop Ironing Board is the right one for you.
Pros
Tabletop design ideal for space-saving and comfortable body position
The iron rest can be removed
Workspace is proportional to the height of the board
Lightweight and easy-to-transport
Cons
Some people don't find this as sturdy as other brands
This ironing board is as convenient as the ones produced by Polder. It is also a tabletop ironing board that serves the purpose of portability and comfort. Since it is lightweight and small, you can carry it to any part of your house.
Therefore, you can iron wherever it is comfortable for you, as long as you have the Honey-Can-Do BRD-01435 Collapsible Tabletop Ironing Board!
Quality Tabletop Materials
The cover of this ironing board is made from poly-cotton, which is heat resistant. It doesn't wear out or show any brown markings even if you subject it to extreme heat. The entire platform is soft because of the cushions underneath. However, expect that the foam of this iron board doesn't go low even how hard you press the iron.
Portable and sturdy
When it comes to the construction of the Honey-Can-Do BRD-01435 Collapsible Tabletop Ironing Board, I can say that I am impressed. Aside from being sturdy, due to its imported, quality materials, this ironing board still retains its lightness. With the dimension of 32 inches x 12 inches x 6.1 inches, this board gives you the proper ironing space if you don't need a bulky one to smoothen your garments.
Convenience in storage
The legs of this ironing board are collapsible. You can render this product flat so that you can store it even if you have limited space in your house.
Iron rest is retractable
This ironing board has a retractable iron rest to prevent yourself from getting scorched. This feature also improves the portability of this product.
Pros
Made with quality materials; cover is poly-cotton and heat resistant
Both easy to store and prepare; lightweight
Doesn't consume too much space
Removable iron rest to prevent scorching
Cons
Not recommended for those who are ironing large fabrics and garments.
Conclusion
I now have a healthy respect for ironing. I will say that these products have all shown me that ironing can be close to pleasurable if not considered a little fun. Their heavy duty features did not pinch my fingers once, to which I am incredibly grateful. Each and every one of these ironing tables would make an excellent addition to any home.