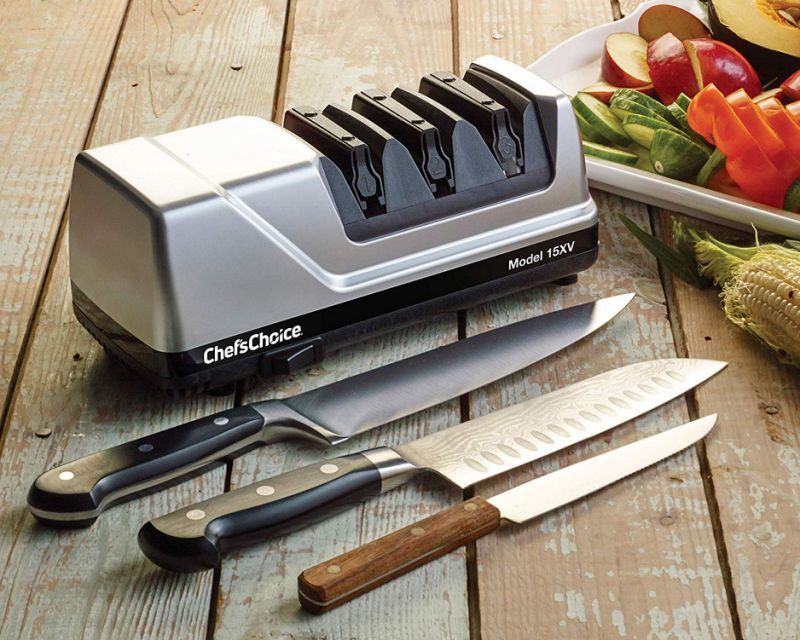 Did you know that the vast majority of the home chef never takes the time to sharpen their knives? Instead they have a drawer full of expensive and DULL knives. This is because they don't know how easy knife sharpening can be.
But what if you could use one tool to quickly and easily sharpen all of your knives? In this article, I'm going to help you find the best knife sharpener to quickly and easily sharpen all of your knives.
Electric Knife Sharpeners are Fast and Efficient
In the kitchen there are few things are more frustrating than trying to accomplish a task without the proper tools. And if you've ever tried to work with a dull knife, you know exactly what I'm talking about. It's slow, tedious, and can even be dangerous.
If you're looking for a product that is flexible enough to quickly sharpen all of your knives regardless of the angle or how dull they might be…
Some people swear by their electric sharpeners. Others wouldn't touch their prized knives with anything but a sharpening system or traditional sharpening stones. So I'm going to save you some time and lay out everything I've learned. (You can thank me later)
What is the Best Way To Sharpen A Knife?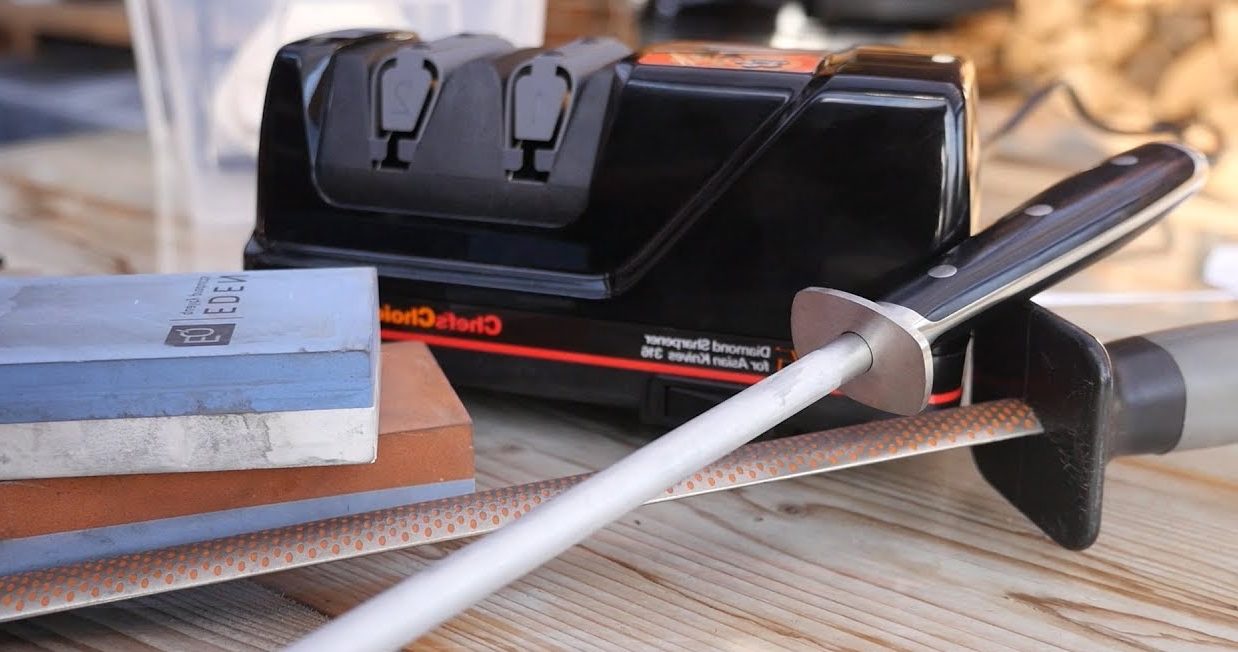 For the vast majority of consumers an electric sharpener, like this one, will be the easiest to use. They are fast, efficient, and practically foolproof. That being said, there are a couple sharpening stone systems and manual products that are great values as well so we've included them in the following list.
As previously mentioned, for most consumers an electric knife sharpener is going to be the fastest and most effective way to sharpen a large variety of knives. Most of the products in this category are easy to operate and for the most part operate in the same way. I'll highlight the manual sharpeners towards the end of this page.
But first, here's a closer look at the best electric knife sharpeners on the market.
Looking for the kitchen knife? We talk about the best kitchen knife here. For more precise cuts, you can check out our list of meat slicers.
Best Knife Sharpener 2021
1.

Smith's 50264 Adjustable Manual Knife Sharpener
Smith's Number 50264 Adjustable Manual Knife Sharpener offers new, innovative features never used on a manual knife sharpener and functional performance unmatched by standard edge maintenance products.
This sharpener offers:
two stages of sharpening:(Coarse and Fine) for all types of straight edge knives with a grind on both sides of the blade
a fixed-angle slot for sharpening serrated edge blades.
It will sharpen a wide variety of knives by simply adjusting the angle of the abrasive components to match the angle of the original factory grind. Just turn the dial to one of the 6 angles offered, then pull your knife through the appropriate slot(s).
It offers new, innovative features never used on a manual knife sharpener and functional performance unmatched by standard edge maintenance products.
Pros
Comes with two different stages for sharpening
Quick, safe and easy use
Soft but good grip
Reasonably priced
Cons
Stones might wear off pretty fast
2.

Chef's Choice 120 Diamond Hone EdgeSelect
The Chef's Choice 120 Diamond Hone electric knife sharpener uses modern technology to give the Tri-Plus finish to your knife in the blink of an eye. It has a dual function that allows you to sharpen not only straight-edged blades but serrated edges as well.
The first two stages contain diamond-coated cone-shaped discs to create a double beveled hollow surface.
The third stage forms the cutting tip while building shallow grooves along the knife-edge which assists the blade to slide through the food you are preparing. Spring-loaded guides to locate the knife to ensure it is correctly positioned.
This machine has a solid base with non-skid pads underneath to give it stability when in use. It measures 9.75 by 4 by 4.25 inches and features an on/off power switch and a strong body.
The Chef's Choice 120 comes with a small tool for cleaning the honing discs. The Chef's Choice is a dry sharpener and carries a three-year warranty.
Pros
Works for different types of knives
Easy to use
Precision angle control
3.

Chef'sChoice 15 Trizor XV Electric Knife Sharpener
The Trizor XV from Chef's Choice is a solid choice for any professional or home chef. It will sharpen both Western (U.S. or European) and Japanese style knives.
It is set to 15 degrees, so sharpening your Western knives for the first time will take a bit longer than sharpening a set of Japanese knives. This is because Western knives come from the factory at 22 degrees.
This also means that the Trizor will remove a good deal of blade material the first time you use it on Western-style knives.
Once the bevel angle of the blade is set to 15 degrees this will no longer be the case. But if you wish to leave your Western knives at their factory set angle of 22 degrees, you might consider a different model.
Many people like the finer edge provided by the steeper angle. Basically it's a judgment call.
The Trizor XV is a three-stage sharpener. The first stage repairs damage to the blade and builds up a burr and the first bevel of the arch-shaped edge. The second stage creates a second smaller bevel. Stage three uses a stropping disc to create a third bevel as well as a microscopically smooth edge on the two previous bevels.
The final stage is also used to sharpen serrated knives.
Pros
Easy to use
Lightweight design
Takes a short time to sharpen your knives
This 120 volt, two-slot knife sharpener is number one due to its fast delivery of razor sharp knife edges. It also takes all of the guesswork out of sharpening each knife, as it guides the blade into itself rather than asking the user to get the blade angled perfectly.
The first slot sharpens the blade while the second polish off the blade flakes and creates an extremely sharp edge.
Users of this product attest that their knives stay sharp for an exceptionally long time after using this product, and no other product can stand up to perform the same great job like this one.
It typically costs under $30 as well, which is another nice perk. The sharpener won't work with serrated knives, though many sharpeners can't work on these knives due to the fact that their blades are jagged rather than smooth.
If you haven't invested a great deal of money in your knives, then this can be a great piece for keeping a decent edge on your blades. After all, anything is better than using a dull blade.
Pros
Two stages can sharpen all types of blades including serrated.
Sapphire sharpening wheel which creates a razor edge within a few seconds.
No guess sharpening.
Cons
Little bit noisy during the period of service
This sharpener is equipped with a V-grip bottom, which means it will easily hold steady on top of the counter or rest against a corner of the worktop, depending on your sharpening preference.
The edges are angled to help the chef guide the knife into the sharpener properly every time. It is easy to use and simple to store. Reviews for this item mentioned its use in campers or summer homes for quick sharpening.
The blades cannot be replaced, yet at a typical price of less than $10, it is worth just replacing the item if the blades fail. Other electric sharpeners charge over $7 for a blade replacement, so the price of this item definitely makes it easy to replace. Small, simple and does its job well!
Pros
Easy to use
Efficient and almost effortless
Small and can fit in the same drawers as the knives
Cheap
Very portable
Cons
Simplistic
Not ideal for sharpening serrated knives
The Presto 08810 professional knife sharpener is an upgraded version of the Presto 08800 electric sharpener.
This model uses a three stage sharpening process, similar to the Chef's Choices premium models and provides interchangeable blade guides to automatically adjust knife angles, an excellent feature for beginners.
Although it lacks a little when it comes to the edge sharpness obtained, it makes up for it with its incredibly affordable price at less than $50.
Pros
Is easy and effortless to use and operate
Uses a three-stage system
Works fast and efficiently
Sleek look that compliments modern kitchens
Competitively priced
Cons
Not ideal for sharpening serrated knives
The Chef's Choice 1520 Electric Knife Sharpener
is the best knife sharpener for you. This is one of the few electric knife sharpeners on the market that is capable of sharpening two different angles, enabling the user to sharpen a knife to a double beveled edge.
Very cool.
This sharpener is capable of sharpening a blade to 15° or 20° depending on the usage. Typically, Japanese style knives will be sharpened down to the 15° angle and European and American style knives are sharpened to 20° coming out of the factory depending on the manufacturer.
The three-stage sharpening system features diamond abrasives and patented flexible stropping polishing discs that create a double beveled edge, reminiscent of a gothic arch, edge structure recognized for incredible sharpness and durability.
It comes with a three year warranty and is assembled in the USA but not Made in the USA.
The Chef's Choice 1520 won't be sliding around on your counter when you are sharpening since it weighs about 5 pounds.
Pros
Made of durable materials
Well-crafted product
It is very precise for our kitchen
Portable product
Works very fast
Cons
The price of this sharpener is a little bit high
This knife is good for home kitchen use preferably for maintaining the sharpness of knives that are still sharp. It is not intended to revive dull knives into their factory sharpness. If you are also into aesthetics, you could match this with your kitchen tools or you can leave it on the counter for display.
ZWILLING J.A. HENCKELS has been in the knife sharpening industry for 270 years since 1731. The company originated in Germany and has branched out all over the world including the United States.
From then on, the company has been committed to bringing innovative designs to satisfy customers.
Zwilling J.A. Henckels Twin Sharp Duo Knife Sharpener
Henckels Twin Sharp Duo knife sharpener is designed for fine edge knives with the exception of coated ones. The first groove is made of steel and the second is of ceramic. Remember to read the instructions first before using it.
If you're still not sure which model or type of sharpener to choose, keep reading.
Pros
No power required
Cheap
Easy sharpening
Good for righties and lefties
Cons
Not suitable for serrated knives
This model uses a diamond grinding stone, the hardest material known to man!
The company supplies a replacement stone for future use with purchase.
The knife is guided into the slots to ensure proper sharpening angles. Lay down the safety cover to hold in the dust and grease produced by the sharpening tool, and use the indicator light to see when the knife is ready to come out.
Users of this product stated that there is no better sharpener for ceramic knives. On the downside, it is only for ceramic knives.
The typical cost is moderate at under $60. It is compact and will fit on most counter-tops.
This one is rather specialized and it completes its task with great accuracy.
Pros
Battery powered (4 AA batteries)
Small and portable, good for outdoor activities
Sharpen ceramic and steel knives
Assist roller to control over sharpening
Easy to clean
Left or right-handed use
Cons
Not for single-edge bevel and serrated knives
For this sharpener Work Sharp and the legendary knife maker Ken Onion designed a system that's fast, easy and stylish the sharpen your tools and knives with the same precision repeatedly.
Instead of using traditional stones or steel, Work Sharp employs an advance engineered abrasive belt system. It comes in five different levels of grits: extra coarse, coarse, medium, fine and extra fine.
Unlike traditional sharpeners that utilize a type of metal or rock, Work Sharp uses premium abrasive belts to do all the hard work. In comes in three grit levels: coarse, medium and fine.
The innovative sharpener guide will assure you a consistent angle when sharpening and can be universally used on hunting, tactical and other outdoor knives, giving you the versatility and portability wherever you go.
Pros
Offers quick results
Excellent sharpener
Works best on pocket and kitchen knives
Value for money
Well-built and highly durable
Cons
Reading the instructions is necessary to understand how the sharpener works
Things to Consider Before Buying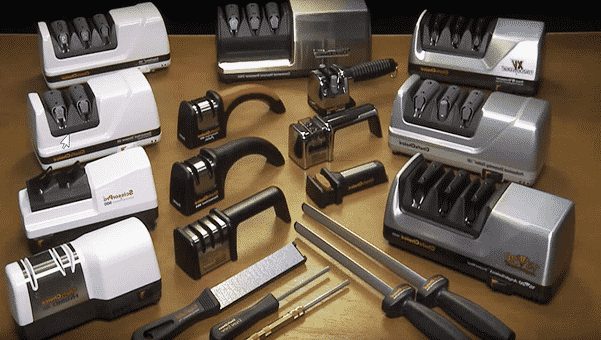 Professionals claim that the ONLY way to sharpen knives is with sharpening stones. But it can literally take years to become efficient at using stones, and then it still takes a long time to actually sharpen a knife with them.
And like me, most of you probably have a wide variety of knives in your kitchen. Different knives have different angles. A chef's knife might have a 22 degree edge, while a pairing knife might have a 15 degree edge. Eastern or Japanese knives can be entirely different as well.
With this in mind, an electric or manually guided sharpener is going to be the best selection for the majority of consumers out there. Because they have built in guides that take the guesswork out of sharpening, they will not only save you time and money, but also a great deal of frustration.
But which one should you get? Let's start with a few quick questions you should answer to ensure you get the best sharpener for your particular needs.
1. What types of knives will you be sharpening? Kitchen knives? Western or Japanese? Hunting knives?
2. Where will you do most of your sharpening? In the kitchen? In the shop? Or in the field?
3. How much time are you willing to: A. Dedicate to learning how to use a sharpener and B. Sharpening each of your knives?
For the majority of you (and me), the answer to question #1 is overwhelmingly going to be kitchen knives. It would follow that you would be sharpening your knives in the kitchen, and of course you don't want to spend a bunch of time learning to use a sharpener that takes years of practice to perfect.
If this accurately describes you, then I would again encourage you to look at our electric knife sharpener reviews section. They are fast, efficient, quiet, easy to store, and many models provide you with the flexibility to sharpen a wide variety of knives with varying angles.
If you're in the market for something less expensive, check out our manual knife sharpener reviews for some lower priced options that still offer exceptional performance and value.
Determining the Best Sharpener For Your Needs
Choosing the best knife sharpener for your needs is essentially a matter of balancing features with cost. So what are the important features you should consider? These features apply to both manual and electric models.
Adjustable Bevel Angle
Manufacturers design their knives taking into account many variables. The hardness of the steel and the angle of the blade are two of the most important. Some choose harder steel with a lower bevel angle, while others choose softer steel and higher bevel angle.
The bevel angle determines the sharpness of your blade and is measured in degrees. The lower the number, the sharper the blade. However, there is a tradeoff between sharpness and durability. A blade made with harder steel and a lower angle (sharper blade) are generally more prone to chipping and are more brittle. You wouldn't want to drop one of these on the floor or in the sink.
A softer steel blade with a higher angle will dull more quickly, but will be more durable and handle abuse better. That being said…
An adjustable bevel angle allows you to set the sharpener to the specific angle of your knives. Not only does this allow you to achieve varying levels of sharpness for different knives, it also allows you to sharpen a knife as close as possible to its factory bevel angle, for which it's design was optimized.
While this may not be the feature that gets the most marketing attention, it will greatly enhance both the performance and the life of your knives.
Smith's Edge Pro Electric and Manual Adjustable sharpeners are two good examples of products that incorporate this feature.
Number of Stages
Whether you are using an electric knife sharpener or a set of sharpening stones, the same basic steps apply to sharpening any knife. In the first stage you are trying to coarsely grind the edge of the blade. As implied in the description, a more coarse stone is used in this part of the process. This step removes many of the imperfections and damage from the edge of the blade. Some sharpeners don't include this stage and as a result won't be able to repair badly damaged blades.
The second stage uses a less coarse stone, and begins to create a smooth, sharp surface on the blade. A less coarse stone is used to achieve this step. Often if a blade is not damaged, you can begin your sharpening process with this step.
The third stage is the stropping or polishing stage. Here you are fine tuning the edge and polishing it to a clean finish.
Sharpening Materials
There are a wide variety of materials that are used as sharpening stones for knives. They range from naturally occurring stones, to man-made materials. While naturally occurring compounds make very effective sharpeners, the longest lasting and most effective sharpening materials are man-made.
The majority of electric knife sharpeners use a diamond abrasive on the wheels that sharpen the blade as it is passed through the sharpener. As mentioned in the section on stages, a succession of various degrees of coarseness provide effective repair, sharpening, and polishing of the blade. Other sharpening materials include steels and ceramics.
While the materials used to perform the sharpening are important, achieving the proper angle is the most crucial part of sharpening a knife. With that in mind, the first two features should be your main considerations.
Manual VS Electric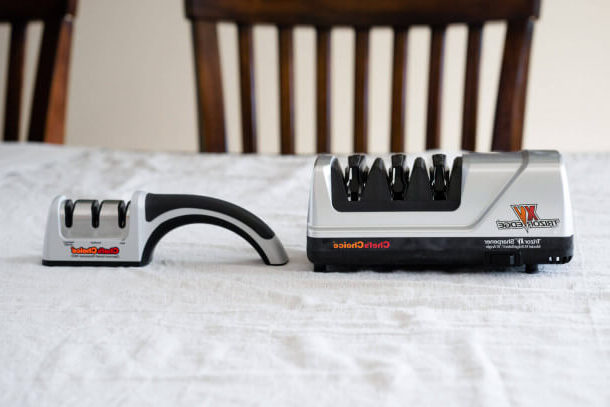 For us consumers, knife sharpeners can be divided into two main categories: electric and manual. While most sharpening experts will tell you that manual sharpening with sharpening stones is the ONLY way to sharpen your knives, it is a skill that takes time, practice and most of all patience to become proficient. That being said, there are a number of tools available to help you learn to quickly and effectively sharpen your knives using stones.
However, because of the amount of time it takes to master sharpening with stones, and since it is possible to damage your knives if it is done incorrectly, the best knife sharpener for most consumers may be either an electric sharpener, or a manual sharpener with a guide. These products that help can help you achieve an extremely sharp edge in a minimal amount of time.
By now you probably know that I lean towards electric sharpeners. The reason for this is simple. I have a large number of knives and it takes a LOT less time to maintain them with an electric sharpener. But as I said before, there are plenty of quality manual products out there.
The cost difference can often be substantial, but in my humble opinion, it is well worth it for the times savings.
Since we've focused a great deal of time on kitchen knives I thought it would be helpful to briefly outline to two most popular varieties or styles: Japanese and American/European. Let's take a quick look at the differences between the two.
Japanese Style Knives

Japanese knives have ben around for thousands of years. Traditionally they are made with a single bevel. This means that the edge of the blade is only sharpened on one side. Because of this, the bevel angle on a Japanese-style knife is typically smaller, making it sharper. Some Japanese knives will have a bevel angle as low as 5-6 degrees. When it comes to choosing a sharpener, this is the most important factor. You want to ensure that the product you choose can sharpen only one side of the blade at a time, otherwise it is possible to ruin the edge of the blade.
Japanese knives are also, typically made from a harder steel than their Western counterparts. This allows the sharper edge to hold up longer. This makes Japanese style knives less susceptible to dings and dents on the edge of the blade. But it also makes the steel more brittle. Therefore it is important handle them properly and to use the knives for what they were intended to cut. You wouldn't want to use an expensive gyutu (chef's knife) to chop through chicken bones, rather you would use a cleaver. And just as important you don't wan to toss an expensive knife in the sink as it is possible to shatter hardened steel.
Another important difference between the two types of knives is the shape of the blade itself. This becomes especially important when sharpening. Japanese style knives are typically flat along the blade edge. This the reason they are considered to be so efficient, as more blade can be put in contact with the food being cut at any given time. When sharpening, this translates into a different method of pulling the blade through the sharpener.
Western/European Style Knives

Western style knives also have a long history. German knives in particular are noted for their efficient form and function. In comparison to Japanese knives there are some significant differences.
First and foremost a Western style knife is going to have a symmetrical bevel. This means that the blade is sharpened on both sides. The combined angle of the two edges give you the overall angle. Most Western style knives have angles that are in the 18 to 28-degree range. It is not uncommon for them to have factory angles in the high 20′s. This is considerably higher than Japanese style knives.
Blade thickness is another big difference between the two styles. Since Western knives use softer steel, more material is used to give it strength. This has the advantage of making them very durable. A chef's knife can be used to cut through chicken bones and other dense materials that could very easily damage a Japanese blade.
The softer steel does make a Western knife more susceptible to damage. It is not uncommon for them to get dings and dents along the edge of the blade from heavy use. But proper sharpening techniques can quickly restore them to their original sharpness and beyond.
Finally, most Western-style knives are curved along the blade. This allows the user to apply more pressure to a specific area of the blade. This is crucial when cutting through dense materials such as bone. It also requires that the blade be pulled through a sharpener along this curve so as to properly sharpen it along the entire length of the blade.
While understanding the differences between the two types of knives is important, the single most important piece of information you need to know before you can choose the best knife sharpener for your kitchen is whether your knives are single or double bevel. Meaning are they sharpened on one side or both. Once you know this, you can choose your sharpener accordingly.
Knife Sharpening Services
It is often said (by the experts) that a guided sharpener, whether it be electric or manual, won't give your knife the same edge as when done by a trained professional. This may be true. But if you own a lot of knives, having them professionally sharpened every six months or so can be pretty expensive. Many pros charge anywhere between $8 and $12 per knife. If you have a dozen knives, you could be paying upwards of $100. Not to mention the fact that you are without your knives for as long as it takes for them to be sharpened.
As you will see from reading some of our other articles and knife sharpener reviews, there are many products out there that can get your blades as close to a factory edge as possible without spending $100 every six months on a professional service.
Choose Carefully
Before you can choose the best knife sharpener for your particular needs, you need to know exactly what you'll be using it for. Many sharpeners can handle kitchen knives, scissors, utility knives and more. Others are designed only for kitchen knives. Generally speaking, you'll get more bang for your buck by purchasing a sharpener that can handle a variety of blades.
There are some exceptions to this rule. If you own an expensive set of kitchen knives, you'll want to buy a sharpener that is specifically designed to sharpen knives. The reason for this comes from how these products work.
The process of sharpening a knife involves removing a small amount of material from the blade of the knife. This is true of both manual and electric models. Choosing a sharpener that is specifically designed for the type of knife you are sharpening helps to ensure that a small amount of material is removed as possible. This helps to extend the life of your knives for many years.
A sharpener that can handle a variety of tools, such as scissors, will still sharpen knives, but can often remove more material than necessary and therefore shorten the life of the blade.
How Do We Rank Products?
There are several categories we used to determine what is the best knife sharpener for the money. First and foremost is user reviews. There's no better source of information on products than reviews provided by those that own and use the products. Not only do they supply information about the functionality of the product itself, but they will often provide great information about how each company handles customer support, repairs, and warranty issues.
Features are another item that affects the overall rankings of the product. Though many products offer similar feature sets, some perform better than others.
Finally, price is the last piece of the equation. We've always been a firm believer that price is important, but should never trump quality and service in a decision to buy a particular product.
Conclusion
Before you make your decision, make sure to do a bit of research about your knives. Are you going to sharpen more than just knives? Do you want to be able to adjust the angle of the bevel on your blades? Do you own Japanese or European style knives?
Knowing the answers to these questions will help you to pick the perfect knife sharpener for your needs. Then you will be able to quickly and reliably sharpen your blades, making them efficient and safe to work with, as well as extending they're life.