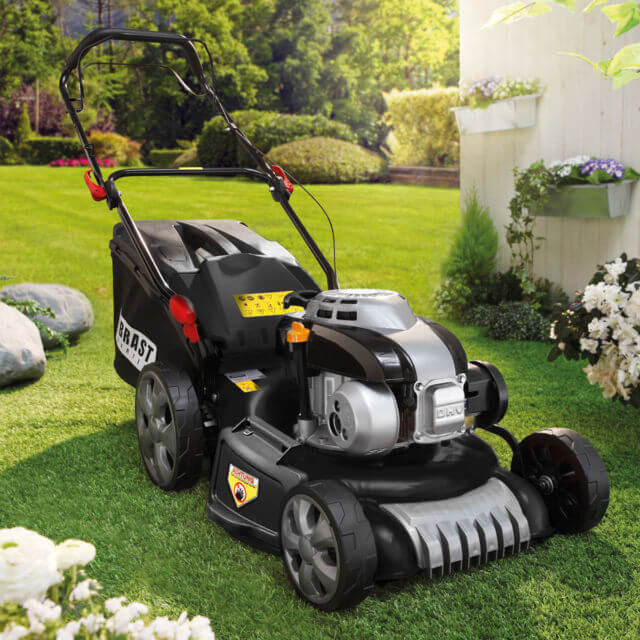 A perfectly trimmed lawn looks really beautiful, doesn't it?
Well, trimming a lawn sounds really fun and quite easy. However, to get your lawn skillfully and expertly trimmed you will need to employ a perfect lawnmower.
Well, out there, you will find dozens of lawnmowers, however, only a few of these incredible machines will give your lawn the impeccable finish that you have always dreamed of.
Best Lawn Mower 2021
Well, those are some of the factors you need to consider in a lawnmower. And for your quick choice, we have shortlisted the top 9 Lawn Mower which you can buy right now. These are available from different companies and have different models in order to keep the customers satisfied.
In a hurry? Just check the quick editor's choices:
1. Sun Joe MJ401E 12-Amp Electric Lawn Mower
Powered by a beefy 12 amp electric motor, the Sun Joe MJ401E is capable of handling mowing tasks quickly and rather efficiently.
It features a modern push-to-start button mechanism that is a lot easier to operate than the traditional pulling mechanism which often involves getting your hands covered in oil and gasoline.
Underneath, the mower features a durable blade that is adjustable into three different positions with heights of up to 2 to 2.5 inches.
The powerful blades have a maximum cut width/diameter of 14 inches.
The mower is built compactly to allow easy maneuvering through tight spots, an attribute that is further complemented by its all-terrain wheels that make turning on a whim quite effortless.
The small, lightweight design also facilitates convenient storage.
On top of it all, it comes with a 10.6-gallon grass bag which, despite having a hard top, is quite easy to detach when it's time to empty it.
Pros
Compact design that's great for tight spots
Powerful electric motor
Eco-friendly
Easy to operate
Cons
Prone to struggling in particularly rough patches
2. Black + Decker BEMW472BH 10 Amp Electric Mower
This mower offers improved handling and better comfort as it is fitted with an ergonomic 15-inch bike handle.
In addition to effortless maneuvering, the Black + Decker BEMW472BH offers easy operability thanks to its convenient push-to-start ignition mechanism.
The mower's blades are adjustable into six different positions between heights of 1 and 3 inches for more precise cuts.
Its rugged wheels prove to be better at tackling thick grassy terrains, making it quite easy to drag across particularly overgrown patches.
The electric mower runs on a 10 amp motor, which means it does not incur any fuel costs. However. its range of movement on your lawn is limited by the length of your extension cord.
Pros
Great handling and grip
Affordable
Decent build quality
Cons
Extension cord sold separately
3. Greenworks 40V Cordless Lawn Mower

Greenworks battery-powered lawn mower offers increased mobility thanks to its independence from power cables.
Its motors are run by a decent 4 AH 40V rechargeable lithium battery that often requires just one charge to complete a mowing job.
The main build of the mower features a 16-inch deck that is impressively lightweight and versatile.
One unique feature is that the mower comes with multiple uses. This 2-in-1 function allows for rear mulching and bagging.
Cutting height is adjustable via the mower's single-lever height adjustment mechanism that can position the blades into five different cutting heights ranging from 1.25 inches to 3.37 inches.
Pros
Lightweight
Decent battery system
Good customer service
4. American Lawn Mower 1204-14 Push Reel Lawn Mower
This 14-inch 4-blade lawn mower is a decent low-tech alternative for cutting turf grass and small lawns.
Its simple yet highly efficient mechanism gives the grass a pristine cut and conveniently deflects the cut grass and debris backward through rear deflection.
The reel is made from tempered alloy steel while the blades are bed knives.
The butter-smooth spinning action drastically improves the mower's cutting efficiency while height adjustment lets you pick the cut height.
The mower moves on 8-1/2 inch high impact easy-roll polymer wheels, and since it only weighs 19 pounds, it is easy to maneuver. The cutting height can be adjusted from half an inch to 1/2 inches to suit different terrains.
Pros
Doesn't need fuel or energy
Easy to use
Lightweight and agile
Cons
Lacks power for touch patches of grass
Not suitable for large lawns
5. Great States 204-14 Push Lawn Mower
This 14-inch hand-reel push lawn mower is a decent low-cost option for those with tight budgets and small lawns.
The 14-inch variation features three spider blades with a maximum cutting width of 14 inches, and a cutting height that can be moved into three positions to enable cutting heights of between half an inch to 1-1/2 inches to produce different results.
The mower is incredibly light, and for movement, it comes with treaded high impact wheels with 8-1/2 inch diameters.
It also features bed knife blades and an alloy steel reel. A torsion tube and steel side plate further enhance its resilience against flying debris.
Its swift and efficient cut is facilitated by a smooth-spinning 3-section roller on which the blades are mounted.
Pros
Ideal option for small lawns
Easy to operate
Low maintenance costs
Cons
Lacks the power to handle large lawns
6. 22-Inch Remington Trimmer Lawn Mower
This formidable 22-inch mower is a powerful option thanks to the 4-cycle 159cc OHV engine that powers it.
Despite its large size, the mower is easy to store and transport since its handle can be folded.
Maximum handling comfort is also guaranteed by the ergonomically designed handles.
The mower's blades have a maximum cutting width of 22 inches. In addition to that, it comes with an offset trimmer with a 155 diameter line far cutting grass in tight corners and confined spaces.
14-inch ball-bearing wheels move through thick patches and rough terrain quite effortlessly.
It is ideal for large jobs involving tough patches of grass and hard-to-cut vegetation.
Pros
Powerful motor
Large cutting diameter
Off-set trimmer for cutting in light spaces
Cons
Doesn't cut grass very low
7. Greenworks 25022 20-Inch Corded Lawn Mower
This mower features a durable steel deck that measures 20 inches in width. Despite that, it is lightweight enough even for the average user.
It is powered by a 12 amp motor, and the cutting height of the blades can be adjusted into seven different positions via a single lever.
Push-to-start ignition mechanism makes it easy to turn on, and even though the drive system is manual. it is still easy to maneuver as you please.
Foldable handles make it easier to store while two sets of wheels, 10-inch rear wheels and 7-inch front wheels, move through rough terrain with ease.
Pros
Highly adjustable cutting height
Large rear and front wheels
Foldable handles
Cons
Mobility is limited by the cord
8. Scotts 2000-20 Classic Push Reel Lawn Mower
This classic lawn mower features heat-treated steel blades mounted on a deck that rides on 10-inch dual-tracking wheels.
The mower's lack of onboard power is compensated by the nine grass heights it offers between distances of 1 and 3 inches from the ground for lower, cleaner cuts.
The 20-inch mower uses five blades to cut through lawns of various lengths.
Its cutting width is constant, but the cuffing height is adjustable via quick-snap height adjusters.
Overall, the mower features a decent build, is easy to use, and moves effortlessly thanks to its rugged 10-inch composite wheels.
Pros
Decent cutting width
Highly adjustable cutting height
Durable, rugged wheels
9. Honda HRR216K9VKA Self-Propelled Gas Mower
This self-propelled mower has variable speeds of up to 4mph. Its multifunctional rear end allows you to bag, discharge, or use the cut grass as mulch.
The mower utilizes micro-cut twin blades which produce ultra-fine cuts that are easier to mulch and bag.
The mower is powered by a GCV160 gasoline engine. Its handle can be adjusted into two different positions or folded back altogether to facilitate easy storage.
8-inch ball bearing wheels can pass through the most challenging terrain with ease while the mowers adjustable blades allow you to have up to 6 different cutting heights ranging from 1.12 inches to 4 inches.
The mower is fitted with a Zone Start Safety System to present accidents and comes with a 2.4-gallon bushel bag.
Pros
Powerful engine
Self-propelled
Variable speeds
Buying Guide: How to Choose
So, if you want to get the ultimate machine for this job you need to first ask yourself some basic questions like the size of your lawn, your height/strength, the terrain of the lawn and lastly how much are you willing to spend.
Answering those questions gives a better understanding when it comes to choosing the ultimate machine.
Lawnmower Type
In terms of design, there are 3 types of lawn mowers: cylindrical, rotary, and hovering designs. Well, all three designs are perfect; however, depending on the size of your lawn and how skillfully you need your lawn trimmed, only one design will be ideal for you. So, let's have an insight into each type.
Cylinder Lawn MowersRotary Lawn MowersHover Lawn Mowers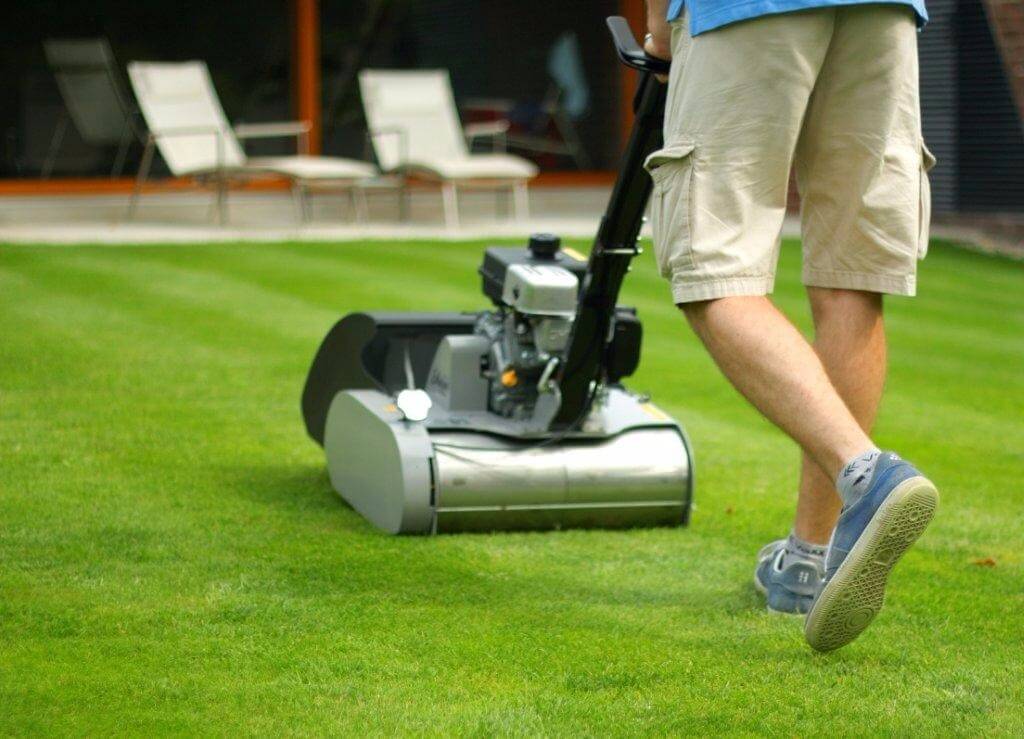 As the name goes, this model is designed with cylindrical blades fitted at the front of the device. Rotating vertically the blades cut the grass by acting against a fixed blade at the bottom of the mower.
Powered by electricity or gas these guys are designed to perfectly maneuver your flat lawn giving you a flawless attractive trim.
If you are low on cash, you can also consider push cylindrical lawn mowers.
Tips
Consider one with three or more blades
A push mower would be ideal for trimming smaller lawns-maybe backyard lawns.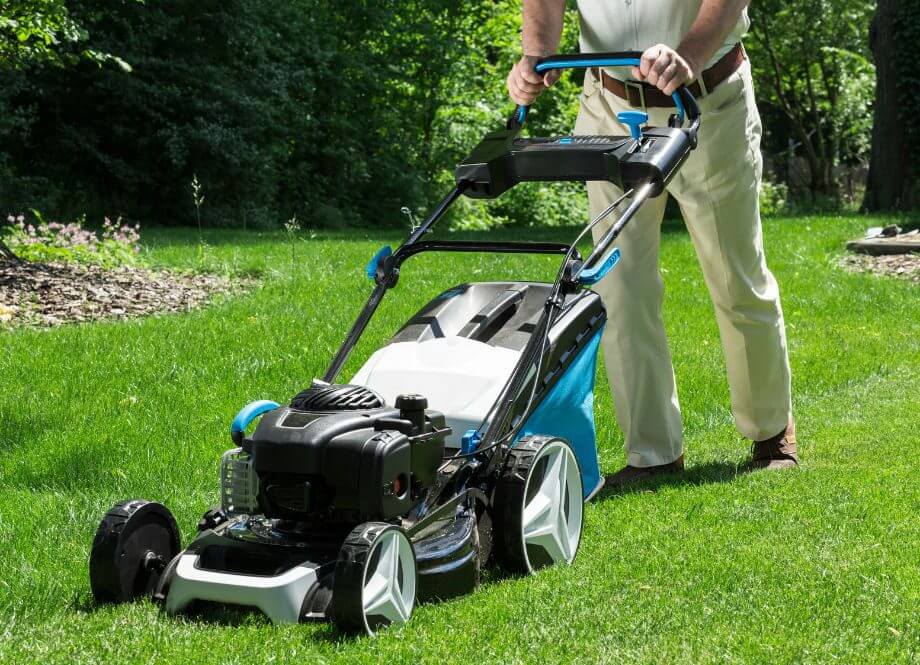 So, if you are looking for a more versatile mower, one that will perfectly cope with the toughest grass and large lawns; I would advise you to consider the rotary lawnmower.
This ultimate machine comes armed with a single razor-sharp stainless steel blade that functions in a horizontal rotating motion to give you the nice uniform trim on your lawn.
Like its predecessor, this mower can be electrically or gas powered. Some designs also come with an internal rechargeable battery.
Tips
Consider a battery powered mower- it limitless and will save you the extra costs of extension cables.
It is perfect when working on uneven grounds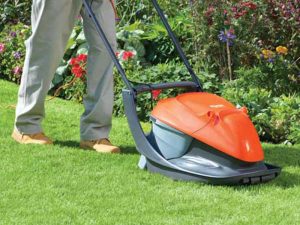 Looking forward to an effortless mowing?
If so, a hover lawn mower is your ultimate choice. Exquisitely engineered to literally suspend above the ground, this design will give you an easy time when working on unevenly shaped lawns.
Comparatively, hover lawn mowers are cheaper than other mowers.
Tips
Not perfect for large lawns since they are exclusively powered by electricity.
Power Supply
When it comes to selecting our ultimate lawn mower, the power supply is yet another important factor to consider. Well, these heavy duty machines require large amounts of energy to power them. So, choosing the most economical mower is important.
Electric LawnmowersPetrol LawnmowersPush Lawnmowers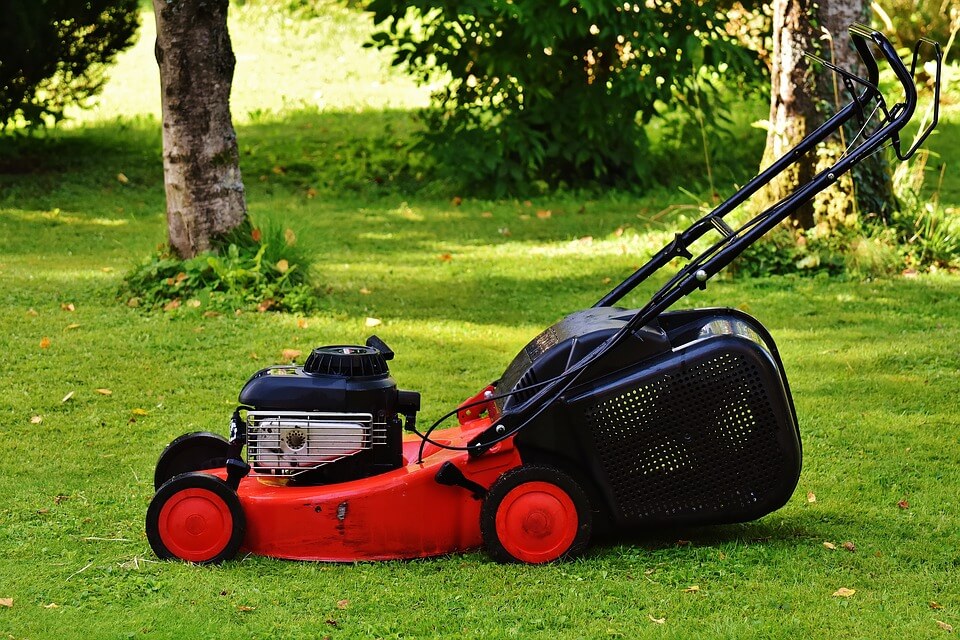 Electric lawnmowers come in 2 designs-cordless/battery and mains lawnmowers. In terms of performance, electric lawnmowers are perfect to work on medium sized lawns. They are easy to store and relatively cheaper ($100-200).
However, if you are looking for a hassle-free electric lawnmower, one that will give you the freedom to move to the furthest corner of the field, consider the cordless lawnmower. Make sure that the battery is powerful enough. a good battery should last for about 1 hour before recharging.
Tips
For a mains lawnmower, make sure that the cord is long enough.
Consider a mower with a powerful but light lithium-ion battery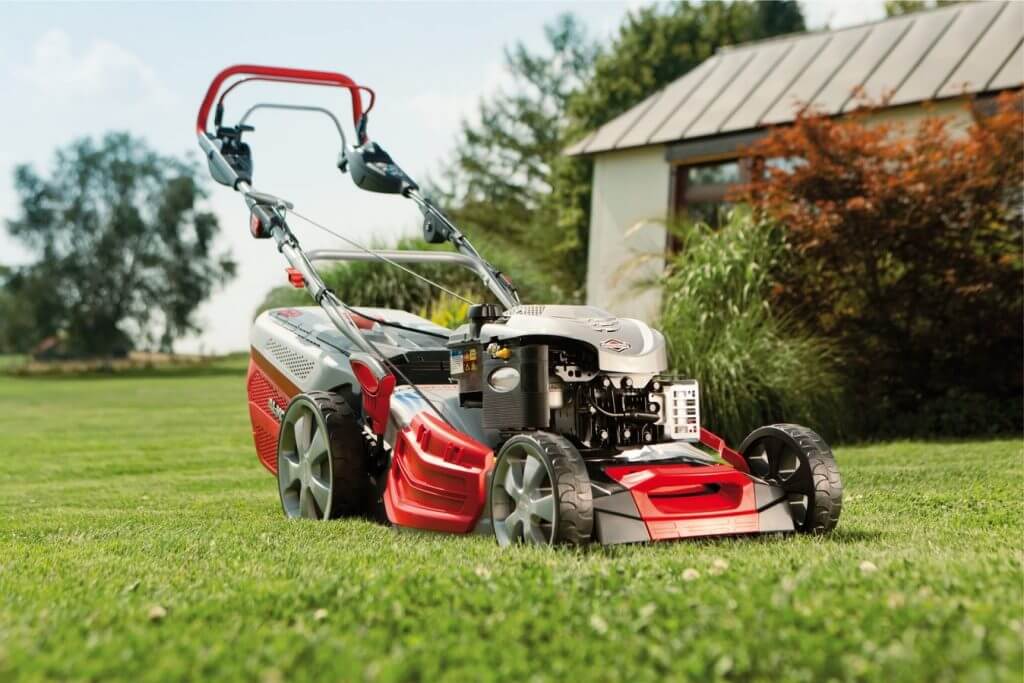 Despite being quite expensive and requiring occasional servicing, gas-powered lawnmowers are your ultimate machines for working on large lawns.
This machine comes with powerful petrol engines that rotate the blades faster than the electric motors.
Consider one with an engine ranging from 5 to 7 horsepower.
Tips
Remember to check the oil level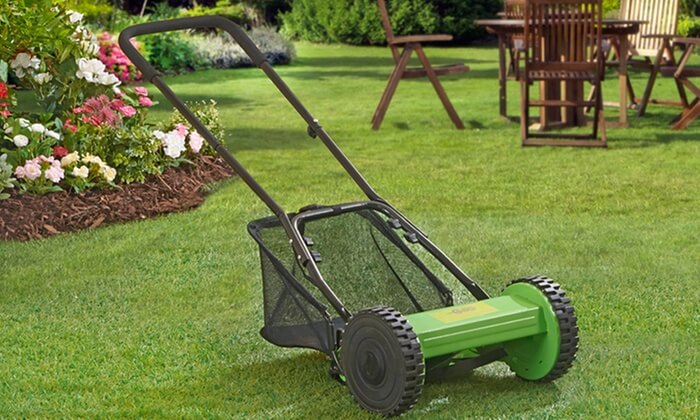 Well, these guys are simple, light and the most economical of all the mowers available. Designed to use muscle power they are the perfect devices for a countryside lawn where electricity and gas are not easily available.
They are quite cheap ($40-100) and incredibly Eco-friendly.
Tips
Consider one weighing about 1/8 of your body weight for efficient mowing.
Features to Consider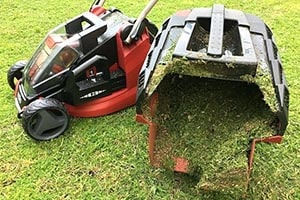 Seriously after mowing clean your lawn, you don't leave grass all over the field. So, selecting a machine with this feature will collect the grass for you hence saving you precious time.
Consider one with the biggest grass collector. To know if it's full, just look at the indicator. If it shows red it's time to make your trip to the compost.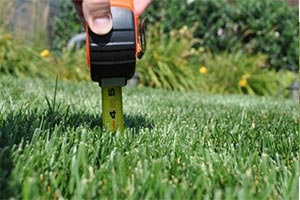 Well, depending on the season, you will need to leave the grass at different height levels. On dry seasons like autumn, the grass tends to grow slowly. So, to avoid leaving your lawn bald, consider a lawnmower with an adjustable mowing height. Preferably I would advise you to settle for one ranging from 12-70mm.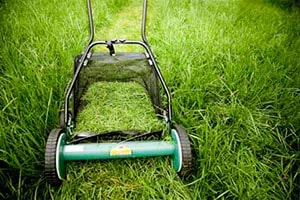 If you want to maintain your lawn healthy beautiful and green, a mulching lawn mower is your ultimate choice. With this feature in place, you will easily feed the grass by recycling the cut grass. Also known as the recycling mower, this device will re-cut the grass into very tiny shreds and blow them back into the lawn.
After breaking down, the tiny shreds enable the soil to conserve the life-giving water, which keeps your lawn green healthy and attractive even under the hottest sun. Additionally, the mulch also provides vital nutrients to the soil hence nourishing the grass.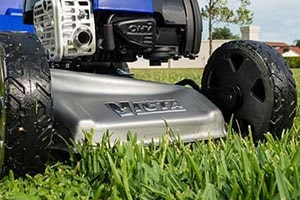 Cutting width deals with the wideness of a lawnmower stripe. Choosing a machine with a wider cutting width will reduce energy and time spent working on the lawn.
Lawnmowers come in three basic cutting widths; small (300mm), medium (350-400mm) and finally large mowers (400mm plus). A medium lawn mower is big enough to work on a large field and also convenient enough for a small sized lawn.
Conclusion