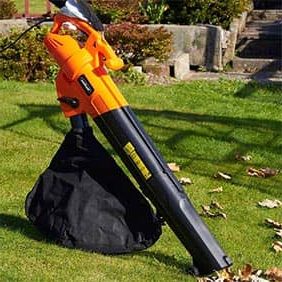 There are many types of leaf blowers on the market. These blowers come in different designs, shapes, and sizes.
We know how daunting it is to find the perfect leaf blower that meets all your needs. That's why we have gone ahead and selected the best leaf blowers for you.
We have compared numerous machines on the market and came up with an exclusive list that you will find very helpful.
Here are our top 10 best leaf blowers on the market…
Top 10 Best Leaf Blowers
1.

Husqvarna 350BT

– The Best Heavy-Duty Leaf Blower
If you have a large yard, then this Husqvarna blower will be perfect for you.
The machine has a maximum airflow of 692 CFM and air velocity speed of 180 MPH. This makes it powerful enough to deal with all types of debris and yard size.
The 42.27 ounces fuel capacity lasts for several hours. There is an X-TORQ engine that increases fuel efficiency by 20% while reducing exhaust emissions by 60%.
There is also a dampener between the chassis and the engine. This dampener reduces vibrations. The soft-grip handle can be adjusted easily. The handles have been ergonomically designed to avoid arm strain.
The blower also comes with a hip belt that is shaped to fit perfectly on your body. There's a wide shoulder strap that makes the machine even more comfortable to carry around.
Pros
Heavy-duty
Has low vibrations
Powerful engine
Durable
Adjustable handles
Minimizes harmful emissions
Easy to use
Cons
Assembling the hoses is a bit difficult
Noisy
2.

Poulan Pro 967087101

– The Best Blower For Professionals
There are numerous professionals who have sworn by this backpack blower. This, however, does not mean that you cannot use it in your own yard.
The blower has a great blowing force that clears heavy piles of debris. This machine can be used in both small and large yards.
The blower has two customizable controls- variable speed throttle control and cruise control. The heavy-duty frame makes the blower to be durable and long-lasting.
The blower comes with air velocity speed of 200 MPH and a maximum airflow of 475 CFM. It has soft grip handles and shoulder straps that can be easily adjusted.
Pros
Durable
Easy to use
Adjustable shoulder straps
Has customizable controls
Easy to assemble the parts
Powerful engine
Cons
User manual is difficult to understand
Noisy
3.

Worx WG545.4 Cordless Blower

 – The Most Versatile Leaf Blower
Not only can you use this machine as a blower, but you can also use it as a sweeper.
The blower comes with 8 attachments that ensure you have a clean zone. These attachments include flexible tubes, dust brush, dust nozzle, extension hose, detail brush, deflation cone cover, wide nozzle, and inflator nozzle.
The attachments are used for clearing, sweeping, cleaning, drying, deflating, inflating and dusting things around the house.
For instance, the dust brush can be used to clear spider webs and also clean window sills. The wide nozzle is used to dry flat surfaces and sweep wide areas.
The flexible tubes have been designed to clean hard to reach areas. The inflator nozzle comes in handy when you want to clean pool toys and even mattresses.
The only drawback with this blower is the power. It has an airflow of 80 CFM and an air-speed of 120 MPH.
Pros
Versatile
Easy to use
Durable
Quiet
Does not emit harmful emissions
Lightweight
Cons
Does not have a lot of power
4.

EGO Power+480CFM

– The Best Cordless Electric Blower On The Market
If you are more into cordless electric blowers, then you will definitely love this Ego Power+ blower.
The turbine fan engineering of this machine delivers great power. It has a variable speed that ranges from 250 to 480 CFM and a maximum speed of 92 MPH.
This leaf blower has a brushless motor that reduces vibrations. It weighs only 5.1 pounds. It is lightweight to prevent arm fatigue when you're clearing the yard.
The machine is also weather-resistant. You can, therefore, use it in any climatic condition.
Despite the fact that this blower charges quickly, the battery does not last for too long. So, keep this in mind when purchasing it.
Pros
Weather-resistant
Lightweight
Quiet
Has variable speed
Has low vibrations
Charges quickly
Cons
The ON switch does not have a locking mechanism
Battery lasts for a short period of time
5.

DEWALT DCBL720P1 Blower

– Best Leaf Blower For Beginners
So, you have never used a leaf blower before and you're wondering where to begin?
No problem! DEWALT has you covered. This DCBL720P1 model is easy to use and requires minimal maintenance.
The ergonomic design of the blower prevents arm strain. The blower is lightweight thus making it easy for you to maneuver.
In addition to this, the blower also has a very efficient speed lock. The air volume of this machine is 400 CFM and it has an airspeed of 90 MPH.
There is an axial fan design that maximizes air output. The blower has a wide nozzle that provides more coverage. The only disadvantage with this feature is that it compromises on power. This is because the wide area reduces the pressure of the machine.
Pros
Ideal for beginners
Durable
Ergonomic design
Lightweight
Simple to use
Quiet
Cons
The wide nozzle makes it be less powerful
It drains the batteries quickly
6.

Greenworks 24252

– The Blower With The Longest Runtime
There's nothing as annoying as a blower suddenly going off when you are not yet done.
For those who prefer a machine that runs a bit longer, then look no further than the Greenworks 24252 Cordless Blower.
The blower has a longer runtime and offers great power. On one charge, it can go up to 35 minutes. If you want additional run time, then all you have to do is use the GreenWorks G-MAX 4 AH Battery.
This machine has a variable speed motor and offers a maximum speed of 150 MPH. There is an extension tube that comes in handy when you want to increase the reach.
It is lightweight (weighing just 3.3 pounds) to enable easy maneuverability. It comes with a two-piece blower tube that adds more control when you are sweeping or gathering debris.
Pros
Lightweight
Quiet
Long runtime
Easy to use
Low maintenance
Ergonomic
Cons
You can only use Greenworks battery and charger
Does not have enough power to clear heavy debris
7.

Hitachi RB24EAP

– Bestseller On The Market
This bestselling leaf blower is ideal for both large and small yards. The blower has an air volume of 441 CFM and an air velocity of 170 MPH.
This machine is well balanced making it comfortable to use. The blower simplifies startups by automatically resetting the auto-return stop switch.
It has a 2-stroke engine that offers great power and prolongs the life of the blower.
There is also a two-finger throttle lever that makes it easy to operate the machine. This makes debris removal an easy and fast process.
Pros
Lightweight
Durable
Easy to use
Powerful engine
Produces minimal emissions
Uses little fuel
Cons
Noisy
Tends to vibrate a lot
8.

Worx WG517

– The Most Compact Corded Electric Leaf Blower
This Worx blower is ideal for those who don't have a lot of storage space. The machine is compact enough to fit in a small area.
You can easily operate the machine using only one hand without experiencing arm fatigue.
It has a turbine fan technology with 450 CFM and 120 MPH. The blower also has powerful variable speed control and 3 different power options you can choose from.
You can turn the speed down when cleaning the corners of the flower beds. Or, you can turn it up when you want to pile the debris.
One thing you should note about this blower is that it tends to suck clothes. Always ensure you are wearing fitting clothes to avoid any embarrassing situations.
Pros
Compact
Lightweight
Ergonomic
Easy to use
Powerful
Low maintenance
9.

BLACK+DECKER LSW221

– Best Bang For The Buck
This $59 cordless sweeper is perfect for people who are on a tight budget. Just a disclaimer- this is a sweeper, not a blower.
The sweeper operates on Lithium Ion battery and is ideal for light-duty jobs. It can clear small debris from lawns, decks, garages, and even driveways.
Just because it is light-duty it does not mean that it is not durable. This quiet machine can last you for many years if you take good care of it.
The machine comes with an air-speed of 130 MPH and weighs only 3.7 pounds making it easy to maneuver.
The major drawback of this sweeper is the battery. It takes several hours for it to be fully charged, but the charge does not last long during use.
Pros
Lightweight
Quiet
Durable
Easy to use
Perfect for light duty
Cons
Takes a lot of time to get fully charged
Has a short battery life
10.

Toro 51621 UltraPlus

– The Best Leaf Vacuum On The Market
This machine gives you the best of both worlds as you can switch between the blower and the vacuum at any moment.
The Toro 51621 comes with a vacuum tube, cord storage hook, bottom-zip bag, shred-all shred ring as well as an oscillating tube.
The shred-all shred ring works together with the metal impeller to reduce 97% of the debris to less than half-an-inch.
The main blower tube is used for dry leaves while the power insert is used for wet and heavy leaves. The bottom-zip vacuum bag stores the debris of the vacuum or blower.
The machine has 2 different modes- 410 CFM Vac Mode and 350 CFM Blow Mode. There is also a variable speed that enhances control in the Vac and Blow Mode. The variable speed can go up to 250 MPH.
Pros
Powerful blower and vacuum
Durable
Cord storage hook makes storage easier
Quiet
Lightweight
Cons
Power cord does not hold securely
It's difficult to switch between the vacuum and blower mode
All You Need to Know About Leaf Blowers
Leaf blowers are common to every household, especially the ones which have a backyard or a front lawn. As is obvious from the name, leaf blowers are meant to blow the leaves to clear away the area.
Leaf blowers were basically invented as agricultural chemical spraying machines. However shortly after their introduction, some consumers modified it by eliminating the chemical dispensing device from it.
When this modified version of the chemical sprayer became popular, the manufacturers saw the potential of this product and this brought about the production of what came to be known as the leaf blowers. Soon the leaf blowers became famous in homes across the nation. As compared to a normal rake, using a leaf blower was much less time consuming and easier to use. And in short time it became an indispensable gardening tool of every home.
#1. Assembly of a Leaf Blower
A leaf blower is a simple tool which has an electric motor or an engine which propels air and a long nozzle in the front through which the air is released at high pressure. The engines used initially in some leaf blowers were two stroke engines, but due to some environmental issues, they were mostly replaced by four-stroke engines.
The more common ones are those which are handheld. If they are fitted with a vacuum then there is a small bag attached to it to collect the leaves and debris. Then there are those which are mounted as back pack units. These prove to be more ergonomic.
#2. The Basics of Using a Leaf Blower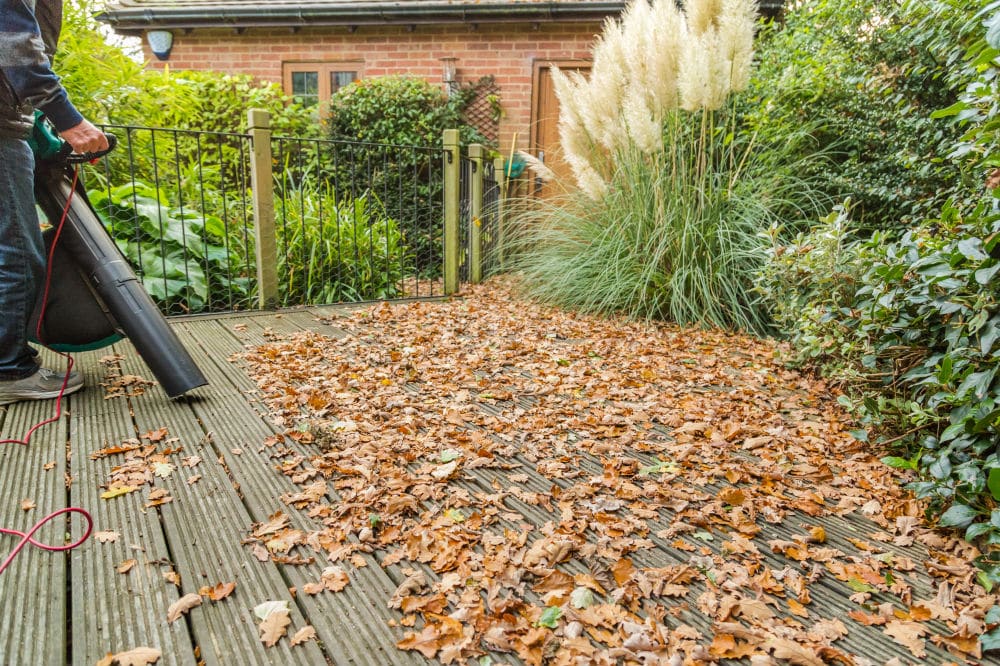 A leaf blower is pretty easy to use as it is a very simple piece of machinery. However there are certain things which need to be taken care of so that your yard is cleaned up efficiently without it being a hazardous operation.
Below are some tips that you should follow as safety precautions when handling a leaf blower.
1. If the leaf blower starts to vibrate a lot in the beginning then shut it down and try again after a short break. There are those that usually vibrates throughout the blowing but then they become very cumbersome in the operation and might prove to be very fatiguing to the arms and hands.
2. It is better if you keep the task of cleaning up your yard or lawn on a dry day because trying to blow wet leaves and debris could be a messy job, not to mention difficult. Similarly avoid using the leaf blower when it is already very windy outside. This is only going to add more work to your list.
3. Wear safety apparel or something protective over your clothing because it is indeed a messy business. Also cover your ears with protective ear muffs as a leaf blower is quite noisy and continuous loud noise can damage ears. Similarly you also need to protect your eyes. The strong air which blows from the nozzle blows leaves, broken twigs, splinters and any small debris material. There is a lot of chance that something can get caught in the eye. To avoid the chance of damaging your eye, wear protective glasses.
4. Select an area in your garden or backyard where you are going to collect all the leaves and debris. Start from one side, working your way to the other side. It is better to lay something over there on which all the leaves can be collected. It is easier to pick them up later on.
#3. The Different Types of Leaf Blowers
There are many different kinds of leaf blowers in the market. Out of these the electric leaf blowers are often preferred over the gas engine leaf blowers. Both however are used to clear away leaves and debris from the yard. It all depends on personal preferences in the end. Let's have a brief look over some of these types.
1. Electric Leaf Blower
Electric leaf blower rate quite high as far as the convenience and light weight is concerned. However these are mostly corded therefore they might obstruct mobility. Because their weight is either 7lb. or less, they can easily be held in one hand. There is usually a single button in an electric leaf blower to start the machinery to avoid any hassle. It also has zero exhaust emissions.
2. Gas Leaf Blower
The gas leaf blower is also meant for one hand use. Its cordless mobility gives it an edge over the electric counterparts. However it doesn't operate on a single push button and you will have to yank a cord to start its engines.
As compared to the electric leaf blower, the gas leaf blower is a bit noisy so you will have to buy ear protection gear. They are also a bit heavier than the other ones. Gas leaf blower comes in two stroke engines and four stroke engines as well. The four stroke engines are more environment-friendly but they also make the machinery heavy.
3. Backpack Leaf Blower
A backpack leaf blower is another version of this useful machinery and is perfect for cleaning up large places. Though it is best for commercial purpose it can be used at home as well especially when the lawns or gardens in the estate are big.
The backpack leaf blower is built to allow comfortable performance. It is usually fitted with a back padding and comfortably sized harness so that the whole operation becomes very easy for the gardener. Its machinery is light but powerful enough to complete any job.
4. Cordless Leaf Blower
The cordless leaf blower is like any other leaf blower but with the added advantage of being cordless. The cordless leaf blower has increased mobility making any yard clean up the job very easy.
5. Blower Vacuum
Blower vacuum is somewhat different than the above-mentioned leaf blowers as this one has a vacuum fitted in it. Though it also cleans up the garage and yard, it is designed to suck in the leaves and debris and not blow it away.
It comes with a bag attached to it, where the leaves can be collected. Some of its models are also fitted with a shredder so that it can shred the debris while collecting it.
How to Buy The Best Leaf Blower – Consumer's Guide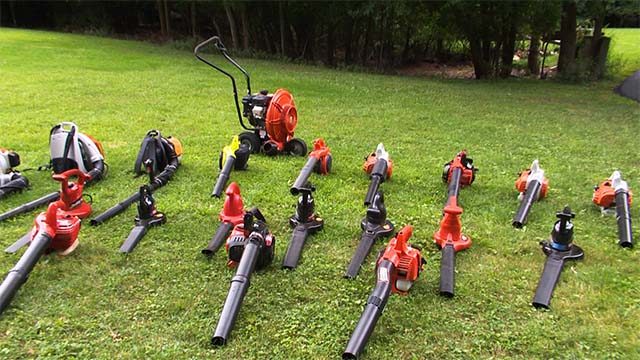 Since there are many types of leaf blowers available in the market, you need to be pretty sure of your requirement before heading on to buying them. Besides the cost, there are many other things that need to be considered before making this decision.
1. How Big is Your Requirement
If you have a big house that has large gardens or even small lawns but which has dense foliage then you can go for the bigger backpack leaf blower. This will prove to be useful to clear away thick debris or to clear away large areas without getting tired. But if you have a smaller house or a smaller area to clean then you can make use of the handheld ones which are much lighter and easier to use.
2. Choosing Between Cordless and Corded
Of course, cordless leaf blower, as compared to corded one, has greater mobility. You can move around easily without having to worry about getting tangled in the cord. But if you have a small back yard and you can easily reach every corner without having to change the cord from one plug to another then you might want to consider the corded one.
3. Comparing The Costs
The cost of the leaf blower does not end with buying it. A leaf blower requires maintenance regularly and out of the different types, gas leaf blower requires it even more. So you might want to consider all the costs before buying one.
4 Factors You Should Look For
MPH (miles per hour): This measures how fast the air from inside the leaf blower is moving out at the end of its tube.
CFM (cubic feet per minute): This measures the cubic volume of air that the leaf blower expels per minute.
Volts: This tells you the power of the battery and its ability to produce CFM (cubic feet per minute).
Weight: This indicates how heavy the leaf blower is. You will get tired out much faster when operating a heavier piece of equipment.
Advantages of Using a Leaf Blower
It is still very natural for people to think that a leaf rake is better because it costs much less of course. However there are many advantages of a cordless leaf blower which makes it a better investment.
The greatest advantage of having a leaf blower is that it saves a lot of time and energy while cleaning up the backyard or front lawn as compared to doing the same thing with a leaf rake.
 It is much easier to handle; all you need to do is start it with a push button and point the nozzle towards the debris and it is going to do the rest.
You will be able to easily remove leaves from tight corners where it is impossible to put the rake.
Those people with disabilities can also use leaf blowers with ease.
Some leaf blowers can also be used as lawn vacuums so that you can readily shred them up and create mulch.
Conclusion
When it comes to blowers, we all have varied preferences. Some people like electric blowers while others like gas or battery-charged blowers. Whichever blower you prefer, we hope this article has given you some great insight on your next purchase.