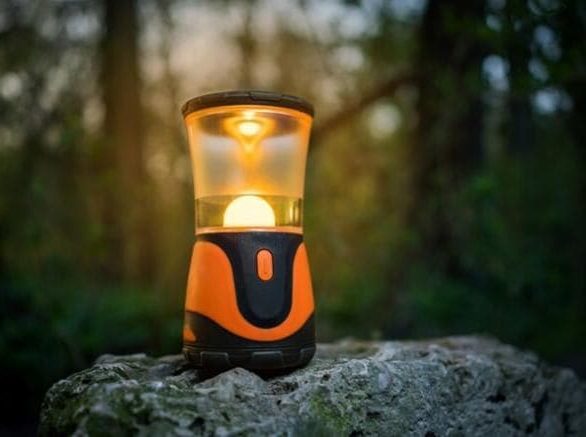 Just because the sun has gone down, it doesn't mean that the fun must stop.
Having a great camping lantern enables you to explore your environment in the dark. This, needless to say, enhances your outdoor experience.
After several hours of research, we have come up with 8 of the best LED camping lanterns on the market. These lanterns were selected based on their durability, performance, and value for money.
Without further ado, let's get started…
Top 8 Best LED Camping Lanterns
1. 

Vont LED Camping Lantern

– The Most Compact Camping Lantern
The collapsible design of this Vont camping lantern makes it to be lightweight. With this design, you can expand or collapse the lantern.
Expanding the lantern increases light intensity whereas collapsing it dims the brightness. This design also protects your eyes from the bright LEDs.
The lantern has 30 Ultra-bright LEDs that offers 360-degrees illumination. Since the lantern is small it can only illuminate a small area.
This can be a deal breaker for people who like to have a wider illumination range. The lantern runs at a low consumption for up to 12 hours.
The Vont LED camping lantern is made from a durable military grade material. This material is water-resistant making it possible for you to use the lantern during rainy days.
Pros
Durable
Collapsible design
Lightweight
Water-resistant
360 degrees illumination
Cons
Illuminates only a small area
2.

Coleman Twin LED Lantern

– The Best Illumination Range
When it comes to illuminating a wide area, nothing beats this Coleman Twin LED lantern. At high setting, the lantern offers 32 feet beam distance. On the low setting, you'll get 19 feet beam distance.
The brightness settings can be easily customized from ultra-low to high. There is a rotary dimmer switch that allows you to adjust the settings.
With the high setting, you are assured of 390 lumens and 85 hours run time. The low setting offers you 100 lumens and 299 hours runtime.
This Coleman lantern is water-resistant. This feature makes it be durable. The lantern uses 8 D-cells batteries.
Even though the batteries enable the lantern to have a long run time, most people find them to be a little bit too much. Not only are these batteries expensive, but they also make the lantern to be heavy.
Pros
Water resistant
Has wide illumination range
Durable
Long run time
Cons
Heavy
It requires 8 D-cell batteries
3. 

Supernova LED Camping Lantern
The Supernova 300 Lumens Ultra is ideal for camping, hiking, fishing and home use. If the power goes out due to bad weather, this LED can keep even your darkest rooms lit.
This versatile LED Lantern runs on just 3 d cell batteries.
These are brighter than many of the other lights out there and even the room lights. And these are definitely better than any of the candles which get blown out and leave wax around.
It has hooks on the top and bottom which can be used to hang at home or in tents.
Putting the screw back after changing the batteries can be difficult as the screws are not easy to handle. The cover needs to be perfectly lined and you need to be precise here.
All in all, it is an excellent product to have.
Pros
Up to 6 days on low and 3 days on high
Water resistance
Lifetime warranty
Cons
Battery insertion is a dicey process
4.

LE Portable LED Camping Lantern

– The Best Light Output
With up to 1000 lumens, this LE lantern produces great light intensity.
The lantern comes with 4 modes- Flash Mode (1000 lumen), Full Brightness (1000 lumens), Daylight White (700 lumens) and Warm White (300 lumens).
To adjust the brightness, all you have to do is long press the switch. One great thing about this lantern is that it produces light at a 360 degrees beam angle.
The lantern also comes with a stripe panel housing to ensure the light is evenly distributed.
The IPX4 rating feature protects the lantern from splashing water. There is a metal handle on the top and a hook on the bottom that enables you to hang it upside down. This position will give you a brighter light.
The lantern has a blinking green LED light. This blinking feature is supposed to help you locate the lantern in the dark.
But, the constant blinking can be a nuisance to a lot of people. The only way to stop the lantern from constantly blinking is to remove the batteries.
Pros
Water resistant
Lightweight
High luminosity
Has 360 degrees beam angle
Cons
Constant blinking green LED light
Difficult to open and install batteries
5. 

UST 30-Day Duro LED Lantern

– The Best Run Time
If you're planning to stay up late, then you definitely need a lantern with a longer light duration.
This UST Duro LED lantern can last you up to 30 days when on low mode. If you prefer the high mode, though then the lantern will last you a cool 22 hours.
The lantern has 700 lumens of light and comes in 4 different modes. The 4 modes include High, Medium, SOS and Low Mode.
The flashing SOS mode comes in handy during emergencies and it is designed to last up to 15 days.
Hanging the lantern has been made easier thanks to the recessed hook that is located at the base of the lantern. This hook enables you to hang the lantern as a downlight in your cabin or tent.
The Duro LED lantern also comes with a removable globe that you can use as an area light. The ABS plastic case of the lantern is both impact-resistant and weather-resistant. This makes it be durable and long lasting.
The only downside with this UST lantern is the process of installing the batteries. You may have a hard time trying to close the base after the batteries have been installed.
Pros
Longer runtime
Versatile
Impact-resistant
Weather resistant
Compact
Cons
Difficult to close the base after installing batteries
6.

Streamlight 44931 Siege Lantern

– The Most Durable LED Camping Lantern
The C4 LED Technology makes the lantern to be impact and shock resistant. This feature ensures the lantern is durable and long lasting. The lantern also comes with durable polycarbonate lenses.
The Streamlight lantern comes in 5 modes- High mode (540 lumens), Medium mode (275 lumens), Low mode (55 lumens), Red SOS Flashing mode and Red mode (10 lumens).
It is powered by alkaline batteries. There is a battery level indicator built into the on and off button.
The lantern provides 360-degrees even light. It has an outer globe that effectively illuminates your path. The lantern can be used with or without this globe cover.
If you want an even larger lighting area, then you can remove the globe and hang it upside down using the D-ring.
The base of the lantern has been molded by rubber to make it stable on uneven and slippery surfaces. This lantern is not water-proof, so you need to be careful when using it on rainy days. When you turn off the lantern, it is advisable to remove the batteries since the lantern tends to drain them over time.
Pros
Impact resistant
Durable lenses
Provides 360 degrees even light
Shock resistant
Cons
Drains battery when it is turned off
Not waterproof
7. 

Rayovac Sportsman LED Lantern
Rayovac is a popular brand manufacturing lanterns, batteries, chargers, hearing aids and various other products.
The lantern is compact and sturdy. It is easy to operate with the 3 modes (high, low and strobe). The lower portion and the base have rubber.
It can also be hung upside down to use as a light in a room or a tent. The top globe can be unscrewed and this helps in using as a light. The light is bright and can be hung higher to reduce the brightness.
Changing batteries can be difficult for some people as the base twists to load batteries.
The tent hook looks cheap and can break. Otherwise the unit is sturdy.
There is a finder beacon which blinks even when it is off. This is useful for finding the lantern in dark.
Pros
Battery run time: 40 hours (high); 90 hours (low)
Easy-find green LED blinks every 5 seconds when lantern is off
Folding tent hanger
Rubberized handle
Durable rubber and ABS construction
Water resistant
Lifetime warranty
Cons
Too bright at times
D batteries are expensive
8.

AYL StarLight 330 Camping Lantern

– The Most Versatile
This AYL camping lantern comes in handy during emergencies, power outages, hurricanes, and hiking.
The lantern has an output of 600 lumens and provides you with 100,000 hours of use. A single set of 3D batteries can last you up to 6 full days.
The lantern is water-resistant and shockproof. It comes with a hook at the bottom that makes it easy for you to set it up anywhere.
There are 3 modes you can choose from, that is, High, Low and Flashing strobe. You can switch between these modes using the switch button.
When the lantern is still new, you may find it challenging to change the modes. But as time goes by, switching between the modes will become easier.
The AYL StarLight 330 has a convex reflector cap that can be removed with ease. This feature offers you more focused lighting. The green LED indicator makes it visible for you to find it in the dark.
Pros
Water resistant
Shockproof
Lightweight
Durable batteries
Long run time
Cons
Battery compartment is difficult to use
It's hard switching between the modes
How To Choose The Best Camping Lantern
The fact that you are looking for the best camping lantern means that you are looking for something that will perform best in all the environments you might have to camp in. As such, it is recommended that you go for a product that is as adaptive as you are.
While it may be a little challenging to get the perfect match for your needs, you could still find a good camping lamp. So how do you choose between a gas, LED or candle lantern for your outdoor needs? This guide will help you decide.
#1. How much light do you need?
When most people are looking for the best camping lantern, they are usually looking for a bright light to reveal what is in the dark. It is very important to check if the lantern you are considering to buy has an adjustable light. Battery or LED lanterns are very flexible because you can easily adjust how much light you need.
Whether it is just for reading or looking for a way back to your friends after a stroll, a LED camping lantern works best. The ideal brightness for a camping lantern is 200 lumens.
#2. What is your budget?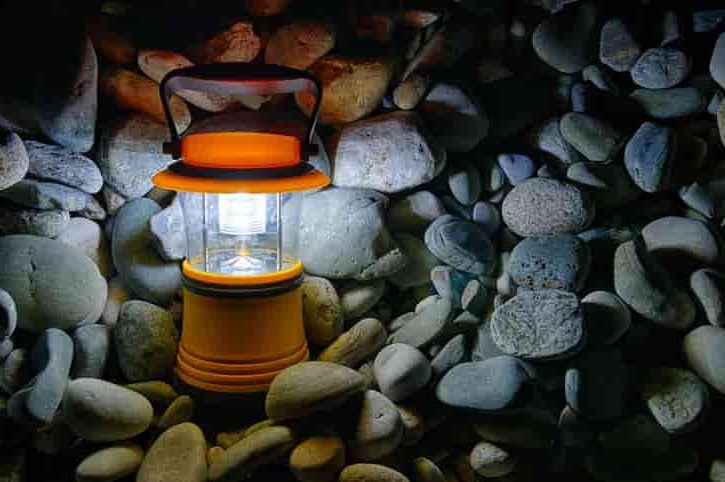 Camping lanterns are not usually that expensive. People actually spend much on batteries and gas for the lanterns than they do an initial purchase.
A battery powered LED lantern is a good choice when the batteries you use are long-lasting. While this may be the case to some people, others who can easily find gas for their lanterns will consider gas-powered models to be better.
#3. What type of climate will you use it in?
Whatever climate you're going to use your lantern in, make sure you have a water-resistant model. Check for and IPX-4 rating on your lamp. This means that your lantern is splash resistant and you won't have a problem using it in the rain.
If you need one that will withstand being submerged in water, check for the IPX-8 rating.
#4. How safe is it?
You will be using your lantern outdoors where there are potential risks of fires and kids getting injured. Again, LED lanterns are very safe because they carry no risk of scalding when touched. Gas lanterns, on the other hand, can get hot on the surface and might not be the excellent choice for camping with kids around.
#5. Should I choose LED, gas or candle?
This is where you decide on your own. LED lanterns appear to be the best choice in all scenarios. They produce bright light, can easily be regulated by the touch of a button, and are known to be extra durable than gas or candle lanterns.
LED lanterns also burn quietly unlike gas models. In addition, they come in different sizes that you can choose from.
This is important because as a camper you are constantly on the move and what you need is a lantern that will easily fit in your average sized backpack.
The Benefits of Camping Lanterns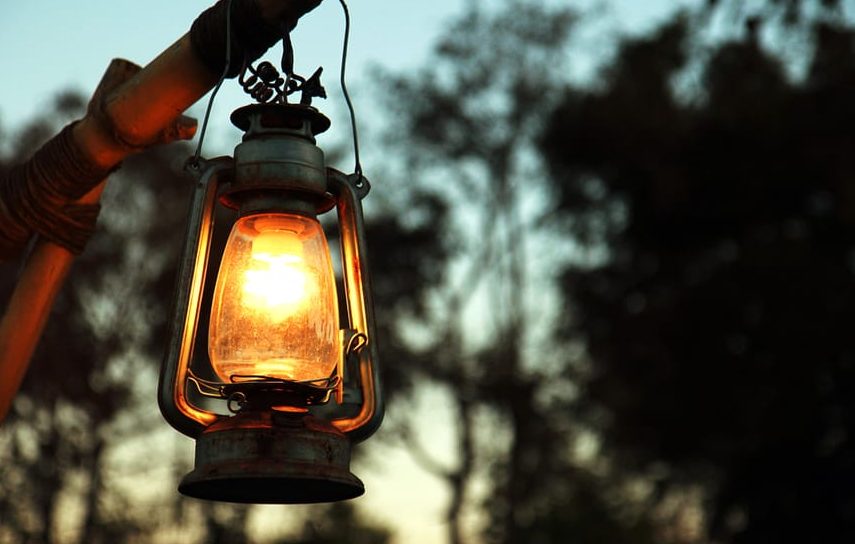 Camping is a popular activity that is enjoyed by thousands of individuals and families all year round.
It is a great way to see the countryside and to explore the wilderness.
To make sure you enjoy camping it is important that you bring along with you the right equipment and gear such as tents, backpacks, water filters and boots.
Another very important piece of equipment is camping lanterns.
Camping lanterns ensure that there is light during the night. They can also be used as a beacon so that you don't get lost in the darkness.
Camping lanterns can be carried, hung inside or outside a tent or left on the ground. They are typically powered by batteries, kerosene or propane.
Lanterns powered by kerosene are cheap to run but do make a lot of noise. As they give off a large amount of heat they can't be used inside a tent. The glass casing protects the flame from the wind or rain.
Propane lanterns provide more illumination but will require you to bring extra canisters of propane with you. Each propane canister will usually give you about 14 hours worth of light. The extra propane that you carry can also be used on a propane stove if you have one.
Battery-powered lanterns are easy to use but do require you to have spare batteries on hand. They are great for inside the tent as they give of minimal heat and their fuel source is not flammable.
It is a good idea to use rechargeable batteries if you have the ability to recharge them during the day.
Conclusion
With so many LED camping lanterns on the market, it can be challenging choosing one that suits your needs. Hopefully, this article has given you some great tips that you can use during your next purchase.