With so many multitools on the market, it can be difficult to find the right one! That's where our teams come in handy, we review each multitool to help you find the best one.
The 10 Best Multitools in 2021
If you want to get straight to the point, here are the 10 best multitools for 2021. You can also read on to learn more about the different types of multitools and how to choose the perfect multitool!
What Is A Multi-Tool?
A multitool is a handheld item with multiple individual tools that fold in and out of the center section equipping the user to complete a diverse set of different odd jobs without needing to carry around a toolbox or tool belt.
They are also commonly referred to as survival tools, pocket knives, multi-tool for EDC or most commonly "swiss army knives" (which is actually just a brand).
Some fold on themselves more than once and contain many more tools than you might think. Some multitools have as many as a dozen or more functions they can be used for.
Others are simpler, with a smaller profile that does not fold and only contains 3-6 different gadgets. They can even be small enough to add on a key-chain or store in a small side pocket.
How To Pick A Multi-Tool That Meets Your Needs
Whether you are Bear Grylls fighting extreme elements and constantly needing a different apparatus to build or hunt something in the wild, or someone who simply wants to carry a sleek pocket knife with a screwdriver and a file, there are many options to choose from.
If you are the kind of person that does a lot of outdoor activities (hunting, fishing, hiking, camping, etc…) then considering a multi-tool with several functions with a little more bulk to it may be a good idea.
If you are more of a handyman type that could use a few more, perhaps you would be interested in a device that offers even a hammer! (They do exist believe it or not!)
The two most important determining factors in making your choice will be size, and options. Where do you plan to carry it? In your pocket? In your car? In a jacket? Pick a size that fits the spot you carry it.
Do you plan to use it for a lot of different applications? Then you may want a more extravagant option.
Review of the Top 10 Multi-Tools
Actually, all of the multi-tools mentioned above in the chart would be good options to consider. Below are detailed reviews of the top reviewed "best multitools" as ranked by users on Amazon.com. Some are not in the list above, so make sure you read the in-depth analysis for each tool recommended below.
1.

Victorinox Swiss Army Explorer
Are you looking for a truly multipurpose tool?
If yes, this one should be on top of your list. It is available in 4 variants. Moreover, it supports 16 different functions. It means that there is no shortage of applications when going with this multi-tool.
At the same time, its height is just 22 MM, and the length is 91 MM. With the weight of only 101 g, you can carry it around safely and comfortably.
The stainless steel tools promise you proper durability. Along with that, the ABS handle means that wear and tear is not a problem.
The closed length is 21 MM, which makes it easy for you to use it. In terms of its versatility and heavy-duty construction, you will have no complaints at all.
Pros
Available in 4 variants
16 different applications
Lightweight design
Heavy-duty handle material
Sturdy construction
Easy to carry
2.

RoverTac Multi-tool Camping Tool Survival Gear
The tool which we are discussing now is one of the best multi tool available. It is 14 in 1 functionality, and that is why it is on our list.
Moreover, it is available in 2 different color choices as well, which makes it an excellent option.
You can use it as a saw, knife blade, pliers, hammer, ax, and even a screwdriver. The applications are endless.
With the help of full stainless steel construction along with black oxidization, you can be sure that it is aesthetically pleasing and durable.
The nylon pouch that comes along with it makes it easy for you to carry wherever you go.
The construction of a nylon pouch is such that it can protect the blade as well. It means that when carrying it around, there will be no problem at all.
The red color oxidation of the handle provides you with an excellent grip and also protects the handle. It means that over time, the tool will not lose its grip. The lightweight design means that when carrying it for long hours as well, you will not face any problem. It is one of the reasons why you should go with this one.
In addition to that, the weight is 15 ounces, which allows you to carry it safely and comfortably. The folding and unfolding mechanism is quite easy as well, which reduces the learning curve. With so many different features, you cannot go wrong with this multi tool.
Pros
14 in 1 functionality
Comes with a nylon pouch
Lightweight design
Heavy-duty construction
Available in 2 color options
Cons
Cover stitching could be better
3.

RoverTac Multi tool with Safety Locking
The unique feature of this multi tool is that it comes with a safety locking mechanism. Also, it is available in 3 color options as well.
With the help of 12 in 1 functionality, you can be sure that it is suitable for a wide variety of applications. These applications include wire cutter, saw, knife, screwdriver, and so on. It comes along with the nylon pouch as well, which is another reason why you should go for it. The nylon pouch means that you can carry around the entire assembly quite easily as well.
When you look at the tools, these consist of stainless steel material. That is why; they are sturdy and durable as well.
With the help of black oxidation, you can be sure that these are corrosion resistant and dustproof as well. At the same time, you will realize that the wear and tear are minimal.
With the weight of 10.2 ounces, carrying it around isn't a problem. The closed dimensions are 4.1″ x 1.6″ x 1″. The open dimensions are 6.3″ x 5.1″ x 1″.
The folding and unfolding motion is entirely seamless. It means that you need not devote a lot of effort for the same. Also, the sturdy pouch ensures that carrying it around isn't a problem. The unique design as well is that 12 in 1 functionality certainly makes it stand out from others.
Pros
Available in 3 color options
12-in-1 functionality
Comes with a carrying case
Stainless steel construction
Cons
The knife could be sharper
4.

Camping Multi tool, Anumit 16 in 1 Survival Gear
The 16 in 1 functionality of this multi tool is the reason why it is on our list. It is also available in 3 color options.
The dimensions of the tool are 6.7″ x 3.5″ x 0.9″. With a weight of 15 ounces, it is comfortable to carry around. It can also be considered as survival gear.
When you look at the construction, it consists of stainless steel material along with a wooden handle. It means that the build is highly durable, and you will not struggle with wear and tear.
Since it can work as survival gear, it is suitable for fishing, hunting, hiking, and other outdoor applications.
Some of the type of tools which it has on offer includes a knife, saw, screwdriver, hex wrench, nail file, bottle opener, hammer, ax, wire cutter, and so on. The 16 applications ensure that you can use it for quite a few applications without any issue. Moreover, the easy to use design ensures that you will not have to worry about any learning curve either. With so many applications on offer, use should not ignore this multi tool.
Pros
16 applications
Consist of stainless steel material
The wooden handle on offer
Lightweight design
Cons
Packaging could be better
5.

Titanium 18-in-1 Multi-Purpose Pocket Knife Pliers Kit
Are you looking for an even more versatile multi-tool?
If yes, this one will not disappoint you. It serves 18 different applications. It is one of the best multi tool available.
With the help of a 420 precision steel clamp, you can be sure that durability is not a problem. It is heat-treated, which is another advantage. The 3D machine grip texture ensures that you can hold it and operate it without any problem.
Some of the applications include Nose plier, Grip Plier, Saw, File, bottle opener, and so on.
It is suitable for any outdoor work as well.
With the help of UV resistant construction and corrosion-proof construction, you need not worry about its life span either.
It comes with a carrying case as well, which makes it easy for you to take it with you wherever you go. When you look at all of these features, there is no reason why you shouldn't go for it.
Pros
18 in 1 functionality
UV resistant
Highly precise stainless steel construction
Comes along with a carrying case
Cons
The cutting mechanism could be better
6.

Leatherman Surge Multi-Tool
If you are looking for a bigger multi-tool that comes in handy for just about any job, you want to check out the Leatherman Surge multi-tool also called Leatherman 830158.
The Leatherman Surge is definitely a sturdy and quality made tool that can be used for a wide variety of jobs around the worksite or around the house. This tool is built with longer knife blades, easy to use locks, as well as tougher than ever pliers. A great feature of this tool is that you can access the 4 blades from the outside which means you have quick and easy access when needed.
Just like every Leatherman multi-tool, the Surge comes with a 25-year warranty. Depending on the problem you will get the tool fixed by Leatherman Tools or replaced with a new one.
The Leatherman 830158 Surge can be used for all different types of jobs. Some people like this tool for camping and other outdoor activities such as fishing and hunting. It's also a good idea to keep a multi-tool on you if you plan on hiking or even taking a walk in the woods. You never know what trouble you may get into and you may need this handy tool.
The Surge can also be used for fixing things around the house as well as working at your job site. If you have many different things that you need to take care of around the house, this multi-tool is perfect for you since it gives you so many options and it is larger so your hands won't be hurting at the end of the day. It also works for people who work on job sites either in construction or farming.
The Leatherman Surge multi-tool is easy to use and has all the tools you could possibly need in a multi-tool. The nice thing about this tool is that it is not as expensive as some others and you can find it on sale for a really good deal.
Pros
Large, heavy built tool for power users
One handed opening, locking tools
Can easily be "flipped" open
Cons
Like the Wave and other OH models, the Surge is not ambidextrous
7.

Gerber MP600 Multi-Plier
The Gerber Needlenose Multi-Plier 600 is described as a toolbox that fits in the palm of your hand. Many other Gerber products could theoretically be in our top 5, but this one is our favorite.
Like most of the others, it has stainless steel construction for durability and strength, but UNLIKE most others, it opens with the flick of your wrist! It sort of gives it a butterfly-knife feeling when you whip it out.
Each component opens individually from the others so you don't have the clutter issue that you'll face with many of the other options on the market. And like the Leatherman MUT above all of them lock into place.
It adapts to the Gerber tool kit and comes with its limited lifetime warranty, which is something you won't get with other brands. While many do offer 20+ year guarantees, few cover you for life.
Pros
One-handed operation
Durable with a strong construction
All tools can be locked for safe operation
Available in different variants
Cons
Does not have scissors
Due to body design ruler feels superfluous
No outer accessible tools
8.

SOG B61N-Cp Powerlock Multi-Tool
The SOG B61N CP Powerlock makes you think of one thing whenever you are using it…Every tool feels like a full size tool. There are no dinky wannabe versions of anything on this gadget. Everything is top of the line, and when you pull it out, it could be put side to side with the single version of the same tool and compete well.
All the knives come pre-sharpened from the factory and boy are they sharp! If you do not like the tools that come with it out of the box, the great thing about this tool is that you can swap them out using the hexagonal screws at the bottom of each handle to customize it just for your needs.
Another unique element to this tool in terms of its design is the wings you see coming out of each side. All they are really are covers for the tools inside the handle. The covers prevent your hand from sinking down into the groove of the toolbox portion of the grip by covering it over.
Before opening any of the tools, you have to flip these wings out…To some people this is kind of annoying, to others it's a trade they are willing to make to have a more comfortable grip on the handle.
Remember, every tool is like using a full size version of a single tool, so having a smoother grip is nice. Either way, you have the ability to take them off. They are spring loaded so just squeeze the sides and they'll pop off, and when you want them again you can pop them back on.
Pros
18 tools
Durable material
Folds up nicely
Cons
Expensive
Might be too many or not the right tools for some people
9.

Gerber Suspension Multi-Plier
From a value to dollar ratio standpoint you may be looking at the number one tool on our entire site. It may not compete with some of the higher-end Leatherman products we recommend, but for less than $30 WITH shipping in most cases, you can be prepared for nearly any situation with a tool that will absolutely get the job done for you.
Another good idea for those of you with lots of outdoorsman friends around Christmas time is to load up on this tool for gifts…It will get a ton of use and every time they pull it out they will think of you. For around $27 each, you could buy 10 of them and likely get most of your Christmas shopping done for less than $300!
Now, onto the features:
The Gerber Suspension has been around for many many years, and at the time of this review, it is in fact still in production which speaks to its popularity.
Pros
Solid, well-built
Good tool selection
Good tool design
Powerful pliers
Low cost
Cons
Heavy
Bulky
Small knife blades
10.

Leatherman 850021 MUT-Multi-Tool
The 850021 MUT boasts many hard-nose features you expect from a top rated tool. Starting with its stainless steel body and handles, all the way to it's bronze carbon scraper, and titanium pocket clip, everything about the MUT is tough.
Among our favorite features, is the fact that all the blades and tools are locking. You don't have to worry about cutting yourself on accident because of a folding blade. Once it's open, you can count on it to stay open, and the chances of it breaking go way down once the tools are locked into place. Nobody wants a product without these key safety features, and this one gets it right.
Another great feature is the outside-accessible blades which make for easy one-handed opening…You know, since you've probably got a drink in the other hand while you're working. =) But in all seriousness, the ability to access and open your knife without your other hand comes in handy more often than you might think.
It comes in black, stainless steel, and molle white, and has 16 different uses. Some of the more unusual ones include a hammer, a firearm disssembly punch, and a cleaning rod – a brush adapter. There aren't many things you can't do with this one.
Pros
Durability and quality
Strength
Versatility
Large variety of functionalities and affordable price
Cons
A little too heavy for some people or uses
The Leading Manufacturers of Multitools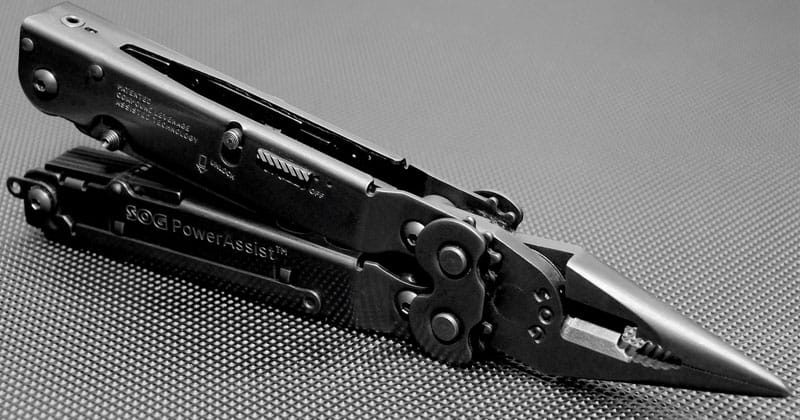 There are now many manufacturers of high quality multitools including Leatherman, Gerber, UST, Victorinox, TACKLIFE, SOG Specialty Knives, Gerber Legendary Blades, Grand Way, SOG, Swiss+Tech, DEWALT, INTEY, ROSE KULI, and Stanley.
Why buy a high-quality multi-tool?
You might be thinking why do I need a multitool?
The answer is simple — portability.
A multitool can be placed in your fishing tackle box, back pocket, wet suit, backpack, or kitchen drawer. You can have the right tools on hand in seconds, allowing you to repair items, building something, or deal with a sudden emergency.
Multitools are useful in many different scenarios including climbing, hunting, fishing, hiking, medical emergencies, and survival situations.
Multitools are handy to have around the workshop because they can perform a multitude of tasks. Multitools are also useful for fixing things around the home.
You can be the guy or girl who pulls out a multitool and fixes a loose handle on a pot or tidies up some loose cable ties.
Having a multitool on hand also makes you a much more self-sufficient and capable person.
Things to consider before buying a multitool
Functionality
Construction quality
Ergonomics
Practicality
Portability
Best uses
Warranty
Price
How we rate each multitool
— Features, design, practicality, durability, size, portability, price, warranty
Finding the Right Multitool in 5 Steps
Are you still unsure about the right multitool? Here are 5 simple steps to help you find the right tool.
Step 1: How will you carry the tool?

Have a think about how you would prefer to carry your multitool. If you are happy to have the multi-tool hanging off your belt, sitting in your toolbox or in your car's glove compartment, you can purchase a belt multitool.
If you would prefer something that you can carry with you at all times, perhaps consider a pocket multitool or keychain multitool. And if you want something that is ultra-portable, look for a one-piece multitool that has the features you require.
Step 2: What features do you really need?
Step 3: Do you need a multitool or a real tool? 
Step 4: Do you need a blade?
Step 5: Pick a tool!
Now that you know how large your multitool should be, which tools it should have, and if you need a blade — you are ready to choose a multitool.