Spending some time outside having fun is one of the best ways for a toddler to grow strong and active.
This is because the toddler gets a chance to stretch his legs and burn excess calories that otherwise would accumulate leading to a number of health complications.
But then you should also know that your toddler will have to depend on the type of toys he or she possesses.
With the best outdoor toys, your toddler will be eager to play outside without complaining. This is because he or she gets to enjoy every single moment he spends outdoors.
Below is a list of some of the most incredible outdoor toys for toddlers that are highly rated and are fantastic for outdoor activities.
Best Outdoor Toys 2021
In a hurry? Just check the quick editor's choices:
1. Click N' Play Pack of 200 Pit Balls
The click n' play balls are best for ball pit, pools and jumping castle. The balls are safe to play with and are designed to be durable. The balls can handle a weight of 90 pounds, so you don't have to worry about crushing when stepped on.
They are made from Lead-Free; Phthalate Free; PBA Free; and non-PVC Plastic. The set packs 200 pcs of balls, which is more than enough for a kid or a group of kids. Each ball has a set diameter of 2.5 inches which can fit perfectly on a small child's hand.
The balls also come in a range of colors like blue, pink, orange, green, and yellow. The balls are great for filling a tent, kiddie pool, ball pit, and bounce house.
The container bag is durable and can be reused to store the balls for a long time.
Pros
There are durable.
Suitable for children of all sizes.
Manufactured with non-recycled plastic.
Come in a range of colors.
Easy to clean.
Cons
Relatively expensive.
It does not include all the balls.
2. Intex Rainbow Ring Inflatable Play Center
The Rainbow ring Play Center is great with kids that love water sliding and roller games. It includes a water slide, wading pool, and water sprayers at its center and it also has a ring toss game equipped with four inflatable rings.
You can connect the water sprayers to a garden hose to keep the kids cool in the summer. The pool is designed to hold up to 77 gallons (290 liters) of water.
It also has six plastic balls included for toss ball and ball roller game.
Pros
Can be a training pool for kids under the age of eight.
It has a lot of features allowing for more fun.
It's durable.
Cons
It has fifteen different inflation sections instead of just one.
The water sprayer is weak, and this results in wastage of water.
You have to purchase a water pump separately.
3. Automatic Durable Bubble Blower for Kids
The bubble solution is the bestselling toy in the world. The bubble machine can keep your kids entertained for hours and it also great with weddings, birthday parties, baby showers or any form of celebration.
This machine has a neat, friendly design, a Dolphin shape, which would put a smile on any kid. It pours out a high load of bubbles, 500 bubbles per minute, which brings excitement to kids or pets. This is because it has a powerful motor and spinning wands.
It can fill a room in minutes. It is designed to be durable as it made with strong, high-quality materials ensuring that you get to enjoy it for many years. The device is stable as it has a broad base and thus does not tip over easily. It's versatile and can be used indoors and outdoors.
Bubbles have always fascinated kids for many years, and this makes the bubble machine a good choice for a child's toy.
Pros
The device is easy to use.
It has a compact and portable design.
It can pour out five hundred bubbles per minute.
Affordable price.
It is durable.
4. Rain Showers Splash Pond Water Table Playset
The splash pond water table is an award-winning water table that allows kids to make it rain as they splash each other while playing.
The table is large and has a bucket which will enable the young ones to scoop and pour out the water into the top tray to make a shower splash. As the water flows down, it activates a maze of spinners and ramps which can rearrange themselves to create new waterways.
The maze pieces can use the flipper to flip an animal character back in the pond. It has a spacious design which allows for several kids to play together. A kid can also play alone a get to enjoy the waterfalls made by the maze pieces. The shower also produces a lifelike rainfall sound.
The table is crafted to be durable, and therefore you can use it for many years.
Pros
The device is entertaining as ids get to enjoy the waterfalls and rain shower.
It has a spacious design which allows for multiple children to play.
It is durable.
You can rearrange the features for a new play.
Cons
It's difficult to remove water that gets into the base of the water table.
It is has a complex set up.
5. Nerf N-Strike Elite Strongarm Blaster
The Nerf N-strike is best for quick draws and fast firing, placing elite battel performance in your hands. It fires six darts in a row which travel up to 27 meters (90 feet).
It is designed to bring speed and mobility to your advantage. You can flip the barrel at the side to open and load the darts. It can take up to six Nerf darts which allows you to fire 6 of them continuously without having to stop for a reload.
The darts are designed and certified for exceptional distance and speed and are also made of foam will hollow tips. It has a slam-fire blasting effect which is achieved by moving the slider back and forth while you still holding down the trigger.
The packaging is easy to open, and it's also recyclable. The device requires no batteries to operate and makes a great blaster for Nerf fans to add to their collection.
Pros
It is manually operated, and therefore it does not require batteries.
It comes at an affordable price.
And it rarely jams.
Cons
It does not allow for customization as it does not have a barrel extension slot.
6. Little Tikes EasyScore Basketball Set
Little Tikes kids basketball hoop set makes it on the list of the best outdoor toys for toddlers because of its unique and ingenious design. It not only makes your kids have thrilling outdoor sessions but also improves the kid's reasoning and coordination skills.
All you have to do is set up the hoop and watch your kid slam balls through the net. It is adjustable to six different height from 2.5 feet to 5 feet. This means that it can accommodate kids of different ages. The rim is wide enough making it easy to make a basket.
With little Tikes kids basketball hoop set, your kids will be more than glad to play outdoors where they will benefit a lot.
Pros
It can be used both indoors and outdoors.
Accommodates different age groups.
It is easy to set up.
The basket rim is wide enough for kids.
Enables children to develop numerous skills.
Cons
It can be quite hard to support.
7. Little Tikes 2-in-1 Snug 'N Secure Grow with Me Swing
Swings have been known to be thrilling not only to kids but also to adults but then, the adult swing can be quite dangerous for toddlers and that is why they need Little Tikes 2-in-1 Snug Secure Grow With Me Swing.
It comes with straps and a T-bar that will ensure your toddler is firmly and securely held in place. It is designed to accommodate kids with up to 50Lbs.
If your kids are within the age of 9 months to 4 years, then this is just the best outdoor toy for them.
You can always remove the shoulder straps and the T-bar as they grow.
Pros
It is very secure.
Comes with a T-bar and straps to hold toddlers in place.
Kids get to grow with it.
It is durable.
It is very easy to set up.
Cons
It doesn't come with an anchor.
8. Little Tikes First Slide (Red/Blue) – Indoor / Outdoor Toddler Toy
Slides are known to be very good when it comes to keeping kids busy outside.
The Little Tikes First Slide is no different. It is designed to provide kids with the best place where they can slide and have fun throughout.
It comes with a three feet long slide which is just enough to make it fun. And it has a ladder with which the kids can access the slide. It is foldable, and so you don't have to worry about leaving it outside where the elements can get the best of it.
Once you get it, you don't have to worry about assembly since it doesn't require any tools. What makes it even more incredible is the simple fact that kids are not only limited to playing outdoors but can also have similar fans indoors.
Pros
It is easy to assemble.
The slide is long enough for kids.
Can hold up to 60Lbs.
It can be folded and stored.
The slide can also be used indoors.
Cons
It comes in only one color.
9. Little Tikes Gas Go Mower
Little Tikes Gas Go Mower is a sturdy pretend toy that has been designed to give your son or daughter the feeling of using a real life lawn mower.
It has been developed to increase the kid's reasoning skills by providing them with a rare chance to have a close up look at the mower. It is designed to produce sounds mechanically, and so you will not need batteries for that.
To make it even more interesting, the head pop when you push the mower and the kid can hear sounds by simply pulling the cord. It also comes with a key and a removable gas cap which allows the kids to pretend to be filling up the mower.
This is just the best outdoor toy for toddlers who love mimicking what their parents are doing.
Pros
It is very interactive.
It looks like real-life mower.
No batteries are required.
Comes with a gas can.
It has a clicking key.
Cons
It is only limited to a certain age group.
10. Little Tikes 3' Trampoline
Kids have the energy to burn, and if they don't have some way of actually burning it, it's harder for them to concentrate or to get the constructive rest that they also require.
As they work out their whole body, kids will develop better fitness, balance, and coordination.
Trampolines are kid's favorites. This is because they are often fan and very interactive.
What makes them more likable is the fact that they enable kids to burn so much energy while using it.
Little Tikes 3' Trampoline comes with a large area for jumping, a handlebar to enable kids to maintain stability and a plastic and metal construction for durability.
It is exactly what any kid would want to become physically fit and to develop balance and coordination.
Pros
Has a handlebar for the kids to hold on.
Comes with a huge jumping surface.
It is durable.
The kid gets to grow with it.
It is an excellent energy burner.
Some Buying Tips
We live in a busy society where we are using technology as the number one form of entertainment for our children. This is detrimental to the physical and mental health of our future generation. As a mom of two highly energetic boys, I say it's time to get back to basics, GET YOUR KIDS OUTSIDE.
Remember you are responsible for your child's physical health. It is down to you to promote healthy eating and give plenty of opportunities for your child to engage in physical activity.
With childhood obesity and heart disease at an all time high, every family needs to recognize that outdoor play is where children will burn most of their calories.
The best bit is, it really isn't that difficult to do. Turn off your televisions (one show a day is enough viewing time for your child), stop shelling out $500 on ipads for your kids and invest in some good quality outdoor toys.
Through my own experiences, I would like to share with you ideas and ways to get your children and indeed the whole family back outside!
Getting Started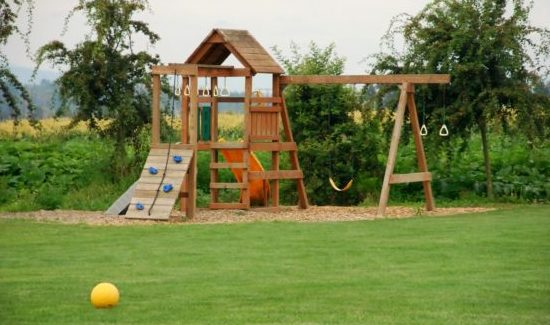 Start with a good solid play structure, a great way for kids to practice and master emerging physical skills and develop those gross motor skills that can only be achieved through climbing, running, swinging. A geodome climber made by lifetime provides kids with the opportunity to climb, swing and problem solve. Throw a tarp over the top to convert it into a secret clubhouse. A truly awesome product.
Two Wheel Bikes
Biking is such a wonderful activity and something that the whole family will one day do together. My kids are age 3 and 5 and already participating in family bike rides on two wheel bikes with NO TRAINING WHEELS.
How? Here is the secret.
Start your child on a Run bike. At around 20 months buy your kids a strider bike. They come in awesome colors such as, blue, green, red, pink and yellow. The strider is light weight and grows with them. The handle and seat can both be adjusted. It is truly amazing to see how quickly they gain their balance.
At around age three, they will be ready for a two-wheeler. Take the training wheels off as they will not be needed. The transition is so quick, all they have to do is pedal……. they have the balance already. Once your kids have mastered the run bike, have fun with building jumps and biking in the woods, bike rides don't just have to be on the sidewalk!
Sandbox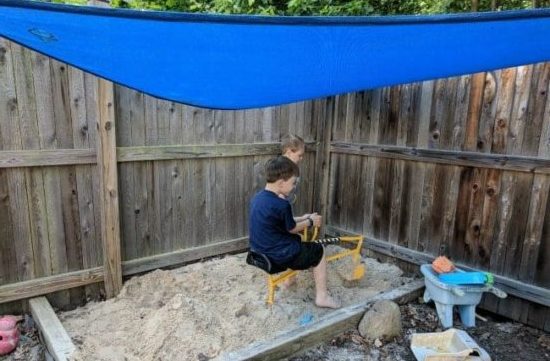 Kids can't be on the go the whole time they are outside so I highly recommend a sandbox in the shade for when your child is in need of some downtime. Fill it with buckets, spades, shells, diggers, dump trucks and whatever else you think will interest your child. They are using their imagination and getting a vitamin D boost at the same time!
Backyard Fun
There are many ways to make the most of your backyard whether it be small or large try to make the most of your space.
The first step is to get your kids outside, which from experience I know can be hard but I always find that once they are out, providing you have an equipped yard it is hard to get them back in again!
Here is a list of excellent backyard play items. Think about your child and his/her preferences and decide which ideas would best suit them: Soccer goal, Tball set, Jump rocket, Chalk, Bubbles, Watering can, Swingball, Lawnmower, wheelbarrow, tractor, slide, swings, climber, house, sandbox, water table, slip and slide, construction vehicles. The possibilities really are endless.
Conclusion
Having the best outdoor toys for kids is very advantageous since your kids get to develop both mentally and physically. The above list contains some of the best outdoor toys for toddlers. They are known to be interactive, fun and very exciting. You may also like pro scooters for kids, we have reviews of this.
Adding them to your kid's toys collection will maximize the amount of time your kids spend outside, and this will enable them to grow up active and healthy.