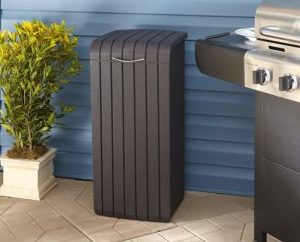 Outdoor trash cans play an important role in keeping public and private outdoor places clean and tidy.
They are also used outside houses to store the kitchen waste till garbage haulers arrive. They are also used in commercial spaces to keep the place free of litter.
A good trash can makes garbage management easy by containing household/public/office trash properly and preventing bad odors.
However, choosing the right trash can becomes a daunting task due to the wide variety of choices available on the market.
In this review of top outdoor garbage bins, we try to make your shopping easy by helping you find the best outdoor trash can within your budget.
On the table above, we've summarized our analysis of our top 6 picks.
1.

Simplehuman 60 Liter Open Top Trash Can

– Best Looking Outdoor Trash Can
Are you looking for elegant and functional outdoor trash cans?
If yes, you can go with this one. The capacity is 16 gallons, which makes it suitable for a variety of applications. Additionally, the 9-inch opening does not disappoint either.
The heavy gauge and heavy-duty stainless steel construction make it suitable for commercial applications. Not only that, but it facilitates quick liner change as well.
The side handles allow us to move the trash can around.
Are you looking for different color options?
If yes, it is available in 3 different color options. The one which we are speaking about now has a dark bronze finish.
The exact dimensions are 16.1" x 15.8" x 30". The elegance and functionality of this outdoor trash can make it a perfect choice.
Pros
Sturdy construction
Available in 3 color options
Wide opening
Adequate capacity
Portable design
Easy to use
Cons
Packaging needs improvement
2.

Rubbermaid Commercial Trash Can
The next trash can on our list once again has a capacity of 16 gallons. Additionally, it is available in the 23-gallon size as well. The trash can is available in numerous color options as well.
The venting channels ensure that removing the liners is undoubtedly easy. With the help of 4 bag cinches, it is easy for you to put in the bag and remove it.
The robust handle is on the side allow you to move it around quite quickly. The commercial-grade material ensures that durability is not going to be a problem either.
When you're just storing the outdoor trash can, you can nest it as well. Hence, you can store multiple such outdoor trash cans in a small amount of place.
The trash bags cinch ensure that the bags will remain in place. When you consider these features, it becomes easy to understand why this outdoor trash can is such a perfect choice.
Pros
Adequate capacity
Easy to mount and remove trash bags
Commercial quality construction
Easy to store
Commercial grade construction quality
Cons
Does not come with the lid
3.

Suncast 33 Gallon Hideaway Can

– The Most Popular Choice
Do you prefer a bigger outdoor trash can?
If yes, this trash can with a capacity of 33 gallons is an excellent choice. The aesthetics are such that it is suitable for backyards, decks, patios, and so on.
Another advantage of this outdoor trash can is that it comes along with the lid. Consequently, keeping the trash inside is easier due to the lid.
The durable resin construction certainly helps it stand out.
The hinged lead means that opening it and closing it is quite easy.
The wicker design is another reason why you should go with this outdoor trash can. The exact dimensions are 15.75" x 16" x 31.6".
The legs at the bottom keep it entirely stable. The heavy-duty construction and the aesthetically pleasing design certainly makes this outdoor trash can an option worth buying.
Pros
Available in 3 color options
Aesthetically pleasing design
High capacity
Comes with a lid
Wicker design
Cons
Packaging needs improvement
4.

United Solutions Highboy Waste Container
With a capacity of 23 gallons, you cannot go wrong with this. Also, it is available in 3 different color options. The space-saving design makes it suitable for any premises.
The easy bag installation and removal make it easy for you to use trash bags. The vented sides and the tapered shape facilitate the same. It is compatible with bags of 33 gallons.
With the help of easy to carry design using the handles at the side, this trash can is quite portable. You can use it indoors and outdoors.
The sturdy construction ensures minimum wear and tear. The bottom handle allows you to lift it and empty it quite easily.
If you're looking for a moderately sized trash can, it is one of the best outdoor trash cans you can go with.
Pros
Medium-sized trash can
Available in 3 color options
Space-saving design
Versatile
Highly portable design
Cons
Bag securing system is a bit cumbersome
5.

Keter Copenhagen 32 Gallon Large Trash Can
Are you looking for something more elegant?
If yes, you should consider this one. The holding capacity of this trash can is 32 gallons. It comes with a large lid, which is another reason you should go for it.
The exact dimensions are 15" x 15" x 33.3". It is compatible with trash bags up to 39 gallons.
The removable rim means that securing the trash bag and removing it is easier than ever.
The metal handles and the metal cinches ensure that it is heavy-duty in construction.
The attractive brown color does not disappoint either. It is suitable for use indoors and outdoors.
Moreover, the resin construction makes it lightweight but durable. The resin construction also means that it is resistant to moisture, rotting, rust, etc. When you're looking for an elegant outdoor trash can, you need not look any further.
Pros
High capacity
Resin construction
Easy to secure the bag
Aesthetically pleasing design
Long-lasting
Cons
Stability needs improvement
6.

KETER Rockford Resin 38 Gallon Trash Can
Are you looking for an even large outdoor trash can?
If yes, this 38 gallon trash can is a good choice. The advantage is that it comes with the lid and the drip tray. The drip tray makes it highly versatile.
One of the reasons it comes with a drip tray is that you can use it in the kitchen, outdoors, patios, etc. The applications are endless.
The exact dimensions are 16.14" x 16.14" x 34.4". It is compatible with trash bags of up to 39 gallons.
The resin construction makes it resistant to elements of weather. It is rust-proof as well. In case you're looking for a weather-resistant and long-lasting outdoor trash can, the resin construction ensures that.
Cleaning it is quite easy. The innovative double lid design means that mounting the trash bag and removing it is easy. The double lid also means that securely placing the lid is also possible.
The leg design is such that it is incredibly stable. When you're looking for a trash can with the larger capacity, this one is probably the perfect choice for you.
Pros
Large capacity
Compatible with trash bags up to 39 gallons
Heavy-duty resin construction
Easy to clean
Double lid design
Factors We Considered For Selecting The Best Outdoor Garbage Cans
Your trash can should be a long-term investment. Pick a can that's made of strong, recyclable material. The best outdoor trash cans are the ones that will stay with you a long time enabling you to practice efficient waste management.
Usage Situation
You will need different trash cans for different usage situations. The best outdoor trash can is one that is heavy duty, durable and resistant to bears, raccoons and other pests. For office and public places having non-organic waste such as papers and cigarette butts, even a lidless trash can will get the job done. For curbside collection, make sure you get a trash can that meets the guidelines of your garbage hauler.
Weight
Weight is an important consideration when it comes to selecting a garbage can. The weight needed for the garbage can depends upon your usage situation. If you want a garbage can for your office, a light-weight trash can will get the job done since it will mainly hold paper waste. However, for a house having kids and pets, a heavier trash can is recommended so that it does not topple over easily.
Size
The size of the trash can is dependent upon the amount of trash generated each day. If you have a big family, you will be cooking large meals and thus more wastes will be produced accordingly. In such a case it is recommended to use a big trash can unless you want to take out the trash twice a day. In contrast, if you have a small family then a small trash can will be required.
The standard size of trash cans is 13 gallons. If you choose a trash can that is bigger or smaller than 13 gallons than you must also remember to buy non-standard garbage bags as well. In most cases, a 15 to 30-gallon trash can is used for offices and public places. 30-gallon trash can is used in public places, and 48+ gallons are used for curbside collection.
Lid Type
Different designs for the lids of trash cans are available in the market. Following are some of the most popular lid types:
NO LID
Some trash cans come without lids. These types of trash cans are usually used in office spaces or rooms where mostly dry items and paper waste materials are disposed of. This type of waste is not likely to attract pests or give out a bad odor. Trash cans without lids should not be used for disposing of food items as they're bound to leave an odor.
LIFT LID
Some Trash cans come with lids that must be lifted in order to dispose of wastes. These types of trash cans are alright, however, they're not good for the kitchen as you must touch these trash cans to put the waste. This makes them unhygienic for use by anyone in the kitchen. Lift Lids are good for offices and rooms where paper and other such dry items must be disposed of.
Lift lids are also a good option if you have pets or toddlers at home. Get a lift lid that closes securely to prevent messy situations in case your pet gets too playful near the trash can. The best outdoor trash can is one that comes with a lid because the lid saves the trash from unwanted pest attacks.
SWING LID
Some trash cans come with swinging lids. These trash cans keep the trash hidden from view, and it is easy to slide trash into them. Trash cans with swing lids are a good option for bathrooms and public places. Swing lids are one of the potential features of the best outdoor trash can because they're great for sliding trash into them quickly.
SENSOR LID
Some trash cans come with sensor lids that open automatically when movement is detected near them. These types of lids require batteries to operate and are often used in high profile buildings and places.
HANDS-FREE LID
Hands-free lids come with a foot pedal for opening and closing. These types of lids are perfect for use in kitchens where cooks may not want to touch the bins as they cook. It is also easier to open the trash can with feet while adding large amounts of garbage.
Material
Trash cans made out of stainless steel are expensive, but they're also easy to clean and they prevent odor effectively. Plastic trash cans cost lesser, but they're not as effective as stainless steel trash cans in preventing bad odors and smells from escaping because their lids are often not airtight. Moreover, they also stain easily.
Mesh bins are sleek and stylish, but they're not good for food or liquid waste. They are best for office spaces where mainly paper and office stationery is disposed of.
The best outdoor trash cans are made of durable, long-lasting material.
Recycling
Some trash cans come with built-in compartments that separate regular trash and recyclable material. They can come in handy if you're planning to adopt a green lifestyle. This is also mandatory in many regions.
Ease Of Moving
For large trash cans, ease of moving should be an important consideration. Many trash cans come with wheels, dollies or rollers. Make sure the trash can you pick has sturdy wheels so it is easy to move from one place to another. The best outdoor trash can is one that can be moved easily.
Looks
The design of your trash can is an important consideration especially if you're buying a trash can for your shop or office. Pick a design that complements the decor of the room where the trash can will be placed.
How Much Should You Pay For A Trash Can?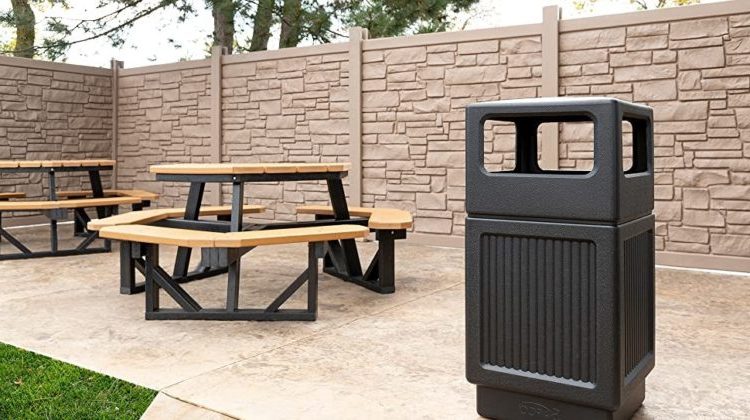 Bargains
Good trash cans don't have to be expensive. You can even find many good outdoor trash cans starting at $40. You can find both plastic and metal ones at good rates. If you're on a budget, prioritize utility more than aesthetics. The most popular trash cans are not expensive; people just need to get the job done right.
Mid- Range
Trash cans with advanced features like sensor lids and sturdy material can all be bought on a budget of $60 to $150. When buying trash cans with special features, be sure to ask your shopkeeper if they come with any special requirements.
Some trash cans require special garbage bags which may add to the overall price. Mid-range trash cans come with a variety of new innovations such as odor neutralization with built-in carbon filters. The best outdoor trash cans in the mid-range pricing should be heavy duty, easy to move, stylish and long-lasting.
High-End
High-end trash cans cost $150 or more. They come in exquisite materials such as fingerprint free stainless steel and usually have a large capacity. These high-end trash cans must be used with special garbage bags which add to their overall costs.
High-end trash cans are often equipped with sensor lids and odor neutralizing technologies. The best outdoor trash cans in the high-end category are the ones that are designed for the commercial market. They're stylish, big, and hold up well against bad weather and pests.
Tips For Easy Maintenance Of Your Outdoor Trash Can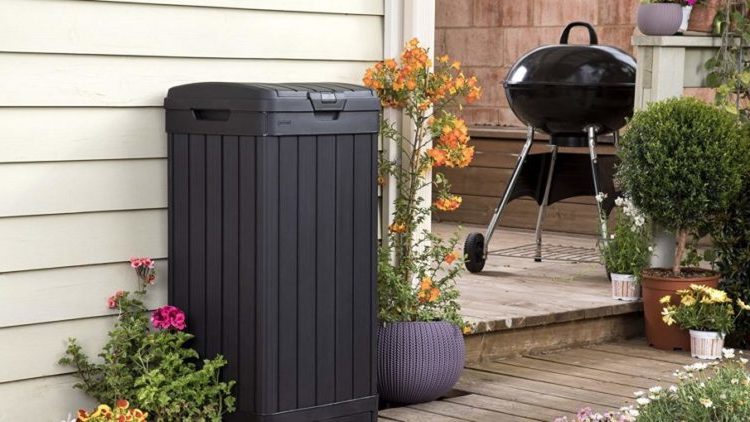 Trash Can Hygiene
It is important to clean your trash can frequently to avoid bad odors. Make sure you place a few extra garbage bags at the bottom of the bin to prevent any liquids from spoiling the base of the bin when you take out the waste. After you've taken out the trash, wash the can outdoors with a water hose. If you want to wash your trash can indoors, you can do it in the bathtub or a sink.
To clean out the trash can you can clean it with an odor-resistant powder or a cleaning solution. After thoroughly cleaning out the trash can leave it to dry. Make sure the trash can has dried completely before you start using it again.
Trashcan Placement
Place your bin in a secure place. Too often people place their bins where they may easily get damaged by a vehicle moving in or out of the house. Make sure you place your bin at a place where it won't get damaged by any moving vehicle or other mobile equipment in home or office.
Emptying Schedule
Create an emptying schedule so that the trash cans outside are emptied on time. Failure to clean out the trash can on time can result in overflowing bins which are both unhealthy and unhygienic.
Common Questions By Buyers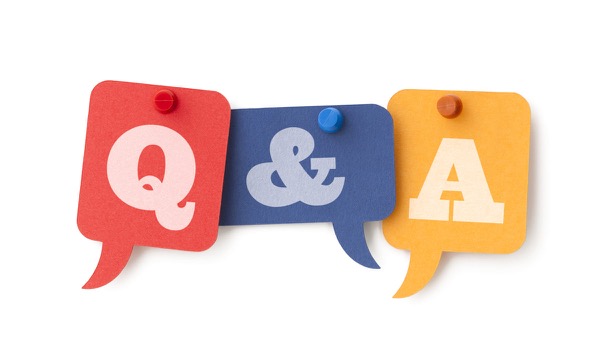 #1 My trash can fills up so fast. What can I do to reduce our daily waste?
Your trash can may be too small to accommodate the garbage that is produced in your house daily.
Think about getting a bigger trash can. It is also recommended that you examine your waste disposal habits. Make sure that you differentiate between recyclable materials and actual garbage.
Make it a habit to store recyclable material separate from the garbage. Often a lot of our waste comes from organic food items; you can reduce your organic waste by composting and cooking in measured proportions to ensure that you generate lesser waste.
#2 How do I get rid of the bad odor from my trash?
When the waste sits too long in your garbage bin it starts to smell. Take out your trash frequently. You can also minimize the bad odor by getting a trash can with a sealed lid that prevents the odor from escaping out. Avoid throwing liquids in the trash can as it can give birth to bacteria which may generate a bad smell.
Another great option to get rid of the bad odor is to get scented garbage bags.
#3 Can I throw everything in the trash can?
No, check your city's website to see what items cannot be thrown in the trash can. It is usually recommended to keep batteries and sharp objects out of the trash can. You can also ask your local authority for any special requirements for your curbside pickup.
#4 What is the difference between a recycle bin and a trash can?
A recycle bin is blue in color and you can only throw recyclable material in it. A trash can comes in varying colors and you can throw both organic and inorganic waste in them.
#5 What can I do to prevent pests from toppling over my trash can?
Garbage often attracts pests especially when the trash can is placed outdoors. Use a trash can with a tight lid to prevent pests from creating a mess in your patio. It is also recommended that you get a trash can that weighs heavy so that it is not easily toppled over by heavy winds or pests.