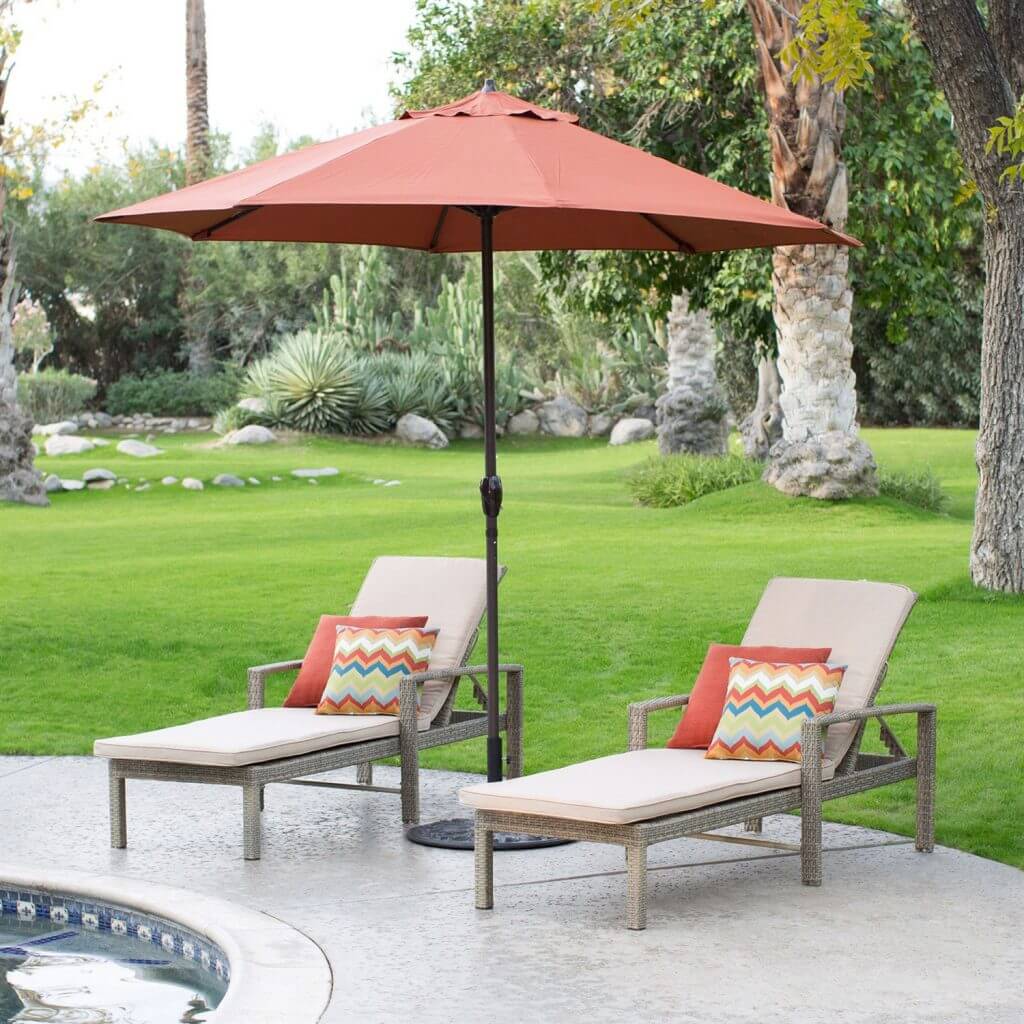 For most people, the patio is one of the most important sections of the house. During the summer especially, nothing beats a nice and warm afternoon on the patio while enjoying some cold drinks and some tasty grilled meat.
The unsung hero of all those moments to remember is usually the patio umbrella. They help us spend some quality time under the sun without having to worry about getting skin burns or the harmful rays of the sun.
Apart from protecting you from the blazing sun, patio umbrellas are a great accessory for your exterior decor. When it comes to choosing the ideal patio umbrella, there is no general rule that applies to every situation.
Tips on Buying the Best Patio Umbrella
Different homeowners fancy different styles and this influences the preferences they have for a patio umbrella. Depending on what the property owner is looking for, the following is a guide to choosing an umbrella that best fits your patio.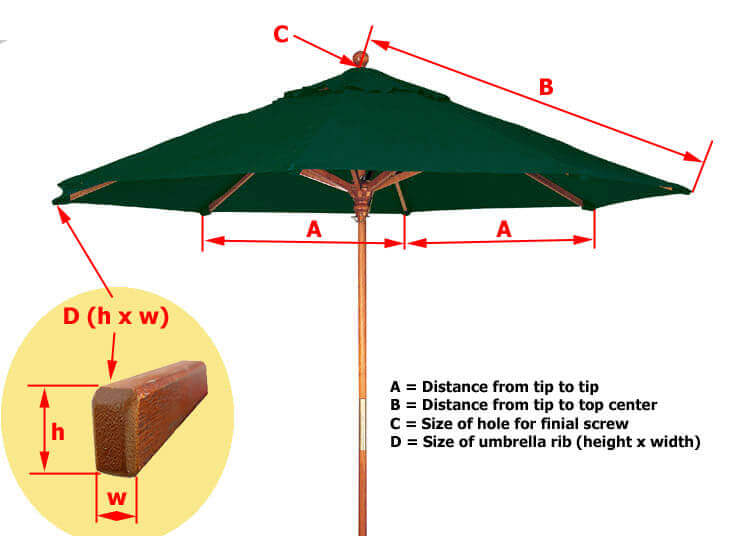 Among the most important considerations for the best patio umbrella is size. Finding the suitable size is crucial because whereas an oversized umbrella will reduce the natural aesthetic appeal of the patio; a small one will provide insufficient shade. Experts recommend that you get the right measurement of your patio before you go shopping for one.
Generally, the minimum size of the umbrella ought to be at least the table's width and have an extra width of two feet on either side to make sure the shade is sufficient. The extra shade room will also allow you the pleasure of pulling your chair back without worrying about the sun's glare.
Choosing the proper fabric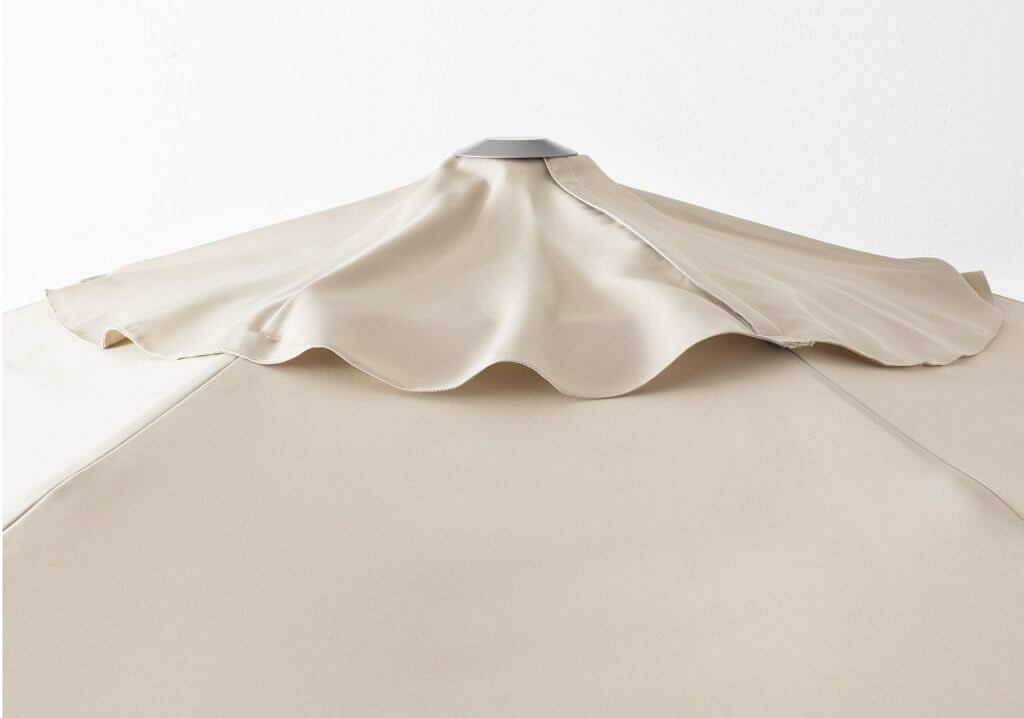 Selecting the canopy of a patio umbrella should not merely depend on the decor you want to achieve with surrounding home elements. The material it is made of is crucial to determining its general functionality.
If you are in a region that experiences sunlight, choose a fabric that is UV-resistant to block the harmful sun rays. Typical outdoor umbrellas are made using plastic and other light fabrics that fare well in a sunny weather. Look for fiberglass umbrellas that are wind resistant to prevent the frame from bending if you stay in windy areas.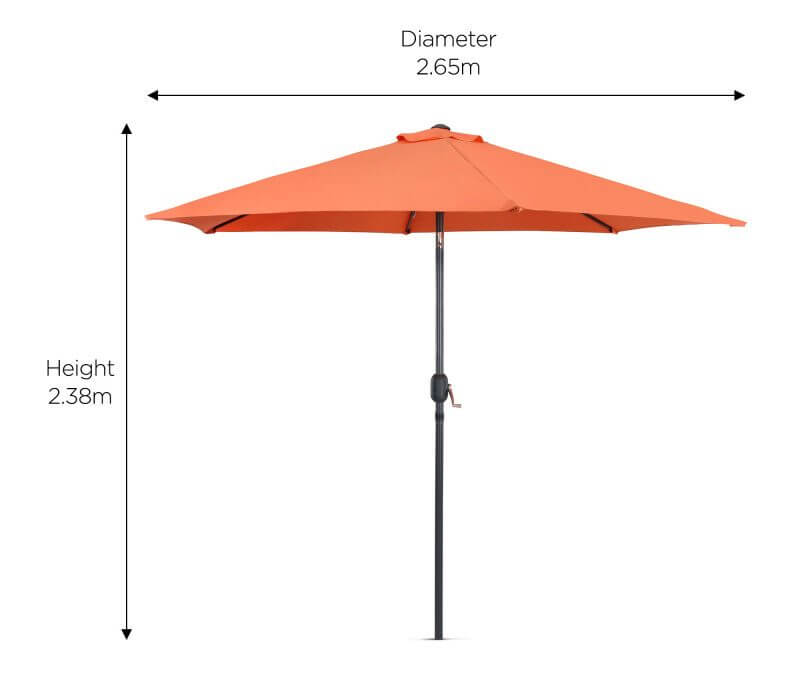 Depending on your intended use for the patio umbrella: the height is another important feature to consider. if you are planning to use it for hosting parties, the best outdoor umbrella should stand tall enough to comfortably accommodate standing adults. However, it shouldn't tower so high that it undermines its function as a shade provider. To find the perfect balance, it should ideally stand at a height range of between 7-8 feet. No more or less!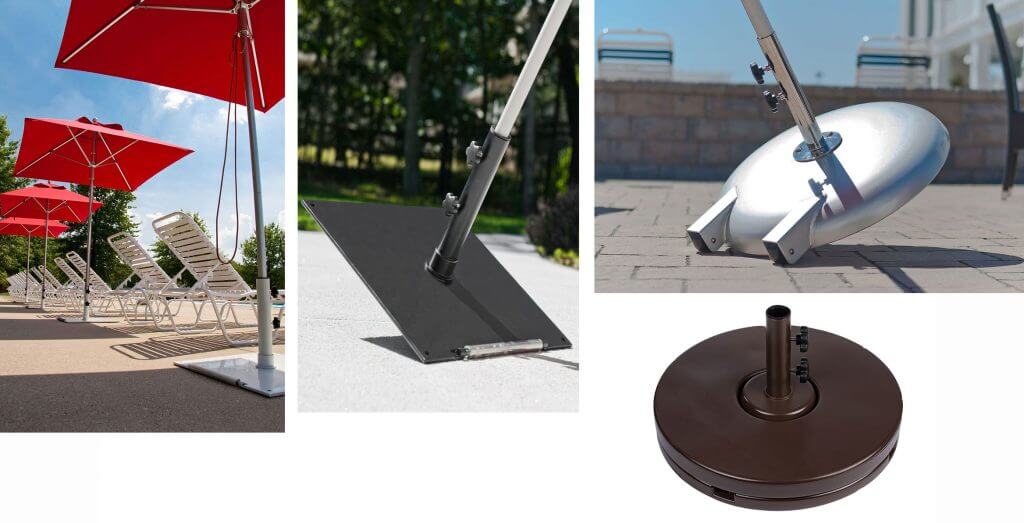 Given that patio umbrellas are installed by being fixated on the ground, it is essential that they have a sturdy base. A strong foundation will ensure stability and protect the umbrella from being blown away by gusty winds. The taller and wider the umbrella is, the bigger and heavier its base needs to be. When you are out shopping, remember to look for an umbrella with a base stable enough to effectively complete the appearance of your patio.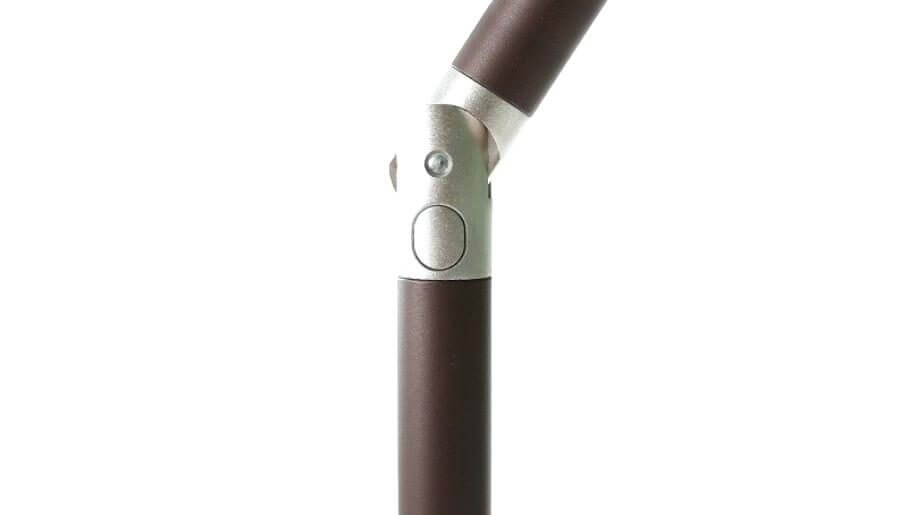 Sometimes, patio umbrellas may not be effective because the sun is constantly moving and this allows rays to get is the person sitting under the umbrella. With this in mind, manufacturers have introduced the tilt function to enable users to adjust the angle of these umbrellas for continued protection from the sun. Generally, there are three different styles of tilt systems that include auto-tilt, collar and push button.
Depending on your preference, you can choose the auto-tilt for its ease of use or the collar till which offers a greater range of angles.
Below are the best patio umbrellas that meet all these buying guides.
Our Top 8 Best Patio Umbrella
In a hurry? Just check the quick editor's choices:
1. Sunnyglade 9′ Patio Umbrella
This umbrella is completely made of polyester which makes it waterproof and gives it the ability to block up to 99% of the sun's harmful ultra-violet rays.
The polyester is tough and long lasting making it fade-resistant, easy to clean and resistant to mold and dew. The tough canopy will see it last for many years without any damage.
The umbrella has a 9 feet diameter which makes it ideal for large tables of up to 54 inches across. It also features a powder coated and rust-resistant aluminum pole for support. The pole is 4cm thick which gives it the strength against strong winds.
For your convenience, it has a button for easy opening.
Pros
Affordable price
Lightweight
Colors are nice and bright
Easy to crank
Durable
Cons
Material is cheaply made
Umbrella won't stay upright
2. Tommy Bahama 7ft. Vented Fiberglass Beach Umbrella
This one is versatile enough to be used both at the beach and on your patio. it is 7 feet in diameter and features an aluminum pole with fiberglass ribs to hold it open. It features a vent at the top of the canopy that gives it a high wind tolerance.
Additionally, it has an ingenious tilt mechanism to allow for easy adjustments as the sun shifts its position in the sky.
For your protection from UV rays, the umbrella canopy is lined with a special type of silver to block the rays.
Pros
Lightweight
special tilt function
100% UVA and UVB ray coverage
Cons
Some users complain that the umbrella is flimsy
3. Le Papillon 10-ft Offset Hanging Patio Umbrella
This large umbrella has a diameter of 10 giving you more shade for your outdoor setting. It is great for patios of all sizes. The canopy is made of polyester which gives up to 98% protection from UV rays. It is also easy to clean and is fade-resistant.
With a light-weight aluminum pole, the umbrella is rather easy to move considering its size. Unlike most other patio umbrellas, this one features a crank and cantilever operation system for raising it and putting it down.
Its slide and lock mechanism allows for multiple angles of shading.
As expected, it has a vent at the top to make it wind resistant and to enhance stability.
Pros
Affordable
Crank mechanism to adjust rotation and angle
Anti-fade cover
4. Abba Patio Outdoor Patio Umbrella
This 9 feet wide umbrella is ideal for large tables of up to 54 inches in width. Its recycled polyester fabric has been tested for over 1000 hours to ensure it is UV resistant.
It is also water and fade-resistant. The pole is made of aluminum with steel ribs to hold the canopy.
It also has a crank mechanism for convenient closing and opening. To tilt it, you simply push a button. The canopy is vented for easy air flow and wind resistance.
Pros
Made with 100 percent recycled polyester
Provides great shade
Has a tilt option
Vented canopy
Durable
Cons
Actual umbrella smaller than expected
5. Sundale Outdoor Solar Powered LED Umbrella
If you are looking for something that you can also use at night, then this is the patio umbrella for you. It has an easy-to-use crank that opens and closes at the push of a button. It has 32 LED bulbs that can be used at night for lighting.
The canopy is made of a fade resistant polyester fabric that is also water resistant and offers UV protection. For storage, it has a special and convenient velcro strap. It is also air vented at the top for enhanced stability.
Pros
Inexpensive
Solar panels and LED lights on the ribs
Lightweight and anti-rust frame
Cons
The umbrella weights are not included
6. EasyGo – Thatch Patio Tiki Umbrella
For a truly tropical feel, look no further. The umbrella offers a 6.5 feet canopy and has heavy-duty steel ribs and poles. The poles are finished with wood color plastics to make them look like they are made of tropical wood.
The eco-friendly canopy is fade resistant and is easily adjusted using a tilt mechanism for maximum shade. The vented canopy provides the required wind resistance. One great after-market feature that the manufacturers provide is a 30-day return policy if you are not satisfied with this patio umbrella.
Pros
100% satisfaction guaranteed
Effective UV protection
Eco-friendly materials
Cons
It quickly becomes rusty
Special equipment is required in order to use it
7. AMMSUN 7ft Beach Patio Heavy Duty Umbrella
It features a stylish flower design and a 7 feet canopy. It is versatile enough to be used both on patios and at the beach. The air vented design facilitates proper air flow.
The zinc tilt mechanism maximizes shade by giving you many options to position the canopy.
The polyester material is coated for up to 99% protection from harmful sun rays and is also water resistant. it has a steel pole with 10 steel ribs holding the canopy in place. The umbrella comes with a fabric bag for easy carrying and storage.
Pros
Comes with a matching carrying bag
Superior material and construction
The lightweight design makes moving it easy
Beautiful and unique appearance
Cons
Doesn't come with an anchor
A strong wind can make it flip inside out
8. Picnic Time Outdoor Canopy Sunshade Umbrella 5.5′
If you are looking for something portable and versatile then this will meet your needs. With a 5.5 feet canopy, it provides enough shade for a small patio while still being light enough for picnics and other outdoor activities. It has a special drawstring bag with a carry strap for convenient transportation.
The canopy is made of polyester for easy cleaning and protection from UV rays. The two-piece steel pole has tilt features with a pointed end for easy penetration for when you want to peg it to the ground. at 6feet 8inches in height, this umbrella will definitely suit people of all heights. The manufacturers offer a lifetime guarantee on this patio umbrella.
Pros
Large 5.5′ diameter canopy
Light weight, easy to carry
81-1/2 inch steel pole
Great For The Price!
Is Cheap Patio Umbrella Worth to Buy?
The main reason to get a cheap patio umbrella is the price. Cheap does not always mean poor quality, but you are taking a risk by buying the cheapest patio umbrella you can find.
Of course, the opposite is also true: an expensive umbrella is not necessary of better quality than the cheap dollar store varieties.
And regardless of the quality of an umbrella, some particularly bad weather could destroy it unexpectedly a week, a month or a year after you bought it. This is something to consider before you spend a lot of money on a patio table umbrella, when a cheap umbrella might end up lasting just as long.
Conclusion
While there are many options out there in the market, many of the products are sub-standard and do not offer you all the required features. Nevertheless, with the above list, you are now well equipped when looking for the best patio umbrella to buy. All the umbrellas listed above are made of the best materials and offer you all the protection and convenience that is required in a patio umbrella.