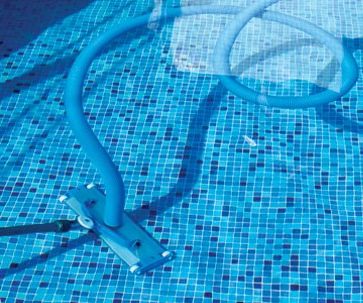 When it comes to the beauty of our homes, one place that really makes a big difference is the swimming pool.
This is one of the reasons we are constantly looking for the best pool cleaners on the market.
But, where do you start when you are bombarded with all the different brand names and designs?
Well, in this article, we will be discussing 9 of the best pool cleaners you can choose from. The cleaners were selected based on their durability, cost-efficiency, and performance.
Let's get started…
The Top 9 Best Pool Cleaners
In a hurry? Just check the quick editor's choices:
If you are tight on budget, then this XtremepowerUS may just be what you're looking for.
This is the cheapest cleaner on our list, costing less than $100. Just because it's cheap, does not mean that it won't get the job done.
The pool cleaner efficiently cleans the bottom surface and the wall. The cleaner comes with 10 hoses. The hoses are suitable for swimming pools that are 30 feet or less.
So, if your pool is bigger than this, then this may not be the best cleaner for you.
For the cleaner to work effectively, it needs 1600 GHP or at least 1 HP pump. You can attach it to your pool's filtration system.
A weighted stabilizer has been added to help you maintain your balance in the water. The stabilizer uses seal clips. For every 3-feet of your pool's depth, you have to use a single clip.
Pros
Easy to set up
Adjustable hose lengths
Value for money
Great vacuum power
Cons
Doesn't clean shallow ends that are less than 3 feet deep.
Gets stuck occasionally
This is for all those who love a quiet, yet powerful suction pool cleaner.
The cleaner works great with low-speed pumps maximizing efficiency. It is able to clean floors, walls as well as the steps of the pool.
Unlike most cleaners, this one can clean tiles, concrete and vinyl surfaces.
It gets rid of small and medium-sized debris. The cleaner has a FlowKeeper Valve that regulates the flow of water. This valve enhances the cleaning performance of the cleaner.
There is also a Wheel Deflector that allows the cleaner to move smoothly around tight corners.
The cleaner is made from the one-moving-part-technology. This technology works by moving only one part of the Long-Life Diaphragm. The pool cleaner, therefore, does not require any wheels, flappers or gears.
Pros
Quiet
Easy to set up
Efficient
Durable
Versatile
Cost-effective
Cons
Some parts wear out with time
Fails to clean large-sized debris
This 2-wheel drive pool cleaner is suitable for pools that are up to 16 feet by 32 feet.
The tire treads climb and deal with obstacles such as uneven surfaces. If your swimming pool has a unique shape, then this cleaner will come in handy.
The adjustable roller skirt improves suction on surfaces that are uneven while the self-adjusting turbine vanes offer great power. The turbine vanes also allow the passage of large debris.
The steering system of the cleaner works by periodically making the left wheel move in the reverse direction. This ensures full coverage of the pool.
The cleaner has 5 different programmed turns that range from 90 degrees to 450 degrees. This makes it possible for it to clean both the deep and shallow end of your pool.
Pros
Low maintenance
Great performance
Excellent steering system
Can clean pools of different shapes
Durable wheels treads
Full pool coverage
Easy to set up
Cons
Has no brushes for rubbing
Not efficient at removing algae
This robotic cleaner is great for people who have large swimming pools.
The cleaner can work on pools that are 50 feet or less.
The filter system has 2 full sets of filter cartridges that are responsible for filtering out both small and large debris. The cartridges can be accessed with ease.
There is a swivel cable that allows complete coverage of the pool. The cable enables the cleaner to spin and rotate 360 degrees.
One amazing feature of this cleaner is that it is not dependent on your pool's filter and pump. This makes it be energy efficient.
Unlike most cleaners that just swirl around your pool, this cleaner uses CleverClean Technology to scan and completely clean your pool.
It can scrub, vacuum and filter swimming pools that of different shapes and surfaces. In addition to this, the cleaner uses the Dolphin Swivel Technology to prevent tangling.
Pros
Easy to clean
Does not tangle
Quiet
Easy to set up
Functions independently
Durable
Advanced filtration system
Cons
Does not clean the steps
It is heavy
This pressure pool cleaner is suitable for in-ground pools.
First thing's first, for the cleaner to work it requires a Polaris Booster pump that you have to buy separately.
The cleaner comes with a 31 feet hose and has a 3-wheel design. It vacuums, sweeps and scrubs the bottom of the pool as well as the walls.
The cleaner is driven by double jets. This provides maximum vacuum power and enhances faster cleaning. The backup valve of the cleaner frees it when it encounters an obstacle.
It has a filter bag that removes the debris before they reach the filter or pump basket. This prolongs the shelf life of the filtration system.
The pump has excellent power that allows the cleaner to work optimally.
Pros
Lightweight
Easy to use
Powerful
Has a sleek design
Comes with a filter bag
Easy to set up
Cons
Booster pump is sold separately
The swivel tends to tangle
It doesn't clean steps very well
This is yet another cleaner that is great for in-ground pools.
The durability of the Pentair Automatic Pool Cleaner is what sets it apart from most pool cleaners on the market.
This easy to use cleaner has an effective vacuum that will leave your pool clean and free from any debris.
The cleaner uses the Smart-Trac steering system to move smoothly around tight corners and any other obstacle. This system results in fast and maximum cleaning performance.
If you are looking for a pool cleaner that will get the job done in the shortest amount of time, then this is it.
The cleaner has been fitted with a Vac-Port Door that has a spring-loaded cover. This feature makes the cleaner to be safe.
Pros
Easy to install
It cleans stairs
Efficient
Effective vacuum
Safe to use
Cons
Not ideal for large pools
Randomly floats at the surface
This pool cleaner has a low-flow design that makes it perfect for pools that have 2-speed.
The cleaner is also ideal for pools that come in different speed pumps.
One word that sums up this cleaner perfectly is ultra-efficient. The cleaner comes with a Weir Valve, Twist Lock Hose Lengths, Twist Lock Elbow, Floe Regulator Valve, Hose Protector, and a Hose Float.
The cyclonic suction provides powerful vacuuming. The turbine blades, on the other hand, can effectively climb the walls of your pool.
The flow of the water is controlled by the Flow Regulator feature.
As great as this cleaner is, it is only suitable for people who have small or medium-sized pools. So, if you have a big pool, then you will have to pass on this one.
Pros
Ultra-efficient
Powerful
Easy to set up
Can clean the side walls
Easy to clean
Lightweight
Cons
Not ideal for large pools
Hose tends to disintegrate after some time
If you have an Intex pool, then you've probably heard of this cleaner.
The Intex Pool Cleaner was designed for Intex above-ground swimming pools.
The first thing you have to do before using the cleaner is to ensure that you have a filter pump with a flow rate ranging from 1600 to 3500 gph. The cleaner comes with a 24 feet hose. For maximum performance, make sure that the cleaner is set up well and the pockets removed from the hose.
When it comes to the price, this is the second cheapest cleaner on our list. You can get the cleaner for under $120.
For an automatic pool cleaner that works effectively, this price is just perfect. One setback of the cleaner, though, is it only works on surfaces that are smooth.
Pros
Value for money
Fully automated
Easy to use
Durable
Easy to set up
Cons
Not suitable for inground pools
Only applicable to Intex pools
Only works on smooth surfaces
This is by far the best Dolphin pool cleaner in the market.
The cleaner comes with unique features such as 4 different types of multimedia, an oversized bag, and dual filter cartridges. You can switch between the different types of media to suit your needs.
The DC motors of this cleaner reduce the amount of energy you use by up to 87%. The cleaner has Smart-Nav software that is controlled by a microprocessor.
This software provides optimized scanning. With this feature, the pool cleaner increases its pool coverage resulting in a clean pool.
There is a swivel system that provides 360 degrees of rotation. This system prevents the cleaner from tangling. Another great feature of this cleaner is the dual scrubbing brushes.
The brushes scrub the surface of the pool and effectively vacuums it away.
Pros
It is tangle-free
Energy efficient
Easy to use
Easy to maintain
Automatic
Multimedia system
Cons
Heavy
Doesn't clean steps
Expensive
How to Choose the Best Pool Cleaner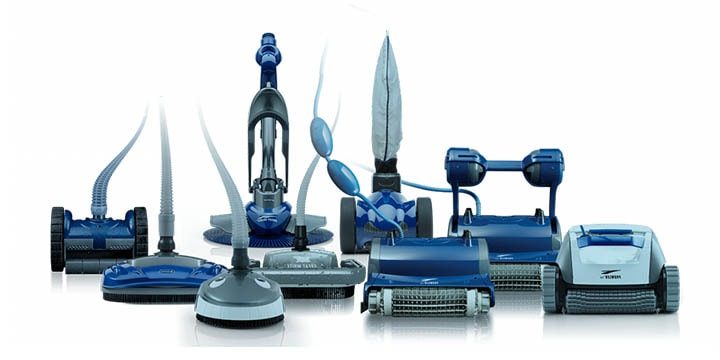 We all know it, cleaning your pool is an absolute pain. Most of us would fight by hook or by crook until our gums bleed out just to not have to do it.
This is why pool cleaners are such a desirable product, they make the task of pool cleaning all that much more bearable.
You can just sit back, relax while it does the work and laugh at everyone doing it by hand, however, these are expensive machines, and it's important to know which one to get.
It takes the right knowledge to be able to choose the right robotic cleaner for your swimming pool. Take note of the following factors when you shop for it.
These are the important things to look for when buying the best robotic pool cleaner.
1. Pool Type
Suction Pool CleanerPressure Pool CleanerRobotic Pool Cleaner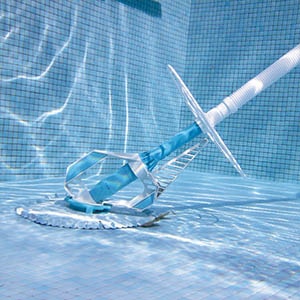 These cleaners are plugged into a hose and just suck up whatever's making your pool dirty. There are inertia driven and robotic suction cleaners, the inertia ones are by large, an outdated product, as it takes them much, much longer to clean the whole surface of the pool than it does a robotic.
They are also by far the cheapest variety of cleaner to maintain, this means that if maintenance costs are what worry you, you should probably get a suction cleaner. These are also good because they don't require any extra facilities to work, they just work straight out the box.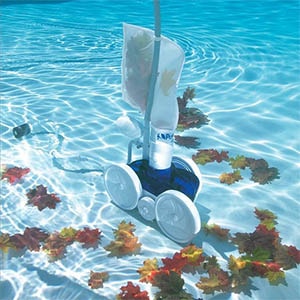 Pressure cleaners are powerful, more so than suction cleaners, requiring an extra booster pump is most of where their flaws stem from. They require either an additional hose connection on the pool wall or some models will connect straight to the connection you already have on it.
However, due to the large amount of pressure that pressure cleaners require, this may affect the filter in the pool negatively and wear it out much quicker than if you were using a different kind of cleaner.
Depending on the strength of your filter, and whether or not you have the secondary connection on your pool wall to put a hose without one in, these can be the most expensive sort of cleaner to maintain.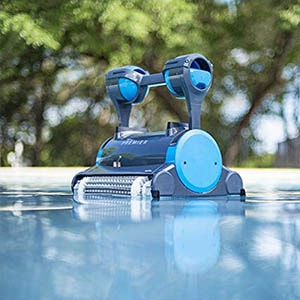 There is a brand-new method of pool cleaning which has been introduced to the pool cleaning world recently, robotic cleaners could be said to have made a minor revolution since their debut.
They are effective at all sizes, being able to clean out any pool you put them in, as well as having the debris cleaning capabilities that are entirely unrestricted by the size of the debris.
The engineering within these machines is top-notch, coming with an integrated microprocessor that scans the pool surface and allows the robot to decide the most efficient and thorough cleaning of your pool.
There are even pre-programmed models and those that come with a remote, almost like several thousand dollar RC car. However, this type is not without its flaws, being unable to function without electricity is a deal breaker for many pool owners, as they don't want electricity near their pool.
2. Pool Size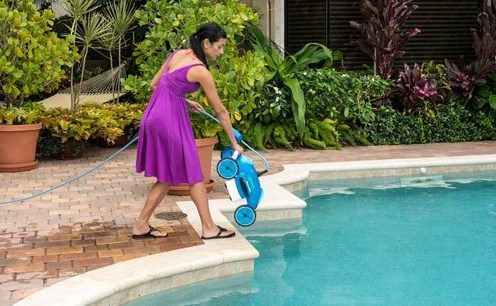 If you've been reading our robotic pool cleaner reviews, you've probably come across the fact that robotic pool cleaners can clean a specific pool size.
The size of your pool is a key part of your decision when looking to buy the best robotic pool cleaner.
Each commercial pool robotic cleaner has its own specific maximum pool size capacity. It also has a specific cord length. So be sure to keep this factor in mind when shopping for the best automatic pool cleaner.
If you have a small to medium sized residential pool, choose the best pool cleaner for small pools. On the other hand, you can also find pool cleaners that are suitable for larger pools. There is always a model or unit to suit your needs.
3. Pool Surface
It is also important to consider your pool surface when choosing the best robotic pool cleaner. Make sure you know the type of pool surface you have at home. Remember that some pool cleaners are designed to clean all types of surfaces.
However, there are some that may damage some surfaces, such as tiles or fiberglass. The most common types of surfaces are tile, fiberglass, concrete and vinyl. Be sure to choose the robotic pool cleaner that works best for your pool surface.
4. Wall Climbing Ability
If you really want to find the top of the range robotic pool cleaner, another factor to consider when shopping is the machine's ability to climb walls. Please note that this depends on the manufacturer's design.
Some models can only clean the floor, which means you will still need to manually brush the pool walls. On the other hand, some models are made specifically as wall climbers.
5. Cleaning Cycle
Another important factor to consider when buying the right robotic pool cleaner is the cleaning cycle of the machine. It should be noted that some pool cleaners have single cleaning cycles, while others feature multiple cleaning cycles.
The single cycle models can determine how many hours the machine will operate before shutting off automatically. On the other hand, multiple cycle models usually range from 3 to 8 hours.
6. Filter
When shopping for robotic pool cleaners, consider the filtration system of the unit. Commercial robotic pool cleaners come with internal filtration in order to collect debris and filter the pool water.
The filter in the unit will either be a cartridge or a bag. It usually depends on the brand.
Whether you choose the first or the latter, both of them need to be cleaned and can be reused. Both of them do their job efficiently.
Most of the people who have been using robotic pool cleaners say that a cleaner with a cartridge filter system is easier to clean.
7. Cord
If you are planning to shop for a robotic pool cleaner, it is important to note that cord length is an essential factor to consider. Some models have short cords, while others have longer cord lengths.
If your swimming pool is a bit far from the power outlet and if you have a large and deep pool, it is best to choose the ones with a 60-feet long cable or longer than this.
Models with longer cords have one major downside. They easily tangle. Pick a brand that guarantees tangle-free operation.
8. Size and Weight
Of course, when you buy a robotic pool cleaner it is essential to consider its size and weight. There are pool cleaners that are lightweight, while others are quite heavy.
Needless to say, lightweight and small pool cleaners are easier to carry and use. You can easily move them from one place to another.
If you have a small-sized pool, it is advisable to opt for such a type of robotic pool cleaner.
However, most of the heavy-duty robotic pool cleaners are heavy weight and in huge size. Most of the time, their size and weight are synonymous with a more efficient performance.
It is to be expected that these models are hard to carry around.
9. Caddy
Most of the available commercial robotic pool cleaners have caddies. These particular carts are helpful when using a robotic pool cleaner. They are beneficial for easy storage and transport.
When you shop for robotic pool cleaners online, most of the high end brands include a caddy. However, there are times when you need to pay extra for this particular tool.
10. Brand
Robotic pool cleaners have flooded the market. However, there are certain brands that have already made a name in the industry of automatic pool cleaners. They are known for their efficient line of products.
When shopping for a robotic pool cleaner, you can choose from different trusted brands:
Aquabot – Aquabot is one of the leading brands in the world of robotic pool cleaners. The company manufactures high performance robotic vacuum cleaners. It is the brand's primary mission to provide an enjoyable pool experience for everyone. They offer some of the most comprehensive lines of commercial and residential robotic cleaners on the market.
Maytronics – Maytronics is another big name in the industry of automatic pool cleaners. The brand was born in 1983. Since then, the company has been producing a wide range of environment-friendly automatic pool cleaners with exceptional quality and performance.
Hayward – Hayward is an American company that offers cutting-edge, environment-friendly selection of robotic pool cleaners. The brand has been a name in the industry. It takes pride in providing a wide array of robotic pool cleaners for both residential and commercial pools.
11. Replacement Parts
Some parts of the robotic pool cleaners need to be replaced on a regular basis. Some of these parts include the cartridge or filter bag. And some parts also need to be replaced including the handle, brushes and bearings, drive belts and impeller.
Most of the parts mentioned are readily available. However, it is a good idea to check on parts before making a purchase.
12. Budget
Another important factor to consider is your budget. As a rule of thumb, expect high performance pool cleaner if you spend a huge amount on it.
There are available robotic pool cleaners that do an amazing job at a reasonable price.
Conclusion
All the pool cleaners discussed in this article have different purposes and functionalities. But one thing's for sure, you can never go wrong with these 9 cleaners. So choose the cleaner that best suits your need, and enjoys a debris-free swimming pool.