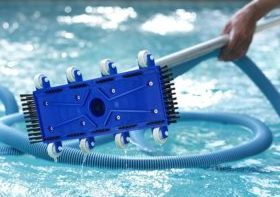 Being a pool owner, you would be well aware of the significance of keeping your pool clean to prevent it from getting contaminated and to avoid the build-up of debris in it.
But since, stagnant water is home to all these issues, including the growth of molds; you can't completely eliminate their likelihood.
But what you can do is, get good quality and powerful pool vacuum head for cleaning up all this mess from your pool.
The best pool vacuum head will not only take care of the debris and dirt on the pool floor and walls but will also provide cleaning on the surface of the water.
So, this week we are reviewing the best above & in-ground, manual and automatic cleaner heads for your pool to help you choose one from, and we are sure to surprise you with our top pick.
Take a look!
Buyer's Guide Pool Vacuum Heads
Before you take your pick, you need to keep certain things in mind. Let's have a look at them!
Adjustable Hose
Make sure your vacuum head has an adjustable hose as it will make it useful for pools of different shapes and sizes while keeping the same performance.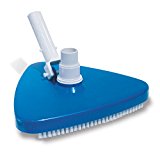 Hose Length
Make sure that the hose is long enough to at least reach from one corner of the pool to the other.
The ability of Navigating Steps
Some cleaners come with this ability to navigate and climb the steps if needed. So, it will be better to go for those.
Pool covers
Check if your cleaner can be used when your pool has a cover on it.
How Long Do Pool Vacuums Last?
The lifespan of these pool vacuums majorly depends upon their usage and maintenance regardless of their type. Proper maintenance can significantly increase their lifespan and vice versa.
Since these cleaners come with a few integral parts, these parts need to be replaced whenever they go bad. So, regularly checking and replacing old parts with new is mandatory for making your vacuum last longer.
Other than that, hoses must also be examined every season as they are prone to get cracked or broken quite easily. Furthermore, running your cleaner too fast also results in decreasing its lifespan.
The reason is that the faster it moves, the quickly its parts wear out, so if you want your vacuum to live up to a couple of years then be gentle and don't rush it.
If you take care of all of the above-mentioned things than your pool vacuum can easily live up to at least 2-3 years without any major damage.
1.

Poolmaster 27412 Vinyl Vacuum Head
27412 is one of the premier collection pool vacuum heads by Poolmaster because of its highly durable and premium quality material along with brilliant performance. That all makes it hands down, the best one out there. So, it is perfect for all of you who never compromise on quality and features and want your pools sparkling clean all the time.
This product is specifically ideal for cleaning vinyl pools and is extremely easy to use. The lightweight and user-friendly design of this vacuum head make cleaning fatigue free. And because of its super sturdy material, it keeps cleaning your pools year after year without much damage to itself.
This pool vacuum head is not at all heavy on your wallet and yet very effective in its job. The compact size and exclusive design of this vacuum head are made to easily reach all of the thinnest corners to completely clean it all up without much effort.
The heavy base of the cleaner keeps the head from floating around, and hence, making it a stress-free task for you. With the under-body bristles, the vacuum head is specially designed to provide you with great underwater control and cleaning power. The bristles easily scrub off all the debris and grime from your vinyl pools while maintaining the vacuum heads' submerge ility.
Furthermore, the cleaning path of the vacuum head is 12 inches, which is wide enough to let you clean your large pools in lesser time periods. The product comes with a mar-proof perimeter bumper and works equally well with about all the pool poles and vacuum hoses.
Why we liked it
Perfect for debris removal from vinyl liner pools.
Carries a low-profile, wide design with lightweight.
Great grip and underwater control.
Comes with mar-proof perimeter bumper and replaceable polypropylene brushes.
Highly durable.
Compatible with both vacuum hose and standard pool pole.
2. Milliard Extra-Wide Pool Vacuum Head
This one by Milliard has an Extra-wide 19 head that makes it quite a beast and a heavy-duty pool vacuum head. This head is pretty flexible with its ball bearing urethane wheels and due to its extraordinary performance, it is considered to be one of the best pool vacuum heads.
Milliard Extra-wide is made of extremely flexible ABS plastic that makes it very durable and sturdy for everyday use. There is nothing that can escape its monstrous grip, be it bugs, leaves, sand, debris or any other thing, this cleaner cleans them all.
The urethane wheels of the cleaner help in keeping it damage free. They further help you in easy cleaning of the uneven surfaces while providing exact height for ideal suction. The evenly distributed weights also let you maintain your contact with the pool floor with much more control.
For cleaning up, all you need to do is to attach the vacuum hose of your pool's filter pump with the suction port of 1.5 inches, and then clip a standard pool tool extension pool to the pole adapter made of aluminum, and that's it. You are good to go!
Due to its extraordinarily wide vacuum head, you can even clean the above ground pool without any fuss. Also, the cleaner with its flat edge and flexible material can easily clean up all the dirt on the pool floor by bending out of shape over debris, while giving the same access to all the corners and non-flat areas of the pool as well.
Why we liked it
Heavy head keeps it along the bottom for easy cleaning.
Made of ABS plastic and an aluminum handle to ensure durability.
Comes with spring loaded locking clips on its handle for attaching the extension pole.
Extra-wide 19 inches head for quick and convenient cleaning.
Molded urethane wheels provide smooth movement.
3. Swimline 8145 Triangle Vacuum Head
Swimline 8145 is the ideal cleaner for you if you have a very large outdoor pool that requires something extra powerful for cleaning purposes. Since outdoor pools are prone to be contaminated way faster than smaller pools, you need a much more efficient pool cleaner that can make the job easy and stress-free for you.
With its special and unique design and non-marring edges, this product is ideal for fiberglass and vinyl liner pools. The triangular shape of this cleaner makes it the perfect choice for thoroughly cleaning up the corners of your pool. And they also help in cleaning more areas in a lesser time period which is totally brilliant.
The built-in angled brushes in the cleaner quickly pick up all the debris and dirt in the pool. The design of this product is very tough and is weighted stable and heavy enough to stay under the water while you do the cleaning. The ABS plastic material of the cleaner is also highly durable.
The cleaner comes with a universal Snap-Adapt handle for a fuss-free assembly and it can easily fit both 1-1/4 inch and 1-1/2 inch pool vacuum hoses. This cleaner, with all of these amazing features, is not only super-efficient in its job but is also highly economical. So, you can still go for it even if you are on a budget.
Why we liked it
Powerful and heavy-duty cleaning head that is ideal for larger outdoor pools.
Comes with a stable weighted bottom for greater control under water.
Specially designed for fiberglass and vinyl liner pools due to its non-marring edges.
The triangular shape makes the cleaning of corners and uneven surfaces easy.
Comes with angled brushes that quickly pick up all the dirt and debris.
Compatible with standard 1-1/4 inch and 1-1/2 inch vacuum hoses.
4. Splash Pools 20320 Wide Head
Another one with a wide head for easy peasy and quick cleaning of your pool is the Splash pools 20320. Being mar-proof, this professional-grade cleaner is specifically designed for cleaning vinyl liner pools. The design of this cleaner has a stable weight for staying inside the water and making the whole cleaning process less frustrating for you.
The cleaner boasts a unique brush pattern that pipes the dirt and debris directly into the suction for rapid and more efficient cleaning. The plastic head of the vacuum with the heavy cast-iron weight completely sticks to the floor while cleaning, for providing better performance and stronger suction.
With its affordable price, it is in reach of everyone who desperately needs a solution for their dirty pools that are quite easy to use as well. The cleaner is made of durable and reliable material and is sturdy enough to endure many seasons.
The Snap-Adapt handle of the vacuum is pretty versatile and is compatible to fit all the telescoping poles and above-ground vacuum hoses of a standard 1-1/4 inch and 1.5 inches. With this superb invention, cleaning delicate vinyl pools has never been easier.
Why we liked it
The weight of the cast iron makes the vacuum hug the pool floor for optimum cleaning.
Easily fits all the standard telescopic poles and above-ground hoses of 1-1/4 inch and 1.5 inches.
Wide head ensures capturing the larger area in a lesser amount of time
Quite affordable with extraordinary performance.
Ideal for delicate vinyl liner pools.
Unique side brushes for directly channeling debris into suction for better cleaning.
5. Hayward Triangular Cleaner
This terrific pool sweeper is from Hayward and is considered to be a professional-grade high-quality vacuum pool head with so many eye-popping features. The head of this cleaner is constructed of a sturdy and durable thermoplastic and is specifically designed to handle the cleaning of all kinds and all sizes of swimming pools.
From stripping away persistent debris problems to taking care of mold infestations, this cleaner does it all with its inimitable and exceptional technology. So, this triangular cleaner is quite a catch for all of you with larger and outdoor swimming pools.
The cleaner comes with an advanced swivel head and is compatible with both 1-1/2 inch and 1-1/4 inch vacuum hoses. The 360-Degree swivel hose connector lets you move the vacuum and its head without much effort on the pool floor. On the other hand, the see-thru head of the cleaner, apart from being pretty stylish, also gives you the bottom view while cleaning.
The cleaning path of the vacuum is wide enough to cover a good amount of area at a single time to provide faster cleaning. With its three built-in brushes, the debris is scraped off and swept away from the floor at a guaranteed fast pace.
Not only it is great for pool floor cleaning but it can also be used for cleaning the pool's staircase along with each and every nook and cranny of your pool. It further ensures that the pool stays damage-free during cleaning while keeping a persistent performance throughout. Making your pool look clean can also help the look of your garden, which also helps when you have your lawn mowed to perfection.
Why we liked it
The praiseworthy see-thru design ensures fast and easy cleaning.
Comes with a 360-Degree swivel connector.
Features long-wearing brushes for quickly loosening up stubborn debris.
The triangular shape ensures the cleaning of all the corners and uneven surfaces.
Offers optional weight package for extra convenience.
6. Poolmaster 27400 Air Relief Vinyl Vacuum
This one, again from Poolmaster is from the classic collection of the brand that offers a wide range of performance selection and is constructed from resilient components that make it last for years while keeping your beloved pool as clean as new.
This classic vinyl pool vacuum head makes it such a fun filled job to clean your pool because of its weighted design. This model features a stainless steel tension spring handle for vinyl liner and fiberglass pools that help in keeping the vacuum head submerged into the water while providing complete suction to the pool floor.
The vacuum cleaner features a pretty wide cleaning path of 13 inches that makes the job less time-consuming. Also, the ABS plastic material of the cleaner along with its two self-adjusting air relief valves not only make it sturdy but also aid in controlling the suction amount that the vacuum creates.
Keep an eye on your garden and pool with these top security cameras for outdoor use.
The Air Relief 27400 boasts a lighter design than most of its competitive models, which makes its handling easy. Moreover, the soft perimeter brushes of the cleaner sweep away all the dirt and filth from your pools floor and walls without causing a single scratch or a tad bit of damage to your pool
This cleaner is compatible with vacuum hoses of 1.25 inch and 1.5 inches and its swivel function hose adaptor allows for kink-free maintenance of your cleaning operation. And on top of everything else, this model is not highly-priced so anyone of you can easily afford it.
Why we liked it
Comes with a powerful 13 wide cleaning path for covering a bigger area.
Strong and flexible ABS body and lightweight.
Efficient in removing debris and dirt from the vinyl liner and fiberglass pools.
Features adjustable air-relief valves for controlling suction.
Features a low-profile design with integrated perimeter brushes.
Affordable in price.
7. Hydro Tools 8165 with Side Brushes
This remarkable pool vacuum cleaner is ideal for you if you want to experience a quick and flexible pool cleaning adventure either at home or at some big fancy commercial place. This cleaner is amazingly efficient for both domestic and professional level cleaning purposes and is one of the best pool vacuum cleaners you will come across.
Like all of our selected cleaners, this one also features a weighted head that makes it durable, reliable, bendable and stable enough to be moved around easily under the water while keeping its level closely maintained to the pool floor for better coverage.
Also, the easily maneuverable design of the cleaner, in comparison to many other poor models, does not put much strain on your arm and hand and makes the whole handling thing quite convenient. The 8165 also features side brushes that are inbuilt and they play a major role in loosening up the grunge and debris buildup from the floor and walls of your pool.
The vacuum after lifting the dirt from the floor channels it directly to the system for a neater cleaning. And the standard Snap-Adapt handle of the cleaner, along with its adaptable design can be easily used with most vacuum hoses of 1.5 inch and 1-1/4 inch.
The Hydro Tools 8165 by Swimline is constructed of ABS plastic that makes it damage-free and stain-free while lasting for several seasons. And the maintenance of this vacuum cleaner is also very simple and easy.
Why we liked it
Comes with a weighted head attachment for cleaning of concrete pools.
Features a snap-Adapt handle that fits both 1-1/4 inch and 1-1/2 inch vacuum hoses.
Features built-in side brushes for stress-free cleaning of pool walls and floor.
High-Quality construction material ensures durability.
Easy to maintain and clean.
8. Poolmaster 27514 Cleaner Head
Just as Poolmaster 27400 Air Relief mentioned above, this one Poolmaster 27514 is also a grade-A pool sweeper from the brand's classic collection. With its high usability and stability in subtle vinyl pools, this cleaner is the most reliable companion while ridding your pool off of that gross dirt and debris. This means you won't have wheelbarrows full of dirt to lug to the local waste disposal!
With its clear ABS plastic material, the cleaner is not only pleasing to the eyes but also pretty durable because of its non-corrosive nature. The clear see-thru body also allows you to look at the debris on the floor while cleaning it.
The cleaner boasts a powerful vacuum system that offers efficient and quick cleaning along with a stable design that prevents it from floating on the surface. It also comes with a set of replaceable good quality polypropylene brushes for a neater and more detailed cleaning in a shorter time period.
The cleaner further features a perimeter vinyl bumper that prevents the pool from getting any scratches or damage and the vacuum head can be attached effortlessly with any of the standard vacuum hoses or pool poles.
Why we liked it
Features a unique translucent ABS body for full-view cleaning.
An ideal choice for removing grunge and debris from vinyl liner pools.
Features an 11 wide cleaning path for quicker results.
Comes with replaceable channel-set polypropylene brushes for thorough cleaning.
Comes with a stable weight placement to offer floating resistance.
9. Hydro Tools 8131 Butterfly Style Head
Hydro Tools 8131 is yet another premium quality pool vacuum cleaner just like its closer relative Hydro Tool 8165 by Swimline. This model features a unique and inventive design of the pool vacuum head that looks like a butterfly and helps in cleaning every inch of your pool while providing you easy access.
Moreover, the cleaner offers a weighed design that keeps it from floating on the water surface and yet providing easy zero turn maneuvering for reaching even the smallest and tiniest corners of your pool without much hassle and effort. And it leaves your pool filth-free and sparkling clean in no time.
A great addition to have a poolside is an effective mosquito trap that keeps those pesky bugs away.
Swimline has always been known for its leadership in the pool industry due to its high-quality products and accessories related to the pool. Therefore you can be assured of the quality of the material they use for their cleaners' construction. So, this makes the Hydro Tool 8131 not only very sturdy and tough but also quite durable.
This cleaner is not only convenient for your pool but for yourself as well because of its user-friendliness. The cleaner features a fast working design that makes it ideal for cleaning pools of various kinds and sizes, whereas, its standard built-in head is designed to be fitted with vacuum hoses of 1.5 inch and 1.25 inch quite comfortably.
8131 Butterfly Head is very simple to use and maintain and can last up to several years with its stain-resistant plastic body. And lastly, but most importantly, this model is very fairly priced so money cannot be an issue while choosing this one.
Why we liked it
Comes with a strain-resistant and user-friendly plastic body.
Features a weighted design that keeps it from floating.
Easily scrubs off all the stubborn algae and dirt marks.
Compatible with both 1.25 inch and 1.5-inch vacuum hoses.
Constructed of high quality and sturdy material.
How Do I Connect Pool Vacuum Head?
No matter how tricky it might seem in the beginning, it actually is quite an easy task. First off, you need to connect the long pole to your vacuum head. And then, you are required to attach one of the ends of the hose to the vacuum head.
To find out which side of the hose is to be connected with the vacuum head should not be an issue as that side will most probably be having a swivel head. So, you can identify it from that.
How Does A Pool Vacuum Head Work?
Once attached to the hose, the vacuum head is lowered and placed at the bottom of the pool while the other end of the hose is kept in the user's hand. And then the other end of the hose is placed before the water entrance of the pool to be completely filled up with water.
The initial sign that water is entering the hose is the formation of bubbles. After that, as soon as air bubbles vanish while the water keeps entering the hose, it descends down the surface and results in the creation of suction.
After that, the hose is connected to the skimmer that is mounted adjacent to the pool through a vacuum adapter plate and is ready to use. All it needs then is the running of it on the floor to clean up all the mess.
How Can I Use A Pool Vacuum Head?
Using these pool vacuum heads is easy. Once you have set up your vacuum head as directed above and have created suction, then all you need to do is to slide it on your pool floor and walls to collect all the dirt and debris from it.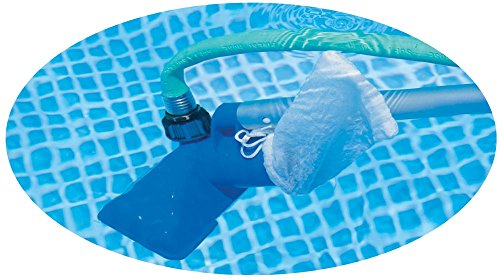 However, you need to be careful while dealing with huge heaps of leaves or debris, as it may clog the vacuum and then you'll have to start all over again with the setting up. The best way is to use it only on your pool floor and walls to clean them and then you should collect all the larger rubbish through a net.
And as soon as you are done with the cleaning, you can simply dismount the hose from the vacuum head.
Conclusion
Selection of the best and most suited pool vacuum head might have been an issue before but it shouldn't be now onward with all the information given above. With the wide variety of vacuum heads available at amazon, you can easily check and compare prices and order the one most appropriate for you.
We hope that you have made up your mind about your pick after reading this article. And if you think you need any further guidance regarding the maintenance of your pool and cleaner, you can just go to this amazing blog.