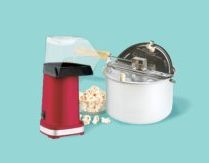 Just for the fun of it, here is a challenge: say popcorn popper ten times fast without laughing.
we bet you can't!
There is just something about popcorn that invokes happiness and joy – whether it is the smell, the taste, or just the experience of trying not to touch anyone's hands as you all reach in the bowl at the same time.
Once upon a time, the theatre and cinema were the places to be seen, and you would never dare to be seen without a bowl of popcorn in your hands.
These days in the generation of digital downloads and Netflix, we still want to enjoy the theatre experience, but in the comfort of home.
Recently a plethora of at-home popcorn poppers have appeared on the market, and we could not be happier and fuller of popcorn!
Here are the top 9 best popcorn makers to transform an ordinary movie night into an amazing popping experience!
1.

Presto 04820 PopLite Hot Air Popper
Using air as opposed to oil to create the perfect popcorn.
The Presto PopLite Hot Air Popper is everything you could want in a popcorn maker unpopped corn goes in, perfectly light fluffy popcorn comes out.
Simply place a bowl underneath the spout and sit and relax as it does the work for you.
The great thing about this popcorn maker is that it doesn't need to be constantly watched to make sure it doesn't over-pop and burn.
Once the corn is popped, it magically floats out of the device into the waiting bowl.
Any unpopped kernels are kept inside the device to be thrown out later – no more discovering these crunchy kernels by breaking your teeth!
Can be used with plain corn for a low calorie snack, or simply add salt and butter to make it closer to the real deal (recommended).
2.

Wabash Valley Farms Whirley-Pop Stovetop Popcorn Popper
If you thought that innovation could go no further in the art of making popcorn, think again!
The Wabash Valley Farms Whirley-Pop Popcorn Popper is more than just a silly name looking at it without knowing what it is, you would probably never guess that it was for popcorn.
It sits on the stove and as the corn starts to pop, turn the handle to get evenly cooked popcorn with perfectly stirred in flavor.
No corn kernels will be missed using the crank handle, as it gets into every corner of the popper to ensure even heat distribution.
It truly is a one of a kind design and puts the fun back into making popcorn!
The base is specially designed to spread heat evenly, so there is no need to shake it and risk getting precious popcorn on the ground (although the five second rule still applies).
3.

Nordic Ware Microwave Popcorn Popper Maker

, 12-Cup
If you love the idea of microwave popcorn because of the way that it manages to make the entire neighborhood smell like a movie theatre, then look no further than the Nordic Ware Microwave Popcorn Popper.
It is a cleverly designed dishwasher safe container that perfectly pops the popcorn using air in minutes in the microwave.
It is made from gemstone unbreakable cookware and it saves precious time as you don't even need to transfer the popcorn into another bowl it is already in one!
As microwave power varies, make sure you do keep an eye on it listen out for the pops and once it is silent, stop the microwave.
Easy as Sunday Morning!
4.

West Bend 82306 Stir Crazy 6-Quart Electric Popcorn Popper
Possibly the most stylish of all the popcorn makers on the market, the West Bend Stir Crazy Electric Popcorn Popper does not require a stove or microwave to pop perfect popcorn.
It is shaped like a small electric wok with a very high lid with an in-built motorized stirring rod to ensure even distribution of heat.
Made for entertaining, there is a built-in butter well so the melted butter is evenly mixed into the popcorn.
The non-stick coating means cleaning is literally as easy as wiping with a sponge.
The base of the maker fits snugly inside the lid for easy storage.
5.

Presto 04830 PowerPop Microwave Multi-Popper

, Black
Another hugely popular contraption for cooking popcorn in the microwave, the Presto PowerPop Microwave Multi-Popper takes it to the next level.
It is not enough anymore to simply place the corn kernels into a bowl and hope for the best.
Presto has designed PowerBase and PowerCup concentrators to focus the energy from the microwave so that nearly no kernels are left unpopped.
Promising to be around 50% quicker than a standard microwave popcorn maker, it is quite compact, so is perfect for a snack, and will fit into even the smallest of microwaves.
Because it is so efficient, it can still be used for larger groups – when one lot of corn is finished, empty it and simply repeat!
6.

Cuisinart CPM-100 EasyPop Hot Air Popcorn Maker
Cuisinart is one of the most trusted brands of kitchen appliances, and the EasyPop Hot Air Popcorn Maker shows why.
It is almost an identical product to the Presto Hot Air Popper, but with a little bit more style and sophistication (call it an adult popcorn maker).
Add the kernels to the base, switch it on and watch as up to fifteen cups of fresh air popped popcorn appear like magic out the chute and into a waiting bowl (or your waiting mouth if you are so inclined).
The entire process takes under three minutes, so this product is perfect if you have a hungry crowd waiting impatiently to watch the latest episode of Gilmore Girls.
7.

Great Northern Popcorn Original Stainless Steel Stove Top
The Great Northern Popcorn Stainless Steel Stove Top popper is another crank handled popcorn maker, demonstrating why it really is an intelligent and ingenious design.
There is something almost nostalgic about standing over a stovetop.
And watching your popcorn get made makes you think of that great scene in the first Scream movie where Drew Barrymore is cooking popcorn getting ready to watch a scary movie!
Made from quality stainless steel, there is a vented lid to keep moisture out and the popcorn light and fluffy.
8.

West Bend 82505 Stir Crazy Popcorn Popper
An electric popcorn maker that does everything for you from start to finish, the West Bend Stir Crazy Popcorn Popper really is that stir crazy.
There are motorized stirrers that constantly stir around the popcorn to ensure that it is perfectly popped.
And it means that you can leave it to do its job and do more important tasks, like ensure that there are enough pillows and blankets.
The large lid doubles as a serving bowl, so they really have thought of everything!
One of the largest volume poppers on the market, it can make up to twenty-seven cups of popcorn in under four minutes – yes you read right: twenty-seven cups!
Now there is no excuse to run out of popcorn in the middle of Game of Thrones.
9.

Great Northern Popcorn 6010 Roosevelt Top Antique Style Popcorn Popper
If you have kids that find the theatre part of movie theatre popcorn appealing, then imagine their wide eyes as you show them what is basically a replica of the exact popcorn maker found in any good theatre on a much smaller scale of course.
It even has the doors on the front that you open to scoop out your serving of popcorn using the popcorn scoop which is included!
There is also a heating lamp so the popcorn can be pre-popped and will not go cold or soggy (which really are the only things that can ruin popcorn).
The style is old fashioned and vintage, which matches the theme of the old-style popcorn maker perfectly.
It is deceptively easy to clean and this popper really combines the traditional feel of an original popcorn maker, with all of the modern conveniences and advances that we have come to expect with modern kitchen appliances.
Buying Guide for Best Popcorn Makers
Supermarket popcorn bags are out, and intelligently popped popcorn at home is in!
The great thing about popcorn is that you can dress it up or down for any occasion, and with any of the featured popcorn makers at your disposal, there never is a good reason to not make popcorn.
Whether you are looking for the convenience of a microwavable popcorn maker, or the intelligence of a self-stirring electric popper, the perfect popcorn is so close you can smell it (from down the street).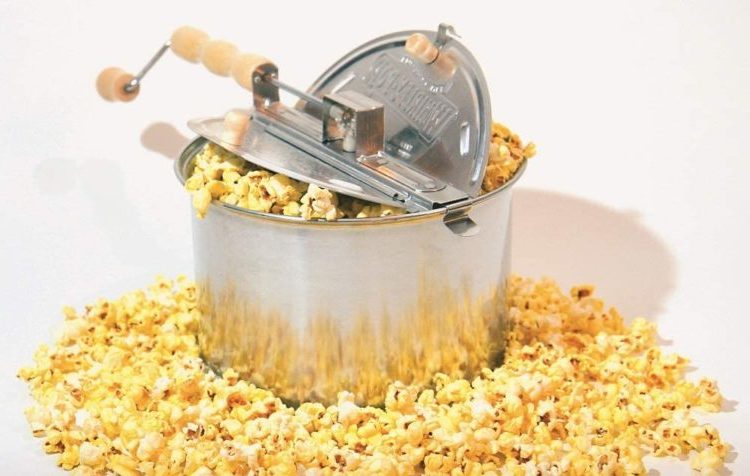 A popcorn maker makes use of either oil or air to pop the corn into fluffy, white balls.
These machines are far more reliable for making popcorn; you can say good-bye to those annoying un-popped corn for good, and let nothing ruin that perfect evening you have in mind.
Make fast, consistent and healthy snacks the moment you need them, with your very own popcorn maker at home.
As you step out into the store, you will find these appliances have certain terms and parts you need to know before you make the purchase.
Now let us look into a few kinds of the Popcorn makers available in the market today:
These make use of oil for getting the corn ready. Usually, they have a transparent lid so that kids can have a treat watching their favorite snack pop right in front of their eyes.
These popcorn makers, as the name suggests, make use of air to pop the corns. The popcorn falls from a chute to a bowl, again a treat to watch!
These types are for those who want to actually make the popcorn. Here you cannot see the popcorn being made, but you will have to hold and shake the pan and make the popcorn in a way that there is the least chance of the kernels of getting burnt.
If you want a perfect movie night, with all the ambiance, a professional popper is bound to be the star of the evening. These machines are the most portable versions of the large popcorn making machines and include controls for popping as well as keeping the popped corn warm, till eaten.
So, which is the best one? If you prefer the popcorn drizzled with butter or cheese, then you should buy one of the oil poppers. Whereas, if you are more into healthy cooking, then the air poppers work best and meet your calorie requirements and are also the least fattening.
Key Factors to Consider Before Making the Purchase
As you set out to make the purchase, it is vital to keep certain points in mind. Such as:
01

 The Size

These machines are available in various sizes, styles, and designs. You need to consider:
The counter space.
The amount of popcorn you need.
To decide on the size. All of these popcorn makers discussed above work well, but the size only determines the quantity of popcorn a machine can hold at a time.
02

 The Volume/Capacity

Generally speaking, the popcorn makers can produce about four or six quarts of popcorn in a single turn. These are the best for the home. However, for a more professional setting, or when you need a lot more quantity, you can look for the theater-style poppers, which yield a lot more.

If you are a nuclear setup and just need the popcorn for 2-3 people, then the smaller versions of these machines are great for your home. However, if you have a larger family or like to have company over, then you may opt for the ones which yield around 12 cups of popcorn at a single time.
03

 The Budget

The typical countertop poppers (both oil and air types) are available at quite low prices and can easily fit your budgetary requirements. However, if you are looking for the larger, theater types, you will need to have a certain budget in hand.
04

 The Cleaning

Another factor to consider is the ease of cleaning the popcorn maker. Generally, the oil and the air poppers are quite easy to clean, however, the professional poppers can be a tad bit tricky.

Also, try to find those with removable and washable parts for further ease and maintenance.
05

 Quality

The quality of the popcorn maker is a prime requisite when you set out to buy one for your home. The best ones use high-grade steel and scratch-proof glass. It is advisable to avoid the low-grade plastic materials, as they can actually result in accidents and other dangers including overheating.

Moreover, the high-quality popcorn maker will last you much longer than the cheaper quality ones.
06

 The Popping Time

When you need popcorn, you need it right at that instant! What could be more annoying than having a machine that takes so long to pop the corn, that you no longer feel snack-hungry anymore?

Usually, these machines can make 10-14 cups of popcorn for you and your friends, in just two or four minutes. So, watch out for the popping time of the machine you pick.
07

 Warranty

As these makers cost quite less, some of the generic or cheaper quality ones could get a minor glitch. Hence, it is safe to look for one which comes with at least a year-long warranty.

Go for the authentic brands with the known sellers, just as the ones we have covered in our review for your safety and durability.
08

 A Butter-well

The popcorn makers with a butter-well may sound heavenly for the popcorn lovers and yes, they do exist!

These help in making the produced popcorn well- buttered up and without any mess.
09

 Provision for Adding Seasoning

If you like the popcorn with salt, caramel, and other toppings then you even find such poppers that allow you to add whatever type of seasoning you prefer to add to your big bowl of popcorn.
10

 The Outer Temperature

The very best of these popcorn makers, make the hot sizzling popcorns inside, while the handles stay cool to the touch. This feature is very important to keep safe from any accidents and burns, especially if you have kids running around the house.
11

 Additional Features

Many of these machines include features such as the cover or lid, the measuring cup, and heat lamps, etc. All these features help enhance the utility of the machine and make the overall experience more pleasant.

Many of the manufacturers also provide various toppings or recipes through which you can make the kernels pop and others also suggest the right serving sizes for each. Serving bowls, flavor dispensers, and measuring cups are ideal features, the popcorn maker could have.

Some of these popcorn makers are made from plastic, but the plastic is entirely safe for use. The best one is entirely BPA free (Bisphenol); BPA is said to be harmful to cooking, as some of the chemicals could become part of the food when it is being cooked.

However, BPA is termed safe for ingestion in smaller amounts by the Food and Drug Administration, U.S.
Advantages of the Popcorn Makers
These popcorn makers have huge health benefits and help you save up considerably on electricity, which the microwaveable popcorns consume a lot.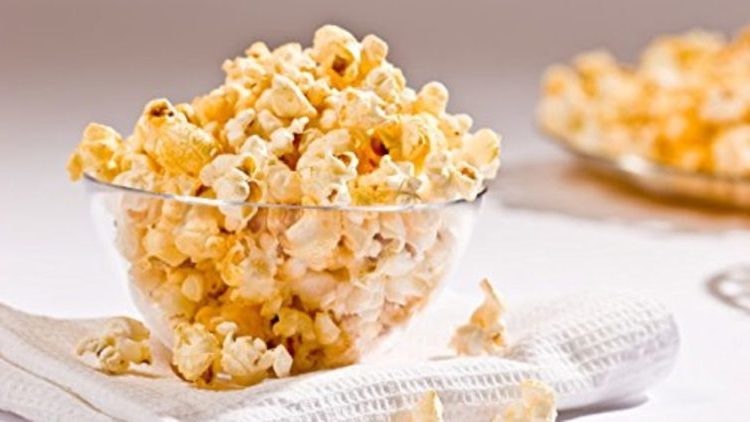 A few of the major benefits include:
Popcorns are quite low on the calories, and hence are very attractive and easy to make for the diet conscious lot. You can even add other flavors to the popcorn, with absolutely no detrimental effects or changes to your otherwise healthy lifestyle.
These popcorn makers are much more healthy and safe for consumption as compared to the microwaves.
Popcorn itself, includes fiber and is actually beneficial against heart diseases, diabetes, and even cancer, and also helps you stay within the healthy weight limits.
Popcorn is the easiest snack to fix in a very short time. Within four minutes time, the popcorn maker can give you fresh and healthy, ready to eat popcorn.
These are the simplest type of snacks which are the lowest in cost, as compared to the other snacks. The popcorn you make in these popcorn makers, also costs you quite less. The energy consumption is low and the kernels cost much less than the microwaveable popcorn kernels.
There's an entire world of flavors you can add to these popcorns. From butter, cheese, garlic, salt to caramel, you will never get bored with these puffs! There are endless opportunities to try out with these kernels, especially when you have a popcorn maker right at home.
It doesn't matter if you are planning out movie night, a slumber party or a bonfire in your backyard, these little puffy whites are suited for every occasion. Click here to check out a few tips and tricks for making the most amazing and crispy bowl of popcorn, you'll never have enough of!
What Wattage Should I Look For with These Popcorn Makers?
The wattage and the cooking time with these popcorn makers are directly proportional to each other, i.e. the more the wattage of your model, the faster it pops your corn.
If time does not matter much and you do not need larger quantities, then you may go for the lower wattage machines too. However, if you need a larger home theater type popcorn making machine, then you should buy one with over 640 watts.
However, keep in mind that the higher the wattage of the machine, the more power it will consume. So, it is not always recommended that you buy the higher powered machines; they may help you produce more and in a relatively shorter time, but will be heavy on your monthly electrical bills.
Hence, it is all dependent on your requirements, go for the size and wattage rating, as per your required level.
How essential is The Heat Lamp or a Warming Deck?
Many of the high-end models include the heating lamp which helps keeps the popcorns from getting cold. This feature is particularly important if you have many guests to take care of or need a professional popcorn maker. This keeps them fresh and crispy for as long as you require.
Considering that the larger popcorn makers are not that low cost, it is only sensible that they must include a heat lamp or a warming deck. When you are spending so much, for larger quantities of popcorn, you should enjoy them while they are hot and before they get any soggy, right?
What is the Right Size for Me?
The size of the popcorn maker determines the total yield in one go. So, if you need it for two to three people, a smaller sized maker would do just right. However, if you need it for say 10-12 people or for a movie night or all-nighter, you may consider the medium sized models, with a higher capacity.
The largest machines or the theater types, are great for making popcorn if you have a much larger audience, but it will consume a lot more electricity. So, such a machine may be useless and in fact, cost you a lot more if you just need the popcorn for a few people.
The audience hence determines the right size for your popcorn. Another factor could be the counter space you have at home for the machine. That will also help you decide on the right size of the popcorn maker for your home.
For a basic guideline about the machine size and the servings, it can yield, click here.
Conclusion
When it comes to popcorns, there no right or wrong. However, health is a major concern, especially for the ever enthusiastic little kids. Hence, all the options we have discussed impose no health risks and yield the perfect popcorns to turn any movie night or fun filled evening into an unforgettable affair.
We hope the above guide will be helpful for you to choose the best popcorn maker for your family and friends. Buy one of these handy popcorn makers for the home and turn every night, into a spectacular movie night!