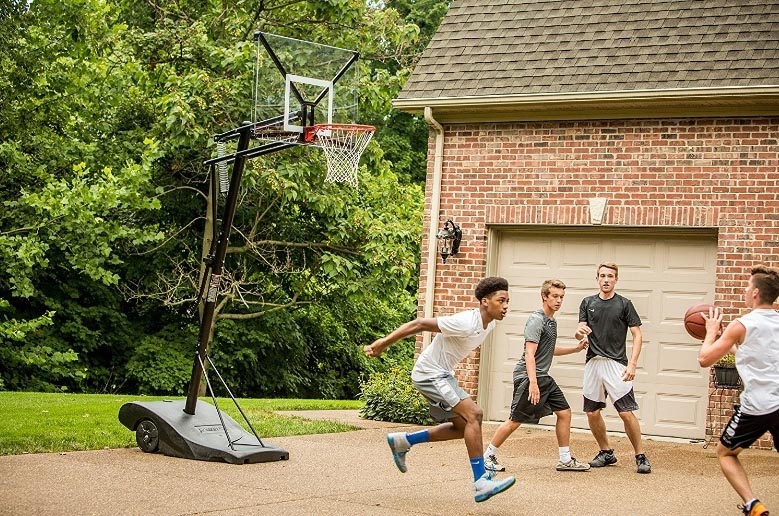 Basketball is a popular game that kids as well as adults can play individually or collectively, making it a great activity to get the family together both for fun and exercise.
And having a portable adjustable basketball hoop will enable you to play the game most of the time.
Playing basketball is an excellent sport to get fit and maintain your shape, and to have a great social time with family and friends.
Having a hoop in your own home is also a terrific way to teach children how to play the sport, as well as stay fit and healthy physically.
Best Portable Adjustable Basketball Hoops
In a hurry? Just check the quick editor's choices:
1. Lifetime 1221 Basketball Hoop
The Lifetime 1221 Basketball Hoop is equipped with a telescoping mechanism that allows you to easily adjust its height from 7.5 to 10 feet in 6-inch increments without any need for other tools.
Younger players to the older and advanced basketball enthusiasts could use it according to their convenience and skill level.
It is one of the most efficient basketball hoops that Lifetime has come up with.
Its portability doesn't sacrifice for its stability wherever you choose to position it.
You can merely push and roll it to your chosen location since it has wheels that allow you to do so. Either water or sand can be used to fill the 27-gallon base that helps plant it firmly on the ground.

The 44-inch backboard of the Lifetime 1221 Basketball Hoop won't simply crack or chip away to varying weather conditions, as well as to wear and tear.
It is UV protected and constructed with high-density polyethylene, a solid plastic that is built to last in addition to preventing the graphics against fading. Its three piece pole in black is powder coated that adds to its polished and heavy duty look.
Pros
At under $100, this is a great price for a hoop
Features a decent standard rim
Assembly is super easy and instructions are clear
Cons
Backboard on this hoop is not sturdy
2. Spalding NBA "The Beast" Portable Basketball System
Spalding The Beast Basketball Hoop offers more than just a striking name as it features a 60-inch backboard made from ¼-inch thick glass which is definitely bigger than its competitors.
The glass material in a heavy duty steel frame also provides a more authentic rebound than acrylic backboards.
You will be getting a truer feel to the game as it simulates an in-ground, gym quality basketball hoop that easily sets in your own backyard.
Portability isn't sacrificed for stability and rigidity as it comes equipped with a multi-wheel design so you can easily move it from one spot to another.
Spalding The Beast 74560 Basketball Hoop has a 50-gallon base which helps plant it steadily on the ground.
You can easily fill it with water or sand to your convenience.
Height does matter with the game of basketball so your hoop comes with an institutional style screw-jack lift that allows you to easily adjust it according to the skill and size of its players.
You have an option range of  7.5 up to 10 feet.
Pros
Hybrid base allows you to use sand and water, providing added stability to the system.
Easy to adjust from 7.5 to 10 feet with the U-Turn lift system.
Cons
There is no padding lining the bottom of the backboard which would be nice as an added safety feature
3. Lifetime 1269 Basketball Hoop
The lifetime 1269 basketball hoop should be one of the most prominent products.
It has wheels, you can easily move it to the position you want, and then there is no problem adjusting its position or completely changing it.
Your concerns about the stability of the hoops are also addressed by providing a 27-gallon base that can hold sand or water for your convenience.

You won't need any other tools to change its height because it already has an extension bar that makes it easy for you to do so.
Its acrylic fusion backplane tries to exude a glassy appeal, designed to resist fading and UV light.
Pros
Acrylic backboard
Sturdy and durable
Value priced hoop that is perfect for recreational play in the home environment
Cons
Telescoping adjustment is less user-friendly than handle or crank options
4. Spalding Pro-Tek Basketball System
The Spalding 68454 is not only a towering piece for a portable basketball system that will look good in your front or back yard but it also provides stable and worry free play.
Its base with 40-gallon holding power ensures that it won't wobble or skid at any instance plus you have the choice of using sand or water in it.
You won't be stuck with a fixed height when you have the Spalding 68454 since the Screw Jack lets you move it from 7.5 to 10 feet which allows anyone from kids to adults in enjoying the game of basketball.
Slamming the ball or simply shooting it from a distance will also be a breeze with its extensive Arena Slam breakaway rim made from solid steel.
Pros
Can last up to ten years
Stable construction
Adjustable in height
5. Lifetime 48 Inch Portable Basketball Hoop
The Lifetime 48-Inch Shatterguard Backboard is the ultimate tool for shooting hoops wherever and whenever it's convenient.
The basket can be set to anywhere between 8 feet and 10 feet high in six-inch increments, so that you can improve your game in stages.
Raising and lowering is a snap despite the heavy-duty construction thanks to counterweight springs in the pole.
People who have used the Lifetime 51550 Courtside Portable Basketball System with 48-inch Shatterguard Backboard speak highly of it – in fact, the enthusiasm is almost universal.
The polycarbonate backboard of the Lifetime 51550 is unbreakable in terms of normal use, shrugging off impacts both from basketballs and from stray human limbs.
Pros
Incredibly portable
Nice looking
Made of quality materials
Easy height adjust system
Easy and quick to assemble
Quite affordable
Cons
When the goal gets older, the plastic base starts to lose strength
A little top heavy
6. SKLZ Pro Mini Basketball Hoop
The SKLZ Pro Mini Hoop lets indoor basketball possible while providing an authentic appearance and feel of an outdoor hoop system.
It features a clear backboard that looks like a regulation hoop that you usually see in the NBA games.
The breakaway rim allows you to dunk and practice the moves you see from professional players in the comforts of any room in the house.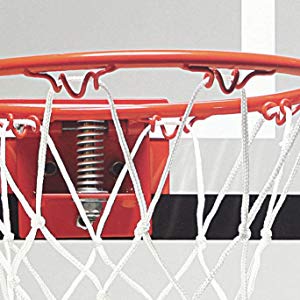 The rim bends as well as snaps back up and down as you shoot some hoops, and protects your hands when you dunk.
The SKLZ Pro Mini Hoop won't give you a hard time in assembling and mounting it to anywhere you choose to.
Your wall or door paint and material are also protected since the basketball hoop has foam padding.
No worries about your wall and door staining if ever you choose to remove it or position it to a different location.
Pros
Perfect for indoor or outdoor use
An adjustable steel pole
Easy and quick set up
7. Spalding 88300S ExactaHeight Adjustable Pole Basketball Hoop
A Huffy 88300S ExactaHeight Adjustable Pole is just one component to help you set up a basketball system on your own property.
It includes 3 pieces of 3.5-inch round poles finished with a durable powder coating.
We all know that height plays a vital role in the game of basketball and being able to adjust your basketball hoop not only lets one person use it but any player of age and size.
You will be able to shift your pole's height according to your preference starting from 7.5 feet up to 10 feet with 6-inches in between.
Raising and lowering the pole's height allows you to match it with the height and skill of the people who will be using it.
A backboard is not included in your Huffy 88300S ExactaHeight Adjustable Pole purchase but since it has a universal board mounting plate, you can simply attach any other backboard that you have to buy separately.
Pros
Backboard/rim is responsive
Adjustable height
Great warranty
Well designed and built
Board shakes very little
Cons
pricey, can start to break down after long years of use
8. Little Tikes Basketball Hoops
If you are a parent with children between the ages of 18 months and 10 years you would be absolutely amazed at the entertainment, exercise and educational value that a Little Tikes Basketball Hoop set can provide – as has been experienced by millions of happy parents who got this as a gift for their kids.
The Little Tikes toy basketball hoops are great for growing toddlers. They have proved valuable in developing essential social, motor and hand to eye coordination skills in children.
Their basketball hoop sets start in the $30 price range and go up to around $125, which is very cheap for the endless fun and educational value kids get out of the toys, not to mention the peace and tranquility parents enjoy while their children are safely and healthily occupied. That is if they don't participate themselves!
Satisfied customers and parents have reported their children to be contentedly occupied for long periods of time with the gift of a Little Tikes basketball goal set. (Best Outdoor Toys for Toddlers)

As the basketball set has as many as 6 different possible height adjustments it will grow with your child for many years.
Another cool, convenient feature is that it returns the ball to you when you make a shot. And as this gift is so durable it could be handed down to younger siblings or friends when outgrown.
Pros
It can be used both indoors and outdoors.
Accommodates different age groups.
It is easy to set up.
The basket rim is wide enough for kids.
Enables children to develop numerous skills.
Cons
It can be quite hard to support.
Important Tips In Choosing A Portable Basketball Hoop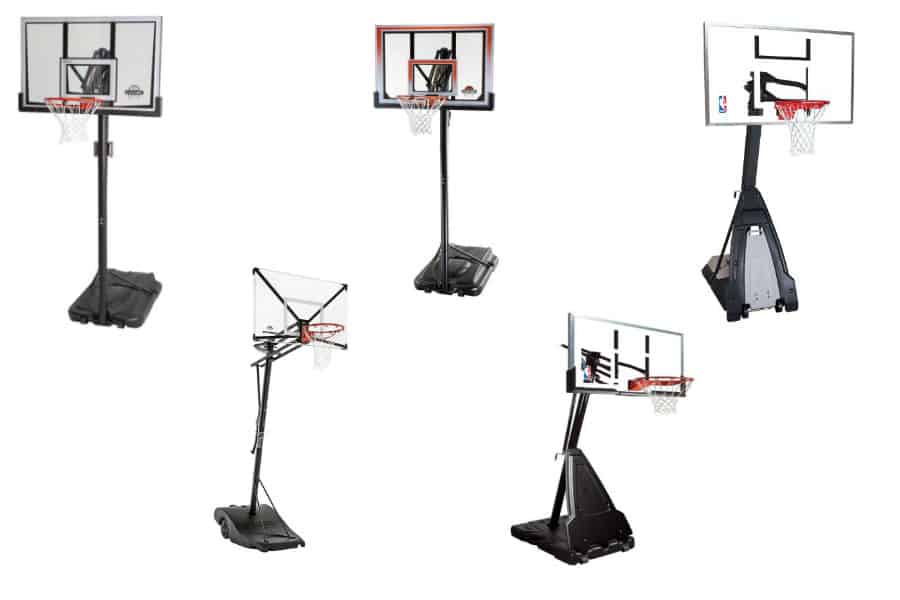 It is important that you are well informed about the mechanics of a portable basketball hoop before actually purchasing one.
There are a lot of options for you to choose from and it can get pretty overwhelming if you do not have a clear picture of what could best suit your needs.
Basketball hoops basically have the same structure, a backboard and ring, but they are built and designed differently to meet specific demands which include different age groups as well as levels of skills.
Purposes for professional against leisurely play also provide a distinct functionality that you can find in hoops for more experienced players and those that cater to kids and beginners.
Prices or costs of a particular type of hoop more or less indicates the materials used, quality, durability and features that you can get from it.
Affordable and cheaper kinds are usually novelty hoops made for home or office amusement.
The more expensive ones are more long term investments where you and the whole family will be able to benefit from for years to come.
Most portable basketball systems come with a base made from durable plastic that you can either fill with water or sand.
The weight of your unit predicts its portability and how easily you will be able to move and transport your hoop. It also affects your hoops stability where in a heavier base equals a sturdier portable basketball hoop.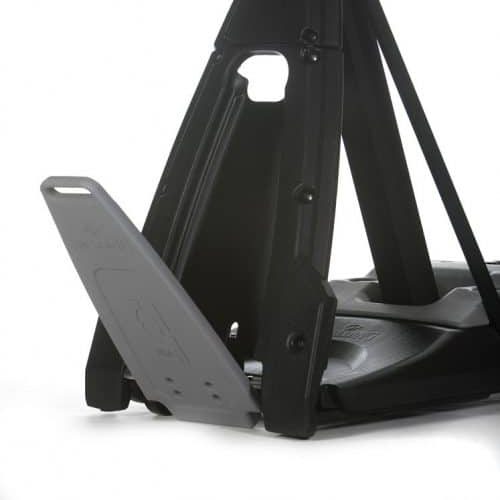 You should also consider the setup process and installation of your unit where in you would probably need an extra hand especially for the bigger and more complicated hoops.
There is also the configuration of the rim, attaching it to the backboard and ultimately setting up the pole system that is usually adjustable to a certain range of height.
Simply put, some systems are harder to set up than others and would require more time and effort but once you are able to do it, it is basically played from there on.
Portable hoop systems come in different sizes and shapes. You must consider the space where you will be putting it up. You simply cannot enjoy the full extent of playing basketball if you have a huge unit in a limited space or vice versa.
Backboards are commonly rectangular but fan shaped ones are usually seen in children's hoops and are options for those who want to save space.
It will be helpful if you have a list of features and characteristics of a portable basketball hoop that match your purpose for owning one. This way, you won't be side tracked by all the other details and in some hoops, gimmicks that could pull you away from making the ideal choice.
It might require a bit of research on your part but will all the information that is now quickly accessible online or perhaps even by just asking a friend or colleague who personally owns one, you will soon end up with a portable basketball hoop that is perfectly tailored for you and your family.
Portable Basketball Hoop FAQs
How much does a portable basketball hoop cost?
The average price of a portable basketball ring: 300 dollars. Most of them have height adjustable settings, which makes them ideal for young players to grow up. You should spend an average of $300 on high quality and durable basketball hoop.
Should I put sand or water in my basketball hoop?
Sand. Sand is denser than water and weighs more per gallon, so it can help improve stability. However, while sand may make the hoop more stable, it can also make it difficult to move. Another disadvantage of sand is that it can be hard to add – especially if it's wet – and even harder to get out of your hoop base.
Are portable basketball hoops safe?
The most obvious disadvantage of portable basketball stand is easy to overturn. Whether it's trying to dunk or just a gust of wind, it's a serious risk when the hoop falls. When the basketball circle falls on children, many children are injured, some even fatal.