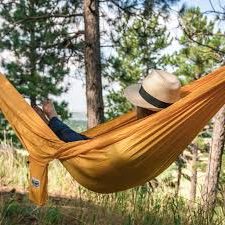 The camping hammock is one of the essential gear you'll need to invest in if you're planning an overnight stay in nature. One major advantage of the hammock over sleeping bags is that you won't sleep an a hard, possibly damp ground.
They're also considerably lighter and easy to set up. Given the many different portable hammock brands and models available, it can be difficult choosing the best unit for your camping trips.
To make it easier, this camping hammocks review will focus on the top 8 models that you can choose for your outdoor hammock tents. But before buying any hammock, what are the main things you'll need to consider?

Camping Hammock Buying Guide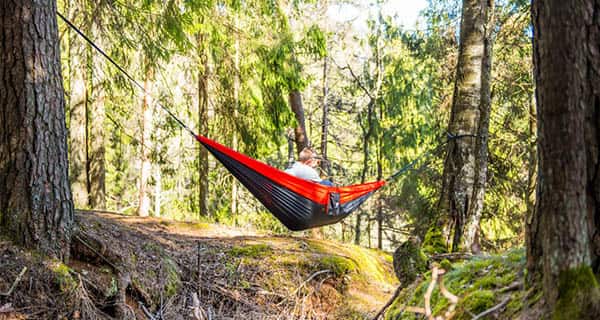 The material used to make the hammock is the most important feature to look at. Most models are made using high denier nylon which is lightweight, durable and can support several hundred pounds.
Hammocks come in a variety of sizes. Size comes into play when considering who will use the hammock. Usually, it's recommended you go for larger units since they're more comfortable and can handle two campers at a go.
Besides the hammock, you'll need additional accessories which will allow you to hang it between trees or poles. These include rope, steel carabiners, straps and a carrying sack. Beyond these three, other considerations you'll want to make include the price and manufacturer warranties offered on the hammock.
Best Camping Hammocks 2019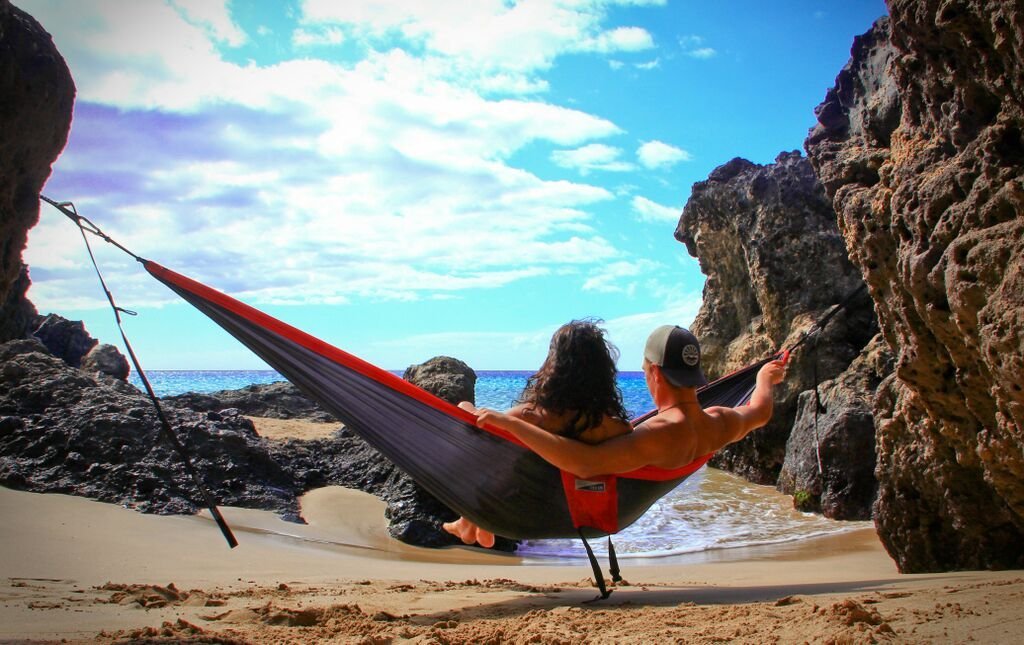 1. Honest Outfitters Single and Double Camping Hammock
This hammock comes in two sizes. The single measures 55 by 108 inches and can support weights of up to 400 pounds. The double measures 78 by 118 inches and can support weights of up to 500 pounds.
Whatever size you choose, you're assured that your hammock will last long thanks to the 210T parachute nylon fabric it's made of. When folded and stuffed into the provided sack, the Honest Outfitters hammock weighs approximately 1.5 pounds.
It's also easy to set up thanks to the steel carabiners and straps that are included with your purchase.
Pros
Two sizes available
Set up is easy thanks to provided straps and carabiners
Lightweight and easily fits inside provided sack
Cons
Straps are not multi-loop meaning a lot of time is spent readjusting on the right setup
This large hammock measures 78 by 118 inches and will easily support 2 people weighing a total of up to 500 pounds. Made from quality 210T parachute nylon fabric, it will offer you years of use without tearing.
Hanging this hammock takes a little time thanks to the rope, straps and solid steel carabiners that are also provided. The rope is 0.3 inches thick offering more strength and durability compared to thinner ropes provided by competing models.
It also comes with its carrying sack making it easy to fold and carry when not in use.
Pros
Large double hammock supports 2 individuals
Comfortably
Easy to set up with all accessories provided
Thick rope and tree-friendly straps are durable and provide great support
Cons
Only available in double size
3. MalloMe Double Camping Hammock
Another quality hammock made from 210T nylon, the MalloMe is available in 27 different colors. The tough nylon fabric is highly durable and can support weights of up to 400 pounds.
Included alongside the hammock are a rope, tree straps, and metal carabiners which make it easy to set up.
When folded and stuffed inside its carrying sack, the MalloMe weighs about 2.1 pounds which is a bit heavier compared to competing models.
Pros
All accessories provided making set up easy
Choose among 27 different colors
Tree straps are provided making it easy to set up in areas where tree straps are mandatory
Cons
Weight limit a little low for a double hammock
4. Gold Armour Camping Hammock
This extra large portable hammock measures 79 by 125 inches making it ideal for two people. It's made from high-grade 210T parachute nylon fabric that's durable and strong.
You can choose between 16 different colors which make it easy to find the hammock that best suits your camping preferences. Weighing a mere 1.5 pounds, the Gold Armour camping hammock easily fits inside the stuff sack that comes along with it.
Also included are 10-foot long tree friendly straps with 16 loops each. The loops make it easy to set up. High-quality metal carabiners are also provided.
Pros
16 different colors to choose from
Extra large making it easy to fit 2 people comfortably
Multi-loop tree friendly straps make it easy to set up
Lightweight and easily fits inside stuff sack for easy transportation and storage
Cons
Takes same effort fitting hammock and accessories inside a stuff sack
5. Wise Owl Outfitters Hammock for Camping
Wise Owl hammocks come in 2 different sizes. The single measures 4.5 by 9 feet and weighs 16 ounces when folded. The double measures 6.5 by 10 feet long and weighs 25 ounces.
This hammock is made from 210T nylon fabric and comes in 18 different colors. This allows you to choose a hammock that's durable and whose color you love. It includes a stitched a stuff sack that makes it easy to fold and store your hammock.
Also included are 2 eight foot hanging ropes and quality steel carabiners which make it easy to set up.
Pros
2 sizes and 18 different colors to choose from
Durable and strong ensuring many years of use
Easily packs inside the provided stuff sack
Cons
The rope isn't looped making it difficult to set up if you don't know how to tie hammock rope loops
6. Eagles Nest Outfitters ENO DoubleNest Hammock
The DoubleNest comes from one of the most popular and innovative hammock brands ENO. Made from quality 70D nylon, this hammock is smooth, lightweight, strong and durable. It comes in 44 different colors allowing it to blend in with different outdoors settings.
It's a large hammock measuring 6.4 by 9.2 feet. Although designed to fit 2 people and support weights up to 400 pounds, it's quite light weighing just 19 ounces.
It also includes a carrying sack, carabiners and nautical grade line with stainless steel snap links.
Pros
Largo hammock can support two people
Many colors to choose from
High-quality nylon fabric is lightweight, strong and durable
Cons
Does not include straps
A bit expensive
7. Legit Camping Double Hammock
Made with 210T parachute nylon, the Legit double hammock will easily fit 2 people with a combined weight of up to 400 pounds. It's available in 13 different colors.
This makes it easy to choose the model that will blend in easily with your hammock tent setup.
It's designed for easy setup and that's why thick nylon rope, tree-friendly straps, and steel carabiners are included along with the hammock.
For easy storage when not in use, it folds and fits inside a small stitched a stuff sack.
Pros
Large hammock will fit 2 people easily
High-quality nylon fabric ensures durability and strength for many years
13 different colors to choose from
Easy to set up
Cons
400-pound weight limit a bit low for a double hammock
8. Bear Butt Double Parachute Camping Hammock
Made from 75D 210T nylon, the Bear Butt double hammock comes in attractive lime green and gray color. A double hammock, it measures 6 by 10 feet allowing it to easily support 2 people.
This makes it easy to spot especially when you're out camping. The fabric is durable and strong – able to support weights of up to 500 pounds. To ensure that the hammock remains durable for many years, the design includes triple stitching and reinforced nylon end straps.
Each Bear Butt hammock includes a stuff sack, metal carabines, and 2 ten foot long tactical grade ropes.
Pros
Large and easily fits 2 people
High-quality nylon is strong and durable
All accessories included making set up easy
Cons
A little expensive compared to competing models
Rope not looped making setting up a little hard
Conclusion
Hammocks are a great way to kick back and snooze whether you're outdoors or indoors. Easy to set up and super comfortable, they're a must-have for any outdoor adventure where you expect to spend the night under the stars.
Choosing the right one requires you to consider factors like size, weight and the accessories provided. Hopefully, you've already found the camping hammock that best meets your needs from the 8 reviewed above.