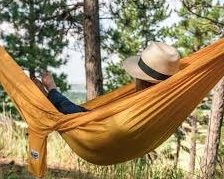 Are you interested in camping or hiking? So, have you decided to buy a camping hammock for your next trip?
Do you want to know which the best hammock for your outdoors is? If like so, then exactly this is the right place!
When you look at hammocks in the market, you will get plenty of options. But, all those options are not portable for you to use outdoors.
On the other hand, while collecting things for backpacking, it is always very important to choose portable things and this is the same for hammock too.
Thus, a portable hammock is the best choice for outdoors and longer traveling. At the same time, you need to choose the best and suitable ones for you and your family members.
What is a portable hammock?
How to choose the best portable hammocks?
What are the best portable hammocks in 2021?
Stay here and keep continue to read this buying guide.
This buying guide helps you to know all the basic things and assists you to choose the best one.
Best Camping Hammocks 2021
In a hurry? Just check the quick editor's choices:
1. Honest Outfitters Single and Double Camping Hammock
This hammock comes in two sizes. The single measures 55 by 108 inches and can support weights of up to 400 pounds.
The double measures 78 by 118 inches and can support weights of up to 500 pounds.
Whatever size you choose, you're assured that your hammock will last long thanks to the 210T parachute nylon fabric it's made of. When folded and stuffed into the provided sack, the Honest Outfitters hammock weighs approximately 1.5 pounds.
It's also easy to set up thanks to the steel carabiners and straps that are included with your purchase.
Pros
Two sizes available
Set up is easy thanks to provided straps and carabiners
Lightweight and easily fits inside provided sack
Cons
Straps are not multi-loop meaning a lot of time is spent readjusting on the right setup
2. Winner Outfitters Double Camping Hammock
This large hammock measures 78 by 118 inches and will easily support 2 people weighing a total of up to 500 pounds. Made from quality 210T parachute nylon fabric, it will offer you years of use without tearing.
Hanging this hammock takes a little time thanks to the rope, straps and solid steel carabiners that are also provided. The rope is 0.3 inches thick offering more strength and durability compared to thinner ropes provided by competing models.
It also comes with its carrying sack making it easy to fold and carry when not in use.
Pros
Large double hammock supports 2 individuals
Comfortably
Easy to set up with all accessories provided
Thick rope and tree-friendly straps are durable and provide great support
Cons
Only available in double size
3. MalloMe Double Camping Hammock
Another quality hammock made from 210T nylon, the MalloMe is available in 27 different colors. The tough nylon fabric is highly durable and can support weights of up to 400 pounds.
Included alongside the hammock are a rope, tree straps, and metal carabiners which make it easy to set up.
When folded and stuffed inside its carrying sack, the MalloMe weighs about 2.1 pounds which is a bit heavier compared to competing models.
Pros
All accessories provided making set up easy
Choose among 27 different colors
Tree straps are provided making it easy to set up in areas where tree straps are mandatory
Cons
Weight limit a little low for a double hammock
4. Gold Armour Camping Hammock
This extra large portable hammock measures 79 by 125 inches making it ideal for two people. It's made from high-grade 210T parachute nylon fabric that's durable and strong.
You can choose between 16 different colors which makes it easy to find the hammock that best suits your camping preferences. Weighing a mere 1.5 pounds, the Gold Armour camping hammock easily fits inside the stuff sack that comes along with it.
Also included are 10-foot long tree friendly straps with 16 loops each. The loops make it easy to set up. High-quality metal carabiners are also provided.
Pros
16 different colors to choose from
Extra-large making it easy to fit 2 people comfortably
Multi-loop tree-friendly straps make it easy to set up
Lightweight and easily fits inside stuff sack for easy transportation and storage
Cons
Takes same effort fitting hammock and accessories inside a stuff sack
5. Wise Owl Outfitters Hammock for Camping
Wise Owl hammocks come in 2 different sizes. The single measures 4.5 by 9 feet and weighs 16 ounces when folded. The double measures 6.5 by 10 feet long and weighs 25 ounces.
This hammock is made from 210T nylon fabric and comes in 18 different colors. This allows you to choose a hammock that's durable and whose color you love. It includes a stitched stuff sack that makes it easy to fold and store your hammock.
Also included are 2 eight foot hanging ropes and quality steel carabiners which make it easy to set up.
Features of Wise Owl Outfitters Double Hammock
Do you want to know the reason for purchasing this hammock? Here are the features:
With this ultimate camping hammock, you can sleep as like as kids and get ultimate comfort. It supports your back and arms while sleeping on this hammock. So, you will feel cool to sleep on this premium hammock.
This product offers the same quality and comfort just like expensive hammocks. So, you will get all features at affordable prices.
This is designed with a lightweight and portable design to store and carry for traveling.
It has triple interlocking stitching, so there is no chance of falling down with extra safety.
This is made with 210T nylon materials that are strong enough, so you will feel strong on the hammock.
100% satisfaction guarantee
The Wise Owl Outfitters offer a 100% satisfaction guarantee for this ultimate hammock for camping.
If you're not satisfied with the quality and comfort of this hammock, then you can get your money back.
It comes with everything you need to install the hammock and you no need to buy anything on the outside, so you can save your money.
In order to fold and store this hammock for camping, it comes along with carry bag for easy transportation.
Pros
2 sizes and 18 different colors to choose from
Durable and strong ensuring many years of use
Easily packs inside the provided stuff sack
Cons
The rope isn't looped making it difficult to set up if you don't know how to tie hammock rope loops
6. Eagles Nest Outfitters ENO DoubleNest Hammock
The DoubleNest comes from one of the most popular and innovative hammock brands ENO. Made from quality 70D nylon, this hammock is smooth, lightweight, strong and durable. It comes in 44 different colors allowing it to blend in with different outdoor settings.
It's a large hammock measuring 6.4 by 9.2 feet. Although designed to fit 2 people and support weights up to 400 pounds, it's quite light weighing just 19 ounces.
It also includes a carrying sack, carabiners and nautical grade line with stainless steel snap links.
Pros
Largo hammock can support two people
Many colors to choose from
High-quality nylon fabric is lightweight, strong and durable
Cons
Does not include straps
A bit expensive
7. Legit Camping Double Hammock
Made with 210T parachute nylon, the Legit double hammock will easily fit 2 people with a combined weight of up to 400 pounds. It's available in 13 different colors.
This makes it easy to choose the model that will blend in easily with your hammock tent setup.
It's designed for easy setup and that's why thick nylon rope, tree-friendly straps, and steel carabiners are included along with the hammock.
For easy storage when not in use, it folds and fits inside a small stitched stuff sack.
Features of Legit Camping Portable Double Hammock
Keep continue your reading to know the features of this ultra-light and a portable double hammock in a clear way:
The double hammock supports up to 400 pounds as like a single hammock. But, it has more room for you, so you can buy it for your 2 kids.
In order to carry this double hammock, you no need to buy any carry bag, because it comes with a small attached sack and on which, you can easily store all the accessories neatly. Therefore, this camping hammock is suitable for grab-n-go camping.
It is designed to set up easily by any campers, so you no need to worry about setting up a hammock if this is the first time for you.
This hammock is made completely from nylon material, as a result of this, the product offers more durability and stability.
The Legit Camping hammock comes to your hand with a lifetime warranty.
To give more safety for campers, it is made with nylon straps and you no need to buy straps separately on the outside.
What's in the box?
When you place an order for this product, it comes with the following items:
Steel carabiners
Rope
Tree friendly straps
Pros
Large hammock will fit 2 people easily
High-quality nylon fabric ensures durability and strength for many years
13 different colors to choose from
Easy to set up
Cons
400-pound weight limit a bit low for a double hammock
8. Bear Butt Double Parachute Camping Hammock
Made from 75D 210T nylon, the Bear Butt double hammock comes in attractive lime green and gray color. A double hammock, measures 6 by 10 feet allowing it to easily support 2 people.
This makes it easy to spot especially when you're out camping. The fabric is durable and strong – able to support weights of up to 500 pounds. To ensure that the hammock remains durable for many years, the design includes triple stitching and reinforced nylon end straps.
Each Bear Butt hammock includes a stuff sack, metal carabines, and 2 ten foot long tactical grade ropes.
Pros
Large and easily fits 2 people
High-quality nylon is strong and durable
All accessories included making set up easy
Cons
A little expensive compared to competing models
Rope not looped making setting up a little hard
Camping Hammock Buying Guide

#1 What are Portable Hammocks?
A portable hammock is the best way to relax and also take things easily at camping. And, it provides a convenient and luxurious surface to sleep well during hiking.
However, there is a limit to use the hammock on outdoors that is, it requires a pair of trees near to each other.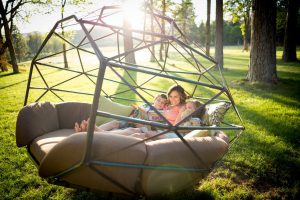 But, the portable ones are improved a lot and reduce the problems associated with the hammocks.
Moreover, it makes the portable hammock so important for long term outdoors, on the other side, it makes things easy to carry along with you while traveling.
For instance, if you're using a bulkier hammock for your camp, then you should feel difficulties to carry it along with backpacking.
In such a case, portable hammocks are the right choice for you.
This is because they are available in lightweight, small in size, comfortable to sleep and easy to store for transportation.
In addition to that, you can use this hammock type not only for camp or hiking but also for long-distance traveling, beach, home use and like more.
And, any people from small kids to old people can make use of the portable hammocks for various purposes like resting, reading, sitting, and sleeping.
#2 Types of Portable Hammocks
There are different types of portable hammocks available in today's market. Below you may find 3 most commonly used hammocks which are different types, categorized on so many factors such as materials, comfort, weight, and features.
Parachute nylon hammocks
The parachute nylon hammocks are resistant and as well as provides more durability.
Apart from that, it has made with a bit of stretch, which makes the hammocks as comfortable to sleep.
This kind of portable hammock is designed for both single and double users. Finally, you will get ideal options to sleep every day.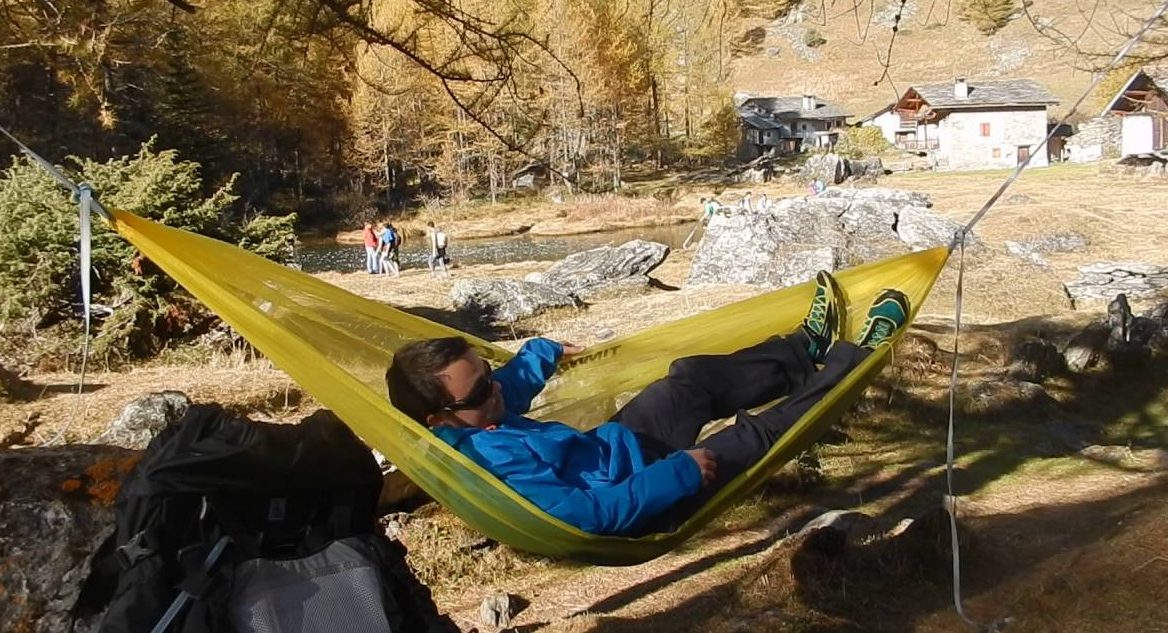 As you can understand from the name, you know that the ultralight hammocks are compact and lightweight because the materials used to design this hammock are specially chosen to be light.
But, it can carry only fewer pounds of weight, so comfort is based on how much weight you cut.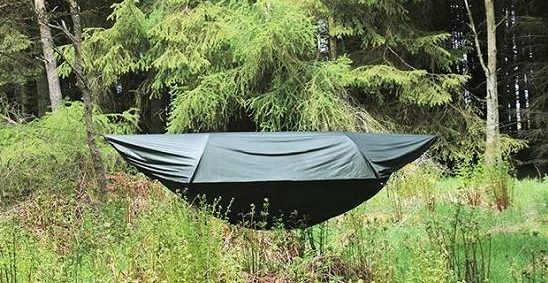 The expedition hammocks are made with high-quality materials to provide more protection and as well as durability for your trip.
Additionally, this type of hammocks comes with extra accessories like a mosquito net, rainfly and so on.
Also you may find portable folding hammock types with stands that you can carry with you along your journeys. So you don't need any trees to hang them.
They are also portable, just carry them and set up in 5 mins.
#3 Material: Cotton or Nylon
You know, there are only 2 materials used to design the portable hammocks and those are cotton and nylon materials. Among these 2 materials, which one is better? This is your question right!
Each material has its own benefits outdoors, so based on that you have to decide which is best for you. Below are some facts about cotton and nylon hammocks.
Cotton – The hammocks that are made with cotton available in different and attractive colors, but it should be heavy and bulky. Additionally, it also attracts water, so not suitable for rainy. This is because it takes some more time to dry well to use on the next day night.
Nylon – The hammocks designed by using nylon materials works well in all weather conditions and keep hot in the winter season and repel water in rainy weather condition. Moreover, this is available in lighter and less bulky, so nylon is the right material for a hammock.
#4 Size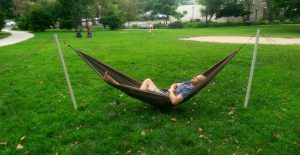 A size is also a factor that you need to consider personally, because if you're a tall person, then you need to look for a lengthy choice.
Generally, hammocks are out there in various length and width, so you can choose anyone which suits your preference.
For instance, if you have planned to sleep with your partner, then you need to buy a wider one, called"double".
But, finding the right width and height is crucial to sleep comfortably.
#5 Maximum Weight Capacity
When you're looking for a hammock, maximum weight capacity is the most important factor that you need to consider at first.
Here, you need to compare your weight with maximum weight capacity and it should be higher than you so that you can sleep safely.
Therefore, if you're tall and bulkier, then choosing the extra-large design is the best choice.
However, you have to keep in mind that adding more weight than the recommended one, reduces the lifetime of the hammock and as well as results in falling down and injuries too.
#6 Price Range
The portable hammocks are available from low, medium and high price ranges. Thus, you can pick any hammock that comes within your budget.
But, if you're going to buy it for various purposes like for both indoors and outdoors, then you need to consider durability. In such a case, you need to spend some more money on durability.
At the same time, if you need a hammock only for camping, then paying for an affordably priced one is more than enough.
Thus, the price of a portable hammock is also based on your personal preference, so think twice or more before buying, you should select the usage area first.
#7 Portable Hammock Brands
As you may know, there are plenty of options to choose from, there are so many brands available in these days market.
If you want to buy a popular brand, then, at last, you may meet some discomfort. So, you need to think about your requirements on the hammock along with the brand name.
In order to identify the brand that offers the best hammock, there is an excellent idea.
Yes, by reading the customer's review, you can able to find the best brand. With the help of customers review, you can able to know the real facts.
Additionally, examining and researching for reviews is only the way to compare all brands and find the best one.
Camping Hammock FAQs
Are Hammocks bad for you?
It turns out that sleeping in a hammock can actually help you fall asleep faster, give you "better" rest and eliminate tossing and turning. Back pain often leads to discomfort, which can disrupt your sleep cycle and even make you unable to sleep at all.
Is cotton or polyester better for a hammock?
Open woven polyester rope hammock is more durable, less moldy, better resistant to high humidity, salt air and UV. However, polyester rope is not as flexible as cotton rope, so it may not be as comfortable as cotton rope.
Is hammock camping safe?
Even if camping in a hammock feels a bit like a tortilla on a bear's plate, no research has shown that camping in a hammock is more dangerous than camping in a tent. Bear attacks can usually be attributed to some form of human error, rather than your preferred sleep schedule.
Conclusion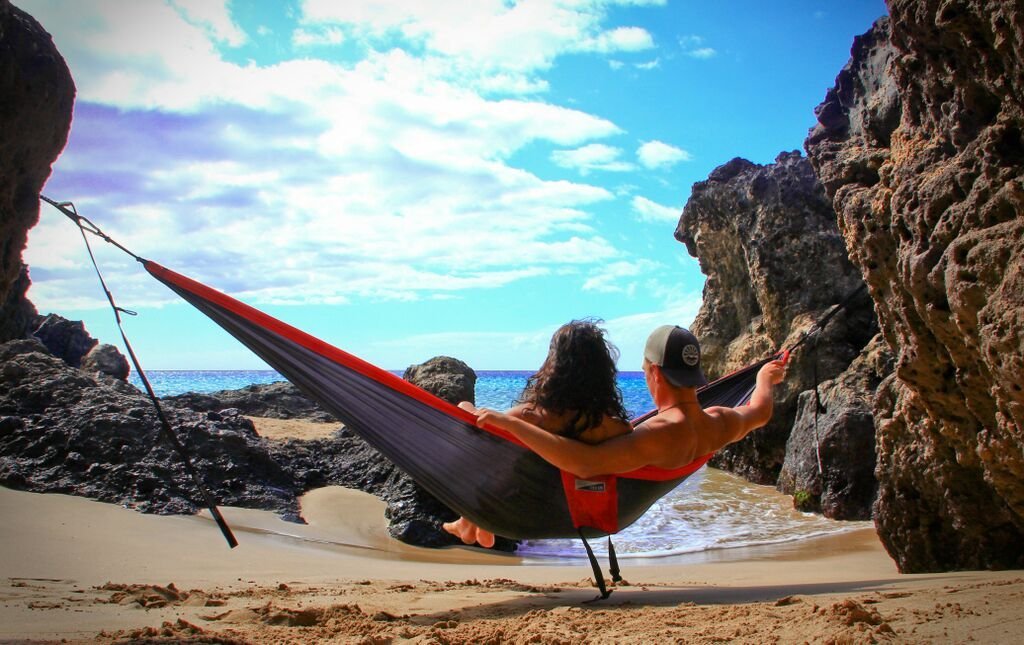 Instead of carrying a big tent that needs a lot of time to set up, buying a portable hammock is the best choice. On the other hand, the hammock is not for everyone but offers a comfortable sleep and relaxation for all outdoor enthusiasts.
But, you can also make use of both indoors and outdoors for various purposes, so based on your needs and requirements, you have to pick the right one. However, with a wide range of options, it is hard to find the right product that meets your needs.
Hopefully, you've already found the camping hammock that best meets your needs from the 8 reviewed above.