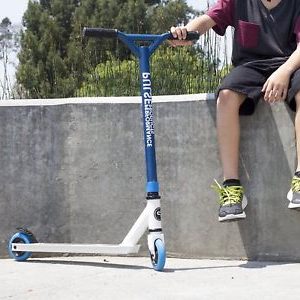 Getting the perfect pro scooter can be an overwhelming task. With so many brands and designs to pick from, you may end up picking a stunt scooter that could potentially disappoint you in the end.
That is why we have come up with a list of the best pro scooters that you can choose from. We have put various things into consideration when coming up with this list.
Some of the factors we considered include the rider's age, skill level, and the quality of the scooter.
Now, let's get started…
9 Pro Scooters For Kids
In a hurry? Just check the quick editor's choices:
1. Fuzion Z300 Pro Scooter Complete
If you are an intermediate or beginner rider, then this will be perfect for you. With this scooter, you will be able to improve your riding skills in no time at all.
The pro scooter has a wide Aluminum deck that is tough. The wide deck enables it to evenly distribute the landing forces across the outer surfaces.
This provides you with more stability when riding. The deck has an interesting Dog-Bone design. The brakes have great braking power that keeps you in control. What's more, the brakes can be adjusted with ease.
The scooter comes ride-ready, making installation easy. All you have to do is tighten the two bolts and you can start riding immediately. It has Hex Grips and Nylon Bar-Ends that make it perform well both on skate parks and roads.
It comes outfitted with Sealed Headset Bearings, IHC Compression System, Metallic Fork, as well as PU and Aluminum Core Wheels.
Pros
Sturdy
Versatile
Suitable for beginners and intermediate riders
IHC Compression is simple to use
Easy to install
Durable
Cons
Too heavy to perform tricks
The deck is too large for some people
2. 

Razor A5 Lux Scooter
This A5 Lux Scooter was designed for tall riders. It has a high-quality deck and an aircraft-grade Aluminum T-tube that can support riders who weigh up to 220 pounds.
Additionally, the A5 Lux has adjustable handlebars that you can use to adjust the height.
The handlebars are spongy to allow for a smooth and comfortable grip. If you are not a fan of spongy handle grips, then you can easily replace them.
The scooter has extra-large urethane wheels that provide a smooth ride. The wheels are perfect when it comes to stability and balance. It also has Rear Fender Brakes that are efficient when you want to break quickly.
Even though it comes ride-ready, you are recommended to tighten the bolts and screws before you take it out for a ride. The folding system comes in handy during travels or when you want to store it.
Pros
Easy to fold
Easy to adjust the height
Wheels provide a smooth ride
It has a maximum weight of 220 pounds
Cons
Not everyone likes spongy handle grips
3.

Mongoose Expo Scooter
The scooter is ideal for people who like to ride on rough terrains. The Mongoose Expo Scooter has 12-inches air tires that enable it to withstand practically any terrain. The tires are both durable and long-lasting.
The wide foot deck provides great stability and balance. The caliper hand brakes are effective in controlling the speed.
Performing tricks on this scooter are made easy by the BMX Freestyle Handlebars. The handlebars are easily adjustable to enable you to find the perfect height during rides.
Pros
High-quality metal frame
Lightweight
Sturdy
Adjustable handlebars
Easy to ride
Cons
 Not assembled
Has plastic decks
4.

Den Haven Scooter For Kids
The deck for this 3-wheel kick is wide to provide stability and balance during rides. The deck is wide enough for kids to safely stand on them.
The Den Haven Scooter has PU wheels that offer a smooth and quiet ride. The wheels are stable to provide both safety and stability.
It has a T-Style handlebar that locks in place. The T-bar can extend from 14.5 inches to 24 inches. This makes it ideal for children who are taller. The handle grip pads are comfortable.
The scooter also has a folding design that enables you to easily fold during storage or travel. The rear brakes are easy to use. The brakes also provide a fast secure stop.
Pros
Foldable system
Simple to use rear brakes
High-quality wheels
Durable Aluminum frame
Adjustable handlebars
5.

Fuzion X-3 Pro Scooter
When it comes to introducing your kids to riding, you can never go wrong with this scooter. This scooter helps kids to advance quickly to the next level.
The scooter is lightweight to help kids perform tricks. It has an aircraft-grade Aluminum Deck and an effective IHC Compression System.
It has a flat deck bottom that is a perfect fit for those who like grinding. The steel V-bars are strong and sturdy.
It has PU wheels that provide a smooth ride. The brakes are simple to use. Assembling is easy-you just need to tighten the three bolts and you are set.
Pros
Lightweight
Comfortable handlebars
Durable wheels
Simple to maneuver
Easy to assemble
Cons
Handlebars cannot be adjusted
6.

Razor A Kick Scooter
The scooter is ideal for kids who are 5 years and above. It is made from Aircraft-grade Aluminum material. This material makes the scooter to be strong and sturdy.
The urethane wheels provide a smooth ride. It has a patented T-tube and rear fender brakes that provide quick stops. The handlebars can be adjusted easily to suit the physique of your kid.
As your child grows taller, you can adjust the height of the handlebar instead of buying a new scooter. It has a folding system that enables it to be stored and transported easily.
Pros
Durable
Lightweight
Sturdy
Folding system
Adjustable handlebars
Cons
Wheels weaken when used for a prolonged period of time on rough terrains
7.

Micro Mini Original Kick Scooter
This kick scooter is great for children who are between ages 2 and 5. Children in this age group need a scooter that is both safe and well-balanced.
And, this scooter provides both of those things. The 3 wheels on the scooter provide stability and balance. It has Non-Marking Wheels that offers a smooth and quiet ride.
The low deck further increases its balance and stability. The low deck enables children to access the ground with ease. The deck is also wide in order for it to fit both of the kids'feet.
This kick scooter has a Lean-to-steer Mechanism. This mechanism allows children to direct the scooter by simply shifting their body weight either to the right or to the left. The mechanism helps children to learn proper coordination and balance.
Pros
Wide deck
Durable
Lightweight
Versatile
Smooth ride
8.

Razor A2 Kick Scooter
After the success of the Razor A Kick, Razor decided to introduce the A2 version. This scooter has additional features that make it even better than the previous version.
This model has a wheelie bar and a spring-less front suspension.
The urethane wheels in the A2 Kick Scooter have a spring-less shock system that makes it easier to ride on bumpy rides. The wheelie bar, on the other hand, enables kids to perform tricks safely.
Just like the previous version, it is also made from aircraft-grade aluminum and has a folding mechanism for easy transportation.
The adjustable handlebars ensure a perfect fit for children who are 5 years and above.
Pros
Sturdy
Adjustable handlebars
Navigates smoothly
Wheelie bar
Easy to handle
Cons
Has narrow pedals
Does not fold easily
9.

Globber Promo 3 Scooter
This 3 wheel scooter is ideal for kids between ages 2 to 6. The scooter has a Secure Lock Button that enables it to move forward. This helps children to learn how to steer and balance.
The scooter has an adjustable handle that can stretch up to 31 inches. It also has a steel plate deck that is stable. It has a low deck to provide a responsive ride.
The long rear brakes lead to efficient braking. The PU wheels offer a smooth ride while the Front Pivot Supports enable the child to take a smooth turn.
Pros
Adjustable handlebars
Easy to assemble
Stable wheels
Lightweight
Smooth ride
Cons
Brakes are not that durable
Tips and Buying Guide: How to Choose
Scooters are one of the coolest leisure items that you should have. That is why manufacturing industries are doing their best to produce a state of the art rides for kids and adults.
With so many models hitting the market every day, it is becoming even more difficult to know what to look for in a good pro scooter. These tips will make the work much easier.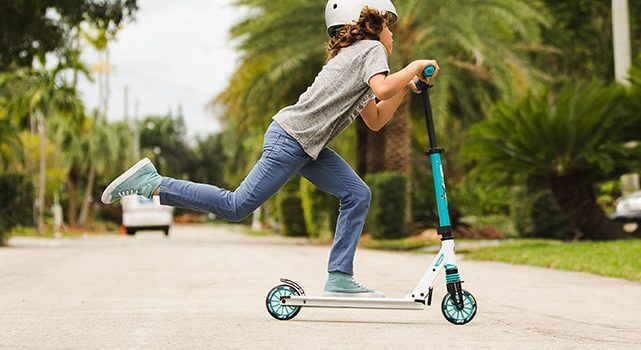 Here is everything you need to know before choosing the best pro scooters.
The fact that pro scooters have been structured for stunts means that most are lightweights. Still, it is important to check how heavy the scooter is. If you are getting one for a kid, it should be light enough for them to carry around and to perform basic stunts on.
Since weight almost always goes hand in hand with size, a standardly sized scooter should be the best choice. Don't go for too big or too small.
A good pro scooter should not cost you so much. Always compare three or more top picks and go for the best value. You can make the decision by considering the quality of the product.
If it's your first ever scooter, don't spend too much on it. Learn first, and when you've made it to the pro's clique, you can now comfortably go for more luxurious options.
Wheels
Sometimes the wheels determine the quality and price of a pro scooter. The ones with metal core wheels not only cost more, but they are also more durable than the ones out of plastic.
Metallic bound wheels are more stable and are also able to support large body sizes.
This is where all the scooter parts connect. It means that the deck is probably the most significant part of the pro scooter. A good scooter should have a sturdy deck to support even heavy weight landing. Aluminum decks are the most preferred.

Look for the handlebars that provide greater control and also the ones that can withstand great impacts. The height is also something to consider.
A model whose bars reach the mid-torso are is good enough. Teens who are into extreme stunts are known to love bars that only reach the waist, so it kind of depends on what works for you.
The best quality products always have a good retailer warranty. If the model you're eyeing doesn't have a warranty, it is probably not going to last, and the seller knows that.
Most warranty policies allow for part replacement, which is good because it is uncommon to find an entirely broken down scooter after one year of service.
Most pro scooters for adults are considered to be high-end models for expert riders. On the other hand, pro scooters for kids will commonly come simpler and cheaper.
Even if you're just a beginner, ask for a scooter for experts. It will most likely be of higher quality than its peers at the store.
One thing you should remember to do before purchasing a pro scooter is to first know how much you weigh. This is especially important if you are looking for the best scooter for adults.
Many models have been made to support a body weight of up to 220.5lbs./100Kgs so they can easily support most teens and adults as well.
What are Stunt Scooters?
Stunt scooters are designed to be ridden on ramps and other obstacles. Their frames are made of lightweight aluminum, making them easy to maneuver, while their wheels are made of polyurethane to ensure they roll smoothly over different surfaces. Some stunt scooters have thinner wheels than traditional skateboards in order to allow riders to perform impressive tricks in the air.
Stunt scooters also come with a variety of accessories, including handlebars, seats, pedals, and even kickboards. The components of the stunt scooter are designed to help riders perfect their stunts while always remaining safe.
Pro Scooters FAQs
How much does pro scooters cost?
Pro scooters can cost a lot of money. If you want to get a high-quality one, you should expect to pay over $200. However, you can find lower-priced ones for about $100 or less.
Are scooters dangerous for toddlers?
In the two recent reports, scooter is the most dangerous toy for children, so it is not recommended for children who are too young to play. Besides, it is better for adults to accompany their children, which will reduce the possibility of danger.
Are stunt scooters good for toddlers?
Balance requires core muscle strength, pushing a scooter with feet requires leg strength, and fast decision-making skills require mental strength. Children on scooters exercise their muscles every time they ride… Scooters for toddlers is a good way to promote muscle strength and development.
Conclusion
There you have it! Whether you're looking for the best pro scooters for kids or for adults, there is quite no big difference in the criteria applied when choosing between the two. You should, however, be well informed before making the right choice.
We know that this could be the line separating a good scooter gift from a bad one. But now that you have enough insight on the buying tips, you don't have to worry about Christmas gift fails. And you'll be able to choose the scooter that best suits your needs from the ones discussed in this article.