A reel mower has an excellent cutting deck. Moreover, it is easy and safe to move around, as well. If you have a small-sized or medium-sized lawn, the reel mower is the perfect option for you. The only question is how to pick the right one?
Today, we will help you solve this problem. Not only will we share with you the top 8 best Reel mowers, which you can go with but also a buying guide to help you know and understand the parameters to consider while buying a Reel mower.
Best Reel Mower 2021
1.

Fiskars 17 Inch Staysharp Push Reel Lawn Mower
The USP of this reel lawn mower is that it is easy to push. Compared to other Reel mowers, it requires 30% less effort to push. It means that it certainly minimizes your effort.
It has an eco-friendly and manual option, which means that you need not worry about gasoline or oil or the charge leftover on the battery. The cutting width is 17 inches, which helps you cover a significant area in a single go.
It allows you to change the cutting height between 1.5 inches to 3.5 inches.
The patent-pending design means that it is efficient than your ordinary reel mower. According to the company, it has 50% more cutting power as compared to other similar options. It is one of the main advantages of this mower.
The design of the blades is such that they retain their sharpness. It means that you need not worry about replacing them or sharpening them again and again. With so many advantages, you cannot go wrong with this mower.
Pros
Offers higher cutting power
Easy to move around
Minimizes your effort
Eco-friendly option
Efficient blade design
Height adjustment on offer
Cons
Packaging needs improvement
2.

Earthwise 1715-16EW 16-Inch 7-Blade Push Reel Lawn Mower
One of the primary reasons why this Reel mower is on this list is because of its cutting width of 16 inches. It consists of 7 Blade ball bearing structure. It means that the cutting power is on the higher side as well.
Are you wondering about its wheel size?
It consists of 10-inch composite wheels. Also, it comes along with the unbreakable blade as well, which is another advantage.
The blades consist of alloy steel, which can retain their sharpness for a long time.
Do you prefer one which allows you to adjust the cutting head?
If yes, this one facilitates that as well. You can adjust the height between 0.5 inches to 2.5 inches.
The eco-friendly design is another advantage. With so many features, it is hard to ignore this reel mower.
Pros
Adequate cutting width
Heavy-duty wheels
Excellent cutting power
Height adjustment on offer
Heavy-duty blades
Cons
Handle design could be better
3.

Remington RM3000 16-Inch Reel Push Mower
The cutting width of this Reel push mower is 16 inches. It is suitable for small and medium lawns. Also, with the help of a 5-blade adjustable reel, you can customize the cutting operation.
The ergonomic design of the handle, along with the foam grip makes it easy to use.
It is height adjustable between 0.75 inches and 2.5 inches.
With the help of heavy-duty 10-inch wheels, moving it around on any terrain is quite easy. The 5-blade design certainly makes it stand out from others.
Pros
5-blade design
Ergonomic handle
Height adjustable
Large and heavy-duty wheels
4.

American Lawn Mower 1204-14 14-Inch Deluxe Mower
Get a clean and precise cut with the American Lawn Mower 14-inch Deluxe which is especially effective on most types of cool-season grasses (rye, fescue and bluegrass) provided that you don't leave too long in between each mowing session – although this is a standard issued with reel mowers.
The combination of a 14-inch cutting path 0.5 to 1.5-inch cutting height, 3-spider 1-blade reel, adjustable 3-section roller, and 8.5-inch diameter polymer wheels creates a mower that maneuvers well, pushes easily, and cuts nicely.
A greater comforter in use comes from the zinc-plated handles which come with plastic grips. It's built to do everything a noisy heavy mower does and it is also light enough to carry one-handed.
Up a hill, on the flat, around the bushes, this deluxe reel mower works fine. Yes, you do need to put in a little effort – reel mowers aren't self-propelled. But it is certainly NOT a pollution-spewing, gas-guzzling, or a noise creating monstrosity. No checking the oil, no gas cans, no running to the gas station, no exhaust fumes, no pull rope to break, no spark plugs going bad … you get the picture.
Pros
Reliable alloy-steel construction
Simple to learn and to use
No confusing features
No fuel required and no emissions
High quality steel construction
Height adjustable roller system
Cons
Can't cut tall grass over 4 inches
5.

Great States 304-14 14-Inch Economy Push Reel Mower
Lightweight and easy-to-maneuver, the Great States 304-14 14-Inch Economy Push Reel Lawn Mower give a precise, clean, scissor-like cut to the lawn.
You skip the noise, the cords, the fumes, and the gas – as everything is entirely man-powered. Perfect for someone intimidated by the prospect of maintaining an engine-based mower, as these reel mowers are maintenance free with no engine to clog up, no gas to top up and spark plugs to foul.
Easy height adjustments up to 1-3/4-inch, 10-inch wheels with rubber tires (gives great traction), smooth-spinning blades and cushion-grip handles offer all that's needed to achieve a well-groomed yard.
Solidly built, a great push mower for the environment, the Great States 304-1414-inch cutting real mower is equipped with a heat-treated 5-blade smooth-spinning blade, easy-roll wheels and T-style handle for ease snipping the grass for a precise, clean cut. And to provide a long lifetime, the reel mower is hard enamel finished which is also perfect to prevent rust.
Manual push mowers are perfect for small lots. They're well-quiet, able to burn some calories, and the grass clipping stays on the lawn to help with building the topsoil. This is a high-quality and very sturdy machine, which is American-made at an economical price. If searching for a lightweight and compact mower, you can't really go wrong with this model.
Pros
Stay-sharp heat treaded blades
Comfortable plastic gripped handles
Corrosion-resistant construction
Variable height adjustable from 1-inch to 1-3/4-inch
Tool-free assembly
Cons
Time consuming
Some full-grown grass was not removed on the lawn
6.

GreenWorks 25052 16-inch Push Reel Lawn Mower
Well built, easy-to-assemble, and lightweight, the GreenWorks 25052 16-inch Push Reel Lawn Mower is able to do everything required in a man-powered mower yet comes without the problems often associated with an air-polluting and gas-guzzling mower.
The combination of the wide, 16-inch cutting path, 10-inch wheel size, and 3-position height adjuster cuts the grass with ease, just try to avoid letting the grass get too high (this is a problem with all types of push reel mowers).
Provided you are able to keep on top of cutting the lawn and don't let the grass get too long, this reel mower isn't really any more difficult to push than a gas-powered self-propelled mowing machine.
Advantages to this reel mower; no getting it set up for the season (except to oil the moving parts), no oil to dispose of, no gas to top up or smell, no cables to change, no spark plugs to change, and no end of season maintenance (again except to oil the moving parts).
Environment-friendly, the GreenWorks mowers are ZERO carbon footprint products, meaning that they will never release a single ounce of carbon emissions into the atmosphere, so perfect for gardening wishing to do away with their harmful gas-guzzling mowers. On top of that, GreenWorks also backs their yard equipment with a full 4-year warranty, which is double the industry standard.
Pros
Easy assembly
Grass-height adjustment
Ease of use
4-year parts and labor warranty
7.

Scotts 2000-20 20-Inch Classic Push Reel Lawn Mower
The Scotts 2000-20 20-Inch Classic Push Reel Lawn Mower is a highly maneuverable, lightweight, and economical machine to cut even thick tuft with complete ease and offers a pollution-free and quiet alternative to some of the gas-guzzling alternative mowers on the market.
Its ultra-sharp, 5-steel blades and dual track wheels are perfect to help provide an efficient and accurate cutting action.
Powered by walking-power, the Scotts 2000-20 comes with a decent sized cutting path at 20-inch, which reduces the number of passes, and adjusts in height (1 to 3-inches), to give full control in your endeavors to control the grass height, meaning you are able to get mowing done in less time and more efficiently.
Getting complete control over the length of the grass is as simple as a quick-snap of the side-mounted height-adjusters, which switches position using your fingertips, with no need to use tools of any type.
And for precision cutting, the 5-heated treated blades give reliable and accurate cuts with each and every spin of the blades. And for ease in passing up and down the lawn, the mower is equipped with dual wheel-tracking technology to help with eliminating drag even across the most difficult of terrain.
Wide width of cutting power is key to this push mower. A great machine for those wishing to eliminate the ongoing cost of purchasing gasoline, but also perfect to limit your carbon footprint by avoiding the pollution that is emitted from a gas-operated mower.
Easy-to-assemble and control, the Scotts 2000-20 have no complicated machinery components to be concerned with, avoiding the time spent maintaining engines in fully operational condition.
Pros
Extremely affordable
Wide deck
Surprisingly maneuverable
Sharp, clean-cutting blades
Easy to assemble
Cons
Doesn't edge very well
Struggles with larger twigs
Not ideal for large lawns
8.

Fiskars 6201 18-Inch StaySharp Max Push Reel Mower
Fiskars 6201 18 StaySharp™ 5-Blade Reel Mower as the #1 choice in push lawn movers – definitely a quality product, and a joy to use, but only purchase if you like to PUSH.
Built to last, the Fiskars 6201 offers the latest in mower technology, such as the patent-pending InertiaDrive. StaySharp cutting system and variable cut height ranges – that well passes the abilities of other reel mowers.
With this, the StaySharp Max provides an earth-friendly, efficient, and best in its class reel mower.
The combination of these latest technologies within the reel mover market makes the StaySharp 6201 Mower at least 60% easier to push up and down the lawn than most other similar styled machines available, which helps you get a lot more done while using a lot less effort.
Best of all, mow a lawn without a need to top up with gasoline, charge, oil, the hassle of power cords or the constant noise. Gardeners elsewhere operating a large push or riding mower can often expect costs in the region of $150+ per season – maintaining blades, filters, belts, oil, plugs, etc can be an expensive endeavor – this is almost entirely avoided with the more efficient, and eco-friendly running of a push mover.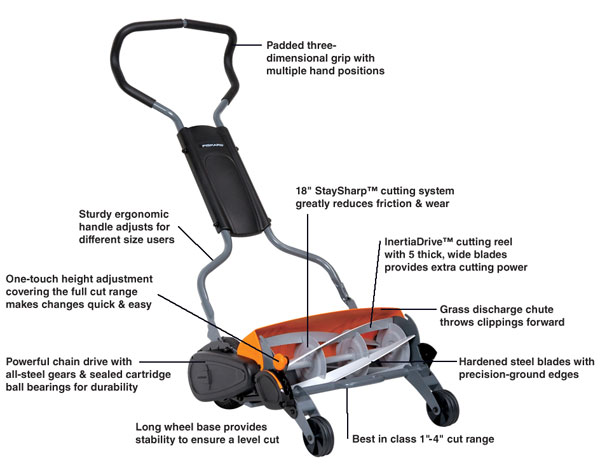 The height of the Fiskars lawn mower is also easily adjustable. You can simply adjust it from 1 inch to 4 inches with the turn of a knob. With this feature, users can clean cut any type of grass regardless of you haven't mowed it for a week or so. It also has a closer edging capability that is unlike any other.
Comfort is another great feature to expect from Fiskars 6201 18-Inch 5-Blade Momentum Push Reel Lawn Mower. Its handle grip is fully padded and three dimensional. It can be easily adjusted to accommodate the user's height. This means, whether you're tall or short, the mower can adapt to your specific needs.
Since safety is one of the most important factors to look for in a reel lawn mower, Fiskars reel mower features an innovative discharge chute that throws grass clippings away from the user. It keeps grass away from the face and clothes.
This way, users can use this reel lawn mower without any risk of grass getting into the eyes. Even allergy sufferers can use it without succumbing to allergies.
A couple of generations ago everyone used reel mowers, but these days most people seem to prefer a rotary gas powered mower.
But, reel mowers, much like wet shaving, are making a resurgence. Some people are realizing that the quickest way of doing things is not always the best for us, and the things around us.
Pros
No Noise
No fumes
Can cut higher than most gas mowers
 Adjustable handle to suit your height
Cons
Very difficult to cut overgrown grass
Difficult to cut wet grass
What Is a Reel Mower?
A reel mower, or push lawn mower is what was used to cut grass before gas powered mowers became popular. The mower consists of a cylinder made up of blades in a corkscrew type arrangement that spins whenever the mower's wheels rotate. This means that when the mower is pushed across the grass the cylinder will rotate trapping the grass between the rotating blade and a fixed blade on the mower, cutting it like a pair of scissors rather than tearing the top of the grass using a high speed blade like you would with a gas lawn mower.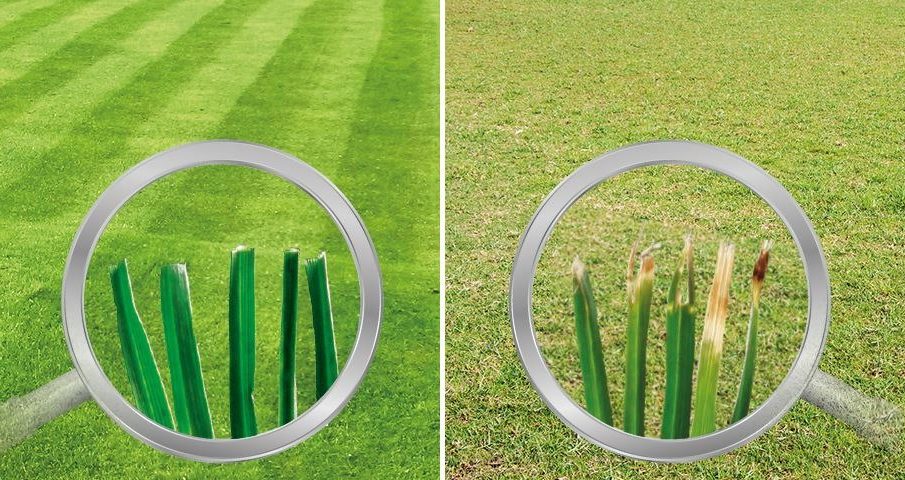 What are the Advantages of a Reel Mower?
It is better for the grass – As the grass is actually cut rather than torn the grass becomes healthier as there is a less damaged area to be attacked by insects and disease.
It is better for the environment – Although the engine on a gas powered mower may be small, it actually put out more pollution than the average family car.
Better for your health – Not only are you not having to breathe in the fumes from the gas mower, or have your hearing assaulted by the sound of that engine, you also get better exercise from pushing the mower around your yard.
It is better for your neighbors – They will not have to listen to the sound of the engine, and they will get to enjoy a much healthier lawn.
It is better for your pocket – A good reel mower costs about the same as an average gas powered mower, but will last longer, need fewer parts, and will not use any gas.
Conclusion
When you're searching for the best reel mowers, these are the three options that you can consider. If you're not able to make your decision between these 8 options, our buying guide above can certainly help you out. It is time to go with these Eco-friendly options rather than many other lawnmowers. These are not only easy to use but also provide you with complete control over the mowing process, which allows you to get a manicured lawn as per your preference.