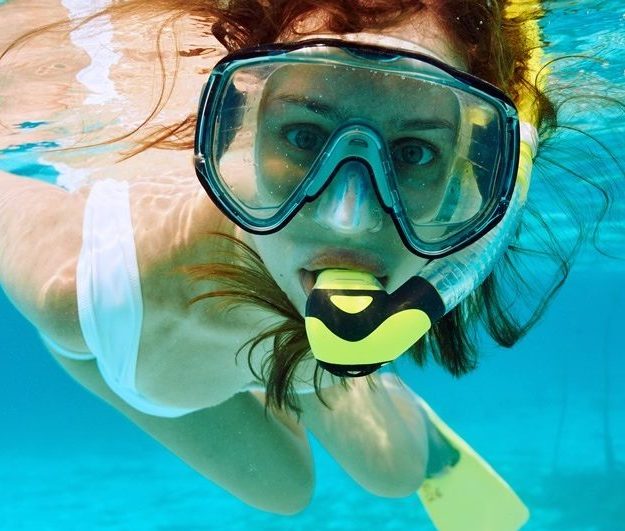 People do snorkeling & scuba diving for different purposes. To some, this activity is a form of a recreation activity to explore surfaces and sometimes the depths of seas and oceans such as wrecks, caves, underwater vegetation and marine life.
Others use snorkeling and scuba diving for professional purposes such as military activities, the offshore building of structures, civil engineering, or even underwater welding.
To others, both activities act as a means of increasing body fitness levels by gaining strength and flexibility.
For whichever purpose you choose to undertake snorkeling or scuba diving, you need a
good scuba mask
that is of great performance and wants to get you into trouble when you are underwater.
How To Choose The Best Scuba Masks?
One paramount thing to consider is that you need to understand the components of a scuba mask; mask skirt material used, mask volume, type of lens, frame material or any other additional features.
When you become familiar with the scuba mask, it becomes easy to take your choices into careful considerations when you want to have a productive underwater session.
You must not rush to the local dive shop and buy the first scuba mask that fits you. It is important to understand the differences between different types of scuba masks. You must know about the features you need in your mask before you make the purchase.
Scuba masks are created specifically for diving. High-quality materials like
silicon
and tempered glass are used in their construction. These materials make the scuba masks tough enough to withstand the harsh underwater environment.
You must keep the following criteria in mind while choosing the best scuba masks for diving.
Single Lens Vs Double Lens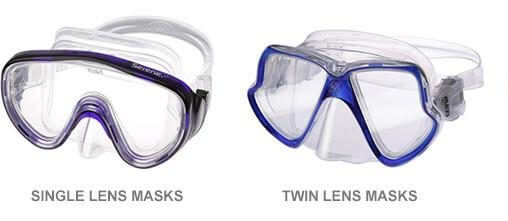 Single lens masks are often less obstructive than the double lens masks. As they have more glass, single lens masks are heavier than the double lens masks. Single lens styles are usually greater volume than the double lens masks.
Frame Vs Frameless Masks

The masks with the frameless designs sit closer to your eyes and offer a wider field of vision. Generally, they are lower volume as compared to masks with rigid frames.
Frameless-style masks can be easily folded down flat and stowed down in the pocket. However, rigid-frame masks are known to be more stable and offer a secure fit. You should probably go for a framed-design if it is difficult for you to find masks with a good fit.
Reflective Lens Vs Clear Lens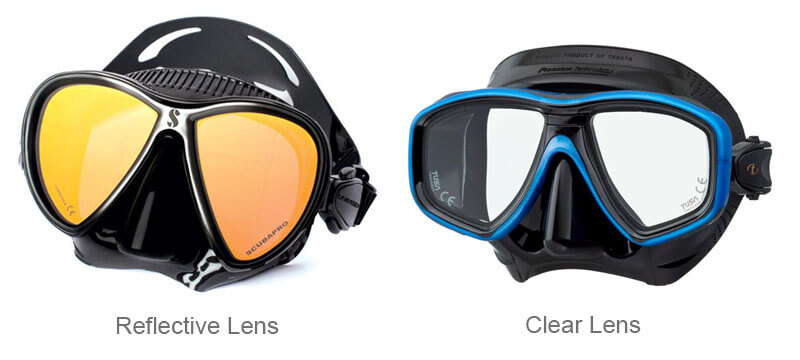 Reflective lenses prevent the onlookers from seeing your eyes including the fishes. Clear lenses may allow you to communicate with your eyes if you need help.
Checking A Scuba Mask For Fit
Fitting is the most important criteria for choosing the scuba mask. No matter how expensive a mask is or how good it looks, if it does not fit properly, you should not buy it. Never try to compensate for a bad with tightening the straps.
To Check How Well a Mask Fits
#1. You should move your hair out of the way. Long hairs can creep in and break the seal of the mask that can cause trouble underwater.
#2. Place the mask on your face and gently inhale through the nose to suck the mask in place. If the mask stays in place with moderate suction, you can consider buying it.
#3. Check if you can equalize the ears with the mask on. Pinch your nose and blow against it gently. If the ears don't pop out easily and you feel the need to blow very hard, don't buy the mask.
#4. Don't tighten the straps and see if the mask stays in place for several minutes after the suction test. If it becomes loose quickly, you should avoid buying the mask.
Steps To Find The Best Suba Masks For Yourself
Go to the dive shop and try all the masks that fit your criteria.
Pay attention to the mask seal and check how well it fits.
Keep the ones aside that fit properly.
Try the selected ones again and pay close attention to the comfort.
Pick the one which is most comfortable, put the straps in place and keep wearing for a few minutes.
You might look silly for a few minutes but it is important to check the comfort a mask can actually provide.
Buy the mask if it is comfortable even after wearing it for a few minutes.
Preparing The Mask
On your new dive mask, a thin film of silicon develops on the mask. It causes rapid fogging and resists anti-fogging measures. Make sure you remove this film before your first dive.
You will need a powerful surfactant to remove the film. Never use a toothpaste, you can use a mask cleaning product or a baby shampoo. Rub the cleanser into the skirt and the lens. Rinse it clean thoroughly with warm water.
For normal fogging, you can use any anti-fog agents. You should avoid using saliva as it can spread viruses on your lens.
Mask Care
While entering the water from the beach or boat, place your hand on the mask to make sure that the mask stays in place. It will also deflect the direct impact of water on the mask.
You should avoid putting the mask on your forehead during the dive. It can easily be dislodged and lost if you put in on your forehead. If you want to avoid wearing the mask for a while, place it around your neck.
You should consider buying a padded mask bag to keep your mask safe when not in use.
Below is a compilation of the best scuba masks in the market:
Best Scuba Masks 2020
Model
Materials
Best For
Price
Cressi Kids Scuba Mask
Tempered Glass, Silicone
Kids
Check Price
WACOOL Scuba Mask
(Editor's Choice)
Tempered Glass, Silicone
Adults
Check Price
Mpow Scuba Mask
Tempered Glass, Silicone
Beginners
Check Price
ProDive Scuba Mask
Tempered Glass,
Silicone
All Round
Check Price
Romatlink Scuba Mask
Tempered Glass,
Silicone
Adult
Check Price
Cressi MAREA
Tempered Glass,
Silicone
All Round
Check Price
U.S. Divers Snorkeling Set,

Glass, Silicone
Women
Check Price
Seavenger Diving Set
(Best Seller)
Tempered Glass,
Silicone
All Round
Check Price
BIG EYES EVOLUTION
Tempered Glass,
Silicone
Adults
Check Price
1. Cressi Kids Snorkeling Equipment
New in the market, this product fits perfectly to children and adults with smaller faces. The mask skirt is made of lenient liquid silicone that is anti-allergic to the skin and provides great comfort.
This mask also contains 2-window mask with lenses made of high quality impact glass to give 180-degree view coverage and longevity.
It also has a frame made of techno-polymer for extra strength and adjustable straps and buckles to secure the mask property on the face.
The semi-dry top contains a contoured tube and a ribbed elbow for comfort and the top also deters water when it tries to get into the snorkel.
The purge at the bottom of the snorkel allows the swimmer to easily blow out any water that enters the tube and the silicone made mouthpiece allows the easy exchange for other mouthpieces and for that extra relief.
Pros
High quality materials
Adjustable buckles on the skirt itself as opposed to the frame
Good for women
It is affordable
Cons
Limited color options
Not suitable for teens
2. WACOOL Snorkeling Package Set for Adults
This snorkeling set has been manufactured specially for adults. The whole set has been made with state of the art material to ensure durability and extreme comfort. The silicone made mouthpiece and mask skirt ensures great performance underwater.
Its dry snorkel and splash guard do not allow water to enter into the snorkel while the purge valve ensures easy removal of water out of the snorkel.
The masks' lenses are made of anti-fog coated high quality impact glass for clear and wider angle of vision while underwater.
The great advantage of this mask compared to others is that the silicone made skirt molds perfectly for any face shape and the corrugated design gives more support and safeguards against any internal water leakages
Pros
Perfectly fits faces of all types and sizes
Use of high quality materials
Anti-fog coated the tempered glass
Full dry snorkel
3.

AOMAIS Snorkel

Easy Breath Scuba Snorkeling
This snorkeling set comes designed for professionals looking to have safe and enjoyable underwater activities. The masks skirt is made with high quality silicone to seal any water leakages and a mouthpiece specially made with soft silicone to avoid mouth exhaustion during snorkeling or scuba diving.
The Mpow snorkeling mask has lenses made of high quality impact glass that is resistible to underwater pressure and the lenses are covered with anti-fog material to provide impeccable underwater visibility.
The mask also comes with a PVC made as well as a foldable snorkel tube for uninterrupted breathing and a purge valve to remove any water that enters the snorkel by simply breathing it out.
The swivel buckles on the snorkel are modifiable to any head size and shape and provide secure mask rest around your head.
Pros
Easy attachability and detachability in and out of water
Anti-fog lense technology
Soft silicone mouthpiece
It is affordable
This set of snorkeling equipment has been designed with much emphasis on anti-fogging while underwater.
The mask has tempered glass lenses that have been designed with high quality plastic covered with anti-fog technology for clear visibility underwater and to withstand underwater pressure.
The straps as well as the buckles as well are made using high quality plastic durable to withstand the tests of time.
The mask consists also of a dry-snorkel that literally prevents water from getting into the tube, allowing you to enjoy your underwater adventures. Its mouthpiece is customizable and the set also comes with adjustable silicone straps to secure everything in place.
Pros
Dry snorkel
The lens is coated with a fog-resistant material
Deepwater pressure resistant
It's affordable
Cons
Not that comfortable
Less foolproof mask skirt that makes it prone to leakages
Designed to fit both the male and female style, this snorkel set comes well packaged such that it makes it easy for you to travel with.
Its wide-view lenses have been equipped with the anti-fog technology ensuring that you get clear underwater visibility.
The mask also comes with a dry snorkel as well as a purge valve that have a mechanism of expelling water when you exhale underwater.
The mouthpiece of the mask is made of soft silicone that prevents your mouth from exhaustion and the mask buckles contain two buttons that allow you to adjust the mask accordingly.
In order to keep the snorkel and mask together, a clip on the shaft of the snorkel allows you to detach and attach the goggles whenever needed, making the equipment easy to use.
Pros
Wide view lenses
Lenses coated with an anti-fog material
Professional packaging
Adjustable mask
Cons
Unstable clips
Leaking snorkel
Cressi mask is made of 100% silicone skirt and equipped with tempered glass lenses. The completely dry top snorkel with purge valve is used for easy clearing.
The innovative and patented manufacturing technology designs and creates the Cressi snorkel mask. The A-level comfortable fit, together with remarkable price and a 2-year warranty, makes it more attractive and popular with the diving junkies.
For one with a small face, the Cressi snorkel mask seems a bit large and poor fitting. Usually, it leaks in the water when those with small face wear it.
Fogging is another issue, which may blur the vision of the divers. The straps are easy to loosen up and hard to tighten up again.
Pros
Economical budget price
With purge valve
A comfortable fit
2-year warranty
Cons
Non-adjustable size
Subject to fog in the water
Straps easy to loosen up
U.S. Divers Diva Women Snorkeling Set is designed especially for women. It includes Admiral LX Mask, Island Dry LX Snorkel, Trek fin, and convenient carrying and storage bag. It comes with Pivot Dry Technology, hypoallergenic silicone mouthpiece, and full flex section with purge valve.
The low-profile single lens will bring out feminine features, hypoallergenic silicone face skirt, and pinch and pull Pro-Glide buckles.
Dual-composite fin blade for snap and power, soft and comfortable foot pocket with adjustable strap is available for the buyers.
Besides, it includes a limited two-year manufacturer's warranty.
The price is low, but it is not a deal. The flippers are the one that is frequently complained about. Once the gasket was taken and then put back in place, it would not close tightly again. This is a fatal drawback. What's worse, the mask tabs do not fit into the slots so the mask leaks.
Pros
Intended for the female
Adjustable straps
Equipped with purge valve
Remarkable budget price
Cons
Poor flippers
Loose gasket
Unsatisfactory sealing
Seavenger Adult and Junior Diving Snorkel Set contain many and many useful gadgets. The dry top snorkel is intended for snorkeling in the water. The trek fin is used for bodyboarding fin.
Seavenger diving snorkel set is equipped with the single lens, which offers the divers a panoramic view under the water when wearing it.
A convenient and compact mesh bag is available in the set. It puts together the whole snorkel set fits. For such rich set, the budget price is rather satisfactory.
One user described, his fin strap fell apart on his first dive and lost in the gulf. This event gave him an impression that the set was cheaply made. Another user added that the fins broke within the first 10 mins of use.
Two feedbacks is sufficient to prove that the quality of the fins is not so good as expected. When choosing the size, users are prone to make mistakes and go for wrong and unsuitable size.
Pros
Reasonable budget price
With the dry top snorkel
With a convenient and compact mesh bag
Cons
Poor quality fins
Poor fitting
Cressi BIG EYES EVOLUTION Freediving mask is famous for its fantastic fit. The excellent fit should be owed to its double injection silicone skirt, which serves as a buffer against the impact from the outside world and at the same time fit heads of various shapes.
The patented Cressi angled lenses make for a superior visibility in all directions. Completely flexible and virtually indestructible buckle system enables the user to tighten up the snorkel mask, prevent it from coming off the head.
Optical lenses are available as spare parts in the set so that the user replaces them if need be.
One divers who bought this in Oct 2017 with corrective lens found unable to use the mask as the clip cannot be refitted after replacing the lens. Even one discovered there are cracks at all 4 ends of the red X after an interval of one year. These negative feedbacks can be used as a guideline for purchase.
Pros
Fantastic fit
Superior visibility in all directions
Flexible and indestructible buckle system
Optical lenses available
Cons
The clip cannot be refitted
Cracks on the ends of the red X
Conclusion
You should know whether you need a single lens mask or a double lens mask, a frameless design or a framed design, a reflective lens or a clear lens before you purchase a scuba mask(If you want to buy bodyboarding fin, we will reviews them asap). Check the scuba mask for fit properly before making the buying decision. Never try to tighten the straps to compensate for the fit.
Prepare your mask by using baby shampoo or a mild surfactant to clear the silicon film. While entering the water, place your hand on the mask to keep the mask in place.
You should not buy the first scuba mask you like in the dive shop. You should try a number of masks and get one that properly fits you.
As scuba diving masks are such resourceful items, choosing them is never a walk in the park. However, we hope you will find our guide resourceful and make a purchase decision from a point of information.
You may also want to know about full face snorkel mask, we also have the latest reviews of best full face snorkel mask