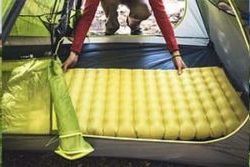 If you are planning to go camping, don't forget to pack your sleeping pad beside the tent and the other essentials.
Best backpacking sleeping pads are extremely lightweight, warm and comfortable.
They can significantly improve your sleep in the wild so that you always feel fresh and energetic in the morning.
Consider your budget, climate, type, thickness and R-value to choose the best sleeping pad for camping. The sleeping pad can be your best friend in the wild if you buy the right one. But, where do you start when you are bombarded with all the different brand names and designs?
Well, in this article, we will be discussing 9 of the best camping sleeping pads you can choose from.
Ready? Let's begin…
9 Backpacking Sleeping Pad 2021
1.

Outdoorsman Lab Ultralight Sleeping Pad
The Outdoorsman lab ultralight sleeping pad is the comfort giver away from home. Its two inches thick ultralight sleeping pad comes with interconnected yet individual air cells that take the form of your body to provide you with the optimal rest and welcoming embrace.
You don't have to worry about a sore back with the Ultralight sleeping pad in your backpack.
Inflation doesn't call for any mechanical assistance and it is not laborious on the breath. Just 10 to 15 breaths would set you up for a good night's sleep.
It comes with a lifetime warranty meaning you're free to request a replacement based on the conditions covering their warranty.
Pros
Super Easy to Inflate and Deflate
Premium Packaging
Great for Backpacking, Camping, or Traveling
Cons
The valve is placed at the foot might pose a little issue.
2.

Klymit Static V Lightweight Sleeping Pad
The Static V is another release from Klymit weighing just a little fraction above 18 oz. Made from the skin-friendly material, 75D Polyester, a good night's rest could not have come easier and at a very affordable price.
Its V-chamber design is used to limit air movement and cater for heat loss to ensure you are not roused, not even once during your sleep.
Pack size is only 3 X 8 inches which means it is just the size of a water bottle. You don't have to pack an extra bag. It comes with a stuff sack and patch kit.
The V-chamber of the sleeping pad regulates air movement within the pad and controls the heating activities to keep you warm, calm and cozy all through your rest.
Pros
Lightweight
Comfortable
Easy-to-use Push Valve
3.

Freeland Camping Sleeping Pad
Made from the weather-resistant 190T polyester pongee material, a tuft but durable fabric with extreme resistance to tear, the Freeland Camping Sleeping Pad, is the one comfort you are sure to get during your time out.
Its lightweight means it is no hassle carrying it along as it weighs very well below 4 oz.
The attached pillow is an added comfort initiative to give the best sleeping experience during any camping.
It comes with dual free-flow and non-leak air valves to give swift inflation and deflation with no need for a pump. Its split joint design keeps everyone together in love.
Pros
Revolutionary Design
Easy to Inflate and Deflate
Compact & Lightweight
4.

WELLAX Ultralight Air Sleeping Pad

Laminated with a 20D Rip-stop nylon and a TPU Layer, the WELLAX Sleeping Mat is the balance you need to achieve between a low weight camping mat and a durable one.
It boasts waterproofing, abrasion and tear resistance, perfect rustling sound removal and unparalleled heat distribution.
The 2 flat valves that feature on the Chillax sleeping mat provide it with the edge of an advanced inflation tech. One of the valves going for inflation while the other for deflation reduces the inflation time to 4-6 seconds.
Just like in most other camping beds, air loss is bound to occur after inflation. However, precautions can be taken against this.
Pros
Lightweight & Compact
Comfortable & Durable
Simple & Functional
Leakage Inspection Qualified
5.

Therm-a-Rest Z Lite Sol –

Ultralight Foam Backpacking Mattress
The folding accordion-style of the pad gives it a compact feel, the suitable choice for mountaineers, hikers, and backpackers.
Its special feature is the reflective ThermaCapture coating and heat-trapping dimples which control the radiating heat and can increase warmth by a huge 20% ensuring a peaceful night's sleep.
Its sleeping pad has a softer foam at the top catering for your comfort while the bottom is a much denser one, ready to provide insulation and protection from materials on the ground.
Pros
Reflective ThermaCapture Coating
Lightweight & Compact
Softer on the top for comfort
Cons
It might take up a little more space.
6.

Coleman Self-Inflating Camping Pad
During camping trips, the one major elements everyone has to agree on is that you need just the right camping mat to enjoy any time in camp.
The soft design of the Coleman Camping Pad provides you with the night comfort you need to get up and be ready to go the next morning.
Self-inflating design with free flow valve which inflates the pad with no need for an air pump. And the pillow isn't self-inflating and needs to be manually inflated before it can be used alongside the pad.
Pros
Compression straps for easier and faster deflation
Self-inflating Design
Durable polyester shell endures tough use
Cons
The straps are not so strongly attached and could come loose
7.

Lightspeed Outdoors 2 Person PVC-Free Air Bed
Lightspeed comes with a 2 Person Air Bed having an adjustable firmness using the two-way Boston valve and its new stabilizer system.
It comfortably contains two people and with its temperature stability tech and abrasion resistant features, there is no reason to worry over a good night's rest.
Battery operated the pump for easy inflation and deflation. Lightweight at 6 oz. for an air bed that carries two people comfortably with all its amazing features.
Pros
Adjust Firmness
Temperature Stable
Abrasion Resistant
Cons
Manufacturing issues as holes seem to appear in a few of the air bed.
8.

Teton Sports Outfitter Camping Pad
Anyone looking to have the most enjoyable time while camping understands that it all starts and ends with how good you sleep.
The Teton Outfitter Camping Pad is a thick and embracing camping pad that would give you just the same amount of pleasure and warmth your bed gives you at home. It serves so many purposes一as a single pad, alongside a cot or as an extra bed when you have guests.
The extra layer of insulation to keep you warm through the cold and steely nights outside your home. Using it inside your camp pad is sure to provide you with the extra warmth you need to get yourself in the right mood for the next day's adventures.
If you have no problem with washing then you really wouldn't mind this but for those who would mind, it is better to make sure you keep it clean for as long as you humanly can.
Pros
Camp Comfortably
Extra Insulation and Comfort
Lightweight and easy to use
9.

ALPS Mountaineering Comfort Series Air Pad
One of the best sellers of the ALPS Comfort Series. the Mountaineering Air Pad is a packed provision of maximum comfort and blissful rest in polyester fabric and brushed suede-like pad tap.
It comes with a jet stream wave foam for easy and faster inflation and deflation to give a compact cuboid upon rolling up. Its non-corrosive brass valve provides maximum durability.
A few of the pad have manufacturing problems. Inflation could be delayed, impossible or short-lived in some of the pads.
Pros
Multiple size options
Anti-slip bottom fabric
High-quality brass valves
Cons
Short-lived in some of the pads
Buying Guide: How to Choose
The sleeping pads are designed to provide you comfort, insulation, and cushion during your sleep. They can also protect you from frostbites in cold weather.
Different Types Of Backpacking Sleeping Pads
Air pads don't have any foam in them and they rely completely on the air. If you're an ultralight backpacker, you might prefer them over the other types. Though they rely completely on the air for inflation, they are extremely comfortable.
The Air pads are highly compressible and occupy very little space in your backpack. However, they are a bit fragile as compared to the other types of sleeping pads. Air pads will need a few minutes to inflate completely before you can use them. You will need to blow air into the pads with your mouth.
Self-inflating pads use a combination of open cell foam and air to create a stable surface for you to sleep. When you open the valve, the air gets sucked automatically into the pads. However, these pads are not entirely self-inflating and you will need to use your mouth as well.
These types of pads are highly durable, inflate quickly and pack very well. They offer very good insulation over the other types of sleeping pads. The self-inflating pads are a bit heavy and take time to pack.
The closed-cell foam pads are cheaper than the other types of pads and highly durable. With them, you don't have to worry about popping or air leakage and they are extremely light-weight as well.
The closed-cell foam pads are not very comfortable to sleep at. They're quite lightweight but they are bulky and will need a lot of space in your backpack.
R-Value & Insulation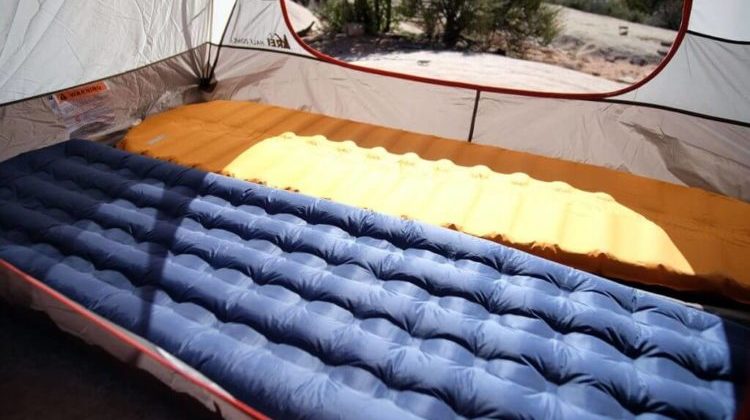 Besides the comfort, the warmth provided by a sleeping pad is extremely important. Sleeping pads provide warmth by creating an insulating layer between the ground and your back. The air pads and the self-insulating pads offer better warmth than the closed-cell foam pads.
R-values is an attempt to measure the warmth provided by the sleeping pads. As there is no standard method to assign the R-values to the sleeping pads, companies assign R-value to each pad.
Generally speaking, the R-value of 5 or above indicates that the sleeping pad is suitable for winter use. An R-value around 1 indicates that the sleeping pad offers almost no insulation.
Thickness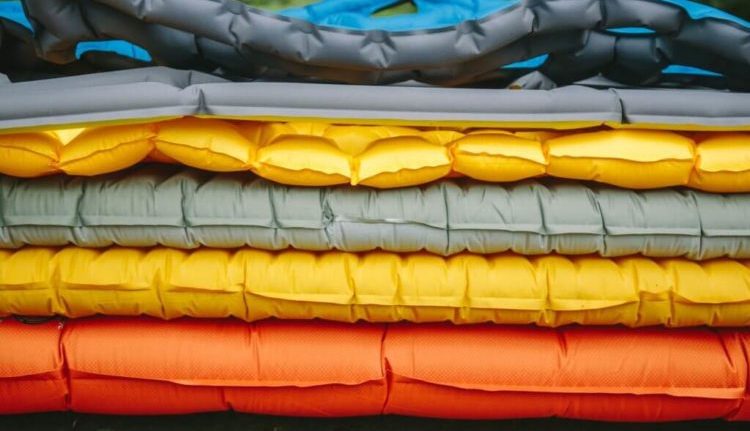 The thickness of most sleeping pads ranges between 1-3 inches. At one inch, the sleeping pads are just above the ground and offer no real comfort. At three inches, the sleeping pad can offer very good comfort provided it is constructed well.
For sleeping bags, we also have the latest reviews of sleeping bags
Sleeping Pad FAQs
Do you need a sleeping pad for backpacking?
As you can see, sleeping mats are almost always essential. The sleeping mat not only provides a cushioned sleeping surface to keep you comfortable but also provides critical insulation to withstand cold ground temperatures.
Are Sleeping pads worth it?
Sleeping mats have two very important functions in outdoors: cushioning and insulation. While having a comfortable surface to sleep on seems to be the most useful feature of a mat, its ability to keep you warm all night is often more important.
Can a yoga mat work as a sleeping pad?
Yoga mats are not recommended as sleeping pad when camping. The comfort and insulation provided by the yoga mat are very low, so it is difficult to replace the outdoor sleeping pad. Thicker yoga mats are acceptable at warm temperatures.
Conclusion
Generally, air pads are preferred by most backpackers as they are highly compressible, lightweight and work very well in providing the warmth and comfort you need. If you don't like to blow the air inside the pad with your mouth, you can go for the self-inflating pads. However, self-inflating pads occupy greater space and they're not entirely self-inflating.