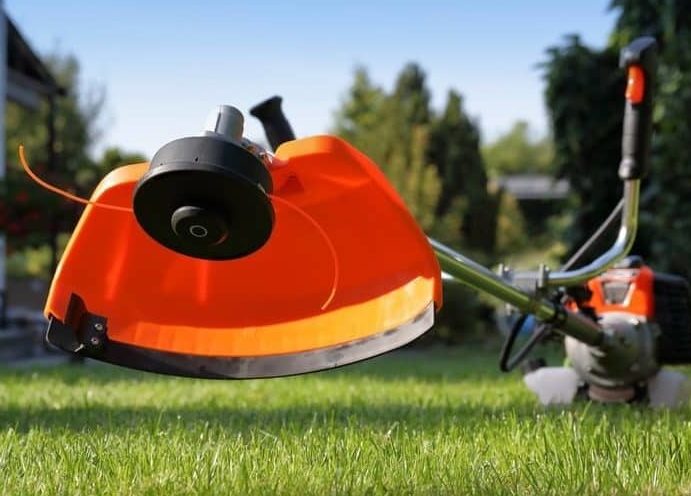 The Best String Trimmer is the one that is easiest for you to operate, gives you great-looking results and requires the least maintenance!
Whether you are a homeowner with a small yard or lawn maintenance, grounds-keeping professional, having the right string trimmer for your work means a great looking finished the job for the least money, time and work.
Buying a larger more powerful string trimmer than your work requires can be money wasted in the initial purchase price and possibly in the long run on supplies and maintenance costs.
Purchasing a smaller less powerful string trimmer that can't handle your work is time and energy wasted and probably won't give you the great looking job you expect.
So which is the best string trimmer for you? Do you need a 'monster' gas-powered string trimmer, or will a small electric string trimmer meet your needs?
Factors to Consider
To determine which is the best string trimmer and edger for your needs consider these three factors:
 The size of the job.
The nature of the job.
The frequency of the job.
If you're a lawn maintenance contractor or own a 'mini-farm' with a variety of weed and grass trimming and edging work, the best string trimmer for you will probably be a commercial-grade gas-powered string trimmer. Since you'll be spending a lot of time operating your weed and grass trimmer comfort as well as power and maintenance requirements will be important. Consider such factors as noise, vibration, weight and balance. Features like an adjustable shaft length will be important to you.
If you live in the 'burbs' with an established yard and all you're battling is blades of grass and a few small weeds (no under-brush), you have a lot more grass trimmer options available.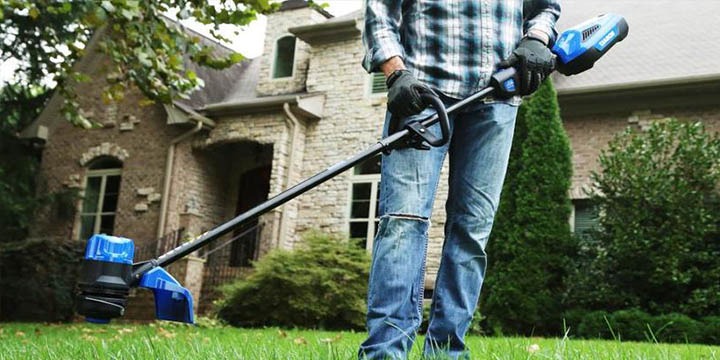 You can still opt for a gas-powered string trimmer. These are available with 2 cycle or 4 cycle engines. The 2 cycle engines require an oil-gas mixture whereas the 4 cycle engines use gas only. These do require maintenance so unless you are good at small engine repairs, the expense of paying someone to maintain or repair your gas-powered string trimmer is a factor to consider.
Another option is a battery-powered string trimmer. You can purchase these in 18 volt or 24-volt models with some using nickel cad batteries and some lithium batteries. The higher the voltage of the battery, the more powerful the string trimmer is. If the convenience and low maintenance of a battery-powered grass trimmer appeal to you, be sure the battery will hold a charge long enough to get your job done. Otherwise, you may want to buy a second battery to ensure you have enough 'juice' to get the job done.
If you have a small yard with a couple of conveniently located exterior electrical outlets you may opt for an electric string trimmer. These are rated based on the 'amps' of the motor. The higher the amps the more powerful your electric grass trimmer will be. To make sure you get enough extension cord, consider the greatest distance from your electrical outlet to where you will be using your string trimmer. Add distance for any obstacles such as trees or flower beds that will keep your extension cord from going in a straight line. Also, be sure to use an extension cord that meets the manufacturer's rating requirements for your electric grass trimmer.
Additional Features to Consider
#1 Spring-assisted advanced starting system
Makes starting a gas-powered string trimmer much easier by reducing how hard the operator must pull on the cord.
 #2 Four-Stroke Engine
Cleaner, quieter and more powerful than gas-powered trimmers using two-stroke engines.
#3 Curved or Straight Shaft
Straight shafts are typically longer and better suited for taller operators and for reaching under decks or beneath shrubs.  Curved shafts are more lightweight and comfortable to use.
#4 Cutting Width
Heavy-duty users should consider a trimmer with a cutting width of 15-18 inches, while less frequent users or those working in smaller areas can opt for trimmers with an 8-12 inch or 14-15 inch cutting width.
#5 Semi-Automatic, Automatic Or Fixed-Line Heads
Semi-automatic heads, otherwise called "tap-and-go" heads require the operator to tap the cutting head on a solid, flat surface like a sidewalk to dispense more string.  Automatic heads disperse more string as needed without any action by the operator.  Fixed-line heads require the operator to manually replace the string as needed, however some models feature removable line cartridges, which makes the process quick and easy.
Best String Trimmers
1.

WORX WG155 String Trimmer
This electric string trimmer is a cordless appliance and it comes with a 20-volt Lithium 1.5 ah rechargeable battery. This particular feature means there is no need for a power outlet or the hassle of taking care not to run over the extension cord.
It is very simple to convert from trimmer to edger (and back again) in just a few seconds, and you don't need tools to do it.
The handle and shaft are specially designed to be adjustable. It can accommodate different work heights but still gives you optimum control and comfort. The front handle has variable adjustments for full control even in difficult positions. The shaft lengthens or shortens with just a simple twist, thereby offering greater comfort for people of varying heights or preferences when using it.
The easy to activate safety start trigger is the ultimate convenience. This will ensure the safety of your little ones as it prevents accidental start-ups. Unlike other trimmers that only have a single wheel the twin set rubber wheels of the WORX WG155 roll very easily making it a snap to control it more carefully particularly when you're cutting along the edges.
The retractable flower guard keeps the trim line at the optimum distance from flowers, lawn ornaments, and other items you don't want to damage.
Having the automatic single line feed means there'll be no need for bumping to advance the line. It keeps the trimmer from jamming and automatically feeds the line without having to interrupt your work. The synthetic design of the 0.065 diameter trimmer line, that includes the use of a special and durable DNA-2 copolymer nylon resin, makes it more pliable which means it won't break very easily.
This electric string trimmer is very compact and light, a feature which is absolutely important. After all, the point is to make things easier, and that won't happen if you are lugging around a monstrously heavy trimmer. It has a 10-inch cutting radius and with the 5.3 pound weight, it should be sufficient in providing some professional-level care to your lawn while the compact size makes storage easy as well.
Pros
Ideal for small to medium-sized yards
Easy to use
Lightweight
Powerful
Fast
Auto-feed line works well
Cons
The battery takes a long time to charge
The handle is too short
Not suitable for large-sized yards
2.

Tanaka TCG24EBSP 2-Cycle Gas String Trimmer
The Tanaka TCG22EASSLP  is back and better than ever thanks to a new and improved design.  This model now features an incredibly powerful 21cc low emission commercial grade PureFire engine and weighs in at just 9.7 lbs., which gives it an excellent power-to-weight ratio.
In addition, the Tanaka TCG22EASSLP also features a heavy-duty anti-vibration system that dramatically reduces fatigue, even after extended use.  Finally, this model is supported by a 60" solid steel drive shaft and features a 4" automatic cutting head, which eliminates the need to manually advance the cutting line.  This model is also backed by a seven-year warranty.
For those of you that are unfamiliar with the Tanaka brand, it's actually part of the Hitachi Power Tools Group, which has a well-earned reputation in the power tools industry for putting out some amazing equipment.  Not surprisingly, the Tanaka TCG22EASSLP is another high-quality addition to their lineup of well-engineered gas powered string trimmers.
Assembly and set up for this model was quick and easy — all I had to do was install the handle, the guard and the string trimmer attachment, then add the fuel mix, prime it three times, give it one pull in the choke position and another in the run position and it roared to life.
One quick note on the gas to oil ratios – I actually used a fuel mix from my blower (50:1 gas to oil ratio) and the trimmer ran just fine.  I also used a 32:1 fuel mix after the first tank ran out and it performed even better, so it's nice to know that a bad mix won't send you to the repair shop with a dead trimmer!
Aside from the easy start, I love how quiet this trimmer is, and there are virtually no fumes or smoke.  The 21cc motor is very powerful and easily plowed through all of the tall grass, weeds and brush that I could find.  And it's so lightweight and comfortable (even without a strap) that after spending about 45 minutes working on my yard I was ready to tackle my neighbor's lawn too!  All in all, I couldn't be more impressed with the Tanaka TCG22EASSLP.
Pros
Quick and easy assembly
Very easy to start
Lightweight and well balanced
Powerful 21cc motor
Comes with a pair of safety goggles
Cons
No shoulder strap
The instruction manual was poorly written
3.

Toro 51480 Corded 14-Inch Electric Trimmer
Toro 51480 Corded 14-Inch Electric Trimmer/Edger is a powerful and well-made trimmer with some great features to make your gardening less of a chore and more of a pleasure. With a powerful 5 Amp motor, 7800 RPM, dual cutting lines and a 14-inch cutting width your trimming will take less time and tall grass and weeds will be cut down in a jiffy.
With a 1-step push button, your trimmer changes from a trimmer to an edger to really give your lawn that immaculate finish. Edging is made even easier with a handy wheel to guide you.
Powerful 5 Amp Motor
Powering the corded Toro 51480 is a gutsy 5 Amp motor spinning the dual cutting lines at an impressive 7800 RPM. Used properly you shouldn't have any trouble knocking over long grass or tough weeds.
Also, the trimmer has a cutting width of 14 inches (35.6 cm) and dual cutting lines which will certainly shorten the time needed to do your trimming.  The maximum length of the extension cord for this trimmer is limited to 150 feet and the minimum rate for the extension cord is 16 gauge.
Auto-Feed Trim Line
This Toro trimmer also comes standard with the Auto-Feed Trim Line. This will ensure that you always have the correct line length available while trimming. To advance the line all you need to do is stop the trimmer and each time you restart the line will advance approximately ¼ inch. It will stop once it reaches the line cutting blade.
You can also advance the line manually by stopping the trimmer, pushing the red button at the bottom of the spool housing and at the same time pull out the length of line required.
To further enhance your trimmer there are two independent rolls in the spool housing which makes it so much easier to the wind and a lot less likely to become entangled. The trimmer uses a line diameter of .065 inches (1.65 mm) which is pretty standard for most trimmers of this size.
Keep in mind that if you are a person that stops and starts while you are trimming, each time you do so the line will advance. This will waste line so try to keep the trimmer running with as few stops as possible.
Converting the Trimmer to an Edger
The Toro 51480 conveniently converts to a "One-step walk-behind" edger with the push of a button. Simply push the red rotator button located at the bottom of the shaft and rotate the trimmer head anti-clockwise. The guide wheel will help to keep your edges straight which will ensure a professional-looking finish. An extra bonus is that the guide wheel takes the weight while you are edging so you don't have to.
Pros
It can be easily switched in between different modes such as edging and cutting.
The swath of the machine is 14 inches wide.
Reliable and has a warranty for 2 years.
Cheaper price.
Cons
The machine is requiring an extension cord which is not included in the package.
Not so powerful
4.

Earthwise CST00012 12-Inch Cordless String Trimmer
Earthwise CST00012 is a 12-inch cordless string trimmer that is lightweight, gas-free and rechargeable. It is powered by an 18-Volt 1.7ah rechargeable NiCad battery that delivers a powerful 7800 RPM which will tackle almost all grass and weeds. It comes with a semi-automatic line feed system (no more bumping) and a 3-position head adjustment to tackle any trimming or edging you may require.
The 18-Volt 1.7ah Battery provides an average run-time of between 30 to 40 minutes, which for a NiCad battery is really impressive. It features a lock-off switch to prevent accidental start-ups and also has rubber over-molded ergonomically designed handles for extra comfort and to reduce fatigue. The upper handle rotates to change the trimmer into an edger to give your lawn that professional finish.
18-Volt 1.7ah Rechargeable NiCad Battery
Powering the Earthwise CST00012 is an 18-Volt NiCad battery that delivers a powerful 7800 RPM making it suitable to handle most grass and weeds. The battery must be charged before first use for about 5 to 6 hours. The battery may require 2 or 3 charging and discharging cycles before it reaches its maximum run-time. The average run-time of this NiCad battery is a very credible 30 to 40 minutes which is the average run-time you would expect from a Li-Ion battery.
Once the battery is fully charged you can safely store it for up to 2 weeks before it would require a top upcharge. This NiCad battery also doesn't need to be completely discharged as it does not develop a memory and can be recharged or topped up at any time.
When recharging the battery the light on the charger will glow red and when fully recharged it will glow green. The battery has a latch on either side to fit the battery to the trimmer.
Single Line Auto Feed
The Earthwise CST00012 has the Auto Line Feed system which automatically advances the line which means there is no need to bump the trimmer to advance the line. The line will advance automatically every time you stop and start the trimmer. It will do so in increments of about ¼ inch (6mm) until it reaches the grass deflector blade. The trimmer uses 0.065 inch line and has a maximum cutting swathe of 12 inches.
When you have depleted the line you can rewind the spool using bulk line bought at your local garden center or service center. Be sure to rewind the spool in the direction of the arrow and do so as neatly as possible to avoid unnecessary stoppages. Removing and replacing the spool is very simple – just press the release tabs on either side of the spool cover and lift it off. The flip-down edge guard protects your flowers while trimming and also prevents the line from snagging on fences.
Edging Function –Adjustable Cutting Head Angles
The trimmer also changes easily from a trimmer to an edger giving you the opportunity to neatly finish your lawns' edges and borders. To change from the trimmer to the edger all you need to do is hold the trimmer by the auxiliary handle, grab the collar, push down and rotate the trimmer head until it locks into position.
The Earthwise trimmer also has the cutting head which can be set to three different cutting angles giving you the opportunity to find a trimming position that is the most comfortable for you. The first setting is zero degrees, then 30 and finally 45 degrees. The flip-down edge guard protects your flowers while trimming and also stops the string from snagging on fences.
Telescoping Shaft and Adjustable Auxiliary Handle
The telescoping shaft can be lengthened or shortened to suit anyone. To change the height loosen the collar below the auxiliary handle, make the adjustment then re-tighten the collar.
The auxiliary handle can be positioned to just about any position you prefer. The handles are all ergonomically designed and rubber over-molded for extra comfort and to reduce vibration.
Instant Start and Lock Off Button
The Earthwise trimmer features a Lock-off button. To start the trimmer press down on the lock-off button, squeeze the trigger and off you go. This button is also a safety mechanism that prevents the trimmer from being started accidentally- essential when there are kids around.
Pros
Cheap
Lightweight, easy to use
Useful adjustments
Cons
Not very comfortable for the taller people
Only for the light trimming
5.

Black & Decker ST7700 Electric String Trimmer
Black and Decker ST7700 is a 13-inch lightweight corded trimmer with a 4.4 Amp motor that spins the line at an amazing 10,000 RPM. This is ample power to tackle virtually any overgrown grass or weeds it comes across. With a 13-inch cutting path, it will definitely reduce the amount of time you'll need for your trimming.
The Automatic Feed Spool which uses centrifugal force to feed the line as needed means there is no need to bump the trimmer on the ground to advance the line. The Groom'N'Edge feature allows you to switch from a trimmer to an edger in seconds. Using the handy edging guide will add the finishing touches to your lawn.
The handy cord retention system will avoid any unintended unplugging while trimming. The built-in auxiliary handle ensures maximum comfort and gives you total control. For a trimmer that weighs only 4.5 pounds (2.04 Kg), this is ideal for people looking for a lightweight trimmer with plenty of power.
Powerful 4.4 Amp Motor
The ST7700 cordless trimmer has a 4.4 Amp motor which spins the trimming line at 10,000 RPM. That's really quick for a trimmer that weighs less than 5 pounds. Be aware that this is a trimmer built mainly for small yards and extended use may cause the motor to run slightly hot depending on weather conditions.
Automatic Feed Spool (AFS)
The AFS system uses centrifugal force to keep the line at a constant length without the bumping required by some older trimmers. The spool with 20 ft of 0.065 diameter string comes pre-wound by Black and Decker but once the line is finished you can either buy further pre-wound spools or buy bulk line and rewind your own spool. Removing the spool is as simple as pressing in the release tabs on either side of the hub cap and pulling the spool straight out.
Groom 'N' Edge
The Black and Decker ST7700 can be switched from a trimmer to an edger in seconds allowing you to put the finishing touches to your lawn. To change from trimmer to edger grab the trimmer head collar, push down and rotate the trimmer head clockwise until it locks in the edging position. The guard should prevent most debris from being thrown up while edging but rather err on the side of caution and wear protective eye gear.
Built-in Auxiliary Handle
The ST7700 has an ergonomic auxiliary handle that reduces fatigue and gives you more control of the trimmer when used for extended periods.
Pros
Ideal for seniors
Versatile use
Budget-option
Extra lightweight
Cons
No adjustments besides the edger
Not for tall people
6.

BLACK+DECKER (LST136) MAX String Trimmer
The advantage of the string trimmer is that the shaft length is 52 inches. It means that you can use it easily.
With power drive transmission, it is easy to remove the weeds and other plants if you wish to do so. It consists of a lithium battery that can provide you with long runtime.
In addition to that, the automatic feed spool means that you can work consistently with a string trimmer.
An advantage of this string trimmer is that you can use it as an edger as well. It means that you can use it for multiple functions.
With the help of a soft-grip handle, it will become easy for you to use it. In addition to that, it comes with a trigger button as well, which is another advantage. The telescopic aluminum pole is heavy duty in nature, which means that you need not worry about durability.
With a width of 13 inches, you cannot go wrong with this one as well. With so many features on offer, you cannot go wrong with this string trimmer. That is one of the best string trimmers which you can find.
Pros
Heavy-duty battery
Excellent grip on offer
Automatic feed spool
Aluminum telescopic pole
Easy to use
Cons
Packaging could be better
7.

Greenworks 13-Inch 4Amp Corded String Trimmer
The 4 AMP motor is one of the reasons why this string trimmer is on our list. When you look across different string trimmer reviews, you will realize that this motor is a perfect choice.
The cutting path of 13 inches certainly helps you get the job done. Also, with the help of 0.065 inches of auto-feed head, you will be able to use it for cutting and trimming quite quickly as well.
When you look at the shaft, it is not only heavy-duty in nature but rotates as well. It means that if you need a finely groomed lawn or garden, this one is undoubtedly an excellent choice.
The shaft is adjustable as well. It ensures that you can customize it according to your requirements.
When you look at the handle, the grip is on the higher side. With easy to reach control, you can operate it without any worries as well.
A unique feature of this string trimmer is that it consists of a brushless motor. It means that the maintenance will be on the lower side. Thus, when looking for string trimmers that are easy to operate and low maintenance in design, this one is undoubtedly a reliable option.
Pros
The cutting width is 13 inches
Brushless motor on offer
Excellent grip
Height adjustable
Cons
Not compatible with some attachments
8.

DEWALT DCST920B String Trimmer
The next option on our list again consists of a brushless motor. Due to this reason, the efficiency and the durability of the motor are on the higher side as well.
The cutting path of 13 inches is another advantage. One of the reasons why it is on our list is because it consists of proper speed control mode. With the help of a variable trigger, it would be easy for you to customize its operation.
The 0.080 inches dual-line ensures that it cuts with high efficiency. It is compatible with the 20V lithium-ion battery. Due to this reason, once you incorporate the battery, the performance of the string trimmer will not disappoint you.
One feature which certainly works in its favor is low noise. It means that when using this string trimmer, you need not worry about disturbing anyone. The instant trigger means that you need not pull the cord to start it. That is why using it is certainly convenient.
The weight of 8.5 lbs means that moving it around is quite easy. You will not feel any fatigue in your hands when you're using it for long hours. The precise control which it provides is one of the reasons why you should go for it. With these features, this one is one of the best string trimmers that you can find.
Pros
Brushless motor
The cutting width is 13 inches
Low noise
Precise control
Cons
The handle could be more ergonomic
9.

Husqvarna Straight Shaft Gas String Trimmer
The advantage of this string trimmer is that the cutting width is 17 inches. It consists of an easy release mechanism for the line, which certainly makes it convenient to use.
It is a gas-powered string trimmer, which means that the power which it provides is on the higher side. With the help of easy to view tank, monitoring the fuel level is quite easy.
Moreover, if you want to undertake some maintenance like removing the air from the carburetor or the fuel system, it is quite easy to do so.
Also, it is much more versatile than other options because it is attachment compatible. With the help of easy start technology, you will not have to put in a lot of effort to use it as well.
The detachable shaft means that when not using it, you can fold it into a small amount of space. It not only makes it easy to store but also easy to transport.
The weight of 10.8 lbs means that moving it around is quite easy. The combination of these features, along with easy maneuverability makes it a reliable option.
Pros
The cutting width is 17 inches
Easy to monitor fuel level
Detachable shaft
Low maintenance
Cons
Construction quality could be better
10.

Makita XRU02Z Cordless String Trimmer
With the motor which can offer up to 7800 rpm, this is one of the best string trimmers which you can go with. The cutting speed is on the higher side, and it is efficient in performance as well.
The weight is 6.4 lbs, which means that it is one of the lightest string trimmers which you can find. Even when you go across other string trimmers reviews, you will find that this one is pretty lightweight.
The ergonomic design means that the balance is proper as well. Also, the compact size allows you to move it around.
The telescopic shaft means that you can adjust it between 48.5 inches to 56.5 inches. It means that getting the optimum cutting position is an easy task.
The runtime which it offers on a standard lithium-ion battery is 45 minutes. It means that you can tend to your lawn easily during this time. The lightweight design, as well as appropriate run time, certainly makes it stand out from others.
Pros
Heavy-duty motor
Excellent cutting performance
Lightweight
Telescopic shaft
Cons
The head design could be better
Five Useful Tips on Cutting Grass with String Trimmers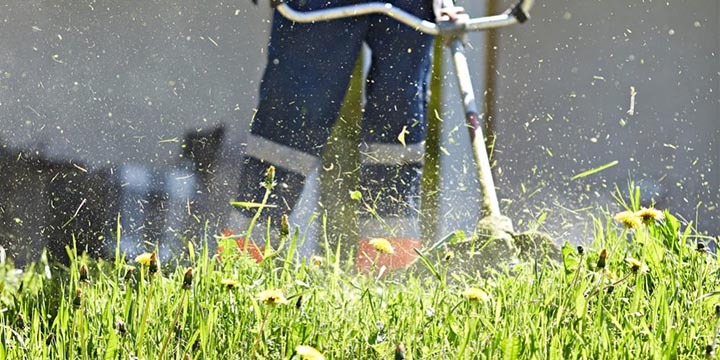 String trimmers can be used in several ways for landscaping. However, safety and care for the rest of the property must be maintained.
1. Correct Height
The head if the string trimmer needs to be held approximately2-3 inches from the ground and sweeping should be in done in steady, sideways back and forth motions. Holding the head too close to the ground will result in bald spots on the lawn.
2. Overgrown Grass
When trimming tall weeds or grass, start from the top of the growth and work down to the desired height. This prevents stalling due to long stems tangling your trimmer head. There are heads made for cutting large amounts of tall grass which can be switched onto the trimmer. This special head has 3 blades made of plastic that are made to flatten stems of tall growth to prevent tangling.
3. Edging
Edges along flower beds, driveways and walks can be easily maintained with a trimmer. Simply shift the way you hold it so that the cutting string is rotating vertically and can cut away any protruding growth in the edge trench.
4. Trimming around Objects
Trimmers can cut very close to tree trunks, fence posts, shrubs and steps. However, you don't want the string to hit these fixtures because it can cause damage. Chunks can be cut out of wood and concrete. The string could strip the bark off of a tree causing its death. Approach fixtures carefully and immediately pull back when you feel or hear the string hitting a stationary object. It is recommended that mulch beds be made around such fixtures to protect them.
5. Brush Cutting
After switching to the metal blade designed to cut saplings and brush, be sure to see to your safety. Operating a trimmer under these circumstances requires that you wear a face mask or goggles, long durable pants, a helmet and boots. You may also want to outfit yourself with a shoulder strap to help with the slow-motion and weight. Always keep blade guards in place for your protection as well as any stationary objects.