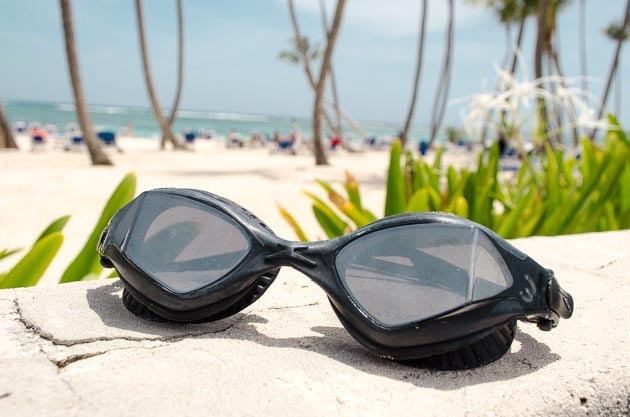 The secret to having a superb time when swimming lies in owning a good pair of swimming goggles. The only challenge is that there is plenty of goggles out there.
So how do you determine which is the right one for your swimming needs? The following article offers a guide on how to get the best swimming goggles.
Having said that, what are some of the best swimming goggles?
Our Top 10 Best Swimming Goggles
In a hurry? Just check the quick editor's choices:
1. Aegend No Leak Anti Fog Swimming Goggles
If you are searching for the ultimate underwater goggles the Aegend Anti-Fog Goggles will suffice. It comes in a broad spectrum of colors and boasts of impressive features.
For starters, it has a comfortably contoured silicone gasket that ensures a snug no-leak-fit onto your face.
The goggles further have a superior quality-built that contains UV Protected lenses, making them ideal for both indoor and outdoor swimming.
Pros
The lenses have anti-fog properties
The lenses are durable and shatterproof
It has UV Protection
The frames are No Leak
It is flexible and has adjustable sizing
Cons
The nose piece irritates some people
The straps at times get tangled in the hair
2. Speedo Vanquisher 2.0 Mirrored Swim Goggles
Speedo is a renowned brand trusted by competitive swimmers and Olympians. It is therefore not a surprise if their Vanquisher 2.0 is one of the best swimming goggles.
Even though the goggles looks simple, it has winning features that make it the perfect equipment for competitions, training, and recreation.
For example, it comes in twelve different colors and has the anti-fog element as well as an exciting petite silicone eye seal.
The small seal reduces the amount of water drag and works with the double-headed strap to ensure a snug watertight fit. It also has the UV Protection feature to help you enjoy your competitive water sport both indoors and outdoors.
Pros
Comes with four interchangeable nose pieces.
It is PVC free
It offers a snug, no-leak, low profile fit.
Cons
The straps of the goggles feel cut-rate
Some users claim it is not entirely watertight.
3.

Coolo Swim Goggles
Admittedly getting two swim goggles in one package is indeed a deal sealer. Still, even without the bonus goggle, the Coolo goggles has more than enough features to hold its own.
For starters, its' unique design makes it ideal for use by people of different sizes.
It has flexible head straps, extra ear plugs, and functional clips. All these make it possible for you to adjust it to suit the shape of your head.
Secondly, it has two lenses; a clear transparent lens, and an electroplated, UVA protected, lens. You can, therefore, enjoy indoor and outdoor swimming, without agonizing about UVA/UVB exposure.
Another plus of the Coloo lies in its double-layered soft durable and comfortable silicone gasket, which is resistant to scratches, wear and tear.
Pros
Available in different shades.
Two pairs in a single package is a grand bargain
Has earplugs, and reliable UV Protection Lenses
It is safe and comfortable to wear
Has 180-degree anti-fog lenses that offer an undistorted peripheral underwater vision.
Has a quick-release buckle.
Cons
The nose piece seems tight.
When underwater, the view gets slightly blurry.
4.

I-Sports Pro I Swim Pro Goggles
If you are looking for a pair of swim goggles that offers fog-free, crystal-clear underwater vision, the I Swim Pro will suffice. This beauty has the cutting-edge anti-fog protection coating and anti-shatter lens design.
As a result, it gives remarkably clearly visions. With it on your face, you do not need to worry about bumping into someone else or against something.
When it comes to protecting the eyes against discomfort and red marks, the goggles guarantee a perfect cover. Thanks to its unique watertight gaskets, generously cushioned with silicone.
Pros
Comes with free extras like earplugs, protective case, and high-quality nose clip
Soft silicone gasket provides a new level of comfort around the eyes
Crisp clear in and out of water vision
Comes with a 100% money back guarantee
Cons
There are a few cases of leaking
The lenses tend to fog after a while.
5.

Olympia Nation Crystal
With a name like Olympic Nation Crystal, you don't expect anything but professional finesse in this swim goggle.
And it does not disappoint.
The pair has all the whistles and bells that guarantees an average swimmer the high-end features and functionalities enjoyed by professional swimmers.
The goggles are incredibly comfortable, and they fit nicely on the face, thanks to their well-coated silicone gasket and adjustable, sturdy strap.
The goggles further come with anti-fog coated lenses, which ensures satisfactory visibility both in and out of the water.
Pros
It is affordable despite the incredible features
It has an ultra-soft no-leak seal for increased comfort
It allows a snug fit thanks to the single adjustable strap and silicone coated gasket.
Cons
At times the wearer experiences double vision.
The nose piece seems feeble.
6.

Aqua Sphere Kayenne Swim Goggles
If you are in search of swimming goggles that have a fantastic expanded vision, you will love the Aqua Sphere. It is easy to use and offers superb features to satisfy the needs of an avid competitive swimmer.
For instance, the goggles have a curved lens design, to give a broader degree of vision. If you are into competitive swimming, such a feature will help you monitor your rivals in the neighboring lanes. The Aqua Sphere also features a quick-fit push buckle and a sturdy adjustable strap.
All these ensure that you do not waste time struggling to wear it.
Pros
It is comfortable to wear and adjust thanks to the quick fit push buckle
It offers an expanded vision range
It has anti-fog lenses for improved vision
Cons
The vision underwater becomes blurry after some time.
With the passage of time, the goggles begin to leak.
7.

The Friendly Swede Swim Goggles
The Friendly Swede goggles come in two, meaning that you receive double the offer. The makers of the swimwear outdid itself to ensure that the goggles are high-quality.
For starters, despite being non-mirrored, the lenses have amazing anti-fog qualities.
It is also incredibly resistant to scratches and offers an extensive angled view to the wearer, making it the perfect choice for either indoor or outdoor underwater escapades.
When swimming in the Friendly Swede, you do not need to worry about your eyes or nose getting a beating from the rough water.
The goggles have a well-fitting silicone gasket, which forms a comfortable, watertight seal around the nose and eyes.
Pros
Has a high-quality solid construction
Comes in a double set, which is a good bargain
It gives an extended wide-angled paranoiac vision.
It offers a secure, watertight seal for the eyes and nose.
It is latex free, hence ideal for latex-sensitive swimmers.
Cons
They start fogging after several uses
They are prone to leaking if mishandled.
8.

Resurge Sports Swimming Goggles
If you are fed up of buying swimming goggles that fall off, whose snaps break each time you step up to the block, or goggles that leak when you are in the middle of a competitive race, consider buying this Resurge Sports swimming goggles.
You won't be disappointed.
The glasses have all the traits needed for competitive swimming. These include a bungee cord strap and a shatter-proof wide angled lens.
The lens helps to keep track of your competition, while the belt provides a durable and flexible solution to fit the goggles onto your head securely. The Resurge Sports goggles also include a soft silicone coated gasket and a nose bridge that has three interchangeable pieces.
Pros
It is fog-proof
Comes in an assortment of colors
Wearable by men, women, and children
Has a sturdy bungee cord strap
Cons
It is unsuitable for children below ten years
Over time it becomes prone to scratches
9.

Only U Swimming Goggles
It is not easy to incorporate style, functionality, and practicability all in one swimming goggle. Surprisingly, the Only U swimming goggles, does precisely that. It has an impressive design made from high-quality silicone, TPU, and PC material that are UV stable.
As a result, the goggles offer an unmatched comfortable and incredibly relaxing swimming experience.
Moreover, the lenses are UV resistant and have an excellent anti-fogging ability. Its frame is also sturdy and firm.
The sealing around the eyes is likewise secure and watertight, meaning your eyes will always be safe from water and sunlight.
Pros
Has features that lessen the pressure on the eyes.
Has an anti-shattering lens
Offers 100% UV protection
Has a secure quick release/lock buckle
Offers clear eye vision and protection
Cons
Long-term use reduces the anti-fogging ability
The glass is not scratch resistant.
10.

Swimmaxt Swim Goggles
Picture a swimming goggle that grants broader and clear HD quality vision. That is precisely what the Swimmaxt does.
It has panoramic lenses that guarantee crystal clear underwater vision.
These lenses are shatter-proof and anti-fog, to ensure that even the harshest conditions do not affect your view. The gasket of the Swimmaxt is ultra- soft, and flexible enough to adjust to the contours of the wearer's face.
As a result, it creates the perfect no-leak seal. Lastly, the goggles are body-friendly since they are bacteria resistant, and 100% PVC and latex free.
Pros
Has a super soft 3D memory silicone gasket
The gasket is malleable and conforms to the wearer's face.
Offers HD clear quality vision even in harsh settings
It is skin friendly
Cons
Not suitable for kids
The nose piece is weak and breaks easily.
Buying Guide: How to Choose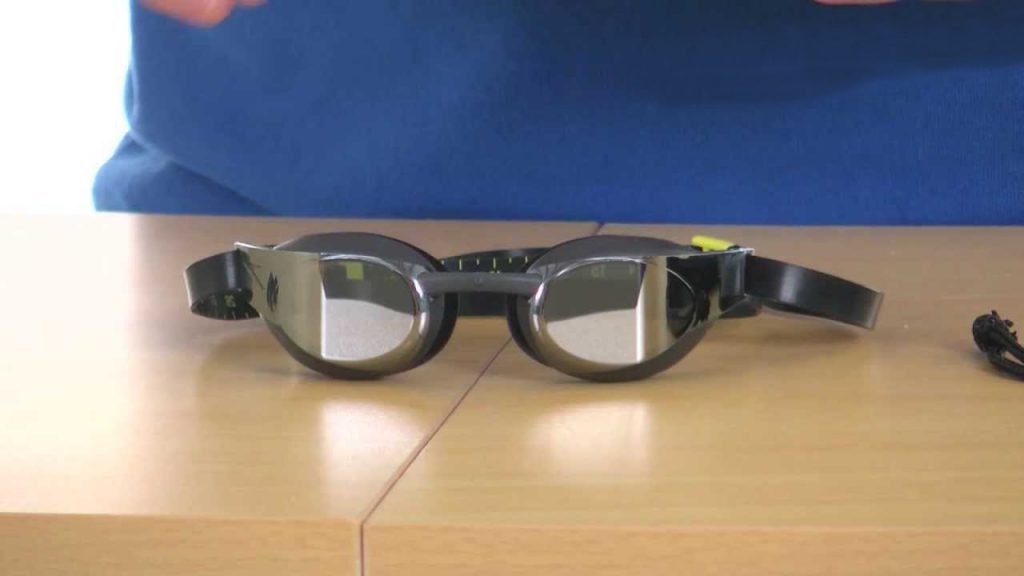 "Swimming without goggles is like running with your eyes closed," is advice to novices often heard among swimming enthusiasts.  There is no doubt that swimming with goggles provides clarity, protection, and greater swimming enjoyment.
Swimming eyewear has evolved considerably since people started swimming centuries ago. The inception of swimming goggles has been traced back to the fourteenth century when Persians made use of tortoise shells for covering their eyes while diving into the ocean for pearls. There are also records of Venetian pearl divers wearing goggles in the 16th century.
Since then, these safety glasses have evolved from wood and bamboo to high-tech anti-fog, low drag models. New imaginative ideas are likely to surface in the following years, as swimming equipment manufacturers are continuously looking for ways to fulfill their customers' needs. With a wide variety available on the market, it has become difficult to choose the best swimming goggles.
Swimming Goggles and Snorkeling Masks: Is there any difference?
Most people confuse swimming goggles with snorkeling or diving masks. It is important to understand that the commonly misused term 'snorkeling goggles' doesn't exist.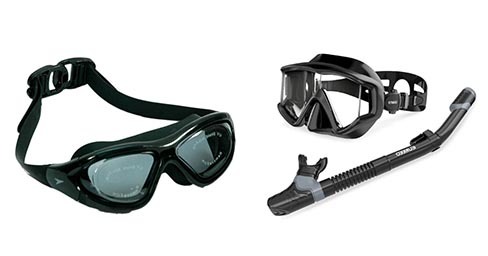 Swimming goggles are big spectacles equipped with unique lenses having protective rims to avoid damage to your eyes from the water.
On the other hand, snorkeling masks protect the nose of the wearer (normally a snorkeler or scuba diver) in addition to the eyes.
Types of Swimming Goggles
In order to find the best swimming goggles, you will have to try different types. Each kind has its own purpose. Here is a brief overview of the intended objective of the different types of safety eyewear available:
1. Competition Goggles
These safety spectacles are generally technical, low profile, and fit pretty close to your eye socket. Their close proximity to the eyes reduces drag considerably, making the swimmer more hydrodynamic.
Although most swimmers prefer to practice in competitive goggles, their daily use might be uncomfortable for you as they are primarily meant for racing.
2. Recreational Goggles
Recreational swimming goggles are cheaper and quite comfortable. However, they are not considered great for longer swimming excursions, as they get foggy. The anti-fog film present on the inner side of the lenses tends to wear off with time.
If you are looking to save cash and are not planning to swim for lengthy durations, recreational goggles are the right choice for you.
3. Gasket Goggles
The classic gasket goggles are the most common swimming eyewear. There are two versions available – foam and silicon. Most swimmers prefer silicon because of its convenience. Oval shaped gasket goggles are better suited to individuals with smaller facial frames.
Lens Color and Material
Swimming goggles come in various lens colors and materials. The most popular ones include:
1. Polycarbonate
Lens made of polycarbonate are significantly strong and resist cracking. You can find these in numerous colors, and they also feature UV protection and anti-fog properties.
2. Optical Grade
The optical grade is considered as a high grade plastic that is generally used for making prescription glasses. Optical grade swimming goggles are scratch resistant, lightweight and distortion free.
3. Anti-fog
Anti-fog swimming goggles feature a thin layer of anti-fog treatment applied to the inner side of the lenses. Although it wears away with time, you can reapply it with anti-fog drops available on the market.
4. Clear lens
These goggles are ideal for swimming in low light, overcast conditions. The clear lenses allow natural light and accurate vision.
Swimming goggles also come in amber, violet, blue, mirrored and smoked lenses.
Five Steps to a Great Fit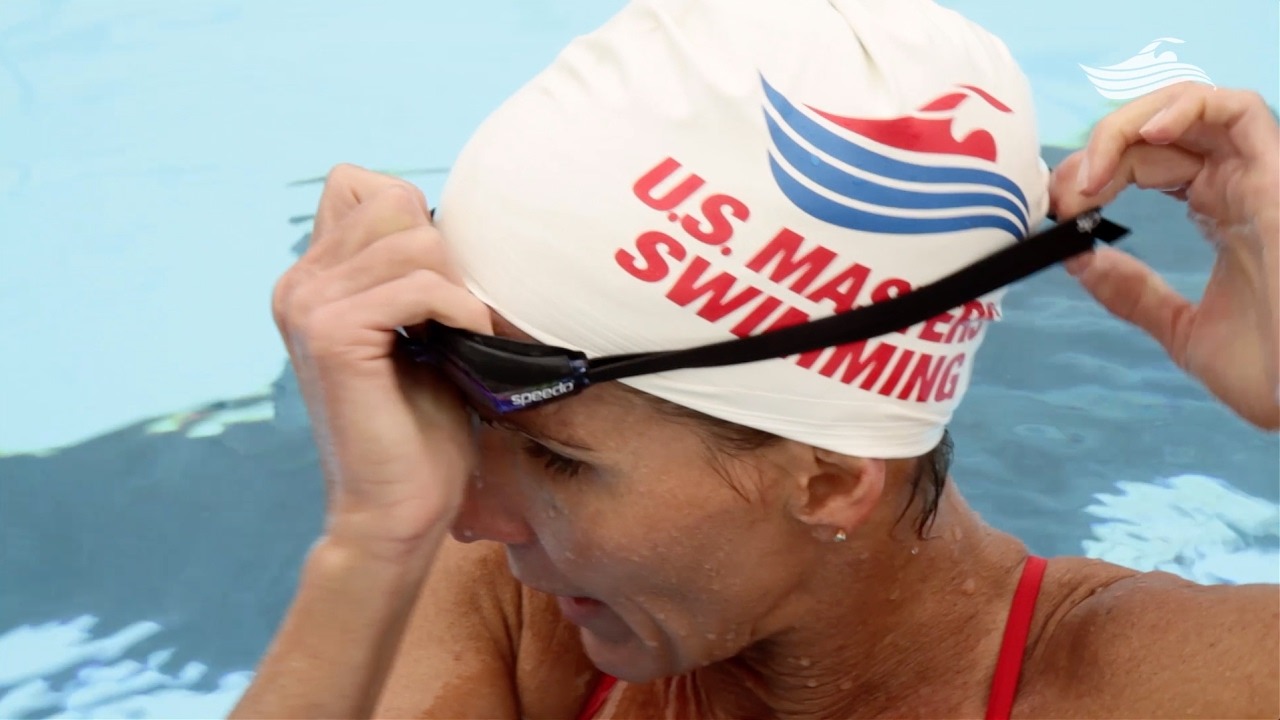 #1. First, conduct a "press on fit" test.
Without using the strap, press the goggles onto your eyes, being aware to fit the goggles to the outer perimeter of your eye socket bone, as opposed to the soft tissue inside the socket of your eye. The goggles should compress slightly.
Now, take away your hands, and the small amount of suction generated should secure them to your face without the strap. This is one important measure of a good fit. You may make adjustments to the spread of the nose bridge, but if the goggles fall off your face after a second or two, try another pair.
#2. Sense to determine if they are too tight on your face.
This will make them feel uncomfortable over a period of time. If they "feel" too tight, go for another pair.
#3. A good fitting pair of goggles should produce a tight enough seal to prevent water from seeping in
But not so tight as to cut into your skin and/or leave red rings around your eyes or marks on your face. Check your face in a mirror after conducting the "press on fit" test. Even if the goggles do not "feel" too tight, if they leave rings or marks, that pair is not for you.
#4. Now, put on the strap.
Adjust it as necessary, remembering that the sole purpose of the strap is to keep the goggles on your head, not to create a seal to keep out water. Again, check to see if the fit is too tight, and that it does not leave marks on your skin. If you cannot achieve a good fit using the strap, look for a different pair of goggles.
#5. Examine the construction of the goggles.
Do they feel like they are well put together? If they use foam, does it seem as if there is the right amount of adhesive to hold the foam in place?
Swimming Goggles FAQs
What color swim goggle lens is best?
Goggles with pink, orange and purple lenses have a variety of benefits. Orange lens can improve the contrast in both high and low light conditions. Suitable for: leisure and fitness swimming. Pink lenses contrast best with green and blue objects.
How to Care for Your Swim Goggles
Wash goggles after swimming. By gently cleaning them in warm water, you can remove any chlorine or harmful chemicals that shorten their life. However, never use soap or detergent – they are the natural enemies of antifogging coatings. After washing, put your goggles in a flat place to dry.
Do you need goggles for swimming?
Whether you're a beginner or an aspiring swimmer, or you're considering swimming in the pool this summer, it's important that you wear goggles to protect your eyes when you're in the pool… In the swimming pool, goggles are essential.