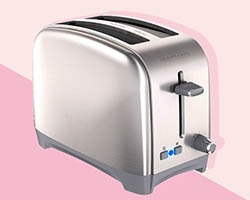 I know some of you are looking for the best toaster for your kitchen, I hope your search end here:)
I find that one of the most useful kitchen appliances is the toaster. However, buying a toaster can be a bit of a hassle. You might wonder what the big fuss is and that a toaster is just a toaster. True, but buying a good toaster will certainly make your life easier in the long run.
I have tested and bought a lot of toasters either for my new home or as a gift for my friends. And of course, with the help of Consumer Report, Cook illustrated and Amazon owner reviews, I manage to find and own a couple of best toasters throughout these few years.
Here are the few that I would recommend, but if you like to know more about the toaster, you can find some toaster guides and articles here too.
Best Toasters 2021
1.

Dualit Classic 2-Slice Toaster
The Dualit Classic 2-Slice Toaster is an English product. Its initial appearance is one of style and quality.
This is a heavy-duty toaster. It claims to be able to deliver no less than 65 slices of perfectly made toast every hour, should that be necessary.
It features its own award-winning and patented ProHeat elements that are the secret to making great evenly browned toast.
You can select either one or two slices toasting, which is ideal for the person alone who simply wants a slice of toast, and its wide slots allow you to use other, wider, bread types as well.
ProHeat Elements Ensure Even Browning Every Time
The Dualit Classic 2-Slice Toaster features its own patented ProHeat elements. These award-winning features are what allows the toaster to get even browning on your toast every time. This is an important feature. No one likes to have toast that is practically burned on one side and barely browned at all on the other. Even toasting it the secret to great toast, and the Dualit Classic 2-Slice Toaster manages it with ease.
28 Millimeter Slots to Take a Variety of Bread Types
The Dualit Classic 2-Slice Toaster can process other things besides just slices of bread. It can handle bagels and other bread types that most toaster can't deal with. It also has wire guards that adjust to keep whatever is in the slots held firmly in place.
Pros
Interesting industrial design
High-quality build
Easy to Use
Easy to Clean
Cons
Too tall and wide
Issues with smoking and charring
2.

Breville BTA820XL Die-Cast Smart Toaster
The Breville BTA820XL Die-Cast Smart Toaster has a fairly standard appearance.
However, it enjoys a greater degree of intelligent toasting know-how than the average toaster does. An internal smart chip regulates the lowering of your bread slices into the toaster automatically. It also works out the toasting time according to the instructions you give it.
There are a number of toasting options that can be chosen from the control panel, such as ordinary toast, more heavily browned toast, a bagel control, and a function that lets you lift and look.
Lift-and-Look without Interrupting the Toasting Cycle
With the more traditional type of toaster, taking a look at the progress so far means interrupting the browning process, and if the toast is not done to your satisfaction, you will have to start the browning process again and pretty much guess when it's time to stop it. With the Breville BTA820XL Die-Cast Smart Toaster, you can lift the toast out and look as many times as you want to – and the toast cycle will continue uninterrupted, and will not cancel or reset, to give you toast that is perfectly browned to your satisfaction.
All the Information You Need in an LED Display
The LED display of the Breville BTA820XL Die-Cast Smart Toaster keeps you informed of the progress of the toasting cycle. The setting you select will be illuminated to tell you at a glance what is happening, and the LED display will count down the time left until the toast is done. At the end of the cycle, you will hear a loud beep to tell you that it's time to eat your toast.
Pros
Varied toast settings for different levels of browning
One touch auto lowering function
Very easy to use and read digital controls
Bread lowers automatically
Does not overheat
Cons
Slow at toasting
No settings for reheating
3.

Hamilton Beach Stainless Steel 2 Slice Extra Wide Toaster
Hamilton Beach 22671 to come up with another budget appliance that actually works. If you are looking for a low price above anything else for a basic toaster that will produce toast in the mornings, this is the toaster you want to check out.
It is a basic 2-slice toaster. It is nothing special and does not have fancy controls with backlighting. But you don't need that. You want a cheap, affordable toaster that makes toast, that's all, so this is the little inexpensive toaster that you want.
The Lowest Price for a Toaster
This toaster is below $20, which is cheap enough for a decent toaster. Go anywhere below $15 and you risk buying a piece of junk that could turn into a safety hazard. Whether you are a student or living by yourself, this toaster is a nice addition to your busy life. Now you can have toast in the mornings instead of plain, boring white bread.
The Black toaster is sharp and striking even though it is small, and will surely make a loud statement in your kitchen. The footprint is small enough to place it in any available slot you have on the countertop. Well, theoretically. Being a budget toaster you can expect the cord to be really short so you'll have to find a space for it near an outlet. On the bright side, there is a cord wrap under the toaster so you can stash it away neatly when you're done with it.
Toasts Fine, Entertainment Included
This toaster toasts all right for such a cheap toaster. Although the slots are not very deep or long, you can toast a few varieties of bread and even bagels in it if you cut them evenly in half.
I doubt you will want to use this toaster for toasting thick slices of homemade bread though. The normal store-bought bread gives so much more entertainment. At random toastings, the toast will pop out of the toaster and fall onto your plate. It can be fun betting which side it is going to fall, and I bet if you put the toaster on its side you will be rewarded with a fun game of fetch-the-toast-frisbee with the dog.
However, if you are not up to such excitement, there is always the cancel button for you to stop the toasting manually before it has a chance to pop out the toast. That might make the toaster last longer too, because the part that usually wears out the quickest is the lever.
What happens when it wears out? First of all, the toast will not pop out but remain inside the slots where they cannot be picked out by hand. You may be tempted to fish them out by a fork or knife. DO NOT DO THAT, at least not until you've unplugged the toaster. Nobody wants to end up as toast themselves, do they?
All I can say is that this is a very decent toaster for less than $20. It's too cheap to complain about longevity or lack thereof. Just buy it because it's cheap and it works.
Pros
Very affordable
Very even toasting
Boasts seven different browning settings
Easy to operate and clean
4.

KitchenAid Kmt4115cu 4-Slice Toaster
KitchenAid has a good reputation when it comes to kitchen appliances, now let's take a look at the KitchenAid Kmt4115cu Toaster, which toasts up a wondrous 4 slices at once, ideal for when you are on the go or catering for some impatient customers.
The 1-1/2 inch opening is big enough to fit English Bagels in, some people might fret that a large opening would let the toasted material lean over to one side and giving it an uneven browning.
But with the "even heat" system that monitors the browning process to ensure you that your toast is even on both sides.
The heavy gauge heating elements are also held flat by extra thick mica boards which benefit the even toasting. KitchenAid Kmt4115cu also incorporates a heat sensor to regulate and adhere to the required heat for your browning setting.
This toaster comes with individual controls for each pair; that means you can alter the settings on one pair of toast without affecting the other. It also comes with an easy lift lever for both sides which instantly pops your bread or anything which was toasting out and instantly turning off the heating elements.
Speaking of cleaning, the removable crumb tray makes it easy to just dust away all those build-ups of crumbs without having to tilt the toaster up-side-down, and you won't be doing much of that with this big toaster.
The terrible thing about such a fantastic 4 slice toaster is that it breaks after long usage and there are no replacement parts from Kitchenaid, a lot of buyers have been complaining about it being ridiculously fragile after the first 6 months of usage, even with the hassle-free 1-year warranty, there still seems to be a lot of problems.
Pros
Easy To Clean
Even Heating
Delivers 4 extra-wide slots
Has an under base cord storage
Simple Controls
Cons
On the heavier side of the scale
5. Oster

 

2-Slice Toaster
Nowadays, people like their toasters to stand out, instead of just being equipment to hide in their kitchen. Oster 6307 Inspire 2-Slice Toaster can toast 2 slices with the feature of having an extra-wide slot for any thicker toast. Whether you want to toast frozen or any type of other bread, this does the job.
Crispy Toast
This black toaster's specialty is toasting bagel to its optimum crispiness but feels free to experiment with the other settings as well.
Shiny Red Look
This is one of the star attractions. Now I don't need to get an extra decoration to hype up my kitchen. This does the double job of toasting and stands out as a decoration as well. It's just the perfect thing to cheer you upright when you wake up first thing in the morning.
Lots of settings & scales
I like this part because I can choose to do whatever I like whether it is to defrost, or to reheat or to cancel and also to choose what scales of brownness I prefer. These various options are plus points because I prefer variety to jazz up my life, just like how the color brightens my day every morning!
Hot Caution
Even the middle settings can sometimes burn your toast, so as for starters, just make sure you start off low and then move upwards to adjust it according to your taste.
May Not Last
Just a word of caution, pretty things don't always last and this is no exception.
Pros
Browns evenly
Good range of color with 1 slice
Toast pops up high enough to grab easily
6.

Cuisinart CPT-160 Brushed Stainless-Steel 2-Slice Toaster
Cuisinart has been a great brand in the kitchen, from blenders to mixers, they ensure to provide me with top quality and productive appliances.
Now they come with a wonderful little toaster the Cuisinart CPT-160 Brushed Stainless-Steel 2-Slice Toaster. It provides a space of 1-1/2 inches which is enough to fit most sizes of bread slices, even bagels and buns.
The most noticeable thing about this toaster would be the looks. The body of the toaster is brushed steel, and does not stain or rust, and when constantly in range of heat and butter, regular un-brushed steel would just rust. The color of the toaster definitely matches a kitchen environment, in my perspective, it even compliments the white apparel of cooks.
The Cuisinart CPT-160 Brushed Stainless-Steel 2-Slice Toaster has six browning levels to cater to your preferences; from the slightly heated to the burnt, I like the bread I toast to be in between and this toaster is fabulous when it comes to doing that.
I found the large openings and single side function to be very useful at toasting bagels, I just drop them in and set them to toast on "Bagel" and it will give a single side toasting.
This toaster gives even dual-sided toasting for thin and thick bread alike, however thin bread tends to lean over to one side and that will cause the toast to be uneven, being more burnt on one side and not so done on the other.
The biggest downside besides that mentioned earlier about the uneven toasting would be the fact that the toaster does not keep its good looks for long, I find myself cleaning the exterior of the toaster more than the interior (the interior is easy to clean thanks to a sliding out crumb tray), fingerprints are for some reason attracted to it, and a dirty fingerprint filled toaster is a definite problem for me as I really like my appliances to look as good as they perform.
Pros
Its LED functions are very easy to read and understand
Very Quick and capable of toasting your bread very quickly
It has wider slots that allow for organic bread and bagels
Cons
Sometimes it toasts unevenly
7.

AmazonBasics 2 Slice Extra Wide Slot Toaster
The toaster on top of my list is a two-slice toaster. In addition to that, it is six shades settings as well. It means that customizing the toaster is undoubtedly possible.
With the help of extra-wide slots, you can use them for bagels as well. The length of each slot is 5.25 inches, and the width is 1.25 inches. It means that you can use it not only as a toaster but also to cook bagels as well.
It consists of a bagel setting, defrosts setting, as well as cancel function. It means that customizing the entire operation of the toaster is undoubtedly possible.
The lift lever ensures that you can remove the small pieces quite easily. It comes with a 22-inch power cord, which means that connecting it to the socket is not going to be a problem. The cord wrap ensures that storage is quite easy as well.
With the help of illuminated buttons, operating this toaster is easy. When you look at these features, it is easy to understand why it is one of the best toasters, which you can find.
Pros
Suitable for bagel as well
Two slice capacity
Six different shade settings
Defrost and bagel setting on offer
Illuminated buttons
8.

Maxi-Matic ECT-3100 Long 4 Slice Toaster
Are you looking for a big toaster?
If yes, this toaster on my list will certainly meet your requirements. It is a four-slice toaster. Moreover, it has a slot width of 1.25 inches. It means that you can use it with a wide variety of bread. The 1.5" slot means that you can use it for bagels as well as croissants.
The removable crumb tray means that cleaning it is not going to be a problem.
Are you wondering about the shade settings?
It offers six different adjustable shade settings as well. It means that toasting the breed according to your preference is quite easy.
The space-saving design helps you in storing and using it quite easily.
It has a built-in warming rack as well, which can help you heat bigger pieces of bread as well.
With the help of nonskid feet, you can be sure that it will remain stable even when using it in commercial kitchens.
It has buttons like reheat, cancel as well as defrost. As a result, operating it is easier than ever. The control panel is simple to understand as well, which means that there is no learning curve.
The toaster lever on offer allows you to quickly push up the toast, which makes it easy to access.
In addition to all of these features, it consists of stainless steel housing as well. The stainless steel housing means that durability is on the higher side. So, you need not worry about buying any other toaster anytime soon. With these features incorporated into the single toaster, you shouldn't look for others if you're searching for the best four-slice toaster.
Pros
The capacity is four slices
Easy to clean
Six adjustable shades
Compact design
Highly stable
Cons
Control panel design could be better
9.

KRUPS KH320D50 My Memory Digital Stainless Steel Toaster
The stainless steel construction of this toaster certainly helps it stand out. It means that durability is higher.
In case you prefer a toaster that offers more shade settings, this one comes with 7. It means that it is effortless for you to customize your toast. That's not all!
It comes along with two dedicated memory settings as well. It means that if you want to input your preference, you can certainly do so without having to do the same every time.
Another advantage of this toaster is that it can deal with bread, pastries as well as bagels. It has a capacity of 2 slices.
The large LED display means that you can view the settings digitally as well. Also, there is a live count on offer as well, which means that there is no scope for confusion when going with this toaster. You can know right away, how many minutes your toast would be ready.
The stainless steel finish is quite sleek. It means that it will amalgamate into your kitchen quite easily.
The removable crumb tray at the bottom ensures that you can clean it quite easily.
A unique feature in this toaster is that it consists of a centering function as well. It means even if you misplace the bread inside the toaster, the centering function can help you adjust it evenly. There is a lift feature to ensure that you can access the toast easily as well.
In addition to that, when you look at the controls, it offers a cancel button, bagel button, and defrost button. With the necessary features and sleek design, you cannot go wrong with this toaster.
Pros
Seven different shades
Two memory functions on offer
Easy to use
Easy to clean
Digital display
10.

Dash DVTS501AQ Toaster
The next option which I am going to highlight is a two-slice toaster. It has a minimalistic design, which means that you can use it quite easily. Moreover, it is available in 4 color options as well.
A unique feature of this toaster, which you will notice right away is that it consists of a viewing window. It means that you can toast your bread to perfection.
In addition to that, it consists of buttons for the bagel, reheating as well as defrosting. It allows you to use it for a wide variety of different purposes.
With seven different browning levels, you cannot go wrong with this toaster. In addition to that, it has the auto-shutdown feature as well, which means that you need not worry about overheating either.
The crumb tray ensures that you can clean it simply by pulling out the tray and clearing its contents.
The toaster comes with recipe ideas. It means that if you haven't used a toaster before or are looking for new recipes, this one will not disappoint you.
The compact design ensures that it will not occupy a lot of space on your countertop, either.
With these features on offer, you simply cannot go wrong with this toaster.
Pros
Viewing window on offer
Seven different shade settings
Three different operating modes
Compact design
Includes a recipe book
Cons
Occasional uneven heating
How To Choose Your Best Toaster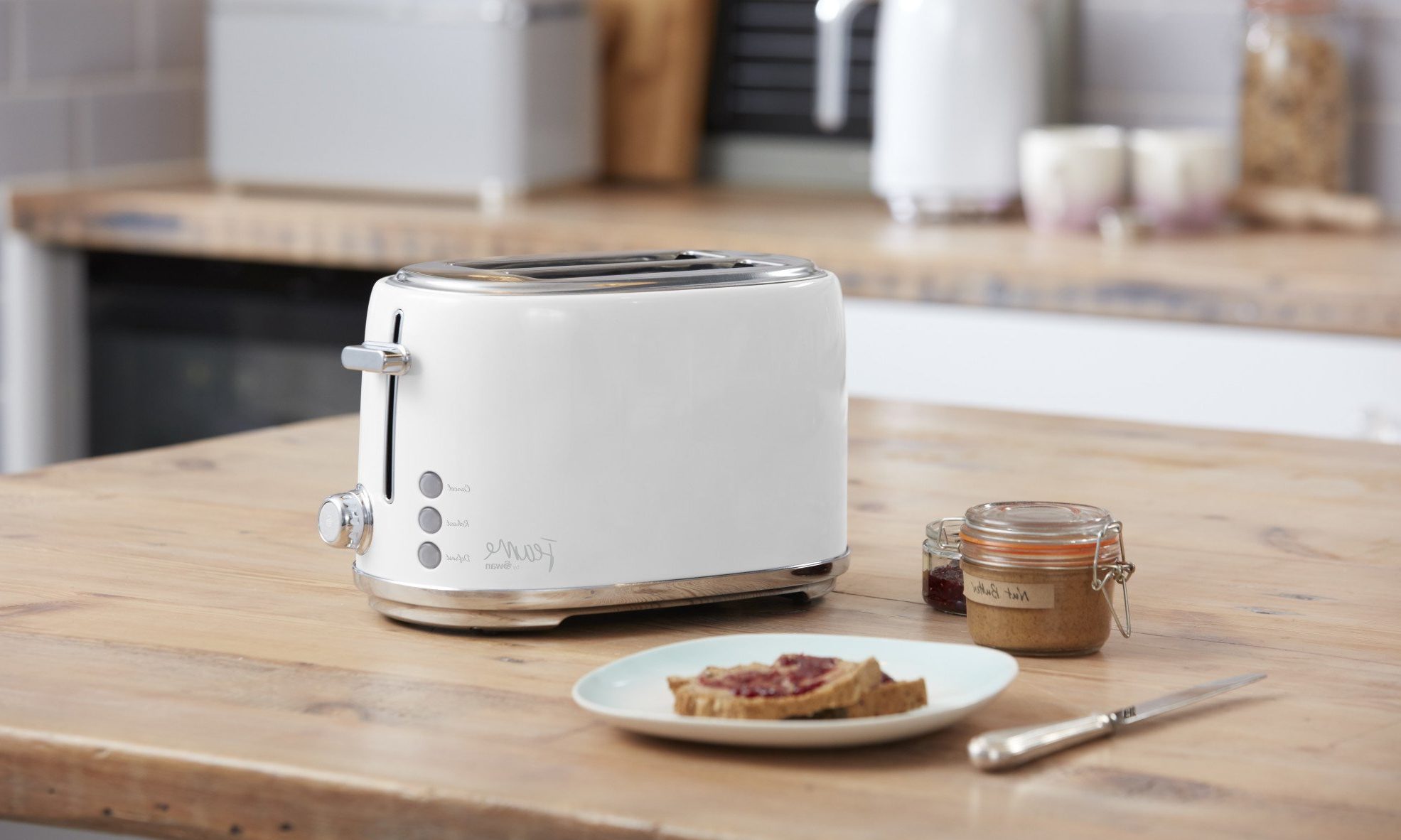 So here are some tips that I found useful when choosing a toaster.
Even toasting – I feel that this is the most important feature that you should look for. After all, with even toasting, you don't need to toast twice or turn your bread upside down every time you toast. A nice, uniform toast will certainly light up your day minus the grumble of unsatisfactory toast!
Exterior must be cool to touch – Trust me; some toasters are unbelievably scalding hot after a few rounds of toasting. If you have kids, you won't want them to burn their fingers when they accidentally touch the toaster. Even if you don't have kids, there is a possibility of an accidental touch when you're in a hurry to work.
Power cord should not be too short – The short power cord is one of the drawbacks of many toasters. Keep in mind a rough estimation from the position of a toaster on your kitchen counter and the electrical socket. You wouldn't want too short or too long a power cord.
Crumbs tray should preferably be at the front or the side – This will make clean-up easier especially if the back of the toaster faces a wall.
Wide and Long slots – It's not necessary if you're just a fan of toast bread. However, if you love the variety and want to toast muffins, bagels, etc., you might want to keep a lookout for these features. With wide and long slots, you will not need to trim and shave off the sides of your bagels before toasting. Saves you a lot of time, believe me.
There are certainly many more features that are a delight but I believe that these are the necessary features that will certainly be of help when you're looking for a toaster. Hopefully, by bearing in mind these features, it might aid you when you go for your next toaster shopping!