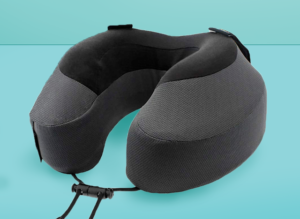 Comfort makes a difference in life, especially when traveling is. The best travel neck pillow works well to provide comfortable travel.
However, for the vast majority, it is something that can really make a huge difference on your long haul flight.
It's not all about how you sleep, but equally important is how rested, or not, you feel at your destination.
For the most part these little aids of comfort are not particularly cumbersome, and the selection of neck cushion is frankly, bewildering.
Well try and take some of the selection anxiety out of the process, and give you only Top 8 Neck Pillows from which to select your best option.
1.

J Pillow Travel Pillow
No, it's not a towel hook, but simply the best neck pillow available today.
How would you use it, we hear you ask, this is a side sleeper pillow and whilst the instructions.
As vague as they seem, explain that it is used on one side of the head, with the J supporting your chin to keep your head in place and stop those irritating nods.
The J Pillow has found high favor amongst many travelers and post-operative patients, and if this is not enough, it is also available in a range of awesome colors and at a decent price.
The J Pillow Travel Neck Pillow provides all-round support for the back of your head, the chin as well as your neck.
Unlike the other U-shaped pillows that we have reviewed here, the J-shape pillow is relatively smaller and can be packed easily.
2.

Travelmate Memory Foam Neck Pillow
The memory foam design of this travel neck pillow helps it stand out.
The premium quality memory foam ensures that it conforms to the shape of your neck.
The size of the pillow is 7 inches by 12 inches by 3.8 inches.
With the help of a built-in removable insert, it is easy to adjust the pillow's thickness as well.
The US patented design means that it is comfortable and can easily carry it in the airplane.
Are you wondering about the cover?
It consists of a machine-washable softcover. The zippered cover is easy to remove. You can remove it, wash it, and put it back again in a jiffy.
With a built-in elastic strap, it is easy to attach it to your luggage. The dark blue color makes it aesthetically pleasing and versatile.
With so many features on offer, this pillow is much superior to many other options available.
Pros
Adjustable thickness
Soft memory foam construction
Built-in elastic strap on offer
Machine washable cover
Conforms to the shape of your neck
3.

Cabeau Evolution Memory Foam Travel Neck Pillow
Just in case you need to take a call while snoozing in the car, or listen to your life coach while flying, this neck pillow includes a really nifty little pocket for your device.
We think this takes care of the awkward earphone leads which generally trip you up in your seat.
It offers an all around neck support comes and is slightly higher priced though still very affordable for many travelers.
And it is not just your typical travel neck pillow.
It is also designed with memory foam and can be adjusted to suit your personal preferences.
It is also easy to carry around since you can easily squeeze up a quarter of its size ready for your next hop around the world.
4.

AERIS Memory Foam Travel Neck Pillow
With five color variants, you have some choice when going with this travel neck pillow.
Also, it provides you with a carry bag and a sleeping mask.
In a nutshell, you can get the entire set.
Earplugs also come with it. With so many accessories on offer, you cannot go wrong with it.
Moreover, the soft fabric on the outer side makes it easy to use it consistently.
The removable cover ensures that cleaning is not going to be a problem. The cover is washable.
The high-quality foam on the inner side ensures that it reduces the pressure on your neck.
The adjustable shape allows you to customize it according to your requirement. Whichever way you look at it, this set does not disappoint.
Pros
Includes multiple accessories
Adjustable design
Premium quality memory foam on offer
Portable design
Soft fabric
Cons
Zippers of the carry bag can be smoother
5.

Trtl Pillow Super Soft Neck Support Travel Pillow
The advantage of going with this travel neck pillow is that it is available in numerous color options.
Additionally, it is available in the adult variant and junior variant as well. You can choose the one which is perfect for you.
With the help of super soft fleece material, you can be sure that it is comfortable to use for long hours as well.
The design is such that it can provide support to not only your neck but also the head.
The patented design makes it perfect for sleeping.
Are you wondering about the weight?
With a weight of 148 g, you cannot go wrong with it. It is pretty lightweight.
The removable cover is machine washable as well, which makes maintenance easy. Maintaining hygienic conditions is not going to be a problem due to the same. The unique design of the travel neck pillow is backed by science. It is designed such that it can provide you with maximum neck support.
Thus, if you're looking for the best travel neck pillow which can provide you with maximum support, this one is sure to grab your attention.
Pros
Available in numerous variants
Super soft fleece material
Provides maximum support
Lightweight design
Washable cover on offer
Cons
Has a slight learning curve
6.

Travelrest – Ultimate Travel Pillow
Travelrest has a very unique and ergonomic design that allows you to align your head and neck properly while you are sleeping on your long haul flights.
As you can see in the picture, you can wear it as a sling with the thickest part of the travel neck pillow supporting your head and neck.
Apart from its obvious pack-away benefit of an inflatable neck pillow, there is another, and that is the ability to adjust the shape and firmness, by adding or releasing air.
You just hook the pillow over the headrest or any other anchor point, and the tail keeps the pillow where it should be.
Unlike the other pillows that have been reviewed here, this will offer you lateral support and the design will also ensure that your head does not fall forwards.
It is also a good and healthy choice for someone that has neck and back problems. Available in a vast array of colors to suit your tastes and preferences.
7.

TravelSnugs – The NeckSnug
The next neck pillow on our list is once again a set. It consists of a memory foam travel pillow.
Along with that, you get a sleep mask, earplugs, and a carry bag. Using the carry bag, taking the entire setup is going to be easier than ever.
The advantage of the neck travel pillow is that it consists of 100% memory foam. Memory foam conforms to your neck shape.
Consequently, the support which it provides is going to be excellent.
The other two accessories ensure that there will be no disturbance when using the neck support pillow and want to rest.
With a breathable design, you can use it for long hours comfortably.
The adjustable buckle can keep the travel neck pillow in place.
The ergonomic design of this travel neck pillow is what helps it stand out.
The holistic set of features is the reason why it is one of the best travel neck pillows on offer.
Pros
Comes with accessories
Portable design
100% memory foam construction
Breathable design
8.

HoodiePillow Brand Travel Hoodie Pillow
As the name suggests, it has a hoodie design and gives you the best of both a cozy functional travel neck pillow and a sweatshirt that you'd rather wear for a cozy and comfortable travel experience.
This travel neck pillow is also inflatable and so very easy to pack away.
You can easily fit it into your travel bag for your next trip.
The drawstrings that it is designed to allow you to easily adjust the size of the travel neck pillow.
You can choose this in a vast array of colors including blue, grey, red etc.
Travel Neck Pillows Travel Guide
For many travelers, travel neck pillows are those frilly pampering travel accessories that they would rather do without.
But wait until you have tried the travel neck pillows and you will never let go of them.
The design allows you to be as comfortable as possible even in the smallest of spaces or in where you are forced to sleep in an unusual position such as when you are on a flight or traveling by train.
When you are shopping for travel neck pillows, you need to consider factors such as the pillow shape and size and whether it is inflatable or not. Look at the material that it has been made from and the design features amongst others.
Here is a simple guide on how you can purchase that perfect travel neck pillow:
The Shape of Travel Pillow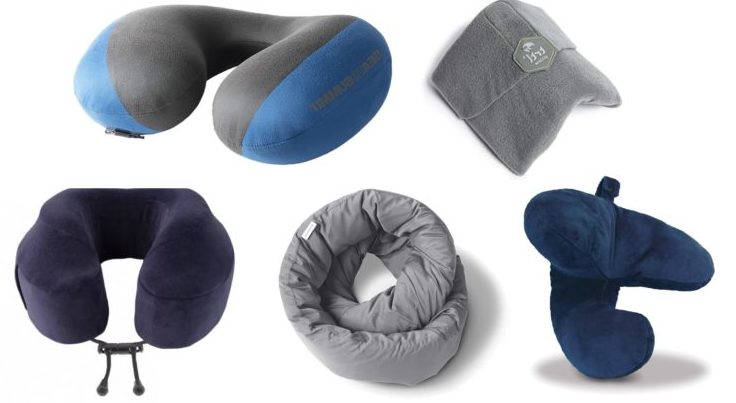 There are various shapes to choose from depending on your preference:
01

 U-Shaped Travel Pillows

These are some of the most common types.

They hug your neck and perfect if you need comfortable pillows to support your posture when you are sitting upright.

The main disadvantage with the U-shaped pillows is that they do not prevent your head from falling sideways, a major cause of neck strain if you are sitting in that position for a long duration of time such as during a long-haul flight.
02

 J-Pillows

This travel neck pillow was the ingenious idea of a flight attendant so you can be sure no details were left in order to ensure it is perfect for your travel.

It has a tail that will hug the neck like your typical U-pillow but it also offers both chin support and cushions the side and back of your neck.

The J-pillow offers you all-round support preventing your head from falling either forward or sideways.
03

 Collar travel pillows

These hug the whole neck like a brace and can be fastened with a strap to hold the neck squarely.

The collar travel neck pillows are perfect for the passenger that is sitting in the airplanes middle seat.
04

 Wedge-shaped pillows

Worried about your spine or back aching after a prolonged awkward sitting position? Then this pillow is for you.
05

 Travelrest pillows

The shape of the Travelrest pillows is so unique that it has been patented. The curved section hugs the neck and the remaining section of the pillow runs over the traveler's chest.

With this design, you have excellent support against which you can rest both your neck and head.
06

 Skyrest pillow

This is another unique patented pillow shape. This is an inflatable pillow and it forms a crate-like cushion that has a slanting top.

Unlike the other pillows that let you sit upright, this sits on the lap and you have to bend to sleep on it which can put a great strain on your back.
07

 Cylindrical pillows

This is a very basic design that can be used to support your back or neck. The neutral design also allows you to use them in multiple positions.
The Size of the Travel Neck Pillow
The travel neck pillows do not come in the same size. An important consideration to keep in mind when shopping for one is that it should be packable.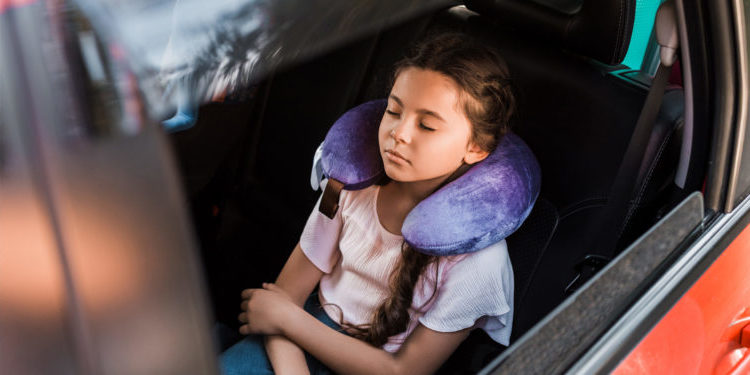 At the same time, they should also be big enough to serve the intended function-comfort and support on your long-haul flights.
While some travel neck pillows have a fixed size, some are inflatable so you can blow them to your desired size. The problem with inflatable pillows is that they are mainly filled with air and as a result, they do not give the level of support that you would get with the foam pillows or fibre, for example. The inflatable pillows are also not very easy to blow to the correct size.
The inflatable pillows give you a very easy time packing them away.
If you are shopping for non-inflatable travel neck pillows, however, it is important to keep in mind the carry on luggage limitations that airlines have put in place.
You need to look at its size when it is packed.
The non-inflatable travel neck pillows are made using a variety of materials. The kind of material used will also have an impact on the level of support as well as the comfort that you will get from using the pillow.
These materials include the following:
Foam material:
These are some of the most popular but the level of firmness of each of these also varies. They also have varying levels of durability.
Of the foam materials in the market, memory foam travel neck pillows are quite popular as they will shape to your neck or head and provide a high level of comfort and support.
Beads:
These offer excellent support but they tend to be quite heavy.
Wool:
Very soft material for travel neck pillows and it is also easy to clean. They will retain their shape for longer but they are more expensive.
Polyester:
The material is cheap and non-allergenic. They are also comfortable and easy to clean but they will not provide great support like the other travel neck pillow materials mentioned.
Extra Bells and Whistles
There are certain extras that you can look for in travel neck pillows although these are not necessarily the essentials. However, they can add to greater convenience and even comfort.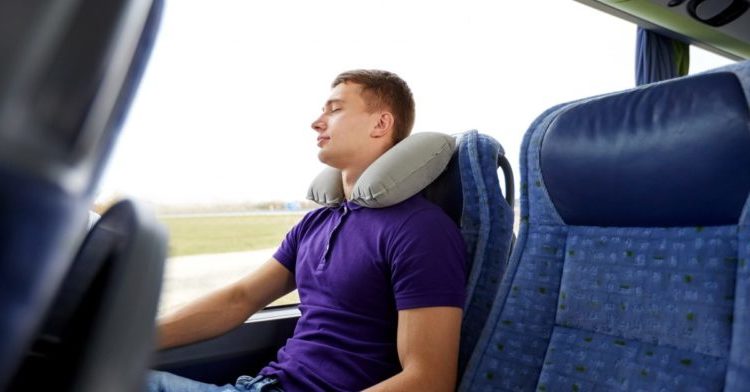 These include features such as little pockets for smartphones, headphones or earphones, how easy it is to pack, whether it comes with a custom pouch or bag that you can place it in, ventilation holes, eye masks, and the color options.
Is it inflatable or non-inflatable?
You have to make your mind on this upfront before you begin narrowing down your choices to the best inflatable or non-inflatable travel neck pillows that will be best suited for your needs.
What type of filling is used in the travel neck pillow if non-inflatable?
There are various materials that could be used including polyester, foam, beads, microfiber, cotton, wool etc and you need to determine which of this you are comfortable with.
How easy is it to pack and carry the travel neck pillow?
How bulky is the travel neck pillow that you are planning to buy?
Can you fold it easily and pack it in your travel bag?
What is the size when folded?
Here, you need to pay close attention to the folded dimensions as well as the weight.
That's our wrap of traveling neck pillows, and until you have tried one, you may not know what all the fuss is about.
All in all, a cost effective way of easing the discomfort of traveling in coach, or where-ever else you don't have the luxury of lying down.
Most will either attach your luggage, or squash into a pocket, posing very little nuisance value between trips.
We hope you enjoyed our article on "The Best Travel Neck Pillows For Every Kind of Seat Sleeper", if so, please share and rate it.