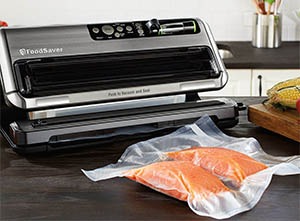 Vacuum packing is an effective process for retaining food fresh for a long time.
The best home vacuum packing machine will save food from waste.
We can save food fresh for a long time in the freezer such as meat, vegetables, cheese, seafood, etc.
What is a Vacuum Packaging Machine?
The best home vacuum packaging machine will save money and keeps food fresh. The vacuum packaging machine will remove all the air from the concerning food and seal properly.
These machines will off putt the microorganism, fungi, parasites aerobic bacteria, etc.
The best home vacuum packaging machines will mostly use to store dry fruit for a long time.
Such as almonds, apricot, betel nut, cashew nut, dates, dry dates, figs prunes, cheese, coffee, potato chips, etc. It also used to store fresh food such as meat, vegetables, and other liquids.
How to Choose?
Wouldn't it be great if you had a vacuum sealer that provides optimum performance? Can you imagine the amount of food, money and time you will be able to save?
In this article, we will look at 10 of the best vacuum sealers on the market.
We have selected the sealers based on their functionality, performance, price, and durability.
Ready? Let's begin…
The Top 10 Best Vacuum Sealers
In a hurry? Just check the quick editor's choices:
1.  Weston Pro-2300 Commercial Vacuum Sealer: The Best Heavy-duty Vacuum Sealer
This commercial vacuum sealer is not just suitable for small business owners. If you frequently use vacuum sealers in your home, then this is the best option for you. The stainless steel construction makes it possible for this appliance to withstand any heavy-duty usage.
The Automatic Mode feature of the sealer has a one-touch vacuum-to-seal operation. There is also a Manual Mode that seals soft foods, delicate items, and valuables such as rare coins. The fan cooled motor prevents the sealer from overheating. This makes sure there is consistent sealing.
There is a large Teflon bar that seals bags that are as wide as 15 inches. Another great feature of this sealer is the see-through vacuum lid. The lid ensures perfect alignment when you're sealing.
Pros
Simple to use
Heavy-duty construction
Quick and efficient vacuuming
Wide seal
Durable
Quiet
Cons
Heavy
Takes up a lot of space
2. FoodSaver V4440 Vacuum Sealer: The Most Versatile Vacuum Sealer
When it comes to versatility, the FoodSaver V4440 is the way to go. This 2-in-1 sealer has automatic bag detection and vacuum sealing. These two features make sealing quick and easy. The Fully Automatic Operation Technology automatically senses the bag and the type of food in order to create the perfect vacuum seal for it.
The sealer has been designed in such a way that it works efficiently with FoodSaver bags and rolls. It has a handheld retractable vacuum sealer that seals items such as canisters, containers and zipper bags.
The FoodSaver Vacuum Sealer System removes air from bags and creates an airtight seal that locks in freshness. There is a Rapid Marinate Mode option that marinates your food within minutes.
Pros
Compact
Versatile
Easy to clean
Has built-in roll cutter
Automatic
Simple to use
Cons
Has a short cord
It's a bit slow. It takes a while to seal food
3. Nesco American Harvest VS-12 Vacuum Sealer: The Sealer With The Most Efficient Sealing Process
This Nesco sealer has a double vacuum pump that ensures optimal performance. For added strength, the company has included a Double Line Sealing. There is also built-in storage and cutter for the bag rolls.
The Pulse Vacuum feature is useful in sealing delicate items such as pastries and bread. This vacuum sealer lets you choose the settings that work best for each food you are sealing.
The Regular setting is for firm items while the Gentle setting is for softer foods. There are sealing options for double, moist and dry foods.
The lid has a clear viewing window that enhances bag positioning and sealing. When filling the bag, you have to leave about 3 inches at the closure end of the bag.
Pros
Durable
Efficient
Simple to use
Sturdy
Cons
It is loud
The 3-inch space wastes a lot of bag space
4. COSORI Vacuum Sealer: The Best Sealer For Beginners
This COSORI sealer is perfect for those who are new to vacuum sealing. The sealer combines the manual seal functions with the automatic vacuum seal. These two features seal your foods within a few seconds.
It comes with a bag corner and a bag cutter that you can use to cut bags in your preferred sizes. You can also customize the vacuum settings.
The vacuum sealer has 2 selectable pressure levels and 2 sealing modes. You can choose the gentle or normal pressure levels depending on the type of food you want to seal.
The Dry Indication is for solid foods whereas Moist Indication is for steamed, poached and simmered foods. The Rapid Marinate Mode marinates food in a few minutes.
Pros
Easy to use
Compact
Comes with a hose attachment
Ideal for beginners
Cons
Loud motor
Takes long to vacuum
5. NutriChef Vacuum Sealer: Bestseller On The Market
This bestselling vacuum sealer saves both time and money. The vacuum sealing system is designed using 2 selectable modes. You can select the mode you want based on the type of food you are sealing.
You can either choose the Dry Indication if it is solid food or Moist Indication if it is steamed, simmered or poached foods.
The sealer comes with an air suction hose, a wine stopper cork, vacuum bags and a long vacuum bag roll. Not only are the vacuum bags waterproof, but you can reuse them as well.
Most people tend to go for this sealer due to its simplicity and great performance.
Pros
Simple to use
Automatic
Compact
Easy to clean
Sleek design
Lightweight
Cons
Instruction manual is not clear
6. Gourmia GVS415 Vacuum Sealer: The Best High Suction Power Vacuum Sealer
If what you are really after is a powerful sealer, then you should consider going for this Gourmia sealer. The sealer has a high suction power that automatically seals both solid and liquid foods.
The vacuum sealer has 3 control buttons- Auto Vacuum/ Seal, Power, and Seal button. You can select the mode you want depending on the type of food you are sealing. There are free vacuum bags that come with the sealer.
The sealer is compatible with 28 cm bags or roll.
There is also built-in cable storage and indicator lights that enhance the performance of the sealer.
Pros
Easy to use
High quality
Versatile
High suction power
Automatic
Cons
Noisy
Locking mechanism is difficult to lock
7. FoodSaver V2244 Vacuum Sealer: The Best Sealer For Minimizing Bag Waste
Most of the sealers on the market waste a lot of bag space. If you are looking to minimize bag waste, then this FoodSaver sealer will do the trick. The sealer has an integrated seal and a vacuum chamber that helps to reduce waste.
The sealer has wide sealing strips that apply heat to establish a secure and airtight seal. There is an Instant Seal feature that enables you to stop the sealing process immediately. This is especially useful when you are sealing delicate foods.
This FoodSaver sealer comes with a hose vacuum that seals fresh food within a few minutes. The hose port is compatible with all the FoodSaver containers.
In addition to food, it also seals zipper bags, containers, and canisters. The bags come with labels that you can write the day or year the food was sealed.
Pros
Minimal bag waste
Has a compatible hose port
Excellent sealing
Efficient suction
Easy to use
Cons
Drip tray does not collect all the liquid that comes out of the bag
Easy-lock latch occasionally refuses to lock
8. GERYON E2800-C Vacuum Sealer: The Most compact Vacuum Sealer
If you don't have a lot of space for a vacuum sealer, then this GERYON E2800-C will come in handy. The compact size of the sealer enables it to fit in kitchen cabinets and drawers. It can fit up to 12 inches wide.
The sealer has the "4S" function- Food Saving, Time Saving, Money Saving, and Space Saving. The Automatic Vacuum Sealing Operation makes this machine easy to use.
There is a Seal and Vac Seal function that preserves food and a Stop function that controls the vacuum pressure.
Pros
Easy to use
Compact size
Lightweight
Good suction power
Automatic sealing
Cons
It's difficult to remove all the air from the sealer
9. GERYON E2900 Vacuum Sealer: Best Bang For The Buck
This is for those who are on a very tight budget. For only $37, you will be able to enjoy the benefits of this automatic vacuum sealer. The sealer has a multi-layer material heat seal that locks air out.
Cooking and preparing meals is easier, cheaper and faster with this sealer. It has 2 Sealing modes that you can select depending on the type of food you want to seal.
There is a clear seal bag that allows you to easily identify the foods in the sealer.
The sealer fits up to 12 inches width sealer bags and comes with a hose port.
Pros
Fully automatic
Value for money
Compact size
Lightweight
Simple to use
Easy to clean
Cons
You have to press down for the sealer to fully vacuum out the air
10. Seal-a-Meal Vacuum Sealer: The Best Manual Vacuum Sealer
This is for people who love manual vacuum sealers. The sealer uses the One-press Vacuum Sealing feature. You have to press the lid firmly and hold it for a while until you see the Indicator Light illuminating.
This sealer requires a lot of hand strength. It may take you a while to seal your items. It is, therefore, not ideal for beginners.
The sealer has a multi-layer protection feature and a write-on area where you can label the items you seal.
Pros
Cost-effective
Lightweight
Sturdy
Good quality
Cons
Not suitable for beginners
Sealing takes a lot of time
Buyer's Guide: Choose the Best Vacuum Sealer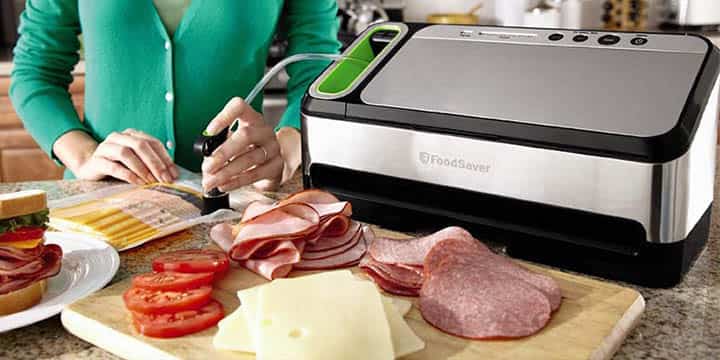 Matter exists in three forms, solid, liquid and gas. Vacuum is the absence of air and or matter in any form in a given space. For packaging, we can use the vacuum to preserve a material or product and increase its lifespan.
The presence of oxygen in the atmosphere allows the oxidation of the food material and perpetuates the growth of bacteria and other microbes in the food. A vacuum sealer allows us to make sure that the container has little to no oxygen in it to allow the spoilage of food. Vacuum sealers are most commonly used to preserve food but we can also use them to preserve non-edible items as well.
Some Important Factors
Before you go ahead and purchase a vacuum sealer, you must know the purpose for which you need one. Let's look at the most important factors to keep in mind while selecting a vacuum sealer.
#1- Purpose
Besides food, you can use a vacuum sealer to preserve a number of different items like sanitary wipes, baby wipes, batteries, etc. You can use it for anything that you think can spoil due to humidity or when it comes into direct contact with the air.
If you want to use one for preserving meat, get one with a thick seal band. To freeze vegetables and fruits, a sealer with a thinner seal band can also serve the purpose.
#2- Frequency
If you need to seal a lot of items frequently, you should get a heavy duty vacuum sealer. If you just need to preserve some fruits or vegetables and you think you won't need it too frequently, you can get a basic one.
Make sure that the one you get is able to handle the job pretty well. You don't want to get a cheap vacuum sealer that is not able to deal with the load you want to put on it.
#3- Where Will You Use It?
There are vacuum sealers that you can plug in your car socket. Most of the time, you will probably use one in the kitchen. However, consider the length of the sealer if you think you will use it outside.
#4- How Long Will You Refrigerate the Package?
If you plan to vacuum seal your food such as meat and intend to refrigerate it for a long duration, make sure that you get one with an extra wide sealing band. It is to ensure that you can avoid the surprises and the package remains properly sealed for the intended duration.
#5- Safety
Most vacuum sealers have a safety system installed to prevent overheating and short circuits. Get one that is safe to use and able to do the job without malfunctioning.
Three Major Types of Vacuum Sealer
There are mainly three types of vacuum sealers available commercially. The type of sealer you need will also depend on the purpose for which you need one.
#1. External Vacuum Sealer
For food preservation and other household purposes, external vacuum sealers are the right choice. They don't need much space, they're light to carry and they can serve most purposes for a householder.
To use them, you just need to insert the open end in the machine. They remove air and seal the package fairly quickly. If used within limits, they can be your companion for a long time.
#2. Portable Vacuum Sealer
Portable vacuum sealers are about the size of a blow dryer. You can take them with you on your camping trips if you feel you will need to seal a few things.
They run on batteries and have a different working mechanism. They punch a hole in the package, remove air and seal the hole. They're usually not recommended for long-term preservation.
#3. Chamber Vacuum Sealer
Chamber vacuum sealers are primarily manufactured for commercial purposes. While using them, you just need to put the package inside the chamber and turn it on.
These commercial grade sealers have a lot of settings and there is often a learning curve associated. The chamber vacuum sealers are usually, bulky, heavy and suitable only if you want to process large volumes.
Vacuum Sealers FAQs
Are vacuum sealers worth it?
If you often eat meat at home and find yourself throwing things out too early because you didn't arrive in time, the vacuum sealing machine is definitely worth it. If you're hunting or fishing, Vacuum Sealers can help keep lots of meat fresh in refrigerators and freezers.
Does vacuum sealing preserve food?
Consumers use vacuum sealing machines to save money and space. Vacuum sealing is also a feasible food preservation technology, which can reduce waste and prevent deterioration. Homeowners can benefit from it and enjoy clean, fresh and healthy food every time.
Can you vacuum seal already frozen vegetables?
In order to prolong the storage time, many vegetables can be frozen first and then sealed in vacuum. Some foods can be preserved in this way for two years.
Conclusion
Vacuum sealers can fit any budget but you need to know why you need one. To choose the best vacuum sealer you should know the purpose for which you need one. Make sure that it has a preventive mechanism for overheating and capable of serving you well.
Selecting the best vacuum sealer can sometimes seem like a challenging task. Hopefully, we have relieved you from that task. All you have to do now is to choose the sealer that best suits your needs, and you will be good to go.