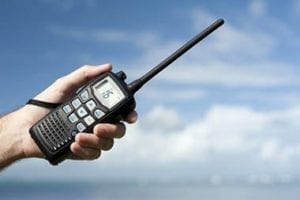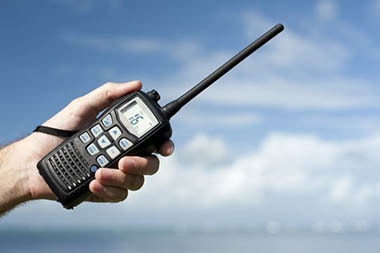 There is something fascinating about a two way radio. Not only are these radios fun to communicate with, but they are also fairly inexpensive.
In order to make sure you get the best experience from a walkie talkie, we have gone ahead and compiled a list of 9 of the best radios on the market.
The walkie talkies discussed in this article have been selected based on several factors including price vs performance, durability, as well as functionality.
Eager to know which walkie talkie made it to our top 9 list?
Well, here we go…
Top 9 Best Walkie Talkies 2020
In a hurry? Just check the quick editor's choices:
If you are new to the world of walkie talkies, then this 4 pack radio will be the best fit for you. The radio has a range of 5 miles.
The UHF waves of the walkie talkie have the ability to penetrate steel, concrete, and wood. This gives you better range and performance when you are in urban places or around buildings.
The Arcshell Two-Way Radio has 16 channels that you can choose from and a frequency range of up to 470MHz. When fully charged, it can last up to 96 hours.
Some of the features you will find in this radio includes a Push-to-talk button, overcharge protection, scanning function, and a built-in LED flashlight.
The package comes with 4 two way radios, 4 Li-ion batteries, 4 chargers, 4 SMA-female antennas, 4 hand straps, 4 earphones, 4 Belt clips and 4 user manuals.
Pros
Lightweight
Durable
Water resistant
Easy to use
Ideal for beginners
Cons
Has a short range
Low-quality sound
This is for those who love a little bit of adventure. With a range of 36 miles, you can be able to communicate effectively while exploring nature.
The Direct Call Function enables you to contact a member of your group without alerting the others. The walkie talkie also has 10 Call Alerts that notify you of an incoming call. The Auto Squelch feature functions by removing all annoying background noise. This enhances the sound quality.
This two way radio has 50 channels. It comes with a Dual Watch that enables you to monitor 2 channels at the same time. The NOAA Weather Alert Radio feature automatically scans the local weather channel and alerts you of severe weather conditions. The SOS siren, on the other hand, enables you to send out signals in case of an emergency situation.
The two way radio has
JIS4 Waterproof
feature that offers protection against splashing water or rain. The walkie talkie comes with belt clips, a pair of radios, desktop chargers, Mic headsets, rechargeable batteries, AC wall adapter, DC adapter and user manual.
Pros
Waterproof
Good range
Clear sounds
Easy to access buttons
Easy to use
Lightweight
Cons
Short battery life
The user manual is complicated
What? You have less than $30 to spare on a walkie talkie? Well, no problem! The BaoFeng UV-5R is by far the cheapest, yet durable walkie talkie on the market.
Going for just $24, you get 128 channels and a frequency range of 136 to 174. You can customize the names of the channels and monitor 2 different frequencies.
The BaoFeng UV-5R supports the Dual Reception as well as the Dual Watch. In addition to this, it has a Built-in VOX Function and an Emergency Alert function.
When you purchase this package, you will get a two way radio, Li-ion battery, antenna, earphone Mic, belt clip, hand strap, adapter, desktop charger, and a user manual.
Pros
Value for money
Compact
Easy to use
Excellent sound quality
Long lasting battery
Cons
Can be difficult to program
The extensive installation and programming set up of this walkie talkie make it more suitable for the pros.
The two-way radio has a total of 500 channels. The channels are divided into 10 storage banks. You can organize the channels by location, department, or any other way you like.
You can assign each of the channels with an AlphaNumeric Name. This enables you to keep track of what you're listening to.
The radio enables you to listen to more than 40,000 frequencies. There is a Compact Bearcat Handheld Scanner that enables you to listen to both civilian and military air bands.
It has Built-in Auto Service Searches which you can use to search for things such as Fire, Police, Air, and Marine.
The walkie talkie also enables you to receive important safety and weather alerts. The Close Call Technology tunes to signals from nearby transmitters. There is also a Do Not Disturb Mode that prevents Close Call Checks.
Pros
Has 500 channels
Suitable for pros
Long lasting battery
Excellent sound quality
Lightweight
This Motorola walkie talkie was designed to be used both indoors and outdoors. One feature that sets this radio apart from the rest, is its compatibility with other radios.
The walkie talkie enables you to communicate with other radios regardless of the brand. This makes it be more user-friendly.
The Motorolla T100 has 22 channels and a range of up to 16 miles. The range varies depending on weather condition, obstructions, electromagnetic interference, and terrain. It has a long lasting battery that can go up to 18 hours when fully charged.
The walkie talkie has a Call Tone instead of a default ring. This feature grabs the attention of people who are calling you before you even start to talk. The package includes 2 radios, 2 belt clips, and user manual.
Pros
Compatible with other radios
Easy to use
Long lasting battery
Excellent sound quality
Lightweight
Durable
When it comes to high transmission power, the BF-F8HP tops the list. The walkie talkie can transmit up to 8 watts. The radio has 3 power levels that you can choose from.
The Low Level transmits 1 watts, Med Level transmits between 4 and 5 watts while the High Level transmits between 7 and 8 watts.
We have to admit, BaoFeng has really outdone themselves with this radio. The radio has the latest N5R-340A firmware that is not found on other models.
In addition to this, it has a high-gain antenna, FM radio and a tri-color display that is customizable. Not only is this the best dual band radio on the market, but it is also relatively inexpensive compared to other dual bands.
When you buy the package, you will get the BF-F8HP radio, battery, battery charger, antenna, power adapter, belt clip, earpiece, hand strap, and a user manual.
Pros
High transmission power
Long lasting battery
Easy to use
Durable
Value for money
Cons
Lack of channel selector- You have to manually use the up and down buttons.
If you have a business, then you should consider buying this 10 pack radio for your staff members. The Retevis H-777 offers reliable coverage. With this feature, you will reduce communication cost while increasing work efficiency.
The walkie talkie has 16 channels. All the channels have an encrypted 50 code that ensures smooth communication without any interruptions.
You can easily change from one channel to another. It has a frequency of 400 to 470 MHz.
The radio supports both USB and DC charging. When fully charged, it lasts between 8 to 9 hours. When not used, however, the battery can last up to 72 hours.
The radio comes with 10 two way radios, 10 antennas, 10 battery pack, 10 chargers, 10 belt clips, 10 hand straps and 10 user manuals.
Pros
Easy to use
High-quality sound
Ideal for business
Durable
Lightweight
Long lasting battery
Cons
Some headsets tend to be faulty
Most of us tend to steer away from tri-band radios because of how expensive most of them are. Well, this tri-band radio only costs $59! And the best part is that it is durable, easy to use and has 128 channels.
The radio gives you the option of removing and adding channels that you want on the menu. For optimum experience, it is recommended to pair this walkie talkie with the Nagoya NA-320A Antenna.
You can enter the range and frequency you want to scan in the Frequency Mode.
The walkie talkie responds to commands such as Stun, Kill and Revive. The Stun command is for transmitting Disable while the "Kill" command is for disabling all functions of the radio. You can also use the "Revive" command to remove the radio from the Kill or Stun state.
The kit includes the BTECH radio, dual-band antenna, battery, single band antenna, charger, adapter, wrist strap, earpiece kit, belt clip and user manual.
Pros
Value for money
Excellent sound quality
The wide range of channels
Durable
Lightweight
Cons
Does not include a triband antenna
Difficult to program with CHIRP
If you are a fanatic for Family Radio Service (FRS) walkie talkies, then you're going to love this radio.
The Midland LXT500VP3 has 22 FRS channels that you can choose from. The Channel Scan feature checks channels for activity while the Auto Squelch feature removes background noise.
The radio has a 24 miles range. The dual power options enable you to use the rechargeable batteries that come with the walkie talkie or you can use 4 AAA alkaline batteries.
The radio enables you to connect to other GMRS or FRS walkie talkies. When you buy this package, you will get 2 two way radios, 2 rechargeable battery packs, desktop charger, 2 belt clips, AC Wall Adapter and user manual.
Pros
Water resistant
Silent operation
Excellent sound quality
Easy to use
Good range
Cons
Batteries don't last long
Buying Guide: How to Choose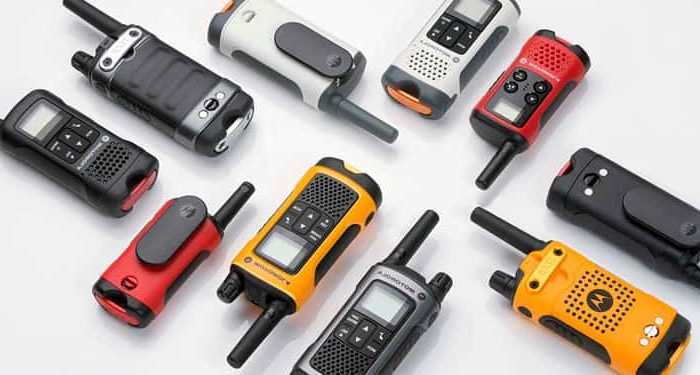 Walkie-talkies are meant to ease communication among a particular group of people in a specific location. It could be a group of workers at a construction site, soldiers in operation in the forest, a troop of scouts on a campout or the security personnel in a factory or restaurant.
In choosing the best Walkie Talkie, you have to bear in mind the nature of the activity at hand. However, the following are the non-negotiable basics to consider when looking for effective best two way radios:
#1. Communication Range
Since Walkie-talkie is all about reaching out to persons out of sight, you have to be concerned about how far its frequency can reach. An ideal Walkie-Talkie should offer extensive coverage of communication. There are two-way radios with 24 miles coverage in open areas like deserts. Some have short-range coverage and so lose clarity faster the further you go.
#2. Quality Of Communication
Voice quality matters in communication for a full understanding. An ideal walkie Talkie should relay clear voice without scratchy sounds or on-and-off connection that cause words to miss.
One misunderstood word can lead to severe consequences especially if about critical instructions to be carried out. Some are clear when you communicate out in the open but lose clarity when you get inside a building.
#3. Battery Life
If you are going to use the product away from the main power, you have to consider its battery life. Some walkie-talkie batteries get drained so soon. Having to recharge it time and again may interfere with normal operations. An ideal battery should last for not less eight hours once fully charged.
#4. Volume
An ideal two-way radio should have an adjustable volume buttons that work from minimum to maximum set-points. There are situations when low volume is necessary and times when maximum amount works better. A good walkie talkie should give the standard maximum volume if needed, not a still low maximum volume that is hard to hear.
#5. Channels
Consider the number of channels depending on the number of people to communicate with. Go for one with several channels with many assigned units in each transmission. Make sure each channel offers clear communication.
#6. Simplicity
Go for an easy-to-use walkie-talkie with simple and clear buttons,if you have new employees you want to learn to use them faster without intense training. Some walkie talkies are complicated, with too many confusing buttons that it takes time to master how to use them correctly.
#7. Water Resistance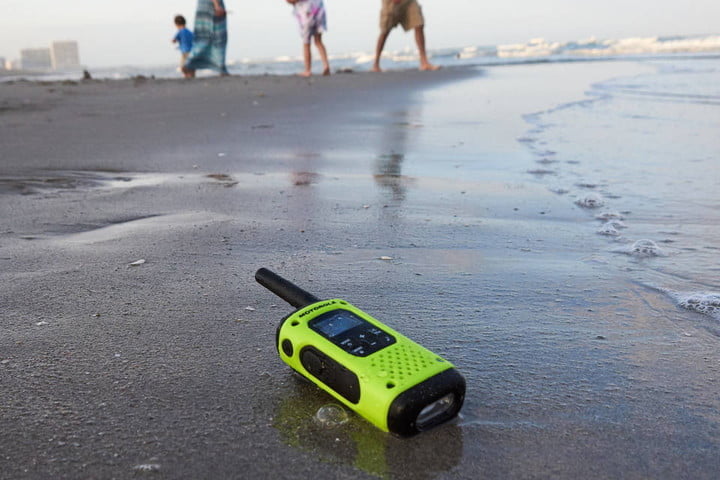 A mariner will prefer a water-resistant walkie-talkie that doesn't go dead if a splash of water reaches it. A good walkie talkie can handle little rain for about 30 minutes without losing its functionality.
#8. Camouflage
If misplaced a walkie-talkie shouldn't be easy to spot by the evil eye,especially in warfare situations. That is why the color matters when choosing the right walkie-talkie. They come in many colors, so you decide which suits you. Consider the dominant colors of your area and select the suitable color you believe will blend well with the surroundings.
#9. Backlight
Because there are situations they have to be used in dark or semi-dark areas, walkie-talkies should have the bright backlight to display buttons. That also makes it easy to read messages in poor lighting places. LCD backlight display is highly recommended for it's easy to read.
#10. Weight
Some walkie talkies are just too heavy and large to comfortably move around with all the time. Go for a light and small one but which offers many of the features the best walkie talkie should have.
#11. Privacy Codes
The information in the walkie-talkie should always be safe even when it falls into the wrong hands. A walkie-talkie requiring the password to unlock keypads is more suitable in an environment where trust is low-key. Keypad locks also prevent accidental activation by the rightful holder.
Conclusion
There is a walkie talkie out there for everyone. It doesn't matter whether you are a novice, professional, business owner or just an adventurer. We hope this article has given you some inspiration and great ideas for your next walkie talkie.