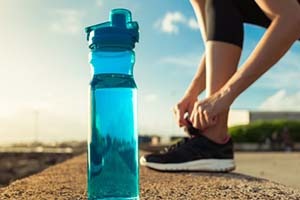 Perhaps you have heard the importance of keeping your body adequately hydrated. Just like food and air, water is essential for the proper functioning of your body organs.
While you are more likely to drink plenty of water when you stay at home, the contrary is also true. If you spend or are planning to spend more time outdoors, then it is prudent to carry enough water with you.
How you do this, is by getting the best water bottle. Following is a review of the best bottles and a buying guide.
Best Water Bottles 2021
1. Hydro Flask 64 Oz 

Stainless Steel Water 

Bottle
When it comes to convenience, the Hydro flask tops the list.
It has excellent thermal properties that will keep your drink in whatever condition you want both hot and cold for long thanks to its TempShield insulation technology and the double walls.
Besides having a high capacity to carry enough water to last you the whole day, its size is convenient to carry around.
Compatibility with both hydro flip and hydro straw lids as well as a sweat-free powder coating adds to its convenience.
Pros
Makes use of vacuum insulation that provides consistent temperatures hence cold water stays cold for up to 24 hours and hot water for 6 hours.
Has a wide mouth gape allowing for comfortable adding of ice cubes.
Safe to use as it is made of high-quality stainless steel and plastics that are non-toxic as well as BPA free.
The outer coating is made of powder for a firm grip.
Very durable.
Cons
Considerably expensive.
Not safe to wash in a dishwasher.
Heavy due to the double-wall insulation.
2.

Camelbak Chute 1-Liter Water Bottle
This stylish bottle was only designed with ease of use in mind.
It features a handle that allows for the comfortable carrying of the full bottle with just two fingers.
To prevent the spout cap from getting in your way when taking the water, it is designed to snap into the handle.
And a half turn of the cap gives easy access to the drink.
The fact that it is toxins and BPA free means your health is well taken care of.
Pros
It holds plenty of water up to 32 oz.
The bottle feels sturdy.
An angled spout for ergonomic drink interface.
Has a comfortable handle which makes it easy to carry around.
Cons
It is too wide to fit in a car's cup holder.
Not easy to clean as it is too tall and narrow.
3.

Embrava 32-Oz Sports Water Bottle
The Embrava is an eco-friendly bottle guaranteeing health safety thanks to the BPA and toxins free materials it is made of.
While it is excellent for any activity, but it is best fitted for sports activities.
Its ergonomic shape allows for a convenient and firm grip.
Besides having a lanyard that keeps it secure and comfortable to carry around, it also fits perfectly in cup holders and bike mounts. It also comes with a free "hydration for athletes" guide.
Pros
It fits well in cup holders and bike mounts.
Features a design that is leak and dust proof.
It comes with a safety lock lid to prevent leakages.
The drinking spout allows for a fast flow of water.
A durable lanyard makes it easy to carry around.
Cons
Not safe to wash in a dishwasher.
The air hole above the drinking spout causes unnecessary water spillage.
4.

Nalgene Tritan 32-Oz Water Bottle
The Nalgene water bottle besides being attractive is also transparent.
Transparency comes in handy especially if you want to keep tabs on the level of your water or if you want to mix some sports powders.
Also, it is graduated for easy measurements which adds to its convenience.
Fear of possible leaking should not bother you as far as this bottle concerned.
Pros
Very durable hence great for both outdoors and indoors activities.
It is BPA free and made from the finest materials of plastics and metals.
The design is stylish and attractive.
Has a loop-top to prevent the loss of the cap.
Calibrated for easy measuring.
A wide mouth gape makes adding of ice cubes easy and so is cleaning.
Cons
It is too wide to fit in an average cup holder.
The wide mouth gape makes drinking water from the bottle uncomfortable.
5.

Great Gear Fruit Infuser Water Bottle
If adding flavors to your water will keep you well hydrated, then let it be. The Great Gear fruit infuser bottle is what you need.
This bottle allows for easy infusing with a half-filled sleeve lasting for 2-3 refills enough to keep you hydrated for the whole day.
To ensure tour precious water is not lost through leaking, it comes with a locking lid.
Pros
Safe to use as it provides a firm grip.
A locking lid ensures it is leak proof.
It is durable and sturdy.
Easy infusing as you can refill it 3-4 times in a day with the same fruit.
It saves you money otherwise would be used to buy expensive fruit flavored bottled beverages.
Cons
Fruits clog the spout making it difficult to drink.
It may result in over drinking water due to the flavor which can be detrimental to your health.
6.

Simple Modern Summit Water Bottle
The Simple Modern bottle takes insulation to the next level by adding a copper lining to the vacuum and double wall insulation. Hence, your drink will be kept either hot or cold for a longer time.
Also, it does not sweat and offers a firm grip thanks to the powder coating.
Although it is not dishwasher safer, the wide mouth gape allows for easy cleaning and so is the pouring of water.
Pros
It is vacuum sealed and insulated with copper to keep cold water cold and hot water hot for extended periods.
Comes with two interchangeable lids for maximum convenience.
Lightweight hence easy to carry around even when filled with water.
Comes with sizes that fit average cup holders.
A powdered outer coating for firm grip hence ergonomic.
Cons
Not safe in a dishwasher.
The wide mouth gape makes it difficult to drink from the bottle.
7.

Camelbak Eddy Kids 12-Oz Water Bottle
Any kid will fall in love with Camelbak Eddy water bottle as it is colorfully designed and attractive.
The graphics on the bottle will be fun for your kid and so is the big bite valve that allows for comfortable and easy sipping of drinks from it.
And since you cannot control how often your kid drops the bottle, it is designed to be spill resistant hence value for your money.
Pros
It is BPA free hence guaranteed health safety for your kids.
Features a redesigned cap with a big bite valve for faster water flow.
Made of high quality and durable materials.
The bite valve makes it easy for kids to use the bottle while effectively limiting drips and spills.
Cons
It is prone to leakages.
Prone to breakage if it is continuously dropped down.
The sucker straw keeps blocking which is annoying a kid.
8.

Contigo AUTOSEAL Water Bottle
The selling point of the Contigo is its AUTOSEAL lid that guarantees no leaks or spillage of water.
It is also transparent which means you can monitor your drink levels and mix sports powders without straining.
The bottle is classy as well and fits perfectly in most cup holders.
And the ergonomic design makes it comfortable to hold and carry around.
Even though it is dishwasher safer, its wide mouth gape allows for easy washing as well as adding ice cubes.
Pros
An auto seat lid ensures the bottle is leak proof.
It has a wide spout hence easy to add ice cubes and clean.
It is dishwasher safe.
BPA free guaranteeing your health safety.
The design fits in most cup holders.
Cons
It breaks easily even on a small fall especially the cap.
Somehow some units leak.
9.

Polar Bottle Insulated Water Bottle
The Polar Bottle is stylish and by far the most ergonomic thanks to its design.
A removable strap offers extra carrying convenience. Even though it is made of lightweight materials, quality is not compromised.
It also boasts of superior thermal properties which means your drinks will remain hot or cold twice long compared to other bottles.
Pros
Offers ultimate thermal insulation thanks to its double wall construction and foil layers that reflect solar rays.
It is both dishwasher and freezer safe.
Constructed of lightweight material but durable.
It is a sports and bike bottle as it is easy to carry around and fits well in mounts and cup holders.
Cons
It requires a lot of strength to fasten the cap to prevent leakages but still it leaks.
The wide mouth gape makes it difficult to drink from.
Choosing the right safe, BPA-free water bottle for you
We all know how important it is to stay hydrated, and due to concerns about the health, safety, cost, societal and environmental impact of bottled water, many people are switching to portable, reusable water bottles.
There have been reports of bottles leaching toxic chemicals such as Bisphenol-A (BPA) into the water, which makes it hard to decide what type of water bottle to buy.
This guide will help you select the right water bottle to keep you and your family safe, healthy, and well-hydrated, and includes some tips for improving the taste of your tap water.
Considerations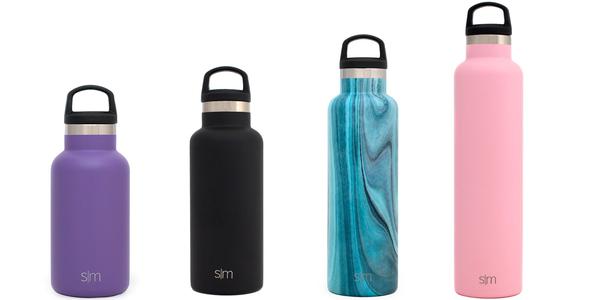 The capacity of the bottle determines how much water you can carry. And so depending on the activity, you are involved in and your preferences, you can choose from 500ml all the way to 2 liters.
Water bottles are either made from stainless steel and aluminum or plastic. The former is best if you are involved in vigorous sports that require sturdiness of the bottle for durability and thermal properties. The plastic ones are for light sports. Look for a material that is BPA free as it is a health concern.
The shape of the bottle is important as it should fit precisely on any standard bottle cage for both cyclists and motorists. Running bottles should be slim and ergonomic for better holding.
An insulated bottle is double walled with a vacuum or foam middle layer to help keep the water cold and hot accordingly for a longer time. As such they are ideal when the weather is cold, and you need to keep your drink hot and vice versa.
If you only need a water bottle to hold drinking water, then transparency is not an issue. However, in the event you may regularly want to mix sports powders, then you should go for the transparent one as it allows a clear vision of the content.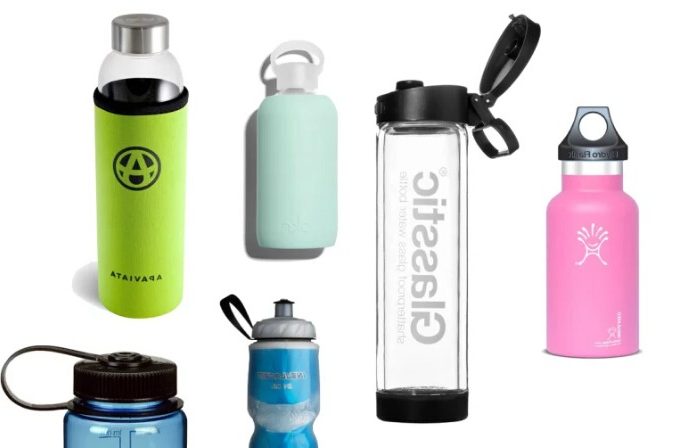 Narrow gapes are great when drinking water while the wide ones make it easy to add ice cubes to the water as well as clean. And so go for one that meets your needs.
Stainless Steel Water Bottles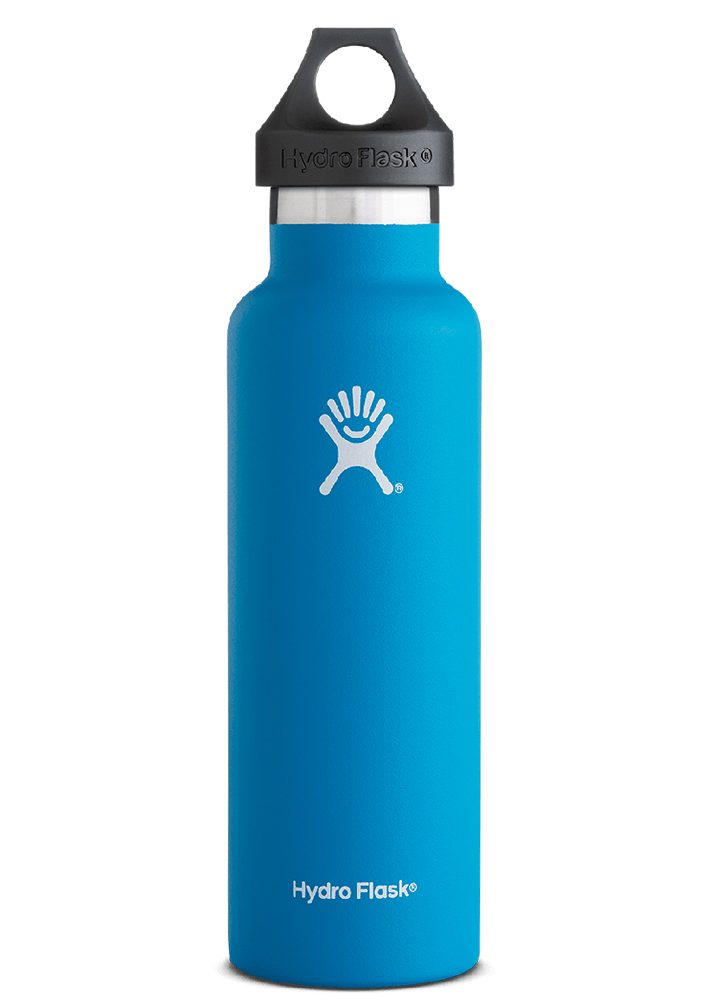 Stainless steel water bottles have become very popular in light of the recent concerns about the safety of plastic bottles.
Stainless steel bottles are of medium weight, and when properly constructed, will not leach harmful chemicals into the water.
They are quite durable, but thin ones may dent if hit hard enough.
Stainless steel bottles should not be used for hot beverages, or acidic liquids such as orange juice or Gatorade.
Lined Aluminum Water Bottles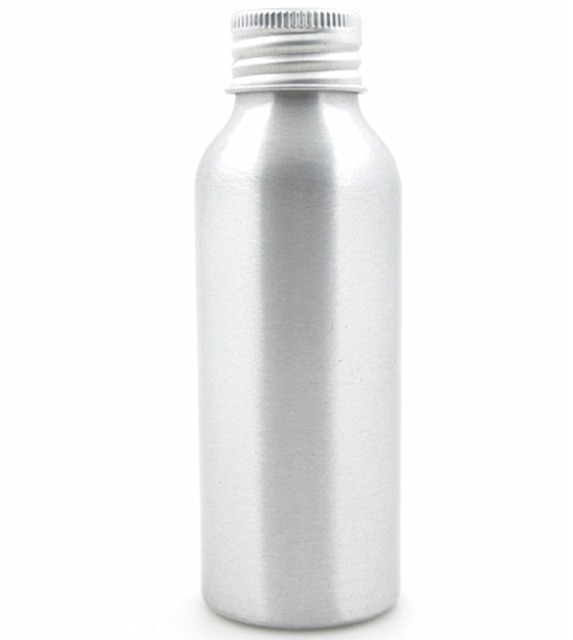 Lined aluminum bottles are a nice alternative to stainless steel bottles. They are lighter weight and safer to use with acidic beverages, but may dent more easily.
Lined aluminum bottles have a thin resin layer on the inside to separate the water from the aluminum.
Aluminum has been linked to causing Alzheimer's disease, so you should never buy an unlined aluminum bottle. In addition, it is important to pick a bottle manufacturer that uses a safe lining.
Glass Water Bottles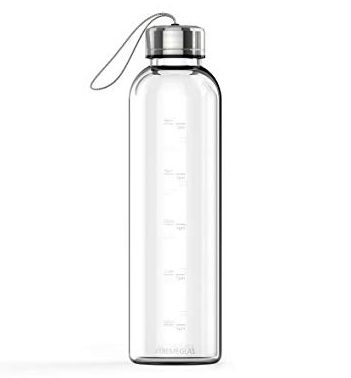 Glass is the top choice for keeping your water safe and tasting great.
Glass is non-reactive, so it will not leach chemicals into your water (or any other beverage, including acidic liquids like orange juice).
However, it is the least durable of all materials, since dropping a bottle will almost surely break it.
It can work well for a bottle that stays in the office or your car, but in other situations, you may find yourself with a shattered bottle and a fine mess to clean up.
Plastic Water Bottles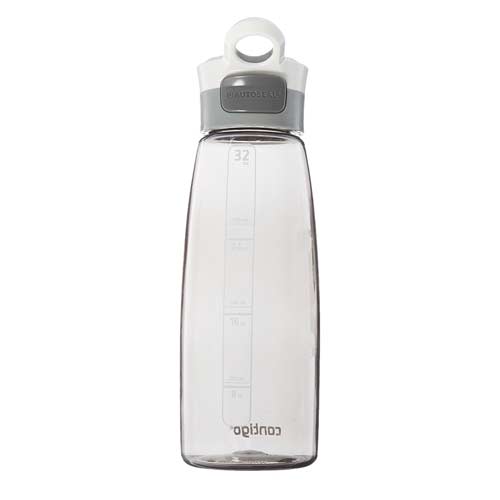 Plastic water bottles have been a hot topic ever since the news broke that many plastic bottles, including the original polycarbonate Nalgene bottles, were leeching the potentially harmful chemical Bisphenol A (BPA) into water.
Luckily, there are some safe plastic bottles that will not release toxins into your water if used properly.
Look on the bottom of the bottle for its plastic recycling symbol, #2 (high density polyethylene), #4 (low density polyethylene), and #5 (polypropylene) are the safest. #1 (polyethylene terephthalate), #3 (polyvinyl chloride), #6 (polystyrene), and #7 (other, including polycarbonate), bottles should be avoided, as these may leach harmful chemicals into your water.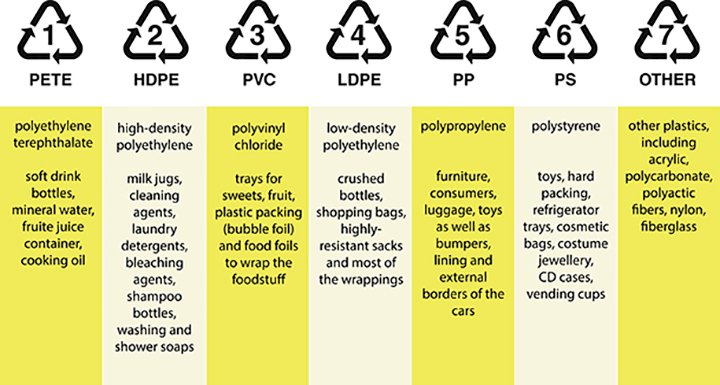 Even if you have picked a #2, #4, or #5 plastic bottle, heat and light exposure may cause a plastic water bottle to leach chemicals into your water.
Plastic water bottles should not be left in a hot car parked in the sun, nor should water be left in the bottle for too long.
If your water ever smells or tastes like plastic, don't drink it! Plastic water bottles are great for the gym, since you can fill it up when you get there, and many have convenient pop-up tops or straws so that you can grab a quick drink while you are working out.
Plastic gets top marks in terms of durability, as it is quite difficult to break most plastic bottles. Models with convenient tops also score high in practicality.
Plastic bottles are often the least expensive option, and bottles are safe as long as the right plastics are chosen.
There are some great BPA-free Camelbak bottles with a nice straw-top design, or a traditional lid, both of which have a wide enough mouth for ice.
Filtered Water Bottles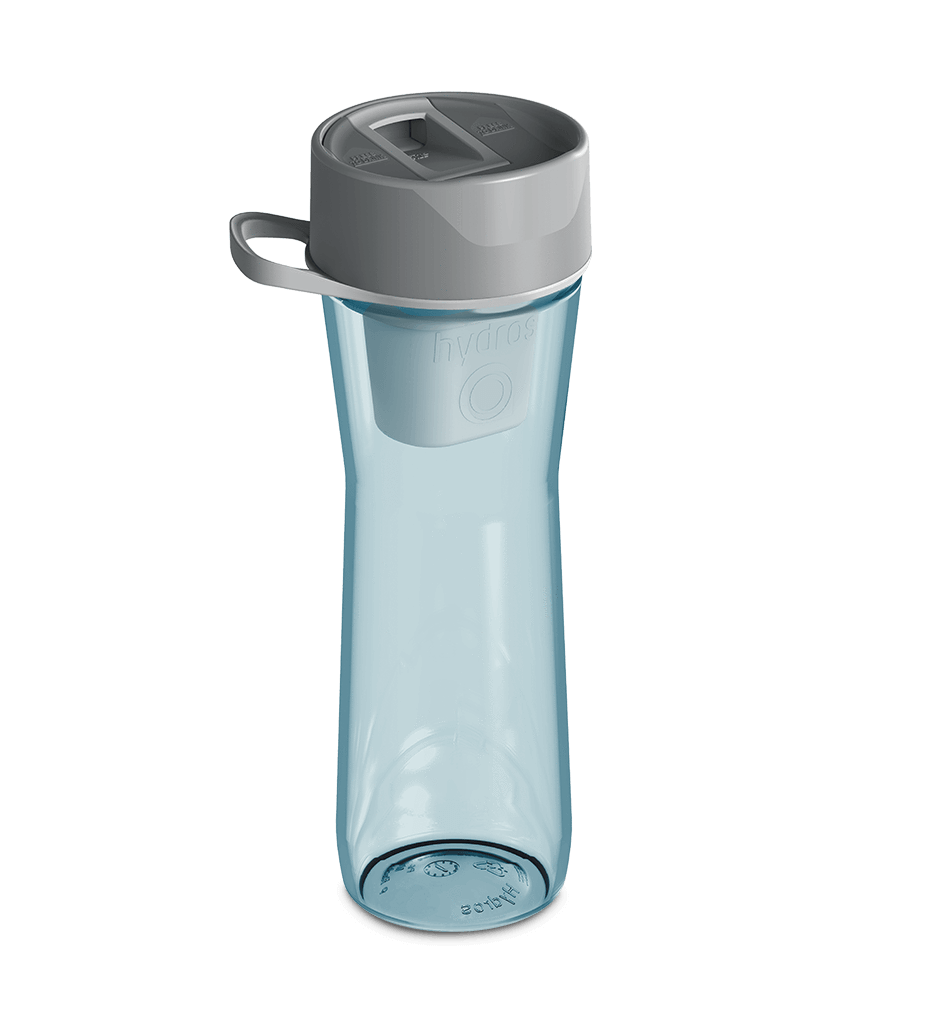 A filtered water bottle has a filter built in to purify your water as it passes through the bottle.
These bottles are typically made of plastic, so the same precautions taken with plastic bottles must also be taken with filter bottles.
Filter bottles are considerably more expensive than regular plastic water bottles, however, they will ensure that you are drinking high-quality, safe water. These are an excellent choice if you are not sure about the quality of your water source.
There are many different types of filters in these bottles; some filter chemicals, others filter micro-organisms (bacteria/viruses), and some do both. Filtering may also make your water taste better.
Tips for improving the taste and purity of your drinking water

#1 Let your water sit in a decanter
Bad taste in water can often be attributed to gases dissolved in the water.
Chlorine is a very common example of a gas that is added to water during purification to help kill any bacteria or microbes present in it.
However, if you've ever gotten a mouth full of pool water, you know that chlorine is not tasty!
If you leave your water in an open pitcher or decanter in the fridge overnight, these gases will come out of the solution in the water.
You'll be amazed at how much difference in taste this can make. However, still water shouldn't be left out too long or it may start to grow bacteria.
#2 Let your water get cold!
This one may seem obvious.
However, blind taste tests between bottled water and tap have proven that very often. People associate bottled water with a better taste simply because they usually drink bottled water when it is colder. So throw a pitcher or your reusable water bottle in the fridge, and have it cold!
Water Bottle FAQs
Is it better to drink with glass or stainless steel?
Glass is the safest type of water bottle, providing a pure taste, but stainless steel provides the benefits of insulation, keeping your drink hot or cold. So it depends on what you need.
Is stainless steel OK to drink from?
So if you want to make sure you're drinking a safe, reusable steel water bottle, look for 304 or 18 / 8 food grade stainless steel. 304 or 18 / 8 food grade stainless steel is safe at all temperatures and will not penetrate chemicals into water if scratched or aged.
What is the safest material to drink from?
Food grade stainless steel is a kind of material that can contact drinking water safely. The steel also has the advantages of crushing resistance, long service life and high temperature resistance.
Conclusion
Choosing a great water bottle that meets all your preferences can be tasking. However, the above review will help you select the right one and start a healthy and hydrated lifestyle wherever you go. Choose any of the above bottles and drink your way to better health.