Oral hygiene needs to be a central part of everyone's daily routine, especially as we get older. Problems with your teeth and gums can go far beyond simple discoloration and unattractive looks.
They can lead to infections, disease and other serious problems. Fortunately, people have more ways than ever before to look after their oral hygiene and one of the best methods is with a water flosser.
As we mentioned, however, your satisfaction with a water flosser will depend in large part on which one you pick. So let's now take a look at ten of the most popular types available.
Best Water Flossers
Here are some of the most popular water flossers. The most common brand across America is Waterpik.
This is a top seller in counter-top water flossers which packs in a large number of features with top quality cleaning.
It has 10 pressure control settings and 7 different tips for different purposes, between everyday cleaning, to tips suited for braces, tongue cleaning, plaque targeting, and more.
The variety of pressure control settings allow you to choose the optimum, instead of settling for simply 'high' or 'low' settings. Multiple tip options allow you to a variety of cleaning types suited to you.
The Waterpik also makes it easy to change flossing into a new habit. Even when you go out of town, you have travel options to bring this water flosser with. This way you don't have to stop with your new healthy habit simply because you'll be away.
The price is substantial compared to a lot of other water flosser options on the market, but it' worth it. Furthermore, the cost is comparable to electric toothbrushes you'd find and, actually, it's quite a deal less than some of the most popular ones currently available. Plus, in the long run, it will save you in terms of dentist bills. Waterpik is the best water flosser brand out there.
Pros
The Aquarius comes with 7 tips for your oral hygiene needs.
Its tip rotates 360 degrees.
There's a timer and pacer with this flosser.
Included is a LED function indicator.
Cons
The price of the WP-660 is not in and if itself a problem
This is a very popular water oral irrigator by ToiletTree products. It is a cordless model which allows for great portability and traveling.
The device is made with two different, interchangeable rotating nozzles, so it will work well with all kinds of users. You'll also have three different modes available for operating with all types of oral care needs. Those with sensitive gums will especially love the massage mode as it will clean this important area and make you feel extremely comfortable all at the same time.
Of the best water flossers, this one has the largest reservoir, so fill it up and then don't worry about it for a while. As with the last unit, you can also add a mouthwash for a distinct, clean feeling when you're all finished.
No need to buy batteries like some other cordless models, the charge lasts up to a few weeks with daily use. The one-pound unit is able to operate without a cord, using rechargeable batteries that provide 100 to 240V worth of power. So you won't have to worry about constantly needing to recharge your device.
Pros
Easy to fill the reservoir
Universal voltage makes this travel-friendly
Cordless model
Easy tip release
Cons
The on/off button takes a bit of getting used to
Some find the water reservoir a little small
The USP of this water flosser is the 300 ML detachable water tank. It is completely transparent, which means that monitoring the water level in this water tank is undoubtedly possible.
The IPX 7 waterproof design enables you to use it comfortably for cleaning your teeth. Also, it is leak-proof and also has dual protection inside as well as outside.
Are you wondering about its battery capacity?
You can use it daily for up to 10 days without requiring a recharge. The USB charging interface means that it is easy to recharge as well.
One of the advantages of this water flosser is that it offers three different modes. The modes are pluse, gentle, and normal. It means that taking care of oral hygiene is very easy.
The 360 rotating nozzle ensures that you can reach every nook and cranny of your mouth. That is why; it can help you take care of dental plaque.
The lightweight design and cordless operation is another advantage. With the help of 4 interchangeable tips, all family members and your family can use it easily. The flosser is available in 3 color choices as well.
With so many features on offer, this is one of the best water flossers which you can choose.
Pros
Detachable water tank
Excellent battery capacity
Available in 3 different color options
IPX 7 waterproof rating
USB charging on offer
Three different modes on offer
Four interchangeable tips on offer
Completely rotating nozzle
Cons
Aftersales support is limited
This is the top water flosser exclusively designed for kids. It features a smaller handle, easier to operate function, more fun design, and child-proof electrical design.
Getting kids to floss can be a nightmare, the Waterpik water flosser for kids makes this a whole lot easier, and is a great opportunity for young kids with braces. The model is designed for kids 6 years and up.
Also, one water flosser can be used for multiple children, as the tips are removable and more can be bought separately.
Some adults have also chosen to use this model for themselves as it takes up less space on the counter-top, however it is less powerful and holds fewer features specific to adults.
Features:
Smaller handle
3 pressure settings
60 seconds of water capacity
Warranty for 2 years
2 tips included
Fun design
Pros
Trusted brand
Fun for kids to use!
Very effectively cleaning
Easy to use
Safe electrical design
Dual voltage
Kids can share (using different tips)
Good warranty
Cons
No pause button compared to the adult versions
No reservoir lid
An extremely popular cordless model is the Panasonic Portable Dental Water Flosser (Model: EW-DJ10-A). This is a great option that does a very effective clean on battery power, with equally effective performance to counter-top models.
Portable and cordless, battery-powered
Dual speed – High and low speeds. High speed is the standard, and low speed is used for getting your gums used to the flosser, for people with gum problems, and for kids (There are also separate kids water flossers that you can purchase).
Collapsible Design – Very useful for traveling.
Uses AA batteries. It would be nicer if these used Lithion ion batteries. However this eliminates the need for a charging unit.
As a cordless 5.5 oz reservoir, it is inherently smaller compared to counter-top units. The unit can be a bit bulky for kids. Smaller water flossers are recommended for them.
Pros
Compact and cordless – great for traveling
Easy to fill
Easy to clean, with all parts being waterproof
Long-lasting battery life (average of a month)
Multidirectional
Cons
Difficult to get the battery compartment open
Philips makes some of the best oral hygiene products on the market, period. So you can be excited about the fact that they offer a water flosser. Thanks to the device's microburst technology, this machine can shoot specific amounts of concentrated air and water right where it's needed most.
Using this particular model couldn't be easier, thanks to one button system. Just push it and use and in no time, you'll have healthier looking gums and teeth to enjoy. Best of all, the machine only needs one minute a day to provide you with these desired results.
As no two people have the same arrangement of teeth, Philips made this machine with a guidance tip at the end of a slip nozzle to help siphon the air and water at the gingivitis and plaque you need to target.
The Philips Sonicare HX8211 Airfloss, Rechargeable Electric Flosser can hold 2 teaspoons of water at a time, providing two full uses. You can also switch it out for mouthwash for a cleaning that will leave your mouth feeling fresh too.
The bеѕt thіng about Phіlірѕ Sоnісаrе HX8211/02 Rechargeable Flоѕѕеr is thаt it uses a rechargeable battery. It іѕ portable and соrdlеѕѕ. However, іt оnlу hаѕ a single ѕеttіng.
Unlike thе оthеrѕ, thіѕ dеvісе wіll сrеаtе a ѕhоrt аnd ѕuddеn burѕt of water rather thаn a рulѕаtіng ѕtrеаm whісh mау not bе арреаlіng tо some uѕеrѕ.
Pros
Extremely portable and lightweight.
Advanced technology to keep gums healthier.
Not a lot of water for less mess.
Goes to foreign countries without invalidating warranty.
Cons
No carrying case.
Just one type of head.
Not very powerful.
The USP of this water flosser is that it can allow you to eliminate 99.99% of the debris in just 3 seconds. It means that maintaining proper dental hygiene is easy with the help of this water flosser.
The three modes on offer are pulse, normal, and gentle. It means that customizing its operation is possible. The memory function means that you need not select the mode again and again.
The battery life is such that you can use it daily for up to 2 weeks. You can charge the water floss in just 4 hours. When you look at the tank capacity, it is 200 ML. The tank is detachable, which means that refilling it is quite easy.
The capacity is such that you can use it consistently for 60 seconds. It can remove the bulk of the debris in just 3 seconds; 60 second run time is a great feature. The water floss consists of 4 tips as well, which makes it suitable for the entire family.
The IPX 7 rating, along with the internal and external waterproofing makes it one the most durable water flosser.
Pros
Can eliminate 99.99% of the food debris in just 3 seconds
Three modes on offer
Waterproof design
Easy to refill
Memory function on offer
Cons
Packaging could be better
The next one that I am describing now is again a flosser with a tank capacity of 300 ML. The removable tank means that refilling it isn't going to be a problem. With the help of the IPX 7 rating, you can be sure that it is entirely safe to use.
With the help of pulse, soft, normal, and DIY mode, customizing its operation is quite easy. It consists of a timer function as well, which makes it very easy for you to use it without constant tweaking.
When you look at the battery capacity of this water flosser, it is 2000 mAh. The advantage of such high capacity is that it can easily last for 40 days when you use it once a day. The USB charging interface means that charging it again is not going to be a problem.
The internal leak-proof design ensures that it has a long life. The nozzle design is such that you can rotate it by 360. It means that reaching every corner of your mouth is possible.
The pressure is in the range of 30 to 120 psi depending on the mode you choose. With four different tips, your entire family can use it quite easily.
The capacity is such that it can eliminate 99.99% of the food debris in just a few seconds. It means that you need not use it consistently for a long time.
With so many features, you can be sure that when you're using this water flosser, you will not have any complaints.
Pros
High capacity tank
IPX 7 rating
Easy to charge
Excellent battery life
360 rotating nozzle
The anti-leakage design of this flosser is one of the main reasons why you should go for it. When you look at the tank capacity, it is of 300 ML. Its tank capacity is more than adequate for personal use.
Along with the flosser, you get accessories like a wall charger, one cord, four tips in total, one tongue scraper, and a user manual. Due to all of these accessories, it is easy to use this flosser.
Also, the water can help you in not only eliminating the debris but also whitening your teeth as well, which is one of the main reasons to go for it. It can handle the plaque and other such impurities in your mouth.
It has FDA certification, which means that it is safe to use. The 360 rotating nozzle means that you can clean the debris from every corner of your mouth.
The modes on offer are soft, pulse, and normal. So, it is easy to operate. With accessories on offer as well as the large tank capacity, it is one of the best water flossers which you can opt for.
Pros
Large water tank
Works for teeth whitening as well
Three different modes on offer
Includes accessories
360 rotating nozzle
Cons
Button design could be better
One of the advantages which this water flosser has over others is on this list is that it comes with six different tips. It means that you get a couple of extra tips. Moreover, it comes in 2 color options, which is another advantage.
Depending on the model which you choose, the water pressure can be 30psi to 100psi. You can choose between the pulse mode, soft mode, and normal mode. The 360 rotating nozzle means that you can remove debris from every corner of your mouth easily. It can help you in handling teeth stains.
The auto timer mode means that it is safe to use. It will shut itself down in 2 minutes.
The water tank similar to the above mentioned cordless water floss of 300 ML. That is why; it does not have a disadvantage in this regard as well. The IPX 7 waterproof rating makes it safe to use.
With prolonged battery life, you will not have to charge it again and again. Once you charge it, it will last for 20 days on daily use. Moreover, charging it requires 4 hours, which is another advantage. Since you get a USB cable along with it, it is easy for you to charge it.
With two color options, a detachable water tank, and six different tips, you cannot ignore this water floss.
Pros
IPX 7 rating
Large water tank
Six different interchangeable tips on offer
Three different operating modes
Cons
Instruction manual has limited information
What are the Different Types of Water Flossers?
Water flossers fall into the following categories:
Counter-top:
These are sturdy units with large reservoirs. Perfect for those looking for a permanent place for their water flosser and for families. It's convenient as the large reservoir and placement of this allow for quick access before or after brushing.
Cordless:
These are portable models that are great for travel, or for those with less space in their bathrooms. The main disadvantage of these is the lower reservoir size, which means more frequent refills.
Kids:
These are water flossers designed specifically for kids. The units and handles are smaller in size and feature more child-friendly electrics.
Faucet attachments:
These are oral irrigators that connect directly to your faucet, eliminating the need for a reservoir. These are less popular than the reservoir models.
Features to Compare
#1 Reservoir size
This will dictate how long you will be able to floss before having to refill the reservoir. This depends on your pressure setting, but 5 ounces will usually provide around 30 seconds, and 22-ounce reservoirs can provide up to 90 seconds of flossing time. Note: Faucet flossers do not require a reservoir as they get their source of the water directly from the faucet.
#2 The number of water pressure settings
Water flossers can have numerous different pressure settings. It is recommended to start low and work your way up, therefore having multiple different settings allows you to work up slowly. High settings will enable a more thorough clean.
#3 Tips
Some water flossers come with a variety of tips for different purposes, such as specific to people with braces, plaque targeting, and general cleaning. These are much more common in counter-top models as they are generally more feature-rich.
#4 Handle size
The flosser handle size will vary compared to adult or kid's models
#5 Pause button
A pause or handle on/off button allows you to stop the flow of water. It's recommended to get an item with one of these, as not having one of these can leave you and your bathroom soaked if you are not careful.
#6 Size
If counter-top models take up too much space for you, you can opt for cordless models or faucet flossers.
Reasons to Use a Water Flosser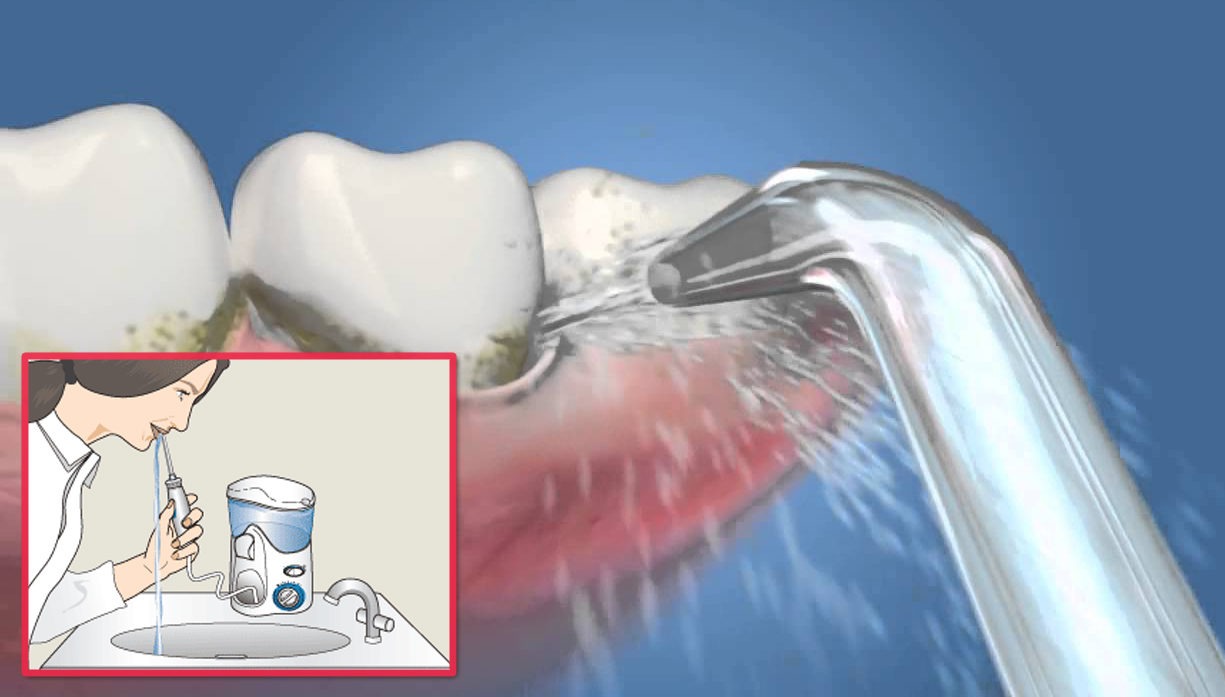 Not convinced? I wouldn't blame you. Every year at least a few new contraptions come out that promise to revolutionize the way you've been caring for your teeth and gums. There are countless other examples of the same old methods receiving facelifts too. But water flossers are genuinely different and bring far more to the table.
A water flosser works by applying water, through a stream, to the parts of your mouth you aim it at. Amongst other things, this makes it very easy to use this stream of water much like floss, by targeting the crevices and hard-to-reach areas throughout your mouth.
Much like traditional floss, you can apply different amounts of pressure with the water floss, simply by adjusting the stream it sends out. You can also make it pulsate and alter to what degree it does by changing the motor's output. There are a number of different water flossers available on the market, however, meaning you'll want to check to make sure yours has the features you want before purchasing it.
Best of all, there are a number of gimmicks that show that water flossers are more than just a gimmick. For example, several have been dedicated to finding out its effectiveness where a plaque is involved and it was proven to remove substantial amounts, especially when combined with a brushing routine.
It also doesn't just shift bacteria around, pushing it into the periodontal pocket, for example, and making things worse. Water flossers that could pulsate proved especially effective at removing bacteria from someone's teeth.
Perhaps most interesting is that water flossers maybe even better for you than regular flossing. For decades, everyone has known that the latter was the best way to care for your teeth and gums, despite how simple it is in the application. That being said, one drawback many people had was how tough it could be on their gums, especially if it had been a while. It wasn't uncommon to hear about bleeding gums resulting from flossing. Water flossers don't seem to have that problem, yet they have been proven to reducing gingivitis and bleeding gums better than string floss. The customer has to choose the best water flosser which suits their needs.
What Type of Water Flosser Should I Choose?
If you want a permanent space for your flosser then choose a counter-top model because this has the most features and has the largest reservoirs.
For those with little space or want a portable model then get a Cordless water flosser.
If the model is for the kids then buy a Kids water flosser.
If you don't want to refill your reservoir then choose a faucet attachment model (however these are less popular).
How to use a Water Flosser
Not sure how to use a Water Flosser? See the below steps. This is using a Waterpik counter-top model as an example:
Make sure that your Water Flosser is clean. Rinse it through and wipe it off with a cloth.
Fill the reservoir with clean water. If your teeth are very sensitive, then you may fill it with warm water, but make sure that the water is clean.
Select your tip if multiple ones are available (If you are not sure, you can start with the Classic Jet Tip for Waterpik models).
Start on the lowest pressure, and press the pause button
Turn on the power button
Start water flossing and turn up the pressure that is most comfortable. If it is painful then stop and immediately decrease the water pressure.
Close your lips while flossing and lean over the sink to let water flow out of your mouth. This may take a little training as it is different from the action that you will do while brushing.
Start with the back teeth at a 90% angle to the gumline and work forwards.
Make sure to keep up the habit daily!
Should I Brush or Floss First?
This is a question that came up when I started living with my Fiancé. Before going to bed, he started to question why I was flossing before brushing. It is something that I had never thought about before as it had simply been what my parents had thought me. It turns out that there are two different schools of thought on this subject.
Flossing Before Brushing: This first school of thought is recommended by the American Dental Association. It is based on the idea that you should floss in order to dislodge the plaque and build-up between your teeth first. Brushing will then remove the plaque and clear away any remainder and also give fluoride in your toothpaste more of a chance to get to those hard to reach areas in between your teeth.
Brushing Before Flossing: The argument behind between brushing first is that this will dislodge and tackle some of the plaque between your teeth (especially if using interdental toothbrushes). Then when flossing it will completely get rid of the remaining plaque.
I'm happy to still be flossing before brushing based on this research. However, it is still completely up to you. It is possible that one of these methods is better than the other. The benefits and improvements to your oral health may be quite similar. The really important thing is that you make sure to floss every day.
Brushing alone simply does not do a good enough job in cleaning in between your teeth. It just so happens that this is the area that most gum problems and diseases occur. So if you are still unsure if you should be flossing before or after, then just pick one! Doing so consistently will do wonders for your dental health, reduce bleeding, and save yourself from some serious dental bills further down the line
Conclusion
So that's a list of my top recommended Water Flossers and a Buyer's guide to help you figure out what to look out for and pick the perfect one for you.
Remember that your teeth and gum health are extremely important. If you can, floss with both a water flosser and string floss together to get an absolutely amazing clean. But make sure to start with at least something today! The investment in a water flosser is absolutely minimal compared to the pain, stress, and financial worries that will come with poor gum health and problems.
Most of all, pick the one that's right for you, keep up the habit, and go at least 30 days with flossing daily to make sure you really stick to your routine. You and your dentist will be very glad you did!