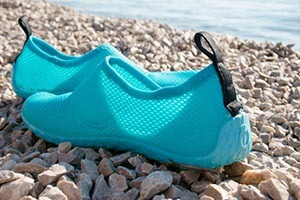 Swimming, surfing, wading and fishing are fun, relaxing activities. For you to enjoy them to the fullest, it is necessary to wear some water shoes. They are light and protect your feet from the sand or rocks in the water.
This guide highlights the best water shoes available in the market.
Best Water Shoes 2021
1.

Crocs Men's and Women's Classic Clog
This water shoe uses the completely molded Crocslite crocs material which offers comfort. It also has ports for ventilation to improve breathability and allow debris and water to drain away.
There is a heel strap that provides a secure fit, and you could pivot it to offer an easy slip-on. This water shoes offer a spacious fit and are generous in width and length.
These shoes can be worn for every occasion. They not only work as house slippers but also perfect for beach, boat, shower, pool, travel, gym, garden use. Anyone can wear this water shoe regardless of their gender or profession.
Cleaning these shoes is a simple task; you only need water and soap. They are also light and dry fast. The ports of ventilation allow customization with the Jibbitz charms. They also have a synthetic sole, and its shaft is about 8 inches from the arch. Its platform is about 0.25.
Pros
Lightweight
Comfortable
Available in multiple colors
 Stylish
Cons
You may have to wear them with socks on during hot weather
2.

ALEADER Men's Quick Drying Aqua Water Shoes
These slip-on shoes feature a lightweight mesh material on the upper part that allows quick drying of the shoe. Moreover, the material enables breathability.
The amphibious design of this shoe allows its use in dry and wet places. The hydrophobic mesh ability with the lateral stitched support system allows the feet to fit snugly into the shoe.
It has a FluidFlow technology that makes the shoe dry fast. The Solyte midsole offers perfect energy return. It also has the comforts sock liner which provides maximum cushioning. It will also make sure to remain drier and cooler than in the regular athletic shoe.
Pros
Solyte Midsole
FluidFlow technology
Lightweight upper mesh material
Outsole water grip with the rubber pods
Cons
Can be quite tight on the top of your foot
3.

Speedo Men's Surfwalker 3.0 Water Shoe
These shoes take any man from the sea to shore in complete comfort. It has a stretchy upper pull-on with mesh insets for rapid-dry breathability as well as a secure fit. On its inside, you will find the cushioned insole that offers optimal impact protection. There is also the rubber S-Trac outsole that provides traction and management of water for additionally comfortable wear.
Furthermore, it features the insert air mesh panel to improve ventilation and dry faster.
It is made with four-way light stretch providing an easy slip-on, these details are made with mesh panels for quicker drying time and ventilation. This shoe is the ideal athletic stylish shoe that suits all day use. In case you are urgently looking for water shoes and you lack time to shop around, then you should find this shoe. These shoes appear durable and made correctly.
This shoe fits snugly, and if you love light water sports, sitting in the canoe or kayak, then these shoes will work well for you.
Pros
Good bottom grip
Comfortable
Breathable
Easy maintenance and cleaning
Offers excellent traction even on slippery surfaces or rocks
Cons
Zero arch support in spite of the rubber molded sole
4.

Native Unisex Kid's Jefferson Slip-On Sneaker
This distinct small water shoes have a sneaker appearance but is made for water games. The best part is that it is available in various color alternatives which will make your kid look stylish when splashing. They have EVA-made and conforms to the shape of your child's foot.
Its unique waterproof material offers lightweight protection as well as security on the slippery ground. These shoes are also resistant to odors; however, if you need to clean them, you could hand wash them.
Since they are unisex, these water shoes are useful for kids with different ages and can be worn by toddlers, big and small kids. They have perforations all over to allow your kid's feet to dry rapidly while preventing bacteria and mold.
Pros
The material is odor resistant
Lightweight rubber
Stylish design with a lot of color alternatives
The EVA footbed conforms to the shape of your child's feet
Cons
It can lead to formation blisters if you choose the wrong size
5.

Crocs Swiftwater Men's Mesh Sandal
Whether you love or loathe these shoes for their unorthodox appearance, you cannot deny that they are the masters in the case of conventional water shoes. They are sturdy, fast-drying and lightweight. The polka-dots perforations moreover offer optimal drainage and ventilation.
However, if you do not want to look too dad-like, the Swift manager gives the Croc the outdoor/hiker feel while maintaining is distinct practicality and styling.
They are made to function in any environment and is useful both in and out of the water. The lightweight design will not slow you down when wading through water. Its hook-and-loop closure ensures it safely remains on foot. It has a croslite shoe form construction for absorbing water.
Pros
Lightweight
Hoop-and-loop closure
Odor-resistant capabilities
The rubber outsoles with the herringbone grooves for providing traction
Croslite foam design
Cons
Not suitable for places with sand
6.

Mishansa Mens Womens Water Shoes
These are ankle-high water shoes that have a great design. Mishansa Mens Womens Water Shoes are ideal for a wide range of activities such as sailing, surfing, yoga, swimming, surfing, aerobics or pilates.
They have a spandex fabric upper section which is stretchy, breathable and quick drying. This section also has a cross ventilation pattern that gives a comfortable grip. The upper has a pull tap at the heel. By using this feature, you can wear or remove these water shoes easily. Mishansa Mens Womens Water Shoes are also available in many different colors.
These water shoes have a rubber sole which gives you a great grip. It is also fitted with some drainage holes. They direct water out of the shoe resulting in a more comfortable and healthier interior.
The Mishansa Mens Womens Water Shoes are highly convenient to wear. That's because they have some elastic straps. These features run across the width of the shoe and eliminate the annoying activity of having to tie any laces. You can enjoy literally any marine activity while wearing these shoes.
Pros
They are versatile and can be used for various activities
The spandex upper is breathable, stretchy and comfortable
They have a rubber sole with fantastic grip
These water shoes have drainage holes in the bottom
Cons
They are most ideal for narrow feet
7.

KEEN Newport H2 Sandal Water Shoes for Kids
These are highly durable and flexible sandals designed for kids. The KEEN Newport H2 Sandal has a ventilated upper section. It has a hook and loop strap fastening method. Therefore, kids can wear and remove these sandals quite easily without requiring extra help.
These sandals have a Cleansport NXT upper fabric. It provides natural odor control. This ensures that the shoes stay comfortable to handle and wear in all seasons.
The webbing on these shoes is made of water resistant, quick-drying material. As a result, kids can splash in and out of the water while wearing these shoes with no negative repercussions. The rubber outsole is robust and protects your kid's toes.
It is also non-marking in nature. The sandal's midsole is made of molded and compressed EVA. Hence, the sandal is comfortable to wear and can absorb any type of shock. Cleaning the KEEN Newport H2 Sandal is very easy. That's because it has a removable metatomical PU footbed. This sandal is available in multiple colors.
Pros
It is a comfortable and flexible sandal
It is easy to wear and fasten
This sandal has a water-resistant, odor proof upper section
The sole is robust and non-marking
The sandal is quick drying
Cons
Their quality depends on the country of origin
8.

SIMARI Womens and Mens Water Shoes
These are quick drying water shoes that are perfect for various activities. You can wear SIMARI Womens and Mens Water Shoes while swimming, walking on the beach, playing volleyball, doing pilates, boating, sailing, surfing or yoga.
These water shoes are ankle-high. The upper section on these shoes is made of breathable and stretchy material. When you wear these shoes, they feel flexible and comfortable.
As a matter of fact, SIMARI Womens and Mens Water Shoes are actually as light as socks. The neck on these shoes is made of a smooth material. Hence, it does not chafe your skin. These water shoes are also available in an amazing array of colors.
The SIMARI Womens and Mens Water Shoes have a very unique sole. It is molded out of TPR material according to ergonomic standards. This material is plastic-based. It is usually implemented in the manufacture of sports shoes. The sole also provides ample shock absorption. The insole cushioning is grooved.
In this way, it protects your toes. It also has substantial air-permeability and delivers non-slip performance. These water shoes are heat resistant and keep your feet protected from sharp objects.
Pros
These water shoes can be worn for various activities
They are very comfortable
These shoes are flexible
The TPR sole is flexible and strong at the same time
These shoes have customized internal cushioning
Cons
It is difficult to get stains out of the upper
9.

Vibram Men's Signa Athletic Boating Shoe
This rugged and durable water shoe is made to deliver maximum comfort. The Vibram Men's Signa Athletic Boating Shoe has individual sections for each of your toes.
As such, it is supremely comfortable to wear. The upper is made of a combination of textile and synthetic material. It is quick drying and resistant to abrasion. Once you wear these shoes, you can fasten them firmly on your feet using the Velcro strap. This makes these shoes very easy to wear and highly functional as well.
This water shoe's sole is made of flexible and durable rubber. It has a proprietary Vibram wave grip. It provides ample slip-resistance when operating on wet surfaces. The Vibram Men's Signa Athletic Boating Shoe has drainage holes in its soles. As a result, the water flows right out of the shoe when wearing it.
In this way, it remains comfortable and healthy to wear. The insole is made of polyester and rubber mesh. You can get these shoes in a variety of vibrant colors.
Pros
These water shoes are very comfortable
They have individual sections for your toes
The shoe is made of textile and synthetic materials at the same time
The sole is flexible and durable
You can clean these shoes in the washing machine
They have a firm grip
Cons
The rubber is not long lasting
10.

Neo Sport Premium Wetsuit Boots
Do you usually wear wetsuits when exploring the water? If you do, the Neo Sport Premium Wetsuit Boots are a great option. They have a comfortable, flexible neoprene upper section. Their sole is also fully punctured resistant.
You can buy these boots with sole thicknesses of 3mm, 5mm and 7mm. They provide your feet with ample protection. You can use these wetsuit boots in various settings.
Examples of these are watersports, kayaking, boating, surfing and boating. The Neo Sport Premium Wetsuit Boots are available in different dimensions ranging from size 4 to 16.
The soles are attached to the neoprene through a glued and sewn construction mechanism. This ensures complete durability during use. The Neo Sport Premium Wetsuit Boots are easy to wear or remove. That's because they have a heavy duty zipper.
Best of all, there is a Water Entry Barrier (WEB) behind the zipper. It prevents water from seeping through into the boots as you wear them. The soles have rugged treads. Thus, you can explore muddy, sandy or rocky areas while wearing the boots with no risk of slipping. Very lightweight; they are excellent wet suit boots for men.
Pros
They have an upper that extends halfway to your shin
The sole is puncture resistant
The neoprene fabric is flexible and durable
They are durable
You can fasten these boots using the heavy duty zipper
They have a Water Entry Barrier (WEB)
Cons
They can run a little small
Conclusion
That is all for the best water shoes for women and men. You could, therefore, select the ideal brand of shoe in regards to your taste, financial ability, insole, outsole, material, durability, comfort, and breathability.
All the above are the best water shoes for you and your family; they will give you good value for your money and are functional both in and out of water. For your kids, we recommend the Kid's Jefferson Unisex. They are lightweight and have all-over perforations to drain water quickly.
The shoes above are ideal for water boating, fishing as well as kayaking. It is essential to put in mind that most of the water shoes are made to have a close-fit and are warm-enough for wearing without socks.