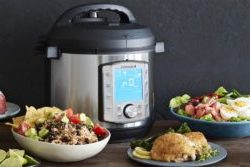 If you have seen an episode of MasterChef, then chances are you would have seen an electric pressure cooker in action, even if you may not completely understand exactly what it is and how it works.
It is almost a magical appliance food goes in and in an extraordinarily short amount of time, it is cooked.
The science is simple steam is created which creates pressure, and this pressure creates energy that cooks food quicker than normal.
Once you cook using electric pressure cookers, you will wonder how you ever found the patience to cook before the usual way!
Pots and pans be gone, here are some of the best electric pressure cookers for the true master chef!
1.

Instant Pot 7-in-1 Multi-Functional Pressure Cooker
A pressure cooker is no longer just a pressure cooker.
In fact, no single kitchen appliance is rarely ever just one thing anymore the Instant Pot 7-in-1 Multi-Functional Pressure Cooker is a classic example.
While it is still fundamentally a pressure cooker, it also doubles as a slow cooker, rice cooker, yogurt maker and steamer.
On top of all that, it also can be used for sauteing, browning and warming food.
Having 7 different appliances will take up more room than Kylie Jenners lipsticks, so unless you have this true multi-functional cooker, then you are wasting potential.
The pressure setting is the central function of this cooker of course, and it is extremely effective with a 3-ply stainless steel cooking pot and dual pressure settings for fast and flexible cooking.
Don't even bother putting this appliance away as you will come up with reasons to use it every single day.
2.

Instant Pot 6-in-1 Programmable Pressure Cooker
If you feel that a 7-in-one pressure cooker is over the top, then Instant Pot has created a (slightly) simpler 6-in-one cooker.
The only difference between the two is that this cooker does not make yogurt, and the price tag is a fair bit friendlier because of it.
Even though it is a multi-cooker, its extra settings do not take away from the effectiveness of the pressure function.
There are three temperatures for perfect and controlled cooking, and a 24-hour delay means that you can set the cooker to have your food ready when you want without you having to be home to turn it on.
There is also an automatic keep-warm setting so if you are still having a bubble bath when the cooker finishes, the food will not go cold on you.
3.

Yedi

Programmable Electric Pressure Cooker
The multi-use pressure cooking appliances are definitely among the best sellers and highest rated, and the Yedi 9-in-one Programmable Electric Pressure Cooker is one of the best.
Its main use is as a pressure cooker, and it does this very effectively.
Besides its use as a pressure cooker, you can also use it as a slow cooker, a food steamer, a rice cooker, a saute pan and a soup maker.
In fact, the only thing it doesn't do for you is chopping up the vegetables!
Despite the high levels of delicious pressure inside the cooker, everything on the outside including the handles stays cool to the touch to prevent burns.
There is also a handy lid bracket for storing the lid once you remove it which makes access to the delicious food just that much easier.
4.

Maximatic Elite Platinum Electric Pressure Cooker
Somewhat unsurprisingly for some, New York is the U.S State that is most likely to have a power outage on any one day.
So if you are a New Yorker fed up with having to reset every appliance after an outage, then the Maximatic Elite Platinum Electric Pressure Cooker was designed for you.
You can set the cooker to automatically turn on and start cooking dinner while you are at work, and you can be confident that even if there is a power outage, your Maximatic Cooker is smart enough to turn itself back on and resume cooking once the power comes back.
So no more coming home to a half-cooked, sad meal.
Other features of the pressure cooker include the ability to pre-brown meats to add an extra depth of flavor, and programmable pressurized cook times.
There is also no risk of dangerous over-pressure as with the traditional stovetop cookers, as there are pressure gauges built in which automatically control the pressure level and keep it at a safe level.
5.

GoWISE USA 4th-Generation Electric Pressure Cooker
Absolutely packed with accessories and options, the GoWISE 4th-Generation Electric Pressure Cooker is the only appliance you will need in your kitchen.
It can be used for anything ranging from making yogurt, to cooking beans and will even boil an egg to perfection.
It is also one of the most powerful all-in-one pressure cookers on the market, with an astounding 1300 watts of power.
And it really is the next generation of pressure cookers, and will put your grandmother's old stovetop cooker to shame.
There are two LCD displays one to display cooker time and one to display the pressure, so it is easy to track the progress of dinner.
The accessories that are included consist of a stainless steel steam rack, a steam basket, a plastic rice scooper, and a measuring cup, all of which store nicely in the cooker to save storage space.
6.

Gourmia Smart Pot Electric Multifunction Pressure Cooker
If you are judging a pressure cooker by the number of different cooking modes it has, then the Gourmia Smart Pot Electric Multifunction Pressure Cooker would take the top prize.
With no less than 13 different modes, it is able to cook everything from your breakfast porridge to your dessert and everything in-between.
Basically, if it is able to be cooked, the Gourmia Smart Pot will be able to cook it!
It is also one of the safest pressure cookers on the market, as it automatically locks itself once the pressure has reached a certain level, so no curious little hands will be able to hurt themselves or create a massive mess.
The entire cooker is also cool to the touch throughout the entire cooking process.
Available in various sizes ranging from 4 quarts to a massive 12 quarts, there will be a cooker suitable for your needs.
7.

Fagor LUX Multi Cooker
The Fagor Lux Multi Cooker is a walking contradiction in that it can be used as a pressure cooker to reduce cooking time by up to 70%, but it is also an extremely effective slow cooker.
Some things are better when taking their time (such as stews and lamb shanks), so having a pressure cooker that doubles as a slow cooker mean that the range of recipe ideas is double.
If you are unsure exactly what should be cooked with pressure, and what should be cooked slowly, then simply refer to the handy recipe booklet that is included!
8.

Power Cooker Pro – Digital Electric Pressure Cooker and Canner
Just when you thought you had seen everything, along comes a pressure cooker that doubles as a canner for fruits and vegetables.
The Power Cooke Pro is this device it is a digital electric pressure cooker and a canner all in one, and using a pressure canner is the only known safe method to bottle low acid foods such as vegetables.
The Power Cooker Pro also has a useful slow cook setting which means that frozen meats are able to be placed into the cooker and defrosted and cooked safely.
So even if you forget to take the chicken out of the freezer, you will still be able to eat dinner before 11 pm.
Electric Pressure Cooker Buying Guide
It might seem like the simplest of appliances in your kitchen but there are plenty of factors and options you need to put in mind when shopping for one.
A good electric pressure cooker should have the following: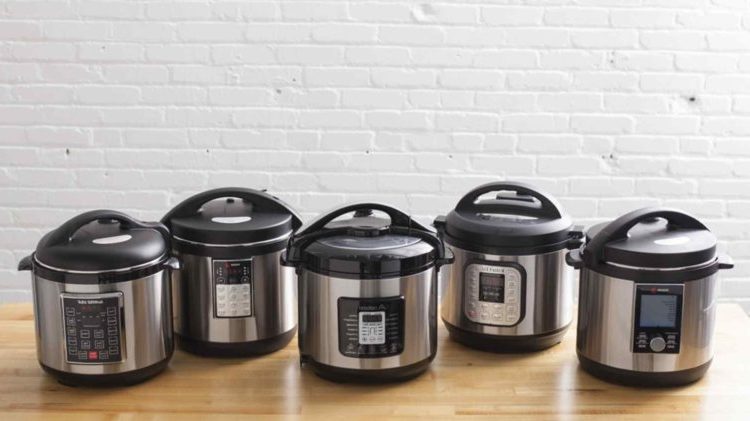 Made of stainless steel
There is a good reason why most kitchen appliances are made from stainless steel. Stainless steel is neutral and will not change the flavor of the foods with acidic ingredients. Unlike aluminum, they do not deform easily.
Avoid non-stick coatings
There has been a growing trend towards non-stick surfaces in recent years but they have lots of disadvantages. While modern high quality non-stick surfaces have overcome the initial Teflon scare that drove away many buyers, they can still scratch or get damaged by sharp objects and this will destroy their non-stick property.
Pressure settings
If you are buying an electric pressure cooker, ensure that it has at least two pressure settings.
There should be the High Pressure setting for cooking the denser foods and a Low Pressure setting that you can use in cooking less dense foods such as fish or veggies.
You also need to look at the ease of changing the pressure settings. If you can do it with the touch of a button, the better.
Some of the multi-functional pressure cookers that we have reviewed have up to 13 different modes to choose from and are even programmable.
Buy from an established brand
If you are looking for the best quality, don't go for some obscure electric pressure cooker brand. Choose the top brands in the kitchen appliance market such as Instant Pot, Conair Cuisinart, Secura, Power Cooker and GoWISE.
Apart from quality and reliability, buying from established cooker brands also comes with warranty and excellent customer service. Some of the electric pressure cooker parts are going to wear out with time and you will need to replace these with parts from a trusted manufacturer who also offers a warranty.
Are Pressure Cookers Safe?
A common question many first time buyers ask is whether pressure cookers are safe or whether they are going to explode and release clouds of scalding steam.
Pressure cookers are quite safe for cooking. If you buy quality from any of the top rated brands, they have to come equipped with safety devices that minimize potential injuries that could occur in case the pressure cooker ruptures.
There are also safety features that you can take to minimize injuries. Avoid forcing it to open. In case your pressure cooker is older, check to see if the valves are still fully functional and consider replacing it. They don't cost much.
What size of a Pressure Cooker Should I Buy?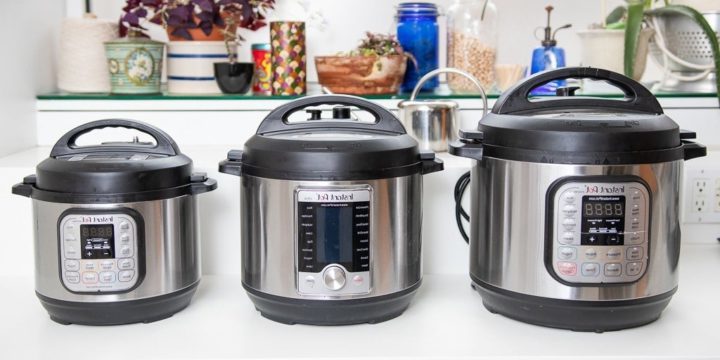 Picking the right pressure cooker size can be a bit confusing. The size does not directly indicate the amount of food that the pressure cooker will hold.
Also, there is the issue of measurement systems. While US manufacturers measure sizes in quarts, Asian and European made pressure cookers will likely be calibrated in liters.
To simplify the process of choosing the size for buyers, many retailers will simply offer a rough estimate of the size in quarts.
You also need to keep in mind that you only need to have the pressure cookers filled only up to two-thirds of their full capacity for most of the foods you will cook in them. This makes choosing the right size and even more confusing process. Generally, it is advisable to choose a smaller pressure cooker that will satisfy your cooking needs.
With pressure cookers, bigger is not necessarily better. For single to smaller families, a 6 to 8 quarts electric pressure cooker will just be adequate for their needs.
What Can I Cook in the Pressure Cooker?
You can cook pretty much everything though it is generally preferred for tougher foods such as chickpeas, beans, vegetables, pulses and stews. You will cook rice in just about a few minutes!
Generally, electric pressure cookers are best for foods that need tenderizing.
Do you have any recommendations of the best electric pressure cookers I can buy?
All the electric pressure cookers that we have reviewed function pretty much the same way. The difference is in the bells and whistles, the various aspects that will appeal to one buyer and not necessarily to another.
You may prefer a particular pressure cooker because of its simplicity and another because of the noise it makes. Some users might prefer one because it is large and another because of the multiple pressure settings and so on. We have however offered you some of the best options that will appeal to various buyer preferences.
Check out and determine your pick
.
Pressure cookers are not a new invention – they have actually been around since the 1600s! And while it is true that the traditional pressure cooker is used on the stove, modern technology has progressed to the point where electric cookers are much more efficient and actually safer than the old style (as the pressure can be controlled).
You have better things to do than spend unnecessary hours cooking, so do yourself a favor and invest in one of these electric pressure cookers.
Conclusion
A good pressure cooker can reduce cooking time by up to 70%, so that adds up being a lot of extra free time that would otherwise be wasted in the kitchen.
Electric pressure cookers are advantageous for a number of reasons. They are ultra-fast and energy efficient.
They will also preserve a lot of the nutrients in the food. Unlike the stovetop models, you don't have to stay around or keep visiting to check if the food has cooked.
We hope you enjoyed our article on "The Best Electric Pressure Cookers for Fuss-Free Quick Meals", if so, please share and rate it.