Are you thinking that you can add some extra fun to your trampoline play?
Have you thought about fixing a special basketball hoop to your trampoline?
Lots more fun, chances for informal competitions, and even get your kids' basketball skills honed!
Your trampoline will need to have a safety enclosure fitted otherwise there is nothing to fix your new basketball hoop onto.
Admittedly you can just place a free-standing hoop next to your trampoline, but that can be dangerous. Jumpers could easily fall off the trampoline or hurt themselves against the stand.
What do I Need to Know When Buying a Trampoline Basketball Hoop?
· Design
Try to choose a well-designed hoop set that will give the best opportunities for great play.
· Durability
The best basketball trampoline hoops are made from high-quality materials and are sturdy and will last through years of play.
· Outdoor suitability
As you will probably be setting your hoop up on an outdoor trampoline, make sure the product is good for use outdoors and is weatherproof.
· Installation
Ideally you will need to install your new hoop quickly and easily and without needing specialist tools.
· Fun
Basketball on a trampoline is a fun way to use your trampoline. The hoop you buy should be seen as a fun-generating accessory. Choose a hoop with this in mind and your family will love you!
Best Trampoline Basketball Hoop Sets
We are pleased to be able to offer our recommendations for the best trampoline basketball hoop sets on the market. This list is in no particular order of merit, but is intended as a guide.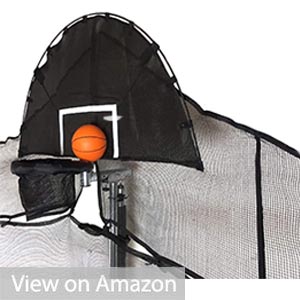 This is a versatile hoop that has been designed to fit onto safety net poles that are straight, curved or arch design. The poles do need to be no larger than 1.5 inches wide. It will fit most – but not all – models of trampoline.
The hoop has durability as it is made from powder-coated steel. The other materials have been treated to protect them from the strong UV rays from the sun in high summer. Slam dunking is possible due to the breakaway rim.
Fitting is easy, and the two mounting brackets ensure a firm installation. The ball that is included in the set is made of foam for greater safety. The cost averages at about $70.
The backboard for this hoop is solid and the rim will breakaway.
The clamps that are supplied will only fit onto vertical or horizontal poles but they are sturdy.
This hoop comes in a range of color options and with an inflatable ball.
The sturdy construction and ease of fitting ensures that the hoop will last for years.
The price is around the $65 mark.
The Jump'n'Jam hoop from Propel is designed to fit onto Propel Trampolines and Kinetic Trampolines, although they can be fitted to other models.
The backboard has wings so that the ball will rebound into the enclosure.
The backboard can be extended if necessary.
The metal parts of this set are made with a powdered steel coating for durability.
This set is well made and is both stable and pliable. The set includes an inflatable ball and a ball pump.
The price is reasonable at about $35.
For double the fun, consider choosing this versatile set from Skywalker.
Intended for a 15ft round trampoline.
The set is easy to attach to the rim of an enclosure and can be fitted to face inwards or outwards for play outside the trampoline.
The hoops are soft and will breakaway.
The set includes two foam basketballs and costs around $60.
If you do not already own a trampoline, and want one that will be fun as well as great exercise, then this complete unit from Skywalker is a good choice.
The hoop is already attached to the enclosure.
The entire kit is made to Skywalker's usual high standards.
The steel frame is rust-resistant the legs are W-shaped.
All the soft materials are UV protected. There is no risk of the frame twisting when in use as it is reinforced.
The hoop has a breakaway rim for safety.
The entire kit of trampoline, enclosure and hoop costs on average $350.
Conclusion
Having a basketball hoop on your trampoline will add to the fun your family can have. Be sure to buy one of the best on the market, and you will have years of pleasure ahead of you!