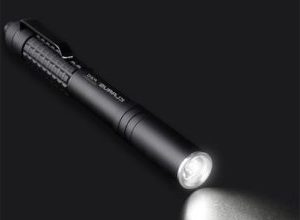 What is a penlight?
As the name suggests, a penlight is a small flashlight about the size of a decent fountain pen.
They will usually have a clip so that the penlight can be clipped to a pocket or belt.
The small size means a penlight can be carried easily in a purse or bag.
Why carry a penlight when you have a cellphone with a flashlight feature?
· Battery power
If you use your cellphone for lighting your way, you will quickly run down the battery. This could leave you unable to contact anyone in an emergency.
· Focusing
A pen light has a narrow beam which makes you concentrate when searching for something. It changes the way you will search for a lost item by making you focus on the beam and whatever the beam passes over.
· Versatility
A cellphone light is not very bright, nor can it be focused. A pen light can be very bright and can be adjusted to focus on a wide or narrower area.
· Security
A bright beam of light can be used to temporarily blind an attacker. The few seconds gained while they are dazzled will allow you extra escape time.
Different types and uses for penlights.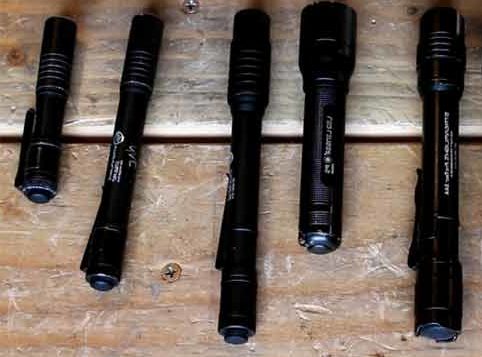 · Medical penlights
The pen lights used by medical professionals are used to help diagnose during a medical examination. They are especially useful for indicating pupil reaction to light. A medical pen light can also be used to look into the mouth or down the throat of a patient. Medical pen lights are sometimes considered to be disposable.
· Construction industry usage
Pen lights have many applications in the construction industry. Electricians will use them to light up dark recesses to make sure they don't miss loose wires. Surveyors will use them to check gloomy attic corners or in the depths of kitchen cupboards.
· Motor mechanics
Having a pen light handy is a boon for a motor mechanic working on a vehicle's engine. Being able to see clearly when examining or working on an engine is essential.
· Security and law enforcement
Sometimes having a large tactical flashlight is a bit of a giveaway. A smaller pen light can give enough light for the officer to see their way without announcing their presence well before they arrive.
· General use
Almost everyone will find a use for a pen light at some time in their lives. They are useful when walking in the dark, when out hiking or camping, fishing and exploring. There are many different pen lights on the market, so it is almost inevitable that you will find one that is exactly what you need.
Features to consider when choosing a penlight.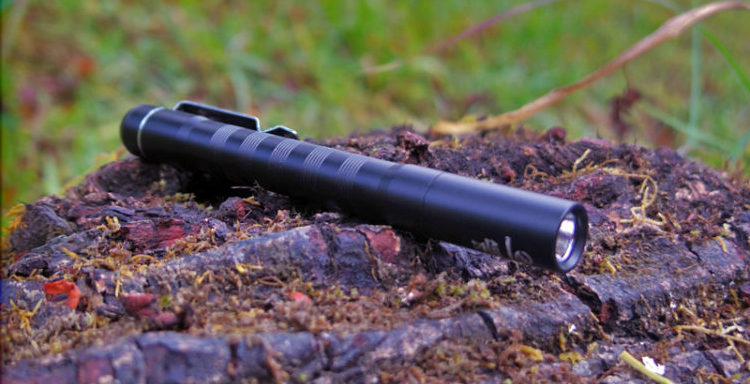 · Brightness
The brightness of a particular model of pen light will be given in lumens. The higher the number of lumens, the brighter will be the pen light. At the bottom end of the scale disposable diagnostic medical pen lights will give about 9 lumens. General purpose pen lights might reach 250 lumens.
· Bulbs
It is now normal to find pen lights fitted with LED bulbs. These last much longer than the old-style incandescent bulbs. The cheaper the pen light, the fewer hours of use you will get. More expensive models allow you to replace the bulb so the device itself can be used for much longer.
· Flexible settings
Quite simply, this means the number of settings available for brightness. It is usual to expect a high, medium and low brightness feature. Some pen lights also offer a strobe option and an SOS option.
· Size
The average length of a pen light is about five inches. Those that are longer than this can be less convenient to use. The larger units sometimes boast additional features.
· Controls
Most pen lights have an on/off button at the end of the unit. On some, the settings control is separate, while on others, the settings are controlled through one button.
· Durability
It is a very good idea to purchase the most durable pen light you can. You never know when it might have to withstand being dropped or falling into the water. Go for one with a high IPX rating – 8 is the highest – to give maximum water resistance.
· Batteries
Most pen lights use rechargeable lithium-ion batteries. These are charged via a USB connection. Some can also use AA or AAA traditional batteries if your rechargeable batteries are flat.
· Orange Peel Reflector
This type of reflector will cause the light to disperse so that it does not harm a person's eyes. If you are worried about your eyes being affected by the beam from a pen light, choose one with this type of reflector.
Our recommendations
The compact design of this pen light makes it a great choice.
With rechargeable batteries and 90 lumens of bright clean light it will serve you well in most situations.
The light beam will reach 180 yards. It is both durable and reliable and handles well.
There is little risk of it slipping unceremoniously out of your hand.
It is a little bit long for a shirt pocket, but can be carried easily enough in a bag or rucksack.
Boasting 245 lumens this penlight is bright enough for almost every occasion.
The rechargeable batteries use a USB cable for power.
The casing is tough, corrosion resistant and durable.
You will be able to take this pen light with you without fear of it letting you down just when you need it most.
If you are the outdoorsy type, often hiking and camping, then this is the pen light for you.
It is easy to control, has a high level of water resistance and is both shock and impact proof.
Durability is a strong feature and the waterproofing is set at IPX7, which is a great rating.
One outstanding feature is that the beam strength can be adjusted to suit you and the situation you are in.
The reflection from the beam won't dazzle you.
This is an excellent pen light if you don't want rechargeable batteries.
It runs on two AAA batteries which give 80 lumens of light.
One standout feature is that it has a high color rendering capability.
Electricians will find it an excellent partner for seeing the colors of wires in a gloomy place.
The body of the torch also has a rubber bite facility so that the torch can be held in the user's mouth.
A hands free pen light that is reliable, durable, and with good light quality. Ideal for the professional.