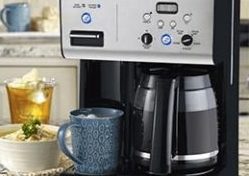 There are two types of people those who wait in long lines to buy coffee from their favorite cafés and those who make their own coffee at the comfort of their homes. Whichever category you fall into, you know how important a good cup of coffee is.
In this article, we will look at 10 of the best small coffee maker on the market. Since different people have different preferences, we have gone ahead and made our list comprehensive enough to cater to everyone's needs.
Here we go…
Top 10 Best Small Coffee Makers On The Market
1.

Ninja Coffee Maker

– The Most Versatile Small Coffee Machine
This Ninja machine offers a variety of coffee and tea options. You can use any brand of tea or coffee that you want. The separate tea and coffee baskets ensure the flavors of the two drinks do not mix.
There are 6 brew sizes and 5 brew styles that comes with this coffee maker. The brew styles include Over Ice, Rich, Classic, Specialty and Cold Brew. When you cold brew your beverage over ice. you will get a smooth and sweet flavor. The cold and hot frother enables you to turn your cold or hot milk into a smooth froth.
The machine comes with a water tank that can be removed easily.
Before purchasing this Ninja coffee maker, you should consider it's size. The machine is bigger than most coffee makers on the market. This means that you will need a lot of storage space.
Pros
Versatile
Has 5 brew styles
Durable
Easy to use
Removable water tank
Cons
Rich brew option is too slow
Takes up a lot of storage space
2.

Keurig K-Select Coffee Maker

– Small Coffee Maker With The Strongest Brew
This machine is ideal for people who like strong coffees. The Keurig K-Select machine has a Strong Brew option that ensures your coffee is as strong as it can get.
The machine brews 4 different cup sizes, that is, 12, 10, 8, 6 and 4 0z sizes. The removable drip tray is ideal for accommodating travel mugs. This machine features a removable water tank, a programmable auto off feature and a fingerprint-resistant material. There is a maintenance reminder that lets you know when its time to descale.
The only disadvantage with the machine is it doesn't come with a digital display feature. This makes it hard for you to know whether the machine is warmed up enough to insert the K-cups.
Pros
Removable water tank
Auto off feature
Fingerprint-resistant material
Easy to use
Removable drip tray
Cons
Lacks a digital display feature
3.

Cuisinart DCC-3400 Coffeemaker

– Best Large Capacity Coffee Maker
When it comes to making your own coffee at home, you need a machine that allows you to brew as many cups as you want. And, this Cuisinart coffee maker does just that. The machine enables you to brew up to 14 cups.
The brewing process is made easier thanks to the Gold Tone filter. There's a Brew Strength Control that allows you to choose between a bold coffee and a regular coffee flavor. The coffee maker is fully automatic and offers 24-hour programmability.
The Ready Alert Tone gives you the option of manually turning the machine on or off while the viewing window enhances accurate filling.
The Brew Pause allows you to enjoy your cup of coffee before the end of a brewing cycle. There is a self-clean feature that prevents you from constantly cleaning the coffee maker. The indicator light signal enables you to know when its time to decalcify.
One downside of this machine is the dribbling of the coffee. Avoid filling the water to the brim in order to avoid dealing with a messy surface.
Pros
Durable
Self-clean feature
Fully automatic
Easy to use
Indicator light signal
Has viewing window
4.

BUNN GRB Home Coffee Brewer

– Fastest Small Coffee Machine On The Market
This Bunn coffee machine brews coffee in just 3 minutes. There is a multi-stream spray head that ensures hot water is evenly sprinkled on the coffee grounds. The machine boils the water in the tank and keeps it warm at all times. This hot water comes out immediately you start making your coffee. This feature enables the machine to make the beverage in just a few minutes.
You can brew up to 10 cups of coffee. A good thing about this machine is the coffee is not bitter. The drip-free feature prevents you from dealing with a messy surface.
One of the major problems you may encounter with this machine is the temperature of the coffee. The coffee may not be hot enough for some people.
Pros
Fast
Easy to use
Drip-free feature
Durable
Simple to clean
Cons
Coffee is not hot enough
Some people may find the coffee to be too weak
5.

Zojirushi EC-YSC100 Coffee Maker

– Machine With The Best Serving Option
The Thumb Activated Pouring feature of this machine makes serving coffee almost therapeutic. This Zojirushi machine can brew 10 cups of coffee.
The machine keeps your coffee hot for several hours. It has an automated Clean Cycle feature that makes it easy to clean. The removable water tank enables you to fill the tank with ease. This tank is also washable. There is a drip-prevention mechanism that reduces dribbling.
If you can't live without a machine that has a Pause feature, then this Zojirushi may disappoint you. This is not a Pause machine. You will have to wait until the whole brew cycle is completed before you can take a sip of your coffee. This can be an inconvenience to people who don't have the patience to wait for the machine to stop brewing.
Pros
Makes serving easy
Auto off feature
Removable water tank
Keeps coffee hot for several hours
Durable
Easy to clean
6.

Hamilton Beach 49980A Coffee Maker

– Bestseller On The Market
This bestselling coffee machine allows you to brew your coffee either as a Full pot or single serve. The Single Serve option is not compatible with capsules or K-cups. They only work with soft pods or loose ground coffee.
The stainless steel material of this coffee maker makes it be durable and long lasting. With this machine, you will be able to get 12 cups of coffee. You can use the Strength Selector to choose between regular or bold flavor.
The Auto Shut-off feature comes in handy when you forget to turn off the machine. The coffee maker turns itself off after 2 hours have elapsed.
Pros
Requires low maintenance
Durable
Auto Shut-off feature
Easy to use
Has Auto Pause
Cons
Lacks temperature adjustment feature
No option for keeping the LED lights on
7.

Mr. Coffee Optimal Coffeemaker System

– The Most Durable Small Coffee Machine
This Mr. Coffee machine is constructed from a double-walled stainless steel material. This feature enhances the durability of the machine.
The coffee maker has a removable water tank that makes filling quick and easy. The Gold Tone Filter saves you on the cost of paper filters. The water filter removes chlorine thus ensuring your coffee has a better taste.
The Delay Brew enables you to drink fresh-brewed coffee in the morning. There is a Freshness Timer that determines the freshness of your coffee. The Auto Pause enables you to remove the coffee before the end of a brewing cycle. The Cleaning Cycle, on the other hand, eliminates the build-up of calcium.
When still new, the coffee tends to have an awful taste. After purchasing the machine, ensure you make at least 5 cups of coffee and throw them away. Within no time at all, your coffee will have a sweet flavor.
Pros
Auto pause feature
Durable
Freshness timer
Simple to use
Removable water tank
Cons
Coffee tastes awful when the machine is still new
8.

Braun KF7000BK Coffee Maker

– Best Fully Automatic Coffee Maker
The auto on and off feature makes it easier to use this Braun KF7000BK Coffee Maker. The machine offers a rich yet bold consistent flavor. The lid minimizes air exposure sealing the fresh flavor of the coffee.
The machine can make up to 12 cups of coffee. Its compact design ensures it takes little storage space. The coffee maker features a 24-hour clock and a digital control panel. The clock tends to malfunction once in a while. So, you have to keep on adjusting it.
There is an anti-drip system that prevents mess while you're using the machine. The machine also has a self-clean feature.
One of the biggest challenges that come with this Braun coffee maker is the filling of the well with water. You may have a hard time filling this well with fresh water.
Pros
Auto on and off
Compact
Simple to use
Easy to clean
Durable
Sleek and stylish design
Cons
Difficult to fill with water
Clock occasionally malfunctions
9.

Zojirushi EC-DAC50 Zutto Coffee Maker

– The Most Compact Coffee Machine
The filter cone of the Zojirushi EC-DAC50 Zutto machine sits comfortably in the decanter. This design makes the machine to be compact.
It has an Automatic Keep Warm feature that ensures the coffee is always at the right temperature. The machine can brew up to 5 cups of coffee. Even though this number is sufficient, it is still too little for most people.
The water tank of the machine can be removed easily. There is also a replaceable water filter that purifies the water. This gives the coffee a better taste. If taken good care of, the water filter can last you up to 2 years.
One of the downsides of this machine is the lack of common features such as Auto shutoff and a timer. But, generally, the machine works effectively to offer you a good cup of coffee.
Pros
Compact
Easy to use
Removable water tank
Simple to clean
Durable
Cons
Can only brew 5 cups of coffee
Doesn't have an auto shut off feature
10.

BLACK+DECKER CM2030B Coffee Maker

– Best Bang For The Buck
This coffee machine is ideal for people who are on a budget. The coffee maker only costs $47, but it is packed with great features.
The CM2030B enables you to brew 12 cups of coffee. It has a Quick Touch Programming feature. You can use this to set the machine according to your preference. The Sneak-A-Cup feature enables to pour yourself a cup of coffee before the brewing cycle is over. There is also an Everstream Showerhead that evenly distributes water in the machine.
The machine has been designed in such a way that it prevents drips and spills. Unlike most coffee makers, this Black and Decker machine has the water level indicator on the outside. It also does not come with a filter.
Pros
Durable
Easy to use
Simple to clean
Value for money
Large capacity
Cons
Doesn't have a filter
Difficult to view the clock
Things to Consider When Buying a Coffee Maker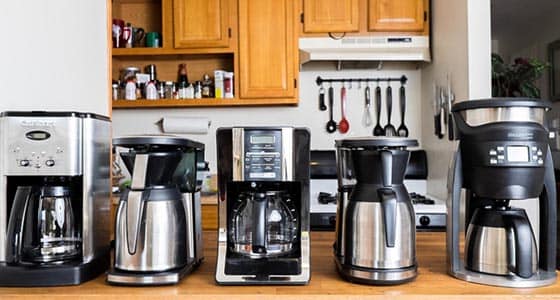 Once a coffee lover, always a coffee lover. Having a cup of coffee every morning makes your day cheerful. For you to get quality coffee every morning you need to buy the best coffee machine in town. With the technology, there are many companies out there who are manufacturing coffee maker.
You may also like this: Best coffee maker for camping
This means that there are factors that you need to consider for you to choose a reliable coffee machine for your home. Here are the most essential things you need to consider as you embark on a quest of finding the best coffee maker.
#1. The Brewing Temperature
The first thing you should consider before buying a coffee maker is the brewing temperature of the machine. Will it make your coffee with the right temperature? A good coffee maker should have a brewing temperature of about 196AF to 205AF. Therefore if you are the kind of person who is into good coffee, then you might want to consider buying a coffee machine whose brewing temperature is within that range.
#2. Brewing Capacity
You should consider first the brewing capacity of the coffee machine you want. If you are the only one drinking coffee, consider buying the smaller brew types of coffee machines. Otherwise, get those 12-cup coffee makers.
What is the difference anyway? There are 12-cup coffee makers that can also be tweaked to make smaller brews. However, the taste is somewhat lacking compared to how it brews coffee when it is brewing larger batches.
#3. Technology
How technologically-inclined are you? If you want coffee fast, get the fully automatic ones. If you are a coffee lover who wants the whole coffee experience, then a vacuum coffee brewer or a manual press brewer may be more to your liking. The taste of the coffee also sometimes depends on the technology used.
Some consumers say automatic drip brewers produce bland-tasting coffee. They have to add a lot of coffee grounds first to achieve the right strength they prefer. The manual coffee brewers are better when it comes to taste but make sure you are using water that is devoid of harsh minerals as this can affect the taste too.
#4. Easy to clean
When buying a coffee machine make don't go for complexity as they are not easy to clean. You need to buy it. a machine that will take you time to clean. The material that is used to make the jar determine the time you take to clean it. Examine both the inner and the outer surface, if you are stuck, ask the seller and they will advise you accordingly.
#5. Parts
If you are opting for the automatic ones, take the parts into consideration. Should you pick one with a built-in grinder, make sure you get the one with a conical burr as this can even grind coffee beans without infusing too much heat or air in it. Choose one that uses the charcoal filter as this sifts the impurities in your water efficiently. The best coffee machine that uses a conical coffee filter with a shower head is also ideal as this produces the best-tasting coffee.
#6. Price
There are many people who are willing to invest in an expensive brewer if it means it can produce flavorful coffee for a long time. Consider the price, not in terms of its expensiveness or its affordability, but consider the price according to its real value. If the price is just right for the services the coffee brewer will render, then purchase it.
For those who would like to grind their own coffee beans, some coffee comes with that feature. This feature can help you save money and time by not buying a coffee grinding machine. Ask friends and relatives to give you suggestions and you will get ideas and purchase the best coffee maker.
#7. Special Features
With modern science and technology, coffee machines do more than just making coffee; they now have some unique features. A modern coffee machine shuts itself off if it's not in use for a while, you can also prepare your morning coffee in advance by setting the coffee machine, and it will automatically start according to the time you had set.
Conclusion
A good coffee maker enables you to enjoy every single drop of your coffee. After reading this article, we hope that you were able to find a coffee machine that is suitable for you. You can now just go ahead and invest in one of these machines.