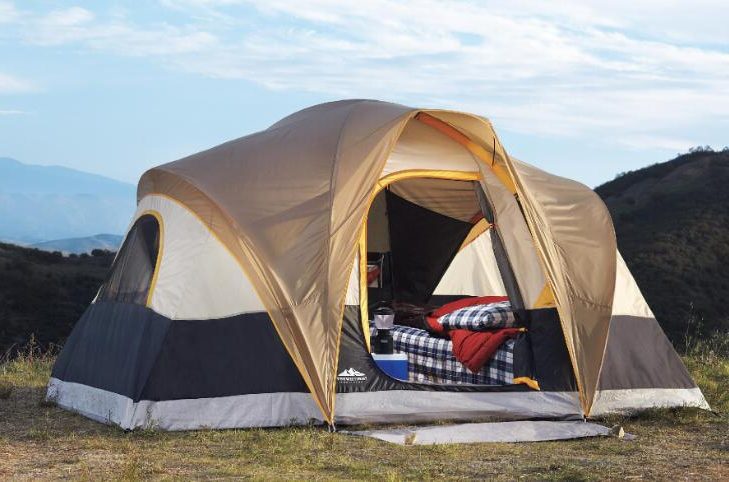 Do you feel the chilly blast turn to cool breeze? Have you noticed the cute buds and blossoms atop the branches? Cheers, spring is around the corner!
It is a lovely season for many people, a season that awakes the passion of exploring the amazing nature, a season that deserves hiking and camping.
Looking for a good new camping tent that fits both your family and budget? Just a few minutes to go through this review and you'll be an expert.
We have concluded some quick tips on how to pick up a camping tent, as well as our editors' choice of the Top 10 Camping Tents in 2021.
Top 10 Camping Tents 2021
In a hurry? Just check the quick editor's choices:
1. Coleman 8-Person Red Canyon Tent
Reasons for Recommendation: Best For Family Camping
Clearly, Coleman 8-Person Red Canyon tent is a great choice for an extended family with kids or a group of adult campers. Everyone will fit in cozily in this tent just like in a second home.
It is ideal for weekend camping trips with family and friends. The Red Canyon features removable privacy walls, allowing you to create up to three separate rooms.
The camping tent is built by Coleman Exclusive WeatherTecTM System fabric, which will guarantee to keep you dry and last long.
As a typical 3-season camping tent, the design of its rainfly may not suffice to withstand sustained rain or snow, yet it still ranks our first for its space and delicate room and structure design, the best choice of a second home for an extended family.

Pros
Made of durable fabric
Offers a very generous amount of interior space
Can fit up to 8 people or 2 queen-sized beds
Has thick, waterproof walls, floor and doors
Features a removable interior divider
Can be easily assembled
Backed by a 1-year warranty
Cons
Product weight is quite heavy
Disassembly is time consuming
2. Wenzel 8 Person Klondike Tent
Reasons for Recommendation: Easy Setup and Screen Room
Wenzel 8 Person Klondike Tent is great for camping with family or friends of 4+ people. It features a large front screen room which provides you a "camping porch" with sun Protection & weather Protection. It will be so nice to enjoy the sunshine inside the dry camping tent.
The attached screen room can also be used as a sun shelter, a picnic room, a gear room or a room just to relax in.
As for waterproof performance, its Weather Armor polyester fabric and double-stitched, lap-felled seams make Wenzel 8-person Klondike good in the regular periodic rain.
The tent also includes two hanging pockets that create an area for items needing easy access and storage duffel. With so much to offer, Wenzel Klondike 8 only takes one adult 20-25min to set up. Don't forget this tent also comes with an extended 10Yr warranty.

Pros
Fast set up with one adult in 25 minutes.
Instruction are easy to read and follow.
Well-designed window covers with handy storage pocket when needed.
Seams are waterproof and tent stays remarkably dry inside.
Easily fits two queen size air mattresses.
Cons
Difficult to pull the wrinkles out of the fabric.
3. Kodiak Flex-Bow 6-Person Canvas Tent Deluxe
Reasons for Recommendation: Durable Premium Material & 4-Seasonality
There's nothing cheap about the Kodiak Flex-Bow 6-Person Canvas Tent Deluxe. It is a camping tent that can probably last longer than life.
The Kodiak Flex-Bow tent is built by the impressive marine-grade cotton canvas which provides full water-tightness even in downpours.
Unlike other polymer fabrics on the market, the high-tech canvas is breathable and extremely durable, also very low maintenance.
Besides, the strengthened frame and posts are very sturdy in bad weather.
The Kodiak Flex-Bow features a classical 1-room design to fit 4+ campers and 1 overhead awning. As a 4-season camping tent, Kodiak Flex-Bow does to a great job to improve ventilation: the tent includes 2 extra funnel-flow vents, 2 large D-shaped doors, and 4 large windows, all covered with no-see-um mesh.
The pack also includes a customizable gear loft and organizer pockets; and a handy strap-and-cinch storage bag. Though a bit heavy and expensive, it is a very reliable and practical tent for year-round camping.
Pros
A long-lasting piece of product you would love to own.
The height of the product is perfect.
The floor is bombproof.
Cons
The weight is a little bit much than average tents.
There is no distinct rainfly.
The tent is not free standing.
4. Browning Camping Big Horn Family/Hunting Tent
Reasons for Recommendation: Best Tents for Beach Camping
Browning Camping Big Horn Tent is the very choice if you are planning camping with a large family or many friends. With 2 roomy separated rooms, it can fit even 8 campers and make them all comfortable as at home.
Each room has its own separate entrance, 3 windows (1 on the door) and a zippered divider panel with 3 pockets for storage, great design for privacy and ventilation.
As a 3-season camping tent, Browning Camping Big Horn Tent is built by thick high-denier fabrics with floor seams to hold showers, winds and even hails.
In addition, Browning provides great service if you encountered any tent problems during camping (water leakage ect.), you may expect a quick solution and fast free replacement. It is an excellent tent, backed by a great company.
Pros
Very spacious, with an approximate footprint of 10x15ft
The tent's 2 rooms have individual entrances for privacy
Great ventilation, even with the rain fly on
8 man tent design good for larger families or hunting groups
Strong construction with a mixture of fiberglass and steel uprights
Cons
Door zippers can stick a little
5. Coleman 6-Person Instant Cabin
Reasons for Recommendation: Best Waterproof Camping Tent
If you are looking for a light and easy tent for a warm weekend camping with family and friends, this is the choice. Coleman 6-Person Instant Cabin features built-in stakes for instant setup (yes by instant we mean less than 1 minute!) You just unfold it, extend the legs, and walk in, awesome!
With such handy setup, Coleman 6-Person Instant Cabin does not cut corners on interior structure and material. Same as Coleman 8-Person Red Canyon, it is built by the exclusive WeatherTec fabric.
Besides, there're 2 side windows, 1 big back window, 2 front windows, 2 roof vents with zippers to provide ideal ventilation and temperature adjustment. As a 3-season camping tent, you may not expect Coleman 6-Person Instant Cabin to last long in rains or snows, yet we won't complain as it has so much to offer at a good price.
Pros
Easy setup
Great price
Very tall tent
Large windows
Freestanding
Very durable
Cons
Not for heavy rains and winds
Single door
Heavy
Not so great packed size
6. TETON Sports Mountain Ultra Tent
Reasons for Recommendation: Best 4 Person Camping Tent
For backpack hikers set to explore their own camping adventures, TETON Sports Mountain Ultra Tent series has everything to be looked for.
Configured from 1 person to as many as 4 people, the Ultra Tent series give a reasonable solution at an even more reasonable price (all packed Footprint, Rainfly, and Free Storage Bags).
Being a dome-type camping tent, it is roomy for 6'2"+ campers. It also features micro-mesh inner tents for sunbath and optimal ventilation in any weather.
Another thing we love about TETON Sports Mountain Ultra Tent series is its impressive weatherproof performance. It is built by extra high waterproof bathtub floor, reinforced seams and anchor points, aluminum poles and crazy strong acetal buckles- all contribute to a reliable professional hiker's tent in rains, winds, cold weathers and even snows. The portable home that keeps you warm and dry in challenging tours.
Pros
Durable construction
Spacious
Totally waterproof
Great ventilation
Easy to set up
Has a carry bag for portability
Cons
It could be lighter in weight
7. Pacific Breeze Easy Up Beach Tent Deluxe XL
Reasons for Recommendation: Best 3 Person Tent For Beach Camping
Pacific Breeze Easy Up Beach Tent Deluxe XL offers everything you want as a perfect beach tent. It is beautifully designed for sure, with 3 large windows for cross ventilation.
The material is also superior- UPF 50+ sun protection, breathable and waterproof. The poles are lightweight and sturdy in winds.
Following the official setup video, you will take less than 1min to prepare a nice beach tent for 3-4 people (or 2 large beach chairs, a pet, and various gears).
One feature that makes Pacific Breeze Easy Up Beach Tent stand out is its windproof performance. It provides 5 sandbags and reinforced the standing structure, which can withstand the overwhelming gale that you could imagine on a beach.
Additionally, Pacific Breeze premium customer service helps it to be our editor's choice of beach camping tent. It is your firm kingdom on an island holiday.

Pros
Durable and lightweight fiberglass frame
Includes a carrying case, sand pockets, and stakes
Comes with a 1-year warranty
Cons
Slightly more expensive than other beach tents
8. Mountainsmith Morrison 2 Person 3 Season Tent
Reasons for Recommendation: Easy Setup & Windproof
The award-winning Mountainsmith Morrison 2 Person 3 Season Tent has a strong edge in 2-person camping tent market.
Boasting more than 35 square feet of space, plenty of light, and optimal ventilation thanks to large mesh wall panels.
The Morrison additionally features a bathtub floor with taped seams to keep the interior dry. A freestanding, two-pole (aluminum) design and color-coded fly attachment system mean you can set the tent up in minutes.
Double vestibules add 14 square feet of dry storage space, while a removable canopy shelf offers an easy-access perch to stow all of those small essentials.