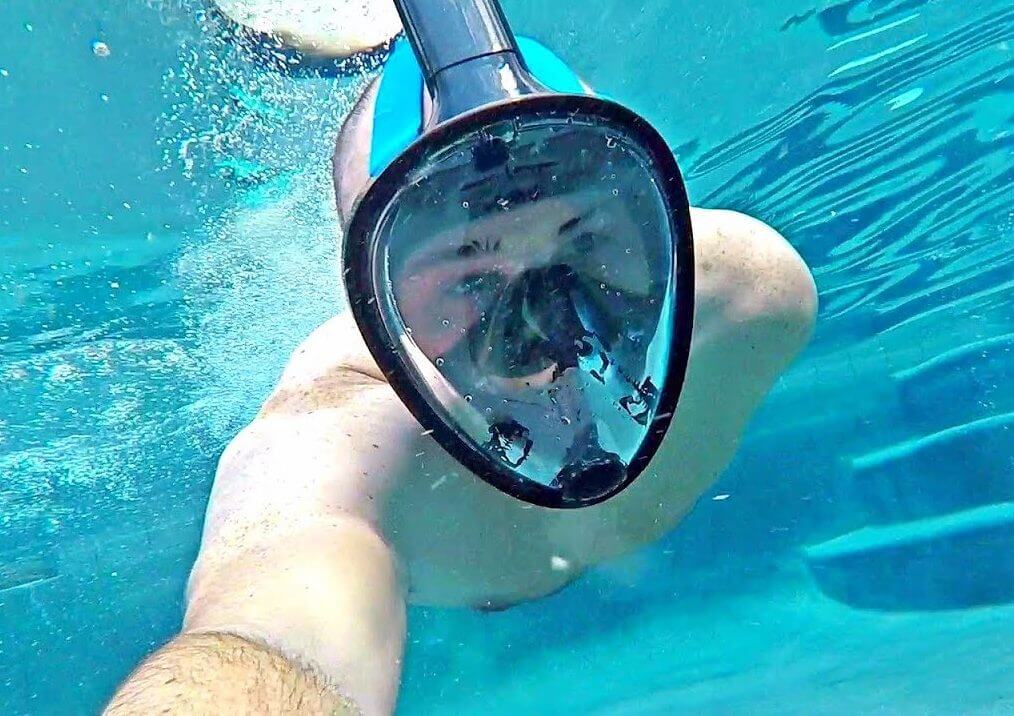 The awesome and amazing views under the water seem never to fail to appeal to adventure junkies.
For a good diver, a set of sophisticated full face snorkel mask is a must-have.
For now, a 180° viewing area is no longer an extravagant hope.
Instead, it is a common standard. More and more divers prefer a fantastic fit and excellent sealing. A perfect snorkel can fit any face shape, no matter it is small or big. The design of the buckle system helps fit the head shape better.
Apart from these basic demands, many kinds of new technology have been added to the current snorkel diving mask, for instance, the dry top snorkel, and the separate breathing chamber.
The dry tope snorkel prevents the divers from gagging in the water. On the other hand, the separate breathing chamber more or less gets rid of the fog.
Purchasing Guide
To purchase a satisfactory snorkel mask, one needs to take many factors of dive mask into consideration. The larger field of view determines visibility.
A 180° viewing area is basic. For the purpose of comfort and sealing, the mask skirt takes on great importance, which provides a good seal to keep the air in and the water out.
From the perspective of the mask frame, it is better to choose a dive mask easy to dismantle for cleaning, repairing and fitting prescription lenses. An innovative design of frame even can sweep away uncomfortable contact between the mask frame and the face.
Besides, many snorkel mask comes in the form of a set. The other parts in the set make or break the whole set.
Best Full Face Snorkel Mask 2021
For your underwater adventure to be successful, you need a good Full Face Snorkel Mask. Luckily for you, we have rounded up the only 9 snorkel masks you'll ever need. With these masks, your snorkeling adventure will never be the same again.
Editor's Quick Guide:
1. Seaview 180° GoPro Compatible Snorkel Mask
Seaview 180° GoPro Compatible Snorkel Mask comes with 180° full face design, which ensures comfortable breath in the water.
At the same time, it offers a 180° viewing area.
Together with the built-in integrated GoPro Mount, it is easy for the diver to capture amazing views and adventure.
By means of dry snorkel technology, this type of Snorkel Mask prevents you from gagging.
In addition, the Snorkel Mask features a separate breathing chamber, which helps eliminate fogging.
Plus it is rather easy to use and therefore suitable for youngsters.
However, some users gave feedback that it requires a lot more effort to draw air into the mask and exhale it out. It is like breathing through asthma when one uses it in the water.
Secondly, it is far from compact.
On the contrary, it takes up much space in a suitcase or bag.
At last, it is worth a caution that the spray of food-grade silicone on the dive gear may destroy its plastic face pieces.

Pros
Boast the large viewing area
Come with the integrated GoPro Mount camera
Prevent gagging and fogging
Cons
Uncomfortable breathe
Hard to maintain and fragile plastic face pieces
2. SeeReef Full Face Snorkel – Snorkeling Mask Set
The NEW DESIGN endows the snorkeling mask set with a 180° viewing area under the water.
With the help of the upgraded extra-long breathing tube, it is easier to draw breath at the same time the snorkel mask is completely fog-free.
The upgraded flat clear lens not only maintains both comfort and the easy breathing function, but also enhances perfect clarity in the air.
Besides, Snorkeling Mask Set New  Design features a complete kit that is made up of earplugs, travel bags and spare seals.
Apart from these, SeeReef attaches great importance to materials and designs so as to give divers an unmatched snorkeling experience.
The Snorkeling Mask Set New Design by SeeReef seems the rather best one. Up to now, it is well received with a few negative feedbacks.
Pros
Have 180° viewing area
Easier to draw breath
Fog-free
Complete Kit
3. Tribord Easybreath Full Face Snorkeling Mask
Tribord Easybreath Full Face Snorkeling Mask comes in two types of sizes which suit women, children, and men with a long face.
The unit price varies with size. Featuring 180° field of vision, the snorkel mask is equipped with a shatterproof polycarbonate window for extra safety.
Full mask supports natural breathing through the nose or mouth.
What's more, it is fog-free and its snorkel top is seen from 4 times further away than the traditional snorkel.
According to some users' feedback, the snorkel mask leaks through the forehead. This is an annoying drawback.
Although several sizes are available for the divers, one needs to spend more time choosing a suitable one for a good seal.
The wrong size often causes the water to get in when one wears it in the water.
Pros
Two types of sizes available
Equipped with shatterproof polycarbonate window
Support breathing through nose or mouth
Cons
Potential leak from the forehead
The wrong size may cause the water to get in
4. Octobermoon Panoramic Full Face Snorkel Mask
Octobermoon snorkel mask is commonly equipped with a 180° viewing area, enabling the diver to see more water world.
The adjustable size makes it comfortable with the face and the great view.
There is no need for the divers to worry about the fitting of head shapes.
The good sealing assures the user that water with not get into his nose and mouth.
This type of snorkel mask is obviously economical and simple, saving the user money and space.
A lack of GoPro mount is a drawback. Without it, the diver is unlikely to capture beautiful views under the water.

What's more, the convex shape of the lens made everything look smaller and it was hard to tell how far away anything was.

The big bugbear is that it leaks and fogs badly.
Pros
Economical budget price
Adjustable size
Simple and compact
Cons
Alack of GoPro Mount
The convex shape of the lens affects vision
Sometimes leak and fog
5. Ocean Reef Aria Snorkel Mask
This mask enables you to breathe easily underwater. It has a dry top that prevents water from entering the snorkel.

The mask's self-purging valve removes any water that gets in.

What's more, the mask does not fog, thus providing a clear vision during your snorkeling adventure.

The mask has a wide field of vision that will give you an opportunity to explore the underworld with ease.

The snorkel can be detached to allow for easy transportation.

The Ocean Reef Aria mask is made from thermoplastic material. Not only is this material durable, but it is also lightweight.

Pros
Wide field of view
Fog-free
Easy to draw breath
Detachable snorkel
Durable
Lightweight
Cons
Detaching the snorkel from the mask is a bit difficult
6. Midry Pro Snorkeling Mask
This Midry mask has a panoramic 180 degrees field of view. It has an Easy Breathing Technology that enables you to draw breath while underwater.

The mask also has a spout that makes it possible for you to breathe normally.

Once you purchase the mask, you will be given a mesh carrying bag, anti-fog spray, and an eBook.

If you are not a fan of curved lenses, then this mask will not be ideal for you.

The curved lens tends to make things look farther away than they actually are.
Pros
Wide field of view
Easy to draw breath
Durable
Has a great seal
Easy to use
Cons
Has curved lens
Fogs up a little
7. Vaincre 180° Full Face Snorkel Mask with Panoramic View Anti-Fog
Compared with the standard dive mask, the Vaincre 180°Full Face Snorkel Mask offers panoramic and superior views.

This 2-in-1 snorkel mask owns a 180° view to enjoy beautiful underwater adventures.

With the great popularity of shot in the water, it is also equipped with an integrated GoPro camera to capture beautiful views under the water.

The unique full-face design lets the divers without holding a snorkel in their mouths.

The dry Snorkel system at the top allows the valve to close automatically to prevent water from getting into the breathing tube.

The creative breathing chamber offers streamlined airflow to eradicate fogging for clear viewing.

It is great both for youth and adults alike. It is endowed with a built-in snorkel and helps reduce swimming energy wasted and focus on surface diving.

Besides, the superior reliability and true quality assurance make sure a confident buying.

Some divers say that it leaks in the top. It is easy to fog badly. The diver has to buy and then use an anti-fogging agent before every use. Unfortunately, that is only a temporary fix that lasts maybe 20 minutes.

Pros
With panoramic and superior views
Equipped with the GoPro camera
Water-proof
Fog-free
Low price
Cons
Leakage
Subject to fog up
8. Deep Blue Gear Vista Vue Snorkeling Mask
This mask is perfect for both novice and professional snorkelers. The mask makes it easier to breathe naturally. It is made from dry snorkel technology to prevent water from entering.
Additionally, there is a purge valve system that enables you to inhale and exhale with ease.
The Vista Vue mask has a panoramic field of view. The mask skirt is made from silicone material to provide you with maximum comfort.
It has elastic straps that can be adjusted easily. The fog-free ventilation system allows fresh, dry air to circulate within the mask.
Pros
Easy to draw breath
Adjustable straps
Fog-free
Comfortable to wear
Durable
9. X-Lounger Snorkel Mask
If you are a fan of foldable snorkels, then this mask will be perfect for you. The foldable snorkel design makes the mask easy to transport.
Additionally, the mask has a long tube that allows you to dive even deeper.
The 180-degree field of view enables you to view objects from different angles.
The X-Lounger mask has a detachable camera mount, waterproof earplugs, and flat lenses.
A flat lens enables you to view a more realistic scene compared to a curved lens.
To top it off, you also get 2 carry bags. The nylon bag protects the mask from scratches while the mesh bag is used to air the mask.
Pros
Anti-leak
Anti-fog
Easy to draw breath
Wide field of vision
Durable
Foldable snorkel tube
Adjustable headband
Detachable camera mount
Cons
Difficult to seal the mask
10. WSTOO Snorkel Mask
The snorkel mask which we are speaking about now has a dry top breathing system. So that is why you can certainly breathe easily.
The double exhaust passage ensures that the ventilation speed is excellent. With the help of a large silicone skirt, it is easy to wear it for long hours.
The 180° panoramic view ensures that your visibility is not compromised.
The elastic rubber band which the snorkel mask has ensures that your mask will remain in place throughout. Not only that, it will not result in excessive pressure on your face as well.
The design of the mask makes it suitable for beginners, children, as well as adults. There is a removable motion camera bracket as well in case you want to record your adventure.
The anti-fog system is another reason to go for it.
Additionally, the food-grade