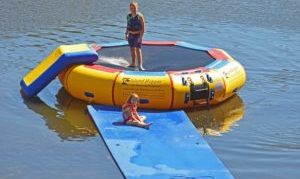 A
water trampoline
has a large inflatable ring instead of legs. The jumping mat is fitted in the center of the ring using springs in the same way that a normal trampoline does.
There is no safety enclosure provided, as an over-energetic bounce will just dump you in the water.
Water trampolines tend to be large. Water bouncers should not be confused with water trampolines. They are smaller and have the jumping mat fitted directly to the inflatable ring. The terms, however, are often used interchangeably.
Water trampolines offer even more fun than a land-based trampoline. They often come with added features that let your kids do lots of tricks and stunts.
Water trampolines are usually more expensive than ordinary trampolines, so it is important that you consider all aspects before buying one.
Buying Guide: Things to Consider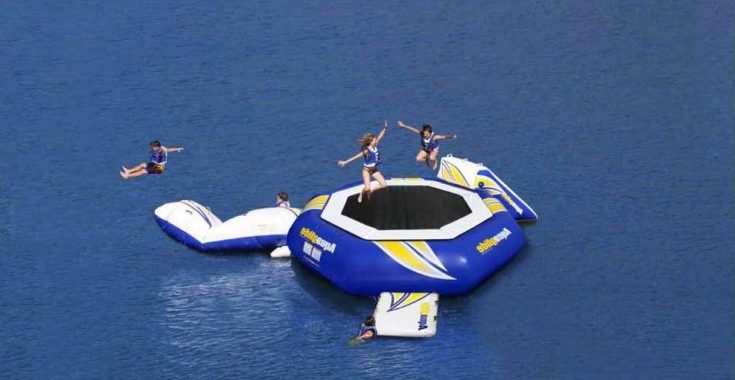 ✔

Material
Water trampolines need to be made from tough materials as they will have to endure demanding conditions. The ring has to be made from a resilient waterproof material like PVC. Choose the best quality PVC that you can afford.
✔

Size
The smallest water trampoline available is a 10ft version. This is intended for just one person to use at a time. If you want more people to bounce at the same time, then bigger trampolines are available.
✔

Anchoring
A water trampoline needs to be anchored when in use. Most water trampolines have anchoring points fitted, so that they can be tied up to a dock, jetty, boat or pontoon. It is possible to use an anchor or weight to hold a trampoline in place, too.
✔ Pump
You will need a pump to inflate the ring. Don't try blowing it up using just your lungs! These water trampolines need serious inflating, so a compressor is likely to be your best choice. Some manufacturers supply hand pumps with their trampolines, but it will take a long time to inflate the ring using one of these.
✔

Warranty
A warranty is an important feature when buying a water trampoline. One-year warranties that cover manufacturing defects are normal, but for an extra fee, you can purchase a lifetime warranty. This is a good idea if you intend to use your water trampoline frequently.
Extra Features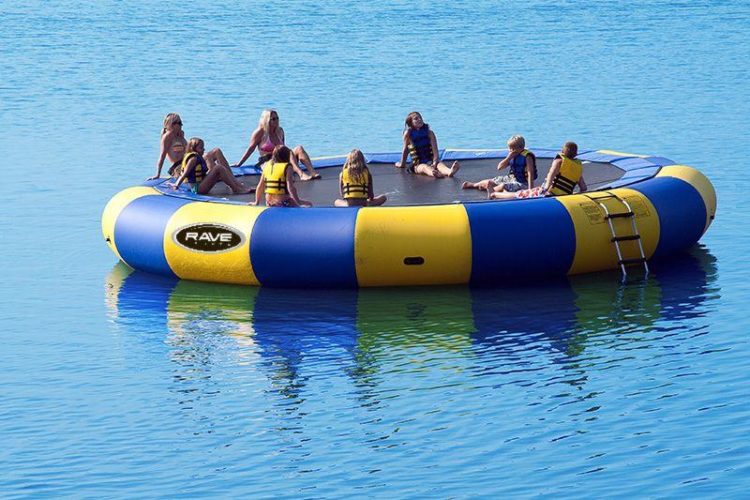 The fact that your water trampoline will be floating opens up a lot of new opportunities for fun. Some extra features are available that will turn your water trampoline into a water playground!
✔

Slide
A water slide can easily be attached to a water trampoline, and often they can be moved to any position around the ring. A slide gives you a brilliant way of leaving your trampoline, plus adds to the games that can be played.
✔

Ladder
The inflatable rings that form the biggest part of a water trampoline are quite high and difficult to climb on to. A ladder will make getting on the trampoline much easier.
✔

Boarding Platforms
These are flat padded boards that can be fitted to the side of your water trampoline and they will then float alongside. Climb onto the platform and then up onto the trampoline. These platforms can also form part of the fun and games.
✔

Ropes
Ropes can be fitted that dangle over the side of the trampoline and into the water. Use then to climb on board, or as part of games.
Some Top Tips for the Best Use of Your Water Trampoline
A water trampoline needs to float in at least six feet of water. You might be lucky and have a large pond, swimming pool or even a private lake.
Make sure it is deep enough that anyone falling off the trampoline won't hit the bottom and hurt themselves.
Proper storage is important when your trampoline is not in use. Deflate it and keep it in a dry, airy place. This will prevent mold from developing.
Top up the air in the ring at regular intervals. The PVC might stretch a bit and sag.
A trampoline cover may not be such a good idea on a water trampoline. It might trap moisture between itself and the PVC of the ring. Result: mold. Keep your trampoline clean, and a cover won't be necessary.
6 Best Water Trampoline 2021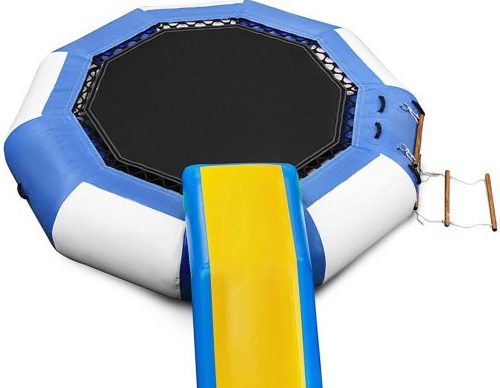 If you want to stay cool and keep fit, this water trampoline is one of the best ways to enjoy fun on a hot summer day. It's very easy to attach the trampoline to the swimming pool. You don't need to be an exceptional swimmer to jump off this equipment.
The material is strong; quality is guaranteed by this build. The water is extremely soft. There are no scuff marks or any discomforts felt when driving on it.
Featured
Made from strong PVC with sound seams and tear-resistance.
Very easy to inflate and holds the air well, so very little chance of accidental deflating.
10ft diameter so good for younger children although not multiple adults.
Colorful pattern and a ladder can be easily fitted.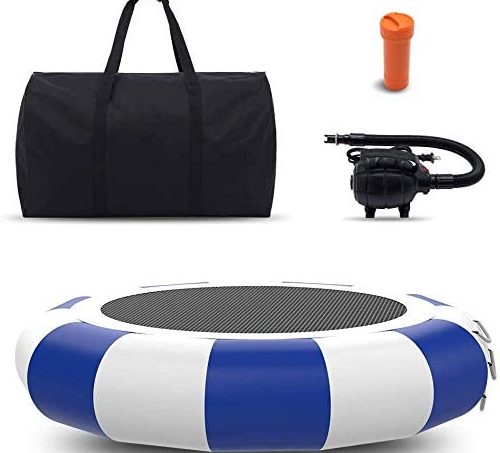 The Surfmass™ Water Trampoline is the first and only water trampoline that features a saltwater pool. Surfmass LLC has designed and manufactured the Surfmass Water Trampoline to be the safest, most fun-filled poolside creation.
The Surfmass Water Trampoline is a fun aquatic toy that encourages active play and exercise. The larger size ensures more soft foam protection around the sides. Most of the water trampolines on the market are manufactured in China with poor quality control. Surfmass brings you a better product at an affordable price.
Featured
Made from durable, tear-resistant material but is nevertheless supplied with a patch repair kit.
At 10ft diameter this is a great trampoline for a few young kids to enjoy time on the water.
The unit also comes with an electric pump to inflate the ring and this takes about 3 minutes.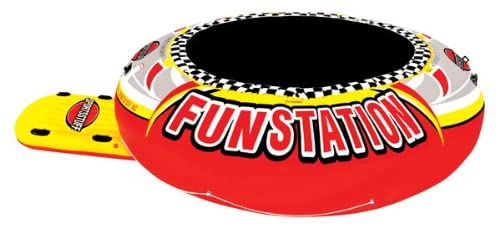 The Funstation comes in two sizes – 10ft and 12ft. There is a boarding platform included which makes climbing aboard easier.
Also easy is the inflating of the ring.
SportsStuff have created the ring as a single chamber so making inflating quick and fuss-free.
There is also an anchoring system included to ensure stability and that the ring does not float away.
There are molded handles around the ring so that some kids can hang on while others are bouncing. The padded collar around the edge adds to the safety of this trampoline.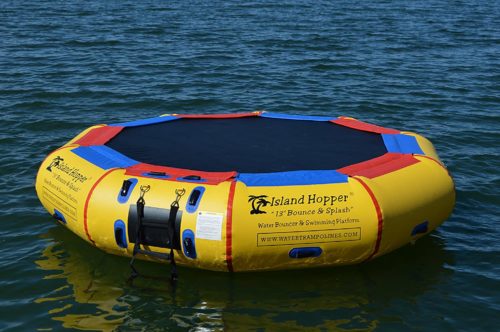 Island Hopper water trampolines come in 13ft, 17ft, 20ft and 25ft sizes. This gives you choice when size matters.
The largest sizes would need to be floated on a lake or very large pool. Island Hopper trampolines are reliable, durable and constructed to commercial specifications.
The outer edge of the mat is padded for extra safety. The mat is fixed by nylon webbing rather than springs which also adds to the safety of the unit.
A ladder is supplied. The 25ft Island Hopper is the biggest water trampoline available at this time.
Available as 13ft, 15ft and 20ft options. Another reliable manufacturer that is well-known in the world of water sports.
The Rave Bongo bouncer is octagonal and colored blue and yellow. Commercial standard PVC is used in construction.
The mat is fixed to the ring with a nylon rope that is interlaced to give a strong durable fit.
The Aquaglide boasts powder-coated springs which give a great bounce.
At 14ft diameter, the Aquaglide is not the biggest water trampoline available, but it is one of the most durable. Aquaglide suggests that the Super Tramp is ideal for floating on the sea.
Great if you have access to a seaside location.
Conclusion
Water trampolines are made to exacting standards and are generally larger than ordinary trampolines. Expect to pay more to purchase one. Prices in excess of $1000 are quite normal.