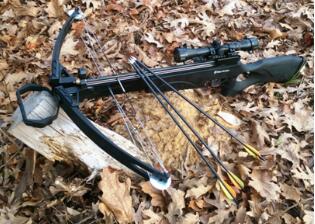 The crossbow is an awesome device that takes the classic design of a bow and arrow to the next level of efficiency and power.
If you're considering buying your very first crossbow, it's very important to have a complete understanding of the various types of crossbows, power needs, bolt varieties (crossbow arrows are known as bolts), and even optical sights.
This guide will help you feel confident and excited about purchasing your crossbow, and give you all the insights you need to make an informed and effective decision.
Best Crossbow Reviews 2021
Editor's Quick Guide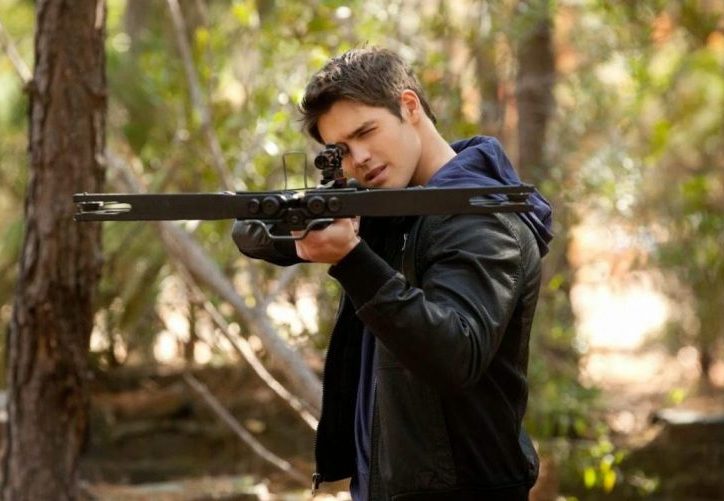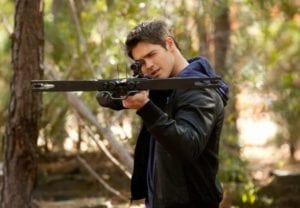 1.

Excalibur Matrix 380 Crossbow Package

– Best Pro-Level
For crossbow lovers, the Matrix line from Excalibur is quite prominent. Being a re-curve crossbow, Excalibur Matrix 380 is very simple and easy to maintain (just loosen the lugs to change the string).
As for the performance, the Matrix 380 happens to be a quiet and fast one.
The sound of the Matrix 380 is minimal for how much energy is stored in the limbs. And we also like its compact size, blazing fast speed (deadly performance at 50-60yards) and the Anti-Dry fire feature.
Though the crossbow has a draw weight of 260 pounds this is reduced by 50% because of the rope cocker that comes with the Matrix package. Most individuals will be able to draw this bow unless they are shorter (5'6″ or less) or if you have a physical ailment (i.e. terrible back, bad elbow, etc.).
Besides its price tag, you get what you pay for and with the Matrix.
Pros
Fast
Compact
Easy Maintenance
Manageable Draw Weight
2.

Barnett Ghost 410 CRT

– Best Crossbow For The Money
The Barnett Ghost 410 is no doubt a game changer in velocity and accuracy. It is lighter and faster than its predecessor, the Ghost 400.
It features Barnett's proprietary Carbonlite Riser Technology (CRT), which shifts the balance point away from the riser and back to the shoulder of the shooter, and Barnett's ultra-light, super-strong Carbonlite riser, which provides the perfect balance of weight and speed.
Another great feature we love about Barnett Ghost 410 is its lightweight single-handed design. Weighing in at just 7.3 pounds and only 20″ axle to axle, it is very easy to hold with a single hand and still feels quiet and safe to release.
At its top velocity of 410fps, you can get an accurate shot out to 100 yards.
Pros
Ballistic Fast
Accurate
Sturdy built
Lightweight, easy to hold
Cons
Scope package not secure
Better get a crank with it
3.

Wicked Ridge by TenPoint Invader G3 Crossbow

– Compact and Lightweight
For anyone who would like to start hunting with an advanced crossbow, the Wicked Ridge by TenPoint Invader G3 is an ideal choice.
Being a Winner of the Outdoor Life Great Buy Award, this wicked ridge satisfies both your budget and shooting performance.
The self-retracting rope-cocking system reduces the draw weight by 50%, making it super convenient to cock. Also, the trigger is nice and crisp and seems like just the right amount of pull.
The crossbow works really well at its designed velocity 330FPS, which can get you a safe and accurate shot at 20yards+. It is light, compact, and very easy in a tree stand.
The Invader G3 Crossbow is also pretty handy to assemble and sight. Awesome crossbow we would recommend for the money.
Pros
Light and compact
Easy to cock and fire
Safe Dry-Fire Inhibitor design
Economical
Cons
The trigger is a bit noisy
Not recommended in long shot
4.

Barnett Quad 400 Crossbow

– Fastest and Affordable

The Barnett Quad 400 Crossbow has a quad limb powerhouse designed to deliver the bolt to the target with devastating accuracy and speed.
It also features the high-density gas assist composite stock (a first in the industry). Our experience with it? Plenty of power, nice balance, comfortable to shoot, tack driving accuracy.
There's a special trick to get an accurate shot with it: use a ruler to find the center of the bowstring, then mark it with a permanent marker, This way you can make sure the string is centered for every shot.
Once sighted in, it shoots very accurately at 30 yards.
A high-performance choice with a tight budget!
Pros
Economical
Powerful
Accurate
Sturdy quality
5.

306119 SA Sports Empire Beowulf Crossbow

– Best Price-Performance
The Empire Beowulf crossbow features a lightweight synthetic stock and barrel, combined with an ultra-compact riser assembly.
This crossbow shoots at speeds up to a blazing 360 FPS, powerful and fast enough to pierce the target at 50yards.
For less than $400, the crossbow arrives with impressive quality, material, and workmanship.
In addition, the Empire Beowulf crossbow is mounted with a very decent scope. We are also quite content with its trigger, which is quiet and solid. And it features easy assembly for first-timers. An excellent bow for the price.
Pros
High price-performance
Quiet trigger
Easy assembly
Decent scope
Cons
Tough cocking if you are not 6ft+
No dry fire inhibitor
6.

CenterPoint Sniper 370

– Best Under $300
At less than $300, the CenterPoint Sniper 370 is a winner in performance. It comes with a precision CNC-machined cam system that delivers mind-blowing speeds up to 370 FPS.
The Sniper is easily maneuverable thanks to the lightweight and durable CNC material.
We also recommend the quiet anti-dry fire and auto-safety trigger, which prevents ill-intentioned shots.
Besides the CenterPoint Sniper 370 features a great illuminated scope, with blistering speed and dead on reproducible accuracy. This can be used as a youth bow and transitioned to adult in one quick release motion.
We made several comfortable shots at 50-60 yards, this choice worth every penny.
Pros
Blistering speed
Quiet anti-dry fire trigger
Nice scope
Easily maneuverable
Cons
Only 5-year warranty
Rattling butt stock
7.

Barnett Recruit Compound Crossbow Package

– Best Crossbow for Women and Youth
If you are looking for a professional crossbow for women and small-framed hunters, the Barnett Recruit Compound Crossbow won't be a disappointment.
It is lightweight with an adjustable buttstock, pretty easy to handle and gives the shooter the option to keep the bow as they grow and easily make any adjustments needed.
Complete with Quiver, the Recruit Compound Crossbow shoots at 300FPS steadily to take down your target at 30-50yards.
It is also super easy to assemble, you can hunt with it out of the box as long as you got broadheads.
Pros
Lightweight
Adjustable Buttstock
Easy to draw for women and kids
Accurate
Cons
Potentially fragile string
Needs a better scope
8.

Barnett Jackal Crossbow

– Best Entry Level
As a first or entry-level crossbow, The Barnett Jackal Crossbow is great. It is easy to use, safe and reliable.
And the weight and power of this bow still make a devastating weapon for any hunter, all you need to have a good target and backstop.
The crossbow is also easy to sight in and assemble (easier than many compound bows).
Topping the list of entry-level, the Barnett Jackal Crossbow is a good purchase although some would criticize its red dot scope.
Well, the red dot scope is fine for backyard target practice, but yes not effective for hunting. We would recommend you to replace it as the first upgrade to pro-level.
Pros
Good price
Easy to assemble
Powerful
Safe and Reliable
Cons
May need rope cocking device
Needs a better scope
9.

Fever Crossbow Package 543

– Crazy Price

The Fever Crossbow Package 543 by SA Sports is a simple good choice for a starter. It is well balanced, with an attached quiver you feel no vibration at firing.
The bow draws smoothly, and locks into the trigger assembly with a nice strong "click", engaging the safety immediately, a feature that we really like.
Some may question the 240FPS crossbow about the effective distance. We can tell you that it is not a toy.
When assembled properly, it does exactly what it's designed to do: it would take down a deer, with the right heads, with no effort at 20-30 yards.
For 50-60 yards, a $500 crossbow would be a better choice. The Fever Crossbow Package 543 is a good starter crossbow for the money.
Pros
Crazy price
Smooth draw
Safe trigger
Powerful
Cons
The trigger is a bit noisy
Cheap aluminum bolts
10.

Arrow Precision Inferno Fury Crossbow Kit

– Best Under $200
The Inferno Fury Crossbow is designed for crossbow veterans seeking a lightweight alternative to larger outfits, and also for first-time crossbow hunters seeking an affordable fully equipped package.
The ultra-light recurve crossbow is built of sturdy material that you can expect to last for years.
It provides 175 pounds of draw weight for 235FTP velocity, yet easier to cock than more expensive and powerful recurve bows. You can carry it around, hold in an aim, and repeatedly shoot without tiring out very fast.
Additionally the Inferno Fury Crossbow features Anti-Dry Fire Trigger Mechanism, Thumb Guard for added protection. It won't be a disappointment for the price.
Pros
Lightweight
Sturdy made
Limited range
Safety features
Easy to use
Cons
Cheap quiver release
Limited range
Factors To Consider When Selecting A Crossbow
Power Stroke Length
The power stroke length is the distance a crossbow string is drawn back to fire an arrow in simple words. Most of the crossbows in the market today have a power stroke length ranging from 10 to 14 inches, while the power stroke length for compound bows ranges between 18 and 23 inches.
Despite this difference, crossbows store up more energy per inch of power stroke largely due to their superior draw weights.
In general, the higher the value of a crossbow's stroke length, the more powerful it is in terms of shooting capability. However, this does not mean that purchasing a bow with the highest power stroke length will make you an expert hunter or archer. If your bow's draw weight is not properly adjusted, you are unlikely to make much headway while hunting or shooting targets.
Velocity
The velocity of a crossbow is typically measured in feet-per-second (FPS). FPS is important because it determines how fast an arrow will travel over the first 20-30 yards. Remember factors such as gravity and wind will cause arrow velocity to fall after 20 or so yards.
With this in mind, the general rule of thumb is to go for a crossbow with a minimum of 200 FPS.
At this point, it is worth mentioning that arrow mass plays a big role in determining crossbow velocity and efficiency. Lighter arrows will travel further nevertheless, heavier arrows tend to make bows more efficient and vice versa.
Most manufacturers calculate FPS value using arrows with a weight similar to that of arrows sold with each particular brand.
Types of Crossbows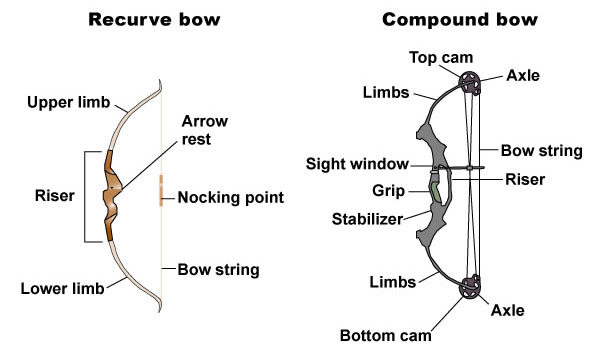 There are two main types of crossbows in the market today: compound and recurve.
Compound bows usually have many moving parts such as cocking device and trigger. In addition, they are typically faster than recurve bows because of their superior and faster bolt speeds.
One unique feature you can use to differentiate compound and recurve bows is the overall width. Compound bows are narrow compared to recurve bows. On the other hand, recurve bows are generally simpler in terms of design and generate less noise in comparison to compound bows.
Additionally, recurve bows are lighter, easier to aim, easier to restring, and require little maintenance. As such, it would be up to you to choose a bow that suits your needs. If you are a novice archer or hunter, you could start with a recurve bow and then gradually graduate to a compound bow.
Scope
Another key component of any crossbow is its scope. There are three primary types of scopes available for attachment to a crossbow.
Optical: Optical sights, sometimes featuring telescopic zoom, provide an image of a pattern or reticle that appears over the target.
Red Dot: These sights project a red dot onto the target, providing a real-world representation of where your bolt will land.
Iron: Iron sights are the oldest type of sight, with a physical marker manufactured directly onto the crossbow which is then held up to the eye and used to target when firing.
As with other crossbow features, the type of sight you choose will depend on your needs and the seriousness of your crossbow activities. Each has its benefits and drawbacks and each can be effective in various scenarios.
Arrows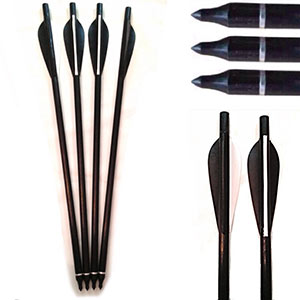 Manufacturers usually recommend the type of arrows that one should use with their bows. Modern arrows/bolts are made of carbon or aluminum. Each arrow consists of parts such as the head, shaft, insert, and nock.
Arrowheads come in various shapes such as broadhead or field point broad-headed arrows are widely used for hunting while the field point type is used for target practice. The head screws into the insert, which is in turn attached to the shaft (the long main part of an arrow).
Finally, the nock is the rear part of an arrow and it is usually made of aluminum or plastic. This part comes into direct contact with a bow's string.
Draw Weight
Draw weight is simply the force required to pull a crossbow string into a firing position (similar to cocking a gun). This force is determined by factors such as the rigidity of the limbs of a bow. Expect a bow to be harder to cock the higher the draw weight.
The general rule of thumb is to go for bow with a minimum draw weight of 150 pounds to ensure you can generate enough force and velocity to hit and kill or seriously wound game while hunting.
It is worth noting that you can cock a crossbow using a cocking device/crank, using a rope, or by pulling the string back with your hands. Using one's hands involves putting one foot in the stirrup and pulling your bow's string back. However, this is not as easy as it sounds because it is the equivalent of lifting 150 pounds or more (depends on a bows draw weight). For this reason, do not attempt it if you are not physically strong.
An easier way is to use a rope cocker. To cock your bow using this method, put one foot in the stirrup, hook the rope cocker, and then pull upwards. Although this method still requires a fair amount of upper body strength, it is relatively easier than using your hands.
The final and easiest way to cock a bow is using cranking devices. These devices are simply hand-actuated winches mounted on a crossbows stock.
To cock your bow, wind this device. Some bows come with these devices in-built into their frames while others do not. If your bow does not have an in-built cranking device, you can buy a separate one and use it as an add¬-on when hunting or on the shooting range.
Crossbow Weight
A crossbow's weight determines its maneuverability and accuracy when shooting games or targets. Once again, choose a bow that suits your needs.
If you are a novice and want a bow that you can use for target practice, go for one that you can handle easily.
Do not worry about weight too much in this case. On the other hand, go for one that is a bit heavier if you would like to go hunting. This is because they are highly accurate when it comes to shooting stationary or moving targets.
In addition, they tend to be better when it comes to precision, sturdiness, and steadiness.
What is the Best Crossbow?
Best Beginners Crossbow – Children
For children, a crossbow is a powerful weapon and safety considerations must be top on the list while selecting an ideal product. Though often accidental, firing a crossbow without an arrow has the potential to damage the bow and even cause serious injury to the user. For this reason, the best crossbow for children will have to include good anti-dry fire mechanisms.
In addition to that, in the absence of a cocking mechanism a crossbow can be quite difficult to draw. To ease this for young children, the best crossbow should include a suitable cocking mechanism. While cranking mechanisms are good, these are costly and add weight to the unit.
A good option for a children's beginner's crossbow is a rope coking mechanism that will reduce the effort required by 50%. In addition to that, a suitable draw length of say 10″ and a draw weight of at least 150 lb should be enough for a good shot.
Best Intermediate Crossbow
For intermediate crossbow enthusiasts or students buying the best is a little more complex. The reason being while safety is essential it is not a major concern. For this reason, all the safety required in a beginner's bow is still required plus added features to enhance performance.
For such a bow while dry fire protection and cocking mechanisms are essential, the trigger is equally essential. For this reason, such bows will often have triggers fitted that match pro standard. These are reasonably heavy but can be pulled fast as well. While they are not hair triggers they can't be too heavy.
In addition to that, an intermediate hunter needs a safety lock to prevent misfires. These users are likely to walk in search of prey with already loaded weapons which creates additional safety concerns.
The scopes on these bows also have to reflect the needs of a hunter and should where possible include enhancements such as zoom. Quite a release, quivers and arrows are also essential. Since these are bows for relatively experienced users, the draw weight must reflect their needs and is often from 150 lb upwards. The weight of the bow in this case must be light enough to carry but heavy enough for a good shot with minimal recoil.
Best Hunting Crossbow
As with the above categories buying the best crossbow for hunting must include all essential safety considerations. With these advanced users, a warranty may be the best safety equipment provided. Since these are likely to be the heaviest users, their equipment takes the most beating and a warranty helps protect the investment.
However nothing quite sells the best hunting crossbow than what it can deliver in terms of feet per second (fps)…raw speed. While the best can easily hit 380 fps it is very easy to get duped into buying inferior quality. This is because while most products indicate their fps rating few will indicate the parameters used to achieve this speed.
For this reason, look at the parameters before making your choice. A good starting point in this regard is a crossbow that uses 450 grain arrows and anything shot with these is unlikely to go above 400 fps.
Best Barnett Hunting Crossbow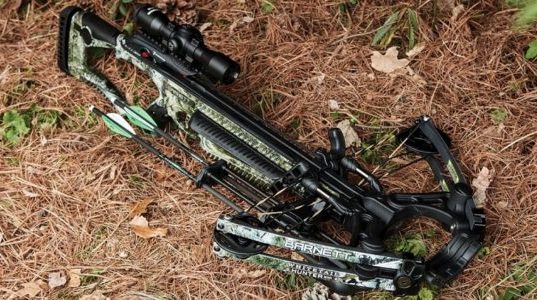 To complete the list of the best crossbows would be impossible without providing at least one Barnett bow. This is because while Barnett has over 50 years of experience producing crossbows the best hunting bow is not manufactured by Barnett.
However, given the superiority of the brand just putting up their best is a good starting point. This product can be used as a standard to weigh other product offerings. The best Barnett hunting crossbow is the B CX Buck Commander with a draw weight of 185 lb and power stroke of 13.375″; altogether capable of delivering a 365 fps shot.
Conclusion
Humans have used crossbows as military or recreational devices for hundreds of years. Armed with a modern crossbow, a skilled person can kill game or hit targets at 60 yards or more.
Some of the important factors to consider when purchasing a crossbow include power stroke length, arrow velocity, draw weight, and its weight.
With this in mind, some of the best crossbows in the market today include the Barnett Ghost 410 crossbow, Arrow Precision Inferno Fury, Barnett Jackal, Excalibur Matrix 380 Xtra, and Tenpoint Vapor crossbow.