Trampoline is pure outdoor fun for kids and adults. They could be a highlight at a party or an interesting toy to get proper exercise for kids in daily life.
Best trampoline is an undoubtedly ideal household workout set, especially for an extended family with a backyard.
So how to choose a desired and durable trampoline?
We know that making a decision about purchasing a large item is never easy. With so many kinds of trampolines available on the market and all look alike, customers may get confused with their quality and performance.
Top 10 Best Trampoline 2021
This guide will round up key product information and list the top 10 trampolines 2021, all for you to get the trampoline that suits best your needs.
In a hurry? Just check the quick editor's choices:
1. NEW AlleyOOP 14′ Variable Bounce Square Trampoline – Sturdy and High Weight Capacity
Shape: Round
Dimension: 14' in Diameter
Weight Capacity: 245lbs
Frame: Pre-galvanized Steel
Springs: 96 Extra-Stretch Springs
The NEW AlleyOOP 14′ VariableBounce Trampoline with integrated Safety Enclosure tops our list for good reasons.
It is a well-designed commercial-grade trampoline. It is built by premium quality materials- heavy-Duty frame made from pre-galvanized steel, 96 extra-stretch high-performance springs, which you can expect to last longer than most trampolines on market.
Its manufacturer JumpSport is a professional trampoline supplier with patented Variable Bounce technology to help optimize the shock absorption rate and the bounce performance of the trampoline.

You may expect the great bounce-after-bounce experience on the NEW AlleyOOP 14′ VariableBounce Trampoline without safety concerns. We are absolutely satisfied with it except for its price tag, but anyway just thinking you are paying $1,500 for a commercial-grade trampoline, still a worthy choice.
Pros
Extraordinary quality
Very safe trampoline
Looks fantastic
Lifetime warranty
New technologies used on this trampoline
Cons
Expensive
Assembly manual could be better
2. Little Tikes 7′ Mini Trampoline – Nice Size and Design for Toddlers
Shape: Round
Dimension: 7' in Diameter
Weight Capacity: 100lbs
Frame: Heavy Duty Steel
Springs: Yes
If you are looking for the first trampoline for kids and toddlers, Little Tikes 7′ Children's Mini Trampoline is the choice. Click here: 8 Great Options about choosing a Trampoline for Kids
It comes with an ideal size, a vivid navy-orange color combo, and a nice castle-style contour. It's lightweight due to high-performance polythene materials used on the frame, mat, and safety net. With instructions, it only takes 2 adults 30min to set up everything.
As the first trampoline recommended for toddlers, Little Tikes 7′ Trampoline is not compromising in quality and safety. It features a durable, high-quality pad protector that covers the safety springs, and a frame made of durable blow-molded plastic and high-quality materials.
Besides, the shoe storage net design is very considerate detail. Great price and a perfect trampoline recommended to you.
Pros
Durable materials and construction
Padded springs
For outdoor and indoor use
Easy to assemble
Very bouncy
Cons
May last for a short time
Poor paddings
3. Upper Bounce Square Trampoline – Safety Features and Easy Setup (Best Under $300)
Shape: Round
Dimension: 7.5'-16' in Diameter
Weight Capacity: 250-330lbs
Frame: Heavy Duty Frame
Springs: Rust-Resistant Springs
The Upper Bounce Trampoline and Enclosure Set come in all sizes ranging from 7.5' to 16' to fit your house. In addition, it boasts exceedingly sturdy design and various safety features:
Heavy Duty Frame structure
Rust-Resistant Springs
Incredibly Durable Mats
Protective Safety Mats
High Quality Nets
Poles covered with Foam sleeves
Pole Caps designed with a "C" hook to cover the poles. This enables the Enclosure Net to attach to the poles and stand tall, as well as prevents the net from sliding down the pole.
With so many safety features it has to offer, the Upper Bounce Trampoline is surprisingly easy to assemble. It is equipped with the 'Easy Assemble Feature', which allows you to handle them within an hour without much effort. It's an awesome trampoline, safe and well-built.
Pros
Easy to assemble and disassemble
Strong steel frame
Durable mats
Great safety enclosures
Resistance
Durability
4 Heavy Duty W-shaped legs
Cons
It's a little pricey
Sometimes the seller may not offer the best units
4. Skywalker Jump N' Dunk Trampoline – Large and Sturdy even for adults
Shape: Round
Dimension: 15' in Diameter
Weight Capacity: 200lbs
Frame: Galvanized Steel T-Socket Frame
Springs: 96 Rust-Resistant Springs
Skywalker Trampolines are a premium and well-received for years. The company is dedicated to building safe and quality trampolines not only for kids but also sturdy enough for adults to enjoy the bouncing fun.
The New Skywalker 15-Feet Jump N' Dunk Trampoline features a soft basketball hoop safe enough for kids yet fun enough for the whole family. It will keep your family safe and entertained for years to come.
In addition to the new basketball hoop feature, the 15-Feet Jump N'Dunk trampoline adheres to the consistently high quality by Skywalker Trampolines.
It features patented No-Gap Enclosure System, reinforced frame built by galvanized steel T-socket construction, a thick UV-protected spring pad, 96 tightly coiled rust-resistant 6.5-inch springs, and a dual closure system. No doubt it is nice and quality trampoline all-round to enjoy for years.
Pros
Offered in multiple colors
Has a basketball hoop
Enclosure system features padded poles
Springs are outside of enclosure net
Easy assembly
Frame and parts covered by a warranty
Cons
Spring-based
Need two people to assemble
Does not come with assembly hardware
5. Exacme 6W Legs Trampoline – High Price-Performance
Shape: Round
Dimension: 12' in Diameter
Weight Capacity: 280lbs
Frame: Heavy-Duty Frame
Springs: Rust-Resistant Springs
If you are looking for a trampoline that is both in size and weight capacity for a whole family, and in a budget, Exacme 6W Legs Rebounder Trampoline will capture your attention.
First, safety always goes first. The trampoline is both TUV, GST and UV certified, meaning reliable and solid quality. It features 6 W-shaped legs with 12 balanced contact points, much more stable and safe than other 4W or 5W legs trampoline.
It is sturdy even on the straps, ropes and enclosure net. The frame is strong enough to sustain long-term jumping fun. And it only takes 60min-90min to assemble everything, including a wide ladder.
Another thing we love about Exacme 6W Legs Trampoline is the service behind it. The company offers premium service and warranty. You can expect fast delivery of replacement components after, say your trampoline gets damaged in strong winds.

It is not easy to get considerate and committed service these days for online buyers. This definitely adds scores to the balance performance of the product.
Pros
Equipped with 6 W-shaped legs for more stability
Heavy-duty frame construction
Uses rust-resistant galvanized steel
Easy to assemble
Cons
The price is a little higher than comparably sized trampolines
6. Skywalker 15 Ft Round Trampoline – Spacious and Sturdy
Shape: Round
Dimension: 15' in Diameter
Weight Capacity: 200lbs
Frame: Heavy-Gauge Galvanized Rust Resistant Steel
Springs: Rust-Resistant Springs
Another Skywalker trampoline in our list. And it's similar reasons why we love them: good size and quality.
The Skywalker Trampolines 15-Feet Round Trampoline is a classical 15ft trampoline model, designed for an extended family to play on for years.
It boasts many positive reviews on Amazon, thanks to a very sturdy anti-twisted frame built by reinforced T-sockets and 6 W-shaped legs for added stability. In some reviews, we can tell that such structure can even withstand strong gale in summer and winter (not move an inch!).

In addition, the Skywalker Trampolines 15-Feet Round Trampoline features a stay-put enclosure net interlocked to the jumping mat without a gap, to create a secure and uni-bodied structure.
With such solid structure and all weather resistant materials, you can definitely expect your Skywalker Trampolines 15-Feet Round Trampoline to last for years, keeping your children entertained and active.
Pros
Safety enclosure
Best value for mone
Available in a variety of fun colors
1 year warranty on frame
Cons
Maximum weight limit of 200 pounds
7. Zupapa 15 14 12 Ft Trampoline – Exceedingly High Standard Components and Quality
Shape: Round
Dimension: 12'-15' in Diameter
Weight Capacity: 375lbs+
Frame: Heavy-Gauge Galvanized Rust Resistant Steel
Springs: 108 Rust-Resistant Springs
Zupapa 15 14 12 Ft Trampoline series is a TUV approved the product and receives most top-score reviews on Amazon.
Zupapa earns its premium reputation by using exceedingly high standard components. It uses much longer net poles which are tightly bungled omake trampoline much safer and firm.
The Real Heavy-duty steel frame is rust resistant galvanized and much stronger than other trampolines. Extra 108 Galvanized Springs (15FT) are adapted to enable Zupapa Trampoline super stretch, comfortable and safe, as well as superior bounce experience.

In addition to a high quality body, Zupapa provides an impressive accessories kit including 1 x Trampoline, 1 x Trampoline Safety Pad, 1 x Trampoline Ladder 1 x Trampoline Enclosure net, 1 x Trampoline Rain Cover, and 1 x T-Hook.
You won't miss anything! It is a worthy buy if you have super active kids and daily use of trampolines.
Pros
Easy Set Up
Good Bounce
Strong Net
High Weight Capacity
Includes Ladder
Cons
Some people find the installation instructions to be a little confusing
The nuts and bolts are of lighter construction
8. Ultega Jumper Trampoline with Safety Net – Competitive Price and Solid Base
Shape: Round
Dimension: 8.25'-14' in Diameter
Weight Capacity: 200lbs
Frame: Galvanized Steel Frame
Springs: 72 Springs
The latest and safest trampoline in its price group", this how Ultega Jumper Trampoline professed on their Amazon page.
The first thing we know about it is its gentle price tag. The second thing, after some search and study, is its uncompromising quality. Like other listed trampolines, the Ultega Jumper Trampoline is framed by galvanized steel. 6 padded poles deliver the highest level of safety. And a UV-proof mat and net ensure durable and safe bouncing experience.
Besides its high price-performance, what we like most about it is the sturdy base. As outdoor equipment, trampolines will withstand against strong winds in summer, winter and on the beach.

The last thing you want is waking up only to find it blown down or away by an overnight hurricane. Ultega Jumper Trampoline has a base that prevents the unit from tipping over. It is proven to be very sturdy in terrible weather. A reassuring investment for windy backyards.
Pros
Wide jumping space
Strong mat
The use of galvanized steel for stability
Equipped with extra safety features
Affordably priced
Cons
Boxes might not ship completely
Slow degradation might render your mat unusable after year one
9. Super Jumper Combo Trampoline – All-Size Available and Easy Setup
Shape: Round
Dimension: 4.5'-16' in Diameter
Weight Capacity: 330lbs
Frame: Galvanized Steel W-Frame
Springs: Rust-Resistant Springs
The Super Jumper Combo Rebounder Trampoline offers perhaps the widest size range options on the market. From a 4.5' indoor use to a 16' super size, this trampoline could probably satisfy everyone's need.
As your children grow, they become more adventurous. A bigger trampoline in your backyard means more fun with jumping for your kids and less risk of getting hurt.
The TUV certified product has galvanized steel w-frames to provide support and stability, UV coated trampoline mat to prevent sun damage, safety pad to cover the springs and the springs to firmly attach the mat to the trampoline frame. Just put it in one sentence: good quality and easy to assemble.
Pros
More affordable compared to other models
Safe to use with features built-in
GS and TUV certified
Can hold up to 330 pounds
Cons
The zipper on the safety net may not hold up
Limited warranty
10. SKYTRIC Trampoline – The Top Ring Design and Easy Assemble
Shape: Round
Dimension:8'-15' in Diameter
Weight Capacity: 330lbs
Frame: Rust-resistant Galvanized Durable powder coated steel frame
Springs: 96 Rust-Resistance Springs
The SKYTRIC Trampoline presents an impressive contour thanks to the "Top Flex Pole Enclosure System". This design offers amazing stability and durability, which enables the net to stand tall and straight.
Another key feature is easy to assemble/disassemble. The SKYTRIC trampoline can easily be taken apart since its poles do not have any hardware so that they can be stored for protection during the winter.

The Skytric Trampolines boast a weight capacity up to 330 pounds thanks to high-quality components and premium design. Plus a second-to-none customer service, it will be a great buy for competitive jumpers aspiring gymnastics as well as family fun for everyone.
Pros
Easy to install
The netting doesn't sag
It holds in exreme weather if assembled correctly
Cons
Poles may rust over time
Springs may lose elasticity
What We Care Before Buying
Trampoline Shape
Generally, trampolines take 2 kinds of shapes: round and rectangular. For home use, the round shape is perhaps the most popular. It's space-saving and safer as the jumpers tend to be pushed to the middle of the mat by circular springs. The rectangular ones are however more common in professional use: like in gym or competitions. Other shapes include square and octagonal.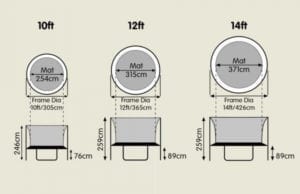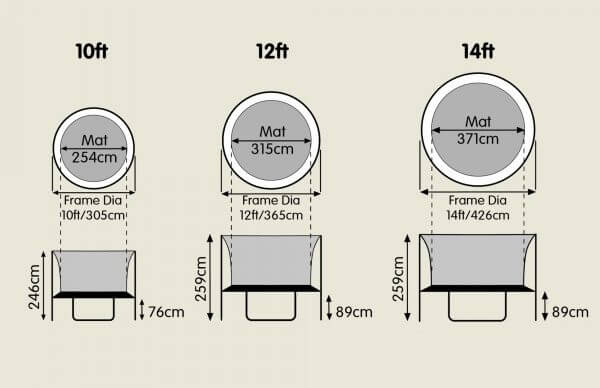 For home use, the trampoline size is perhaps the most important factor.
A 7ft trampoline offers enough room for 2-3 kids, a 10ft trampoline can nicely fit 2 additional adults, and a 15ft trampoline will be a decent playground for a 3-3 trampoline basketball game. You need to balance its capacity and footprint to fit in your garden.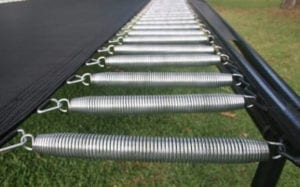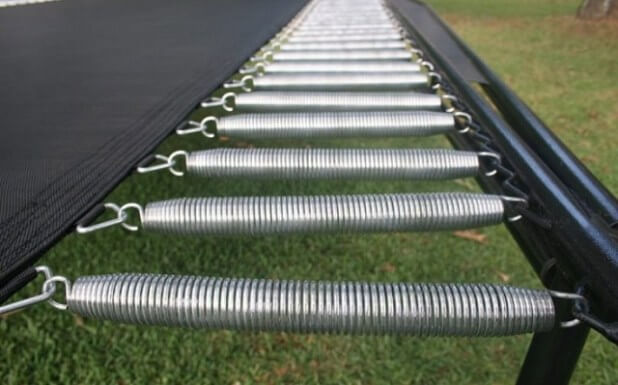 Trampoline springs decide the weight capacity and durability of a trampoline. Premium trampolines are built by tightly arrayed high-stretch springs, which are antirust.
Well, designed trampoline springs and layout also contribute to good bouncing performance.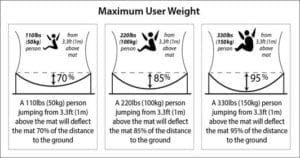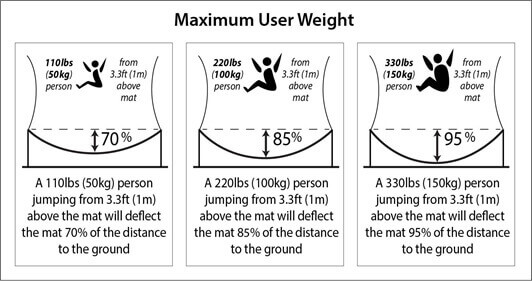 Trampoline weight capacity is a major shopping consideration.
Make a quick evaluation of the total jumpers' weight, reserve 1-2 jumpers' weight and you can come up with the trampoline weight capacity that suits your need.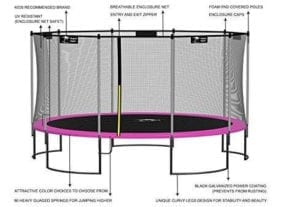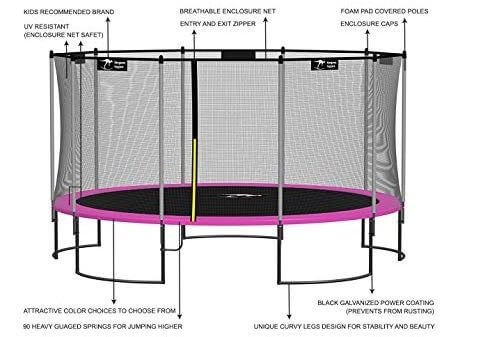 Safety always goes first. Most trampolines pack safety features like enclosure net, (double) zippers, safety mat, ladders, covers, anchors.
Reinforced frame and the stand is also a reassuring part. Pay special attention to the materials of them: the sturdier, the better. Take care of your trampoline and jumpers, we suggest disassemble and avoid use in winter or strong winds in any case.
As outdoor exercise equipment, trampolines need to be treated with love and care if you would like the fun to last for years in top condition. And as a large item and investment, you expect to last for years, you would also prefer timely service support and replacement if it needs maintenance. For this concern, it is important to choose a professional and premium manufacturer with proper warranty and service.
Conclusion
Trampolines are well worth investing in (my opinion), but you also want to make sure you're getting quality products, because quality fits in with safety. As you know, safety is a big concern with trampolines…you nor I want anyone getting hurt.
So take a good look around, and I hope you'll find some great information to help you on your hunt for a trampoline.